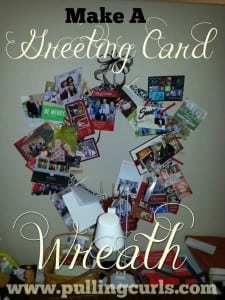 It's that time of year again!  The mailbox is a place of joy and remembrance, instead of one of a dreary nature.  I have SO many friends who live MUCH too far away and I LOVE getting their cards.  Love. love. love.  So much, that I want to look at them year round and I also want to remember the weddings and the high school graduations.  I just love my friends to pieces.
So, I didn't want my Christmas cards to just end up on our cabinets for a season and let them go, I wanted a place they could stay full time.  Enter the spot above our piano.  A couple of years I made a greeting card wreath to go up there.  It actually won't fit all the cards so I do have to take some down during the year, and all the lovely letters go in a basket near it but I love having a place where they are up, out of the way, and I can see all those smiling faces each and every day of the year.
Until today, when I took them all down.
Isn't it sad?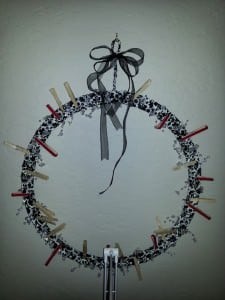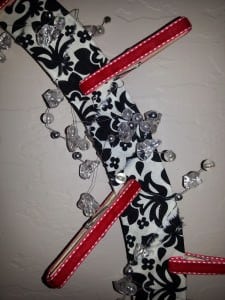 it's just a wire wreath form.  I bought some fabric, ripped it in strips and hot glued it around the wreath.  I covered some clothespins (and then later realized we were going to get a LOT more cards then that) and added a little wrapping of some "jewels" — you can see it a little better in this photo.  I used to have some some candy picks, but I decided they got in the way and I took them out.
Then, all year long we have a place for the greeting cards of our life.  Birthday cards for the kids find a home here and anything else that catches our fancy, to remind of us of those we love.  I am sad looking at it empty, but I know it will fill up soon!  Mine will be headed out too if my new laser printer will ever get here.  I can't take that sad picture of it empty anymore.  Let's replace it with this image….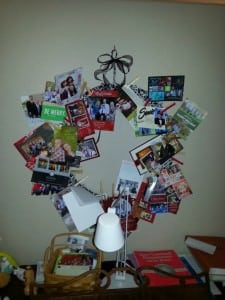 Happy holidays, may your walls me filled with your friends also!