This past week, I've been a crafting machine. I thought I'd share a bit of what I've been up to:
1. First off, I went to Joann's in search of some material to dampen the sound of my piano (those who truly care for me will remember that our piano is WAY too loud). I was going to just get some felt, but then I saw the quilted fabric. Let me see if I can find a picture of it on fabric.com… Umm, no it's kind of like this stuff… but it only has fabric on one side, so the batting is open on the back (but still quilted). It was also only like 5.99/yd, I do believe. So, I had measured our piano, and added an inch to each side and got that much fabric (54 inches, I do believe it was) and then I came home, sewed seams on each edge so it wouldn't fray and get ugly (this cloth is pretty darn thick so beware — this isn't as easy as I just made it sound, had some choice mental swear words during it). Then, we tacked it to the top of the piano. Has it made a difference? Yes, I think it has. Mostly in the bottom register, not so much in the top register for me, but thankfully when my kids pound, they prefer to be in the bottom register (and no, we don't allow "pounding" but sometimes when he practices there's not much difference). I am happy, I think (because I used a coupon) it was only like 6 dollars for the whole project, pus the cost of tacks.
2. Of course, I continue on crocheting around my baby blankets, this time for myself. I even took some pictures yesterday. I know, CHECK OUT THE PINK (although, I think I love the red one with the flowers the most).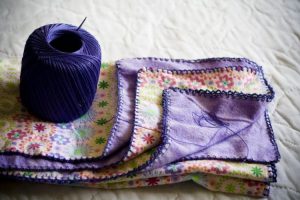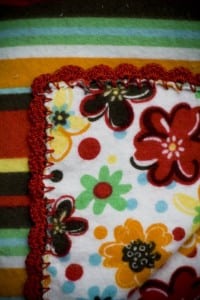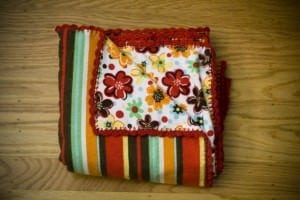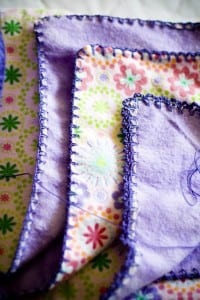 3. Then, like the complete fool that I am, while I was at J's I decided I could NOT resist the cute minky fabrics, and that they NEEDED to be made into a quilt. Do I quilt? No. but, I have friends that do. They have been kind enough to hold my hand, and the internet has been my friend as I've tried to figure it out. I'm actually almost done, but here's the pictures I took yesterday before I tied the layers together. Hopefully I'll do a post about what I've learned on it in a few days.
So, there you have it, nesting in full swing. I was also thinking I could use a few cute burp cloths, for church n' stuff… I found this great tutorial. I am wondering about the batting in the middle though, do you think that's OK? Anyone else have any great burp cloth patterns? I'm also gonna make a tiny little ribbon blanket with some scraps from my quilt. Although, my fingers are almost blistered to the bone, I just can't stop 🙂 Someone help me. 🙂