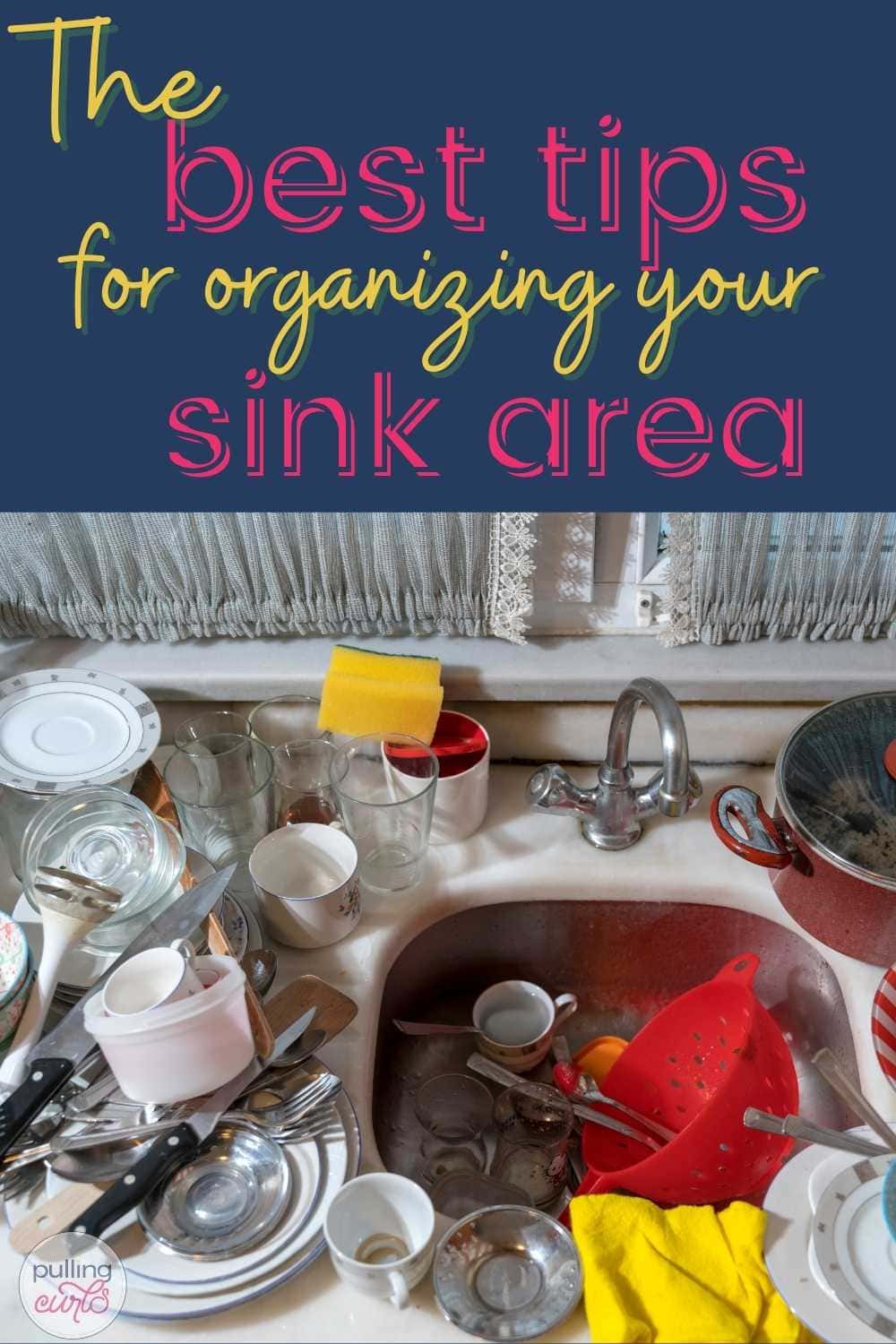 Top of the kitchen sink organization is imperative to cleaning up your kitchen quickly and effectively. Even if it's a small sink area and you don't have much space, on an island or you just need to DIY something, this post has the tools for you!
---
This post also includes a great deal from one of my favorite new sites, Grove Collaborative (seriously guys, I am loving them a LOT- – these are people that love cleaning and organization ALMOST as much as I do)
**I have a great deal going on RIGHT NOW where you can get some of my favorite products for free ~ go straight to the deal here**
---
If the kitchen is the heart of the home, the sink is the tricuspid valve. Hahah.. a little nurse humor for you. 🙂 Let's start your kitchen sink organization project.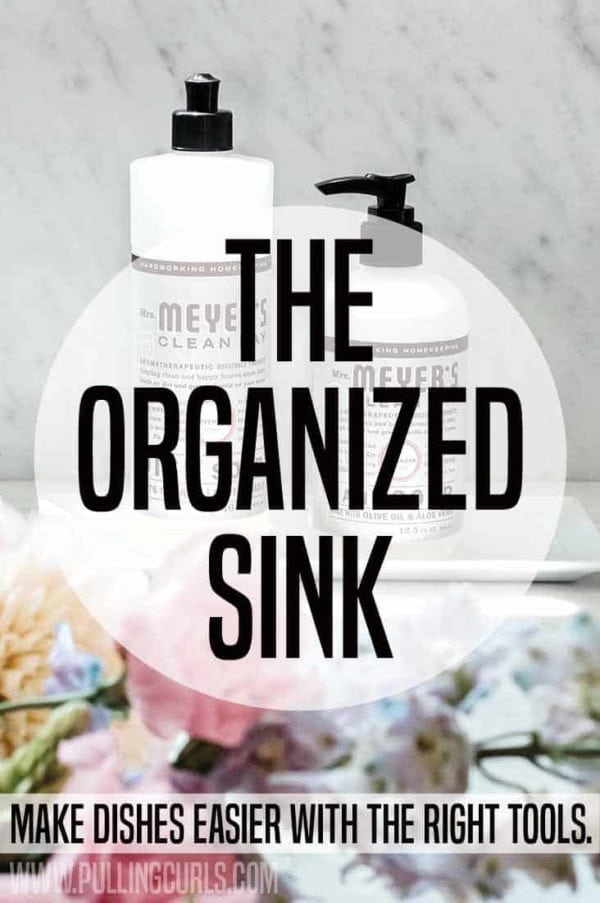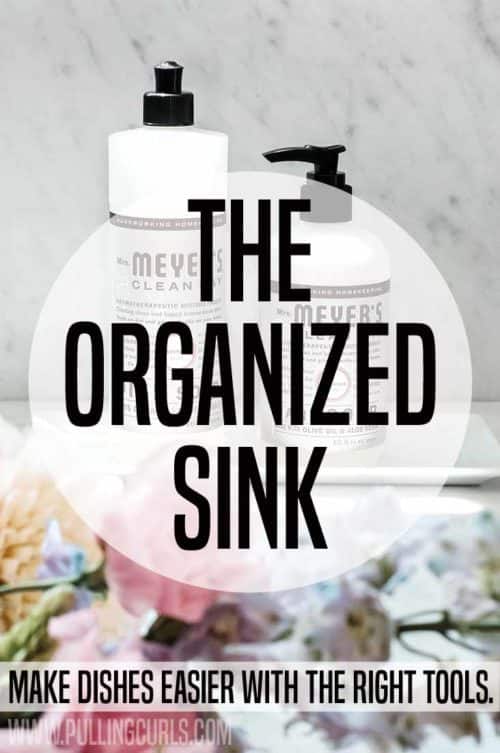 I find myself at my sink pretty frequently. I'm a big hand washer, I don't like big stuff in our dishwasher, and the majority of our pans aren't dishwasher safe (or, will last longer if I wash them by hand).
I find myself at my sink pretty frequently. I'm a big hand washer, I don't like big stuff in our dishwasher, and the majority of our pans aren't dishwasher safe (or, will last longer if I wash them by hand).
I'm also REALLY working on teaching my kids how to wash things by hand. Maybe it's just mine, but they REALLY struggle with actually fully cleaning things.
Is it just mine? — tell me it's not.
Grease leftover … soap left on the dish…. it seems like my "gifted" kids are losers when it comes to simple household tasks!
My favorite response is
"But Mom, I DID clean it" … AS we are looking at the grease/soap, etc.
Nope, no you didn't.
SO — today we're going to talk about what to have around your sink for kitchen sink organization ideas (that don't require professional organizers or a lot of storage space), as well as my 5 tips for teaching kids how to hand wash items.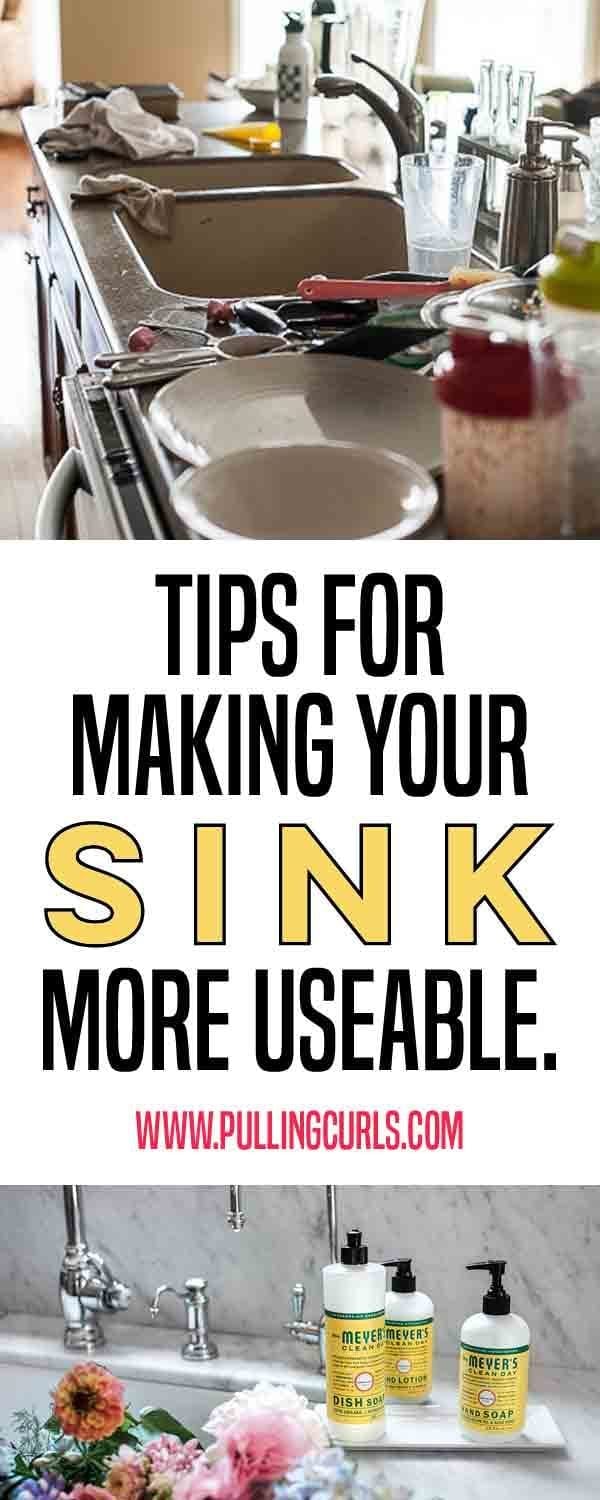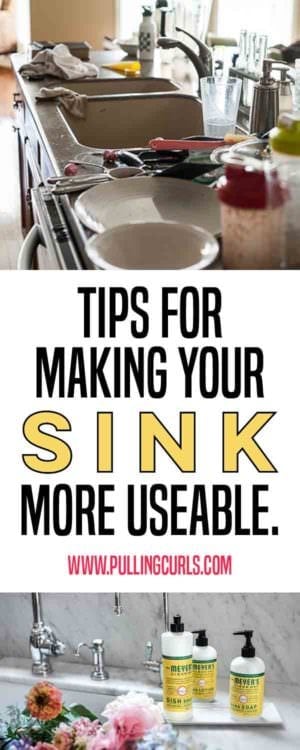 **Do not miss my awesome offer below that ends up getting YOU free stuff to keep your sink organized!**
Five Things to Have Around Your Sink
Sponge I love having a sponge by my sink, and I use it about 99% for washing dishes. Don't forget that you can zap it in the microwave or throw it in the top of the dishwasher as a great way to kill bacteria.
Dish soap High quality dish soap really does make a difference in how you wash your dishes. I love a nice smelling one and I like it in a bottle that makes it easy to only put out a little bit (my kids love to SOAK the item to be washed in soap). Did you know that America's Test Kitchen rated Mrs Meyers (available at Grove Collaborative) as the #1 best dish soap?
Brush While I love sponges, I think it's a great idea to have brushes, they can be super handy. I hate how I have to throw sponges away frequently. Also, scrub brushes are awesome at getting the REALLY coated-on stuff OFF the pan.
Hand Soap Washing hands is one of those super important things in kitchen safety, having soap handy makes that all the easier (and great to remind kids to WASH).
Tray Having all your necessary items on a little tray or even a small lazy susan is usually the perfect size and makes for easy clean up around your sink. It helps with any soap spills and it also limits water marks around your sink (and a tray is a lot easier to clean up than your whole kitchen counter). It also helps when you have easy access to everything you need and it all has its own place near the side of the sink. If you have extra space, you can even use clear acrylic drawers, a plastic caddy, clear stackable drawers, or similar items for your sink organizer. Take advantage of using vertical space. I wouldn't suggest using wire baskets unless you put a shelf liner under it.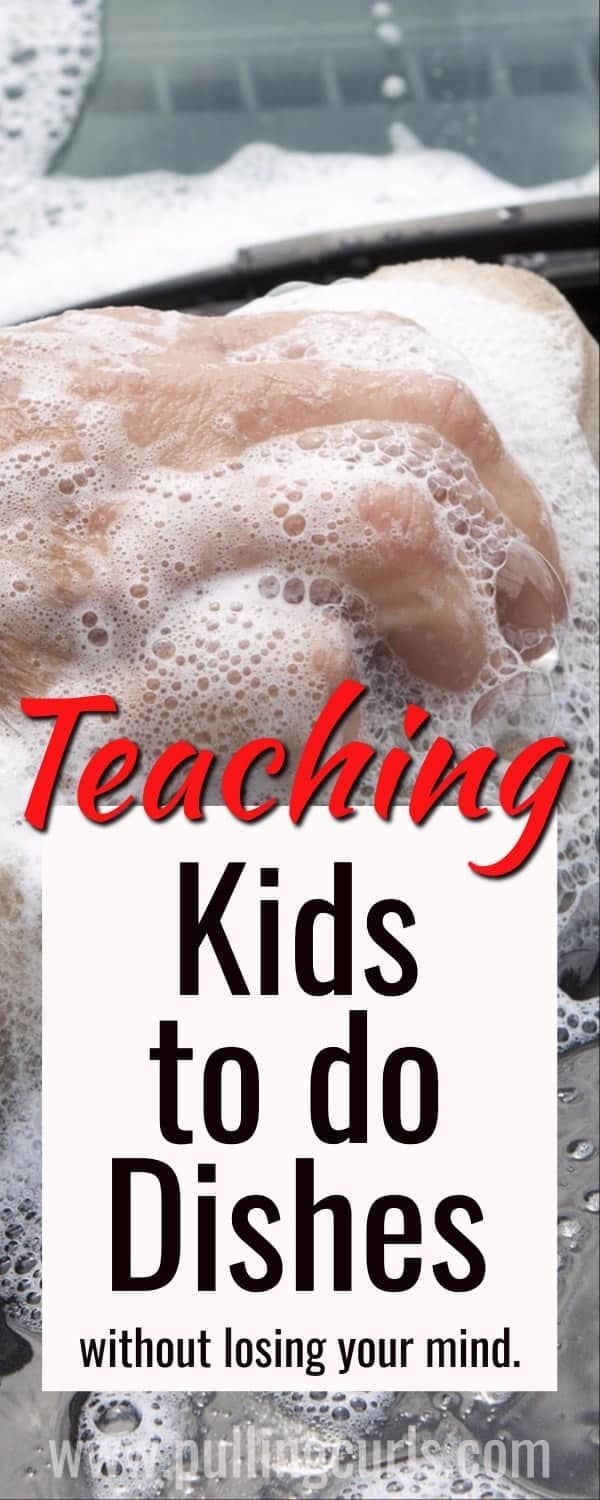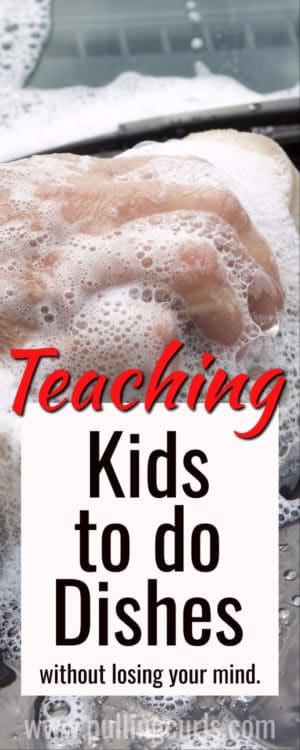 Tips to helping kids hand-wash dishes
Have them do it. First step, it's easy to think that a dish might break or it's just easier to do it yourself (boy oh BOY is it easier) but remind yourself that you are a parent and THIS is part of YOUR job. Kids need to acquire the skill, too.
Have good soap. Having good dish soap makes the cleaning process easier. Remind kids that you only need a LITTLE soap. This bubble brush I mention below is SO perfect to HAVE soap but not BUCKETS of soap. 🙂
Stand back. Let them do it, this isn't rocket science. When the dish is dry, the dish will tell the tale if it's clean.
Remind them why good cleaning is important. Washing dishes can keep you out of the bathroom (or, even the hospital) if done correctly. It's an important skill.
Top tip! Ready for my #1 Rule (which I break a lot) — inspect, and have them FIX IT.

It's just SO much easier to fix the dishes yourself (and that might be appropriate now and then) but calling them back to fix it is truly the best lesson.

After all, we want to all get it out of the way and not have to come back and re-do it.

The best news is that RIGHT NOW Grove Collaborative (my new obsession) has an awesome deal for new members (and a sweet deal even if you've shopped there before).

Here's the deal:

Ok, first thing — Grove is a household supply company. They carry things like toilet paper, paper towels, spray bottles, trash bags, portable cleaning caddy, cleaning supplies, cleaning tools, stuff like that. They'll ship them straight to your home and they have TONS of reviews from people who want clean houses, just like you.

Right now you can get a sweet deal from Grove Collective! They offer some of my favorite cleaning products on the market!
(the deal changes, so be sure to check this link to see what you can get for free now!)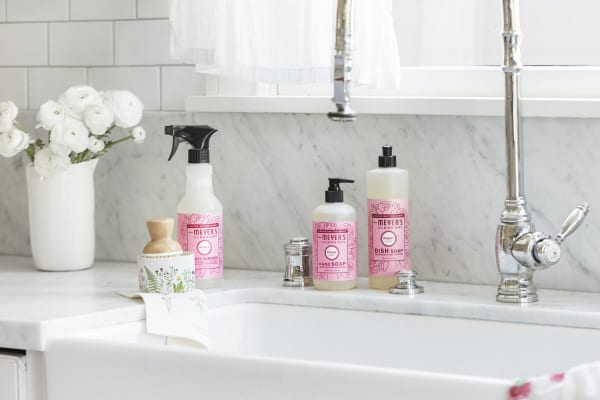 Of course, you're gonna want to check out what's available there:
Stuff I love at Grove (just search for them, and a lot of them are on sale right now too!):
Bubble-up Dish brush set. I mentioned this one above — the soap goes in the bottom, and you use the brush to pump up some foam (this means more cleaning and less soap residue). Check out the reviews on that one!
Kitchen towels. I wasn't sure I'd love these — but I DO! The're super big, absorbent, and awesome! Totally priced right! I think they're some of the best I've seen. I literally am going to replace all of our dish towels with these (and if you've been a reader for a while you know good towels are crazy important to me.
Method toilet bowl cleaner. When I mentioned I was doing this post, my husband went on and on about how much he loves this toilet bowl cleaner. Who knew? It just leaves your bathroom minty-fresh, instead of the usual toilet cleaner smell. And apparently, my husband loves it (guess what's in my cart for the next time I buy).
I really think that buying these items (and frankly, whatever else catches your eye) is really going to bring a huge value to your house, PLUS you get the free stuff.
Most items are already 20-30% off what you'd find them for in the store anyway!
Side note: I must admit, that when I started with Grove I was enticed by the free items. But, I'm starting to love it more and more — I even just signed up for their VIP free shipping. Guys — that is 100% from my own money, I really believe in them, their company and the products they sell.
Think of it as Amazon Prime for awesome cleaning supplies!.
Things I love about Grove:
I love the products. I have heard friends raving about Mrs Meyers & The Method, but until I got my hands on it myself I didn't really know how great it would be. Guys — Best of America's Test Kitchen. #swoon
Same products you'd find in-store, at better prices (SHIPPED to your home!). It's the little things, right?!
I love their cleaning products. I got the dishcloths, I was worried they wouldn't be as absorbent as I'd like but I absolutely ADORE the size and how thick it is. Huge fan.
I love reading the reviews from people who love a clean home themselves. I LOVE reviews… maybe too much. 🙂
The site is so easy. While I thought Amazon was great, for cleaning items there really is nothing better than Grove's great products. Somehow they know JUST what I want. Easy to have a shipment each month, or delay it. 🙂 Shipping is fast and packed well (which is SUPER important to me — you don't need a box full of spilled toilet cleaner.
Anyway — I love their service and with this great deal, you can love it too! 🙂
Have any of you used Grove in the past? I am finding more and more that they are a company I can truly stand behind. I hope you'll find that too!
Get my free printable cleaning checklists, and check out my other household tips below that:

[pt_view id="aca750dy8z"]