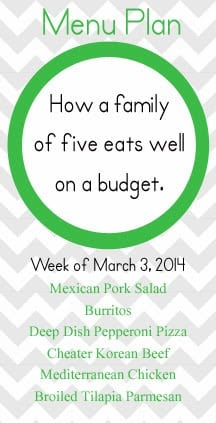 It's heading into spring here in the desert, but I'm trying to still do some soups from the last meal plan… on top of those I'm doing:
Pork Salad: I made a HUGE roast when my parents were here and we're going to be eating that for days. Good thing the missionaries are coming over for dinner. I make it ala Cafe Rio with lettuce, cilantro, onions, tomatoes, cheese, beans, whatever the fancy strikes. Fresh and Easy makes a REALLY good green salad dressing (I think it's Creamy Cilantro) that goes great with this, just like the ol' Cafe Rio. That crock pot recipe couldn't be easier and it sure feeds a crowd!
Burritos: It's musical season for Drew (just finished Conner's) so he needs to be out the door before 6 for performances, burritos are a quick way to get everyone fed without my brain spinning. I just do ground beef, some refried beans (I love to use the church cannery ones in there), some mexican seasoning, put that and some cheese in a tortilla and whamo it's dinner. I think we'll have some of the 5 million oranges we got from neighbors with this.
Pizza: I LOVE the America's Test kitchen deep dish pepperoni pizza recipe (you can also find it here). It's SO good, but it's kind of time consuming, so I may just make your basic pizza, but who knows what mood I'll be in. I do love the Pioneer Woman's pizza dough recipe. Yum.
Cheater Korean Beef: Drew went on his mission to Korea, so I try to please him with some tasty asian vittles every now and then. This one is pretty tasty, and does taste a bit like pul-ko-gee (yes, judge my Korean, that's fine). I think I'll make some kale chips with this, it's almost like seaweed, right?
Mediterranean Chicken with White Beans: It's a Doctor Oz recipe, but suprisingly good. My kids really love the beans, and I usually cook the chicken in the pressure cooker, not in the foil packets, because I'm like that. My kids love Kalamata Olives (well 2/3 do). This is a healthy, filling meal. Make it.
Broiled Tilapia Parm with Sauteed Kale/Swiss Chard: Can anyone sense that we have a LOT of Kele and Swiss chard right now? Because we do. I put this tilapia recipe in a school cookbook a few years ago and got SO many compliments on it. We like Tilapia, it's a fairly cheap fish and it's a win-win.
So, that's what's on tap for the week. Do you have a meal plan post? Put it below, I'd LOVE to see what your family eats. Feel free to click on my menu planning tag below. Lots of good recipes come from my kitchen. Or, at least in my head they do! 🙂