Mormon baptisms are different (and also similar) to any other Christian baptism you may attend. Here's what happens at a Mormon baptism – including how long it is, what to wear and all about LDS baptisms. This post explains what happens at a baptism for the Church of Jesus Christ of Latter-Day Saints, what to wear, and what they are like.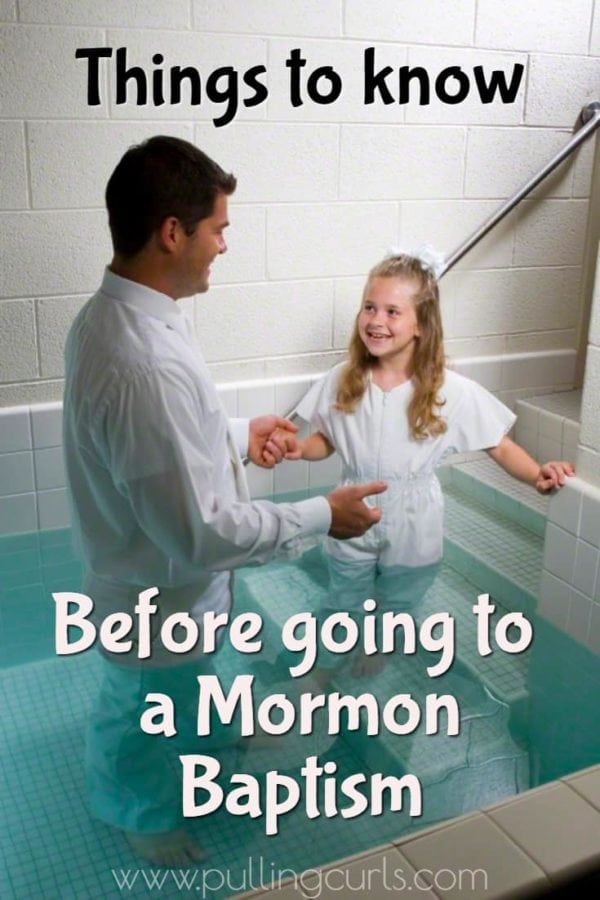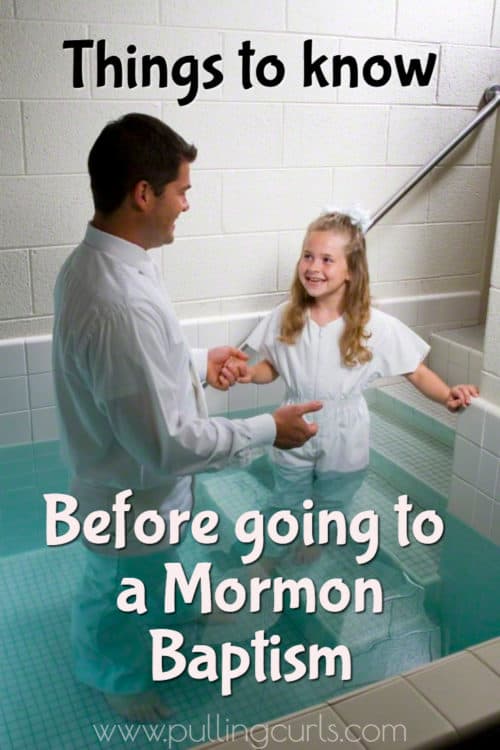 Mormon baptisms are a great opportunity to learn more about the LDS church and to show the person who invited you how much you care about them. Here are 6 things you should remember about an LDS baptism when you attend one.
Sidenote:
My daughter is being baptized as a member of The Church of Jesus Christ of Latter-day Saints. She has turned 8 and that is the age that LDS children are baptized. She was very excited to invite many friends, but I wanted to be sure they had some idea of what to expect. I hope you find this post helpful!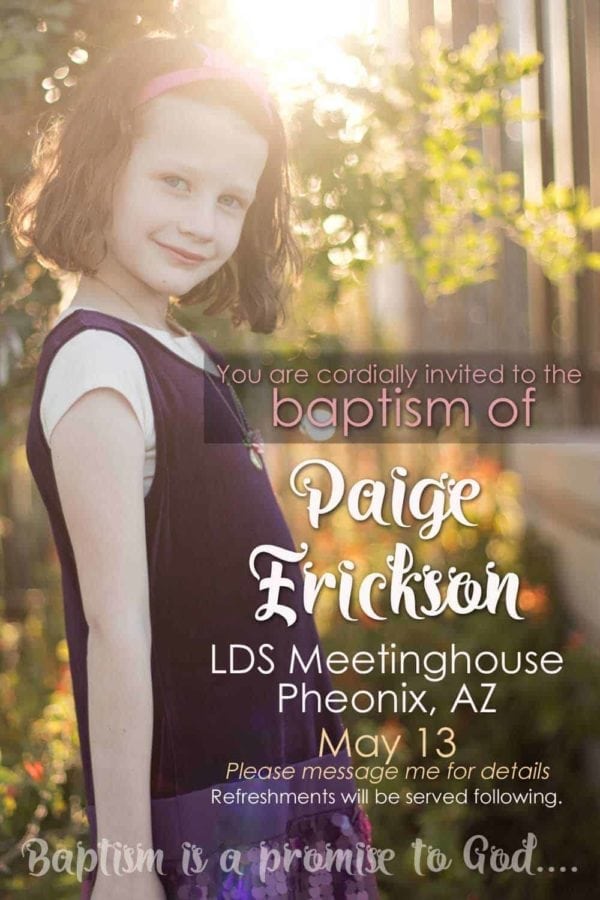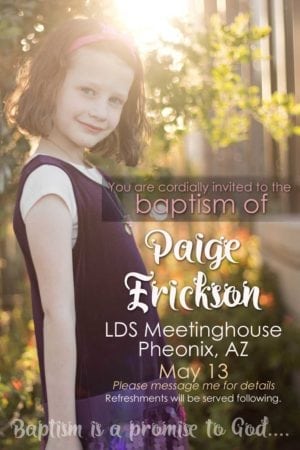 Mormon baptisms are not a spot where we will try to convert you or get you to be baptized. Don't be afraid to go, just enjoy the service and the happy feelings you get.
What an LDS baptism is like
Pro Tip: "Mormon" is a nickname. We prefer to be called members of the Church of Jesus Christ of Latter Day Saints… which, can be a mouthful. So I often say "member of the church of Christ"…we are not a Mormon church. No matter what you call it — we're happy you are thinking about coming!
An LDS baptism typically happens on a Saturday and is a happy occasion. I remember my own baptism and being a very happy day surrounded by loved ones.
What happens at a Mormon baptism?
LDS baptisms are done by immersion
In an LDS baptism, the person being baptized is submerged completely in the water (immersion) by someone with Priesthood authority. This is to signify the remission of sins and rebirth as a converted individual. Baptism is the making of a covenant between the person being baptized and their Heavenly Father.
What to wear to a Mormon Baptism?
Wear dress clothes
In the Mormon religion baptism is a special occasion for the person being baptized and their family members. Dress clothes are typically worn. Most women will wear dresses/skirts. Most men will wear a shirt/tie and boys might have khakis and a polo shirt. Feel free to wear whatever you'd prefer though.
Mormon Baptism Outfit
People being baptized wear white
White clothes symbolize the purity of one after they have been baptized. Everyone who gets baptized in the LDS church wears white once they get to the church, as well as during the ordinance, and will change into dress clothes afterward. The church actually owns the clothes, and members just borrow them while performing the ordinance.
Many little girls being baptized will have a special white dress they wear on their baptism day. This is completely optional and up to each individual person.
Eight is great
LDS children are baptized at the age of 8 if they are willing/ready. Those joining the LDS church, as long as they are over eight, may be baptized at any time. If you're a church member looking for more info on eight is great, I have a cool brochure.
How long is a Mormon Baptism?
Baptisms are around one hour long
Baptisms are usually about one hour long for the entire program. Generally, two individuals will give a short talk. One is usually before the actual baptism and about baptism. The other typically happens after the baptism and is about the confirmation of the Holy Spirit (which is the second portion of any LDS baptism). Refreshments are often served at the end.
Baptisms also include a confirmation
The second part of any LDS baptism is confirmation. Confirmations usually involve several male priesthood holders placing their hands on the person's head and saying a prayer. This confirms the person as a member of the church and gives them the gift of the Holy Ghost.
Mormon Baptism Ceremony
The actual ordinance of baptism is really quick. Both the person being baptized and the baptizer will walk into the baptismal font into warm water about waist height. The baptizer will say a short prayer in the name of the Father with their right arm raised and then help that person go all the way under the water. It takes less than 5 minutes.
---
Invited to an LDS Baptism?
Overall, the person who invited you to their baptism will be happy simply that you're there. LDS baptisms are very important to church members, and it is an incredibly important event for any church member. Baptism is the first step in making promises to God to do your best to be like Jesus Christ.
Why a water baptism?
The baptism ordinance is done by water because that is how Jesus did it, and it is how we have been instructed to do it as well. It is also a very PHYSICAL feeling to feel renewed with the water.
Do they HAVE to wear white?
Honestly, I don't think so…. but we do.
Do girls need a white dress?
Heck no! While it is customary to wear white (usually a jumpsuit) during the baptism, girls (and boys) should just put on nice dress clothes afterward. It is not a necessity of baptism to wear white to/from the baptism.
What about Mormon converts?
It's customary for 8-year-olds who have grown up in the church to be baptized. Baptism is one of the ordinances of the gospel of Jesus Christ. If you're a convert to the church you can be baptized at any time after having lessons from missionaries or other church leaders. Church rules are that you do have to be at least 8 years old to be baptized into the Church of Jesus Christ of Latter-day Saints.
What is a Proxy Baptism?
A proxy baptism is different than a regular baptism. Such baptisms are done in the Mormon temple and are not something people are invited to attend. You can learn more about proxy baptism here.
What are the Mormon baptism requirements
In general you need to have faith in God, be free of any addiction to harmful substances, following the law of chastity and willing to follow the rules of the church. This article is helpful.
What is the Mormon baptism ceremony?
It's very simple, a few words, and the person goes under the water and then they're done!
Do you bring a gift to a Mormon baptism
Some people do, most people don't. I'm sure anything that shows your love for the person being baptized would be cherished.
More information about LDS baptisms can be found at www.lds.org/topics/baptism?lang=eng.
OR, if you have questions, I'm happy to answer them here!
If you'd like more information about the LDS church — you might enjoy the posts below: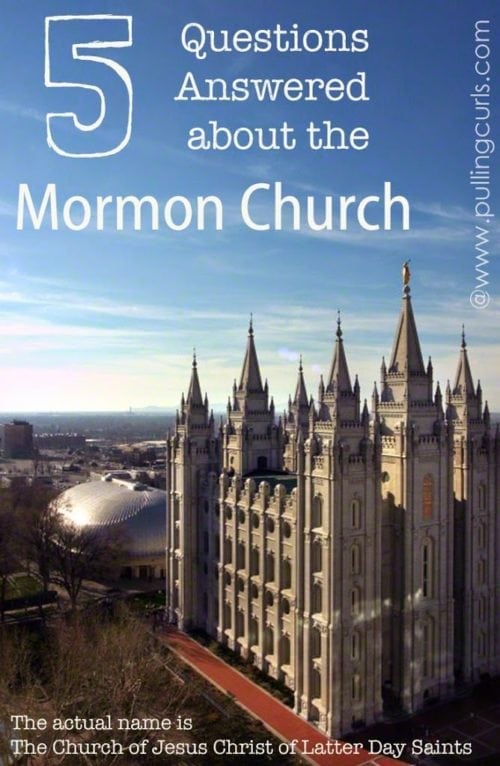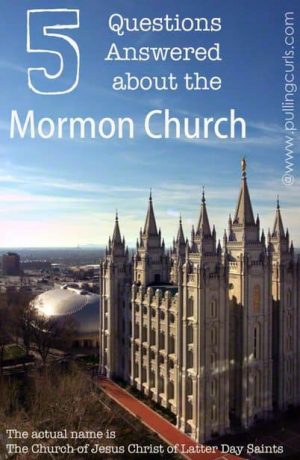 This post was written in 2017 and has been updated since then.