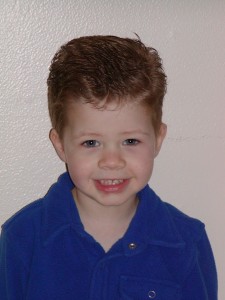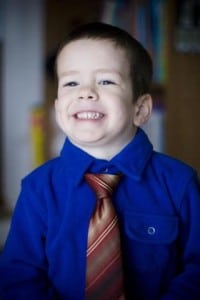 Conner (left — January 2004) and Spencer (Right — Yesterday) both on their first days of Sunbeams (and in the same shirt — crazy scrapbooking mom — but honestly, Drew picked them out and what are the chances he'd remember?)
Spencer wants to stay in nursery forever. Honestly, who can blame him? Our ward has, at times, 3 nurseries but the oldest nursery is by far the best. The leader is amazing and we all love her at our house. She truly does an amazing service for these little people, and while they are ready for Sunbeams (they learn how to sit during a lesson and be respectful) they're not ready in their hearts because they love this leader so.
Spencer was really, really sad yesterday. He didn't want to go to sunbeams, he wanted to go to nursery. But, went we did. I mean, we'd talked it up. All week we were cheering for our new little Sunbeam, and it seemed like he was going along with it until I reached the car yesterday morning, and he and Conner were having a fight over the fact that he was NOT going to Primary because he was still in nursery.
So, we went, I let him sit on my lap through the prayer and then I said it was time for me to go. Thank goodness for a good sunbeam teacher who let him sit on her lap. She's like 9 months pregnant and ready to go at any time (and obviously a saint) but she still cuddled him. When I picked him up after church I asked him if he loved Primary. He said he did have a great time and he would sit on her lap again next week. Of course he will, if she doesn't have a new baby by then. 🙂 Hopefully this was only a rocky start.
In other quandries I was really inspired by yesterday's Sunday School lesson to read the scriptures more thoroughly as a family. So, we started reading the Book of Mormon last night, all of us. I'm thinking a collumn a night and we'll just do it with whoever is home. I think in my mind I was so concerned with us all being there it was stopping it. But, some being there is better then none being there, right? But, what do you guys do for scripture study? I know I've asked it before, but I know that some of you are newer so I thought I'd glean a few more ideas.