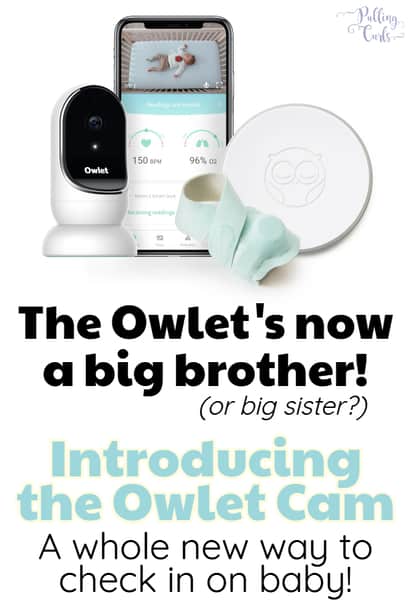 The Owlet was a revolutionary tool, created to help parents feel some peace when stepping away from a sleeping baby. Now they have an Owlet Cam that will help them feel like they are still there.
FYI the Owlet Smart Sock is not currently on the market. I am not sure why (beyond the FDA warning letter), or what their plan is, but I wanted to mention it in this post.
SO many of my readers have bought the Owlet, and then asked me what I thought they should do as far as a video monitor.
And now, I have your solution.
I am a big fan of having ONE app to check when you need to do something — and now, with the Owlet, you can do just that!
News Flash: As of RIGHT NOW I noticed they have some refurbished Owlet Cam's, and I feel like they are at a great price! The stock on those as well as refurbished Owlets comes and goes.
Owlet Cam Review
Full Disclosure, I have been an Owlet affiliate for a long time, and they did send me an Owlet Cam to check out.
I'm going to share some of the specifics of the Owlet, how it pairs with the sock and then at the end, I will give my final opinion of it it's worth it or not!
What is the Owlet Camera?
The Owlet Cam streams HD 1080p video with night vision and two-way audio to your smartphone using a secure, encrypted WiFi connection. It can help you stay informed of your baby's needs with background audio. Integrates seamlessly with the Owlet Smart Sock in the Owlet App.
I found the image on the is REALLY clear. It is better than our other security cameras, so that is really nice, especially if you want a very visual check-up on baby, see if they're breathing or whatnot (not quite as important if you have the Owlet sock on them).
You can put the Owlet on a piece of furniture (like a dresser) or, you can mount it on the wall with their magnetic mount.
Owlet Cam Magnetic Mount?
Ok, so I think this thing is REALLY strong. However, being a girl who had babies in California (read: earthquakes) — it still makes me nervous to mount anything above my babies.
However, I gave the owlet a pretty good shake from the magnetic mount, and it stood still. So, that's good news!
Please note, there is no moving or "panning" with the Owlet cam — where you leave it is what you can see. So, make sure you have it in the spot you want it.
What is the Owlet / Owlet Sock
The Owlet is something I have reviewed extensively — and I have a very popular post that shows you how to save on the Owlet and if I think it's worth it, if you can afford it.
In a nutshell, The Owlet sock tracks your baby's heart rate and oxygen and will alert you if it gets outside set boundaries.
While nothing can prevent sids, it is similar technology to what we use in the hospital (I'm an L&D nurse) to make sure babies in the NICU are safe.
The Owlet Sock is what most people call "The Owlet" — it's a sock that has an app that can alert you.
Why would I want an Owlet cam?
Yes, you'll know if their oxygen and heart rate are OK, but you can't check for other things like:
Breastfeeding cues
If they're awake
How cute they are when they're asleep
AS they get older, if they're getting into tomfoolery
If they ever got to sleep
Also, it has two-way sound, so you can talk to your baby — without being in the room (or frankly, at the house — great for working moms!)
Can I save on an Owlet Cam?
YES, while the Owlet Cam is a BRAND NEW product, you can save by buying it WITH an Owlet Sock.
Pricing as of launch:
The bundle with the Owlet Sock & Cam saves you just about $50!
Will I only use the Owlet Cam with my baby?
Heck no!
You can use the Owlet cam as your baby grows. You could even set it up in a teen's room. You know, because they're a teenager. 🙂
Other FAQ's about the Owlet Cam:
---
Why would I want the Owlet Cam?
It's all about peace of mind.
Will your child still grow-up happy and healthy without it — yes.
Keep in mind — nothing can prevent SIDS as we don't know what causes it, but the Owlet can monitor the heart rate and oxygen.
Parents say that it gives them peace of mind when they feel anxiety about leaving their child alone sleeping.
But frankly, you HAVE to leave them alone sleeping, because you need to shower, and get something done. 🙂 #GoNewMoms!
If you want more info about the Owlet (who I think still is the star of the show — the Owlet Cam is just an awesome bonus) — I'd recomend my Owlet Review to learn more.

What did I think of the Owlet Cam? — My Final Opinion!
However, in summation. I am not 100% sure the Owlet Cam is worth it on its own.
The BIGGEST perk to the Cam is the fact that it's integrated with the Owlet Sock.
If I wasn't going to get the Owlet sock — I would check-out one of these cameras:
Cocoon Cam — has breathing monitoring as well for around $150.
This one is secure because you use your own little monitor to view your baby (no wifi monitoring to worry about).
This one is pretty darn cheap, but likely isn't as clear or secure.
I am a fan of the Owlet. I don't think any other monitoring system really monitors the real time access to the baby. If you have a lot of concerns about leaving the baby alone (in a safe crib, you never want to leave the baby alone on your own bed, etc) — then the Owlet might be a good option (especially the refurbished one). And, if you have the cash the Owlet Cam is a great addition!