P turned 3 months today, and I woke-up to thoughts of what I should have her wear. I love these little jumpers, we have a couple of them and they look dressy and comfy at the same time. Plus, she can pull her dress over her head, and what could be more fun than that? Below is her "month" pictures — you don't see much difference month to month, but from the beginning until now it's a change, and by month 12, I figure she'll be throwing the duck at me. All part of the fun, my friends.
At 3 months she's pretty well sleeping from about 8:30 pm til' 7:30 am, and is in her crib (just about ready to give the basinette back — which is good because she's almost out-grown it). She eats 4 times a day, about 4-6 oz/feeding. She loves to be under her baby gym, her bouncer, the swing — anywhere she gets a bit of action. She still loves to be swaddled for naps and loves her daddy best. She's a gem, and I think I'm finally to the point I'm aware I have 3 kids. Seems like a takes a while to realize this is a new reality. kwim?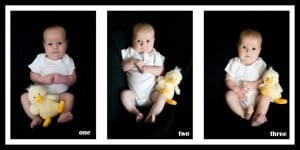 About the Author
Latest Posts
Hilary Erickson BSN, RN is a mom to 3, wife to one, and a nurse since 1997. Hilary's curly head started Pulling Curls in 2005. Every day she aims to make labor, parenting & organization simpler for families. You might also know her has The Pregnancy Nurse.
Check out her online courses: