This week has been all about being nice to myself. While my kids haven't really gotten into the spirit of the week (MUCH drama) we are surviving.
Mostly I really wanted to get me and P into a good schedule we could fall back to on the days where we don't have anything planned. Seriously people, there are days I actually don't have to leave my house at ALL. How long's that been? Makes me want to stay in my bathrobe all day, but I know better.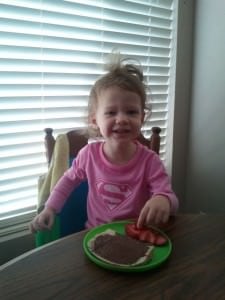 Anyway, our current plan goes a little something like this. She wakes up between 7:30 and 8, we watch a little news, while she drinks her milk. Then it's in for breakfast. Today was Nutella Bread. YUM. Then it's off to do our personal issues. I'm REALLY trying to get her to work on dressing herself, but she mostly just wants to suck her thumb and smile at me. Little stinker. You'll see i the Nutella picture that she had a little top piggie in yesterday. It got taken out at naptime and her hair is STILL on end. How funny. Do you love her superman jammies? My sista from another mista sent them to me. As if selling my house wasn't enough? Does anyone have tips on them getting dressed? Monday we're starting potty training, so I know we need to work on pulling down the undies and pulling them up. Super excited, can you tell?
Then, it's time for lessons. I got these great books at Costco. They're just perfect for a little person like herself. Right now we're doing the folding and coloring one. Just teaches great fine motor skills, without jamming education down their throat. If you have a tiny, and you see them, get them. 🙂 We do the workbooks, and a little flashcard practice (because, let's face it I'm not TOO fancy not to jam a little education down her darling little throat), and then some puzzle time. I'm a huge puzzle fan, I think it teaches so many great skills. We're still doing the "knob" kind, but I'm hoping to move up a little in the next few weeks.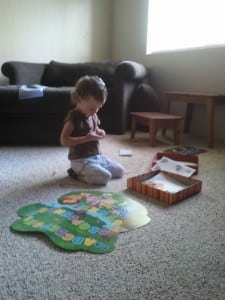 Then, it's time for play. I'm reserving a few toys for just this time so she's more excited. Stuff like our wooden building blocks, or things that are really easy for me to teach with. Colors, shapes, all sorts of fun stuff. Then I leave her and try to clean up a little. She tends to come find me about 5 minutes into it, but I am hoping she's learning to play by herself. Here she is with the Dora ABC game.
School's so important in our family. Mostly because it gives me time to really mold her into the person I want her to be. I think that Heavenly Father spaced our kids so far out to really give me time to work on that molding. Let's face it, I want to eat bon bons and watch America's Test Kitchen all day but I need to sneek in this time with her before it's all too gone. Not sure what I'll do at that point, but I have 3 long years to find out. 🙂
Hope you all have a great weekend. I'm supposed to work my first shift as a real nurse, but our OR flooded and we had to close for the weekend. And yes, I am serious. I think maybe this is a sign. Just not sure what for. 😀