Isn't the first day of school great? Every one's so "let's go get'um" and up early and excited to see everyone.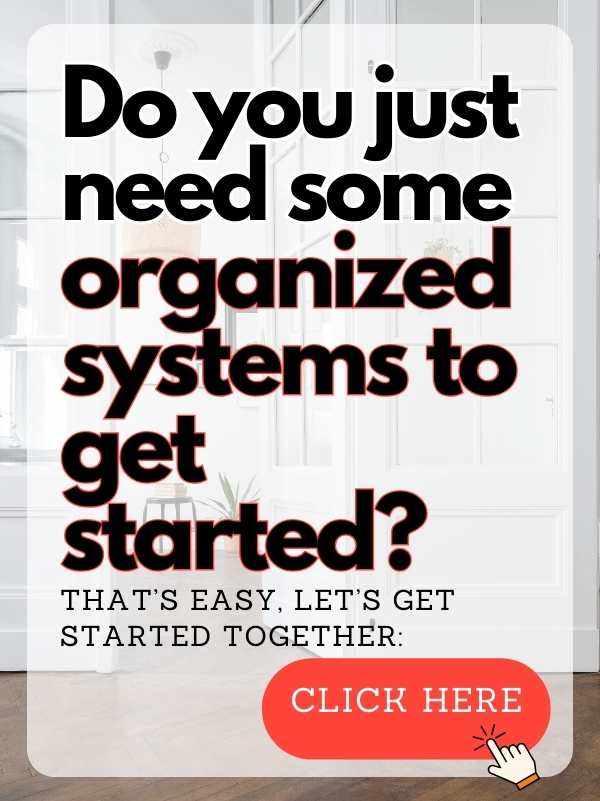 It's such a great new beginning.
And then, there's only 179 more… oh boy.
But, back to the first day:
El Presidante was a good sport to pose for pictures early, since Mr Middle leaves 1.5 hours ahead of him (don't get me started).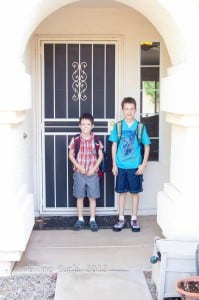 Just for reference, here is last year's, from
this
blog — I like hour our little side window is like a measurement… wait, let me put them side by side. Can I do that?
Apparently I can. Darn it, I liked that black border… I should do that again. But, look — Conner's almost to the 2nd to the top "rung" and Spencer has surpassed the 2nd from the bottom by a good few inches. I hate that they are growing up. THEY hate that they have the same backpacks, but I buy Lands End so they'll last… sue me.
Then, it was time to hurry and get Mr Middle's so he could head to the bus… love that he picked out this shirt. Will he ever wear it again? time will tell…
He was pretty thrilled about the whole thing, honestly. In Scouts the prior week they asked who was excited to go back to school. His hand shot RIGHT up. It went right along with my personal rule that if you make your home a harsh environment, your kids will naturally like school! 🙂 Also, he has the teacher we wanted and his best friend is in the class. Times are good around this one.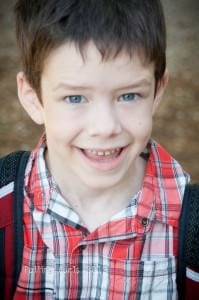 Then it was off to the bus. Our usual stop (we are right between 2) has no kids at it anymore, so we're going to head to the other one.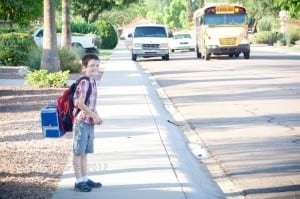 I, because I am insane, then hopped in my car and jetted over to school to make sure he got in alright and feel the new year joy.
It was a little bright out…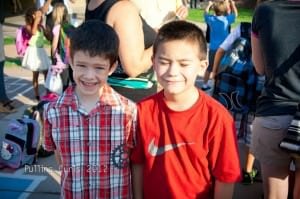 Mr Middle wanted to make sure all was in order….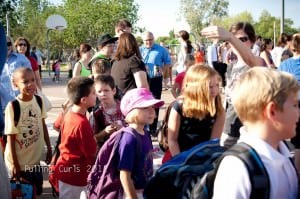 Then it was home for El Presidante, who was thrilled in his own 12 year old way. If that is a way…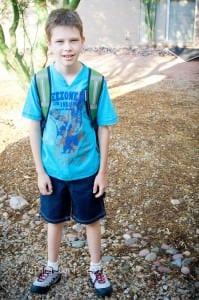 Conner is still in the "prep" program which means his classes are a little harder then your run of the mill Jr High ones, especially math. I've heard rumors that one of the teacher's has a serious streak. Meaning he's hard. I'm secretly giddy for it. Conner seems to really like him a lot… so we'll see how the year proceeds.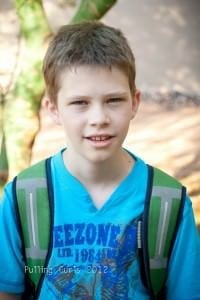 And, if I had a photo after this it'd be me running around happy that something I'd cleaned STAYED clean for more then 3 minutes. That first day was pretty blissful.