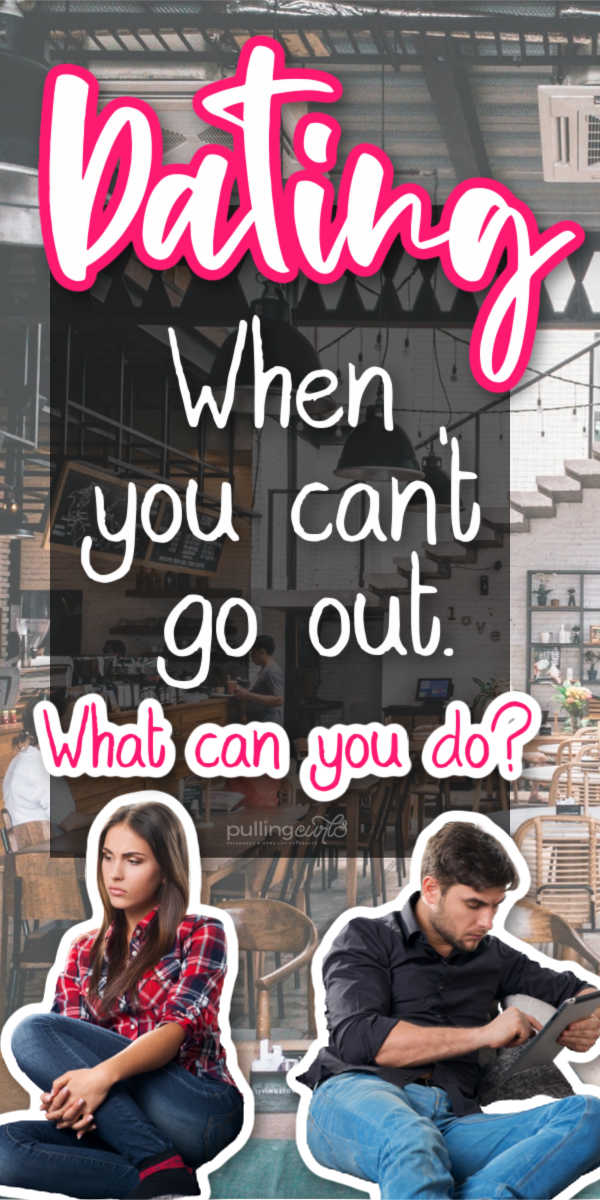 What to do to improve your relationships when you can't go out… what can you do when you're stuck at home, be it with a pandemic, a sick child, new babies and more!
Big thanks to our sponsor Family Routines. I have a whole section on date night in there. ALL about how to get into a routine of date night, which is SO important for a couples!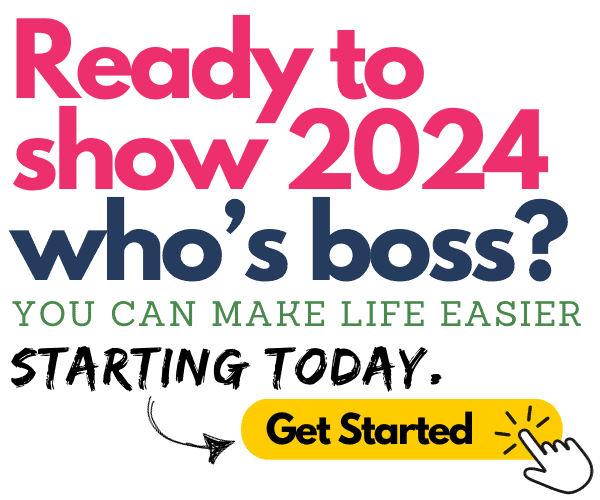 Dating When You Can't Go Out
Ideas in the Episode:
Eight Dates by The Gottmans
Loom Journals (apparently they were bought by Promptly)
5 Love Languages to show your spouse you love them in the way they like to hear it!
The Year Of You (I do it on Scribd — that link gives you 60 days for free)
Other things that might interest you
---
Producer: Drew Erickson
---
Check out all my podcasts: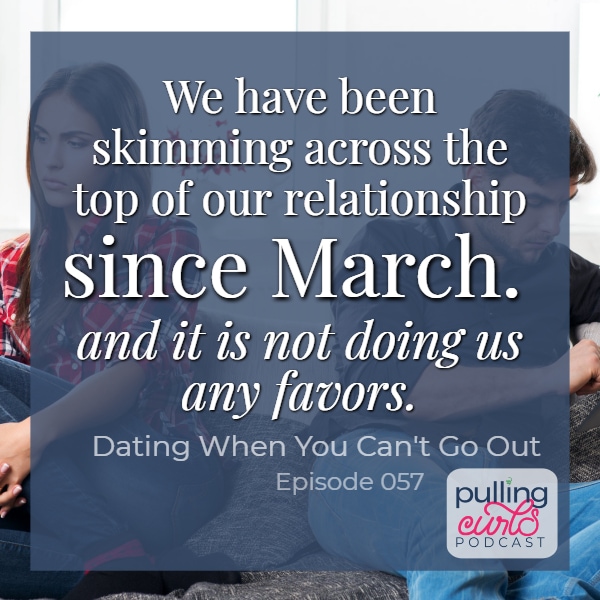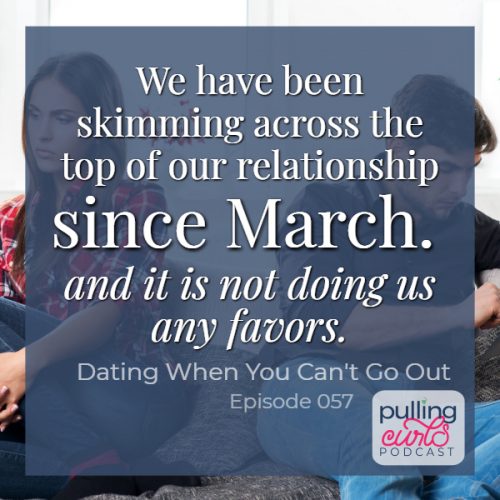 Transcript
Hilary Erickson 0:00
Welcome back to The pulling curls podcast today on episode 57. We're talking about going on dates. We're talking about going to restaurants and movie theaters and sports arenas and plays. And who am I to say, Well, I haven't been to any of those things in so long. I'm so sad about it. But we still need to have date night with our spouse, and I'm trying to reconfigure it. So I want to give you some of the ideas we've had. I'm hoping you give me some ideas in the comments, but let's untangle it.
Welcome to the pulling curls podcast. I'm Hilary, your curly headed host on the podcast where we untangle everything from pregnancy, parenting and home routines. I want you to know that there are no right answers for every family and I find that simplifying my priorities is almost always the answer. It's tangled just like my hair.
Before we get started, we leave me review mean so darn much. Thanks. Okay, guys, quarantine was long. I mean, it still is probably happening when this airs, but my husband and I spent a lot of time together, right? But we didn't go on dates. There was very, very little fun time together. I mean, we watch movies and stuff as a family. We played we all that jazz, but we didn't do much together.
And I think that was kind of a mistake. But honestly, like when you're just swimming, you're just swimming. Right? Anybody else feel that same way. So today, I want to talk about how you can like shovin dates, when you can't go to your favorite restaurant or the movies or all that kind of stuff and what's worked for us and some things we're learning as we maybe didn't have the best relationship as quarantine continued, okay.
And this doesn't have to just be during a pandemic. Sometimes when you have Sick Kids, you can't go out right can't get a babysitter for your sixlets pandemics. If you have a new baby. A lot of my partners people you know, you're probably not gonna be able to have a date for those first couple months and honestly taking a newborn to a restaurant is such a win compared to taking a toddler so just so you know, like, that's as good as it gets.
This episode of The pulling curls podcast is sponsored by family routines how to automate your housewife life ever wish life was more like you pictured it would be before you had kids. Being able to spend less time with the mundane tasks and more time teaching kids the fun and valuable life skills you know they need family routines teaches families to simplify daily tasks into routines that help them feel more peace and joy. Save 15% with a coupon code untangled you can find it at pulling girls calm and the menu under courses or in this episode show notes.
Okay, so for us, we had to shove in dates wherever we could. Maybe you go to pick up groceries together. Maybe you do some work in the yard while the kids watch a video and it's extra hard people I get it all my kids can be at home by themselves, but sometimes.
That didn't make it any better or easier for us because apparently we can't get our act together. But you know, when you have kids at home that you can't leave alone, maybe they're in the backseat watching a movie or you know, stuff like that where you guys can actually talk and and enjoy some time together. Something we did is that we read some books together. Right now we are reading eight dates from the Gottman and that's eight dates and I'm using air quotes that you can't see that you go on together. Now we aren't going out to dinner.
What we do is our kids have movie night. And so we have family movie night usually on like a Friday. And then we have individual movie night where the kids watch their own movie and we kind of do the date together on Saturday night and so that's worked out really well for us. I really like it because you go into stuff together because we have definitely just been like skimming along the top of our relationship since March.
And that doesn't help anybody. We aren't as grateful for each other as we should be. We aren't saying thank you like we should be and we are together all the time. No one else is going to tell my husband Thank you haven't stopped the kids. But they should be kids should be thing saying thank you. But none of us are as grateful as we should be right now. So some other books you could consider reading is a love language book, and then maybe look at what areas of your relationship are suffering, maybe you need a little help in the bedroom, whatever, you know, figure out a good book to read together.
And that's been really nice because we can read the book on our own time and then just come together, you know, once a week to discuss it. It's not like we're reading the book together. I cannot co read with other people that ended in fourth grade for me personally, okay, something else we're doing is loom journals, not sponsored, not even affiliate with them. I got it when I was at a conference A while ago. So full disclosure, they did give it to me, but you guys could do this on your own. It's just a lot of prompts about you and your spouse. Now I will say, We're like 20 weeks into it.
And I feel like maybe 10 weeks into it. And I feel like we're just repeating the same questions. So we're like, maybe we could just do lume journal once a month because I feel like we're each giving the same answer every week. But there are other things I am doing the year of you personally, it's pretty cheap on Amazon. I'm using it on Scribd. I'll put the links I have a like 60 days freedom script, but it's 365 prompts of just about yourself.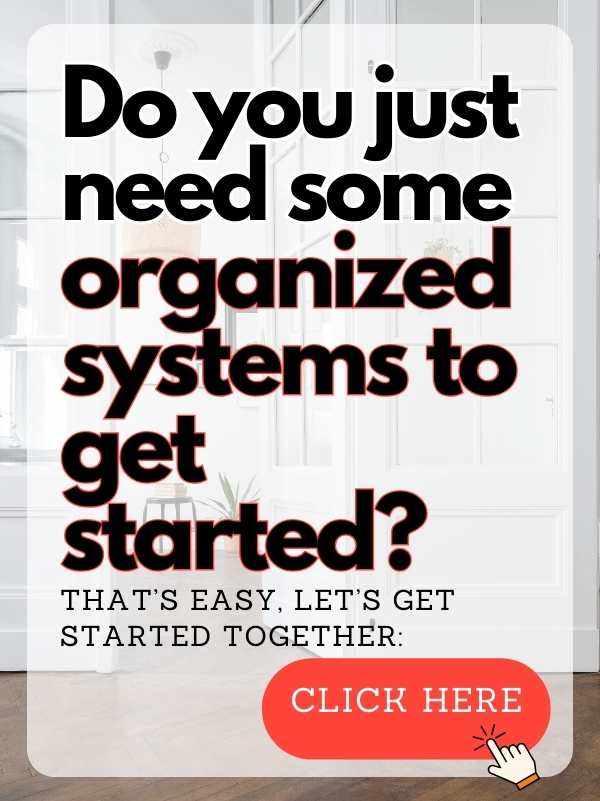 And I think that can be really fun to do as a couple like the one I did last night was five people that had impacted my life. I do not do it every day, but it's just fun, like intriguing questions to answer about yourself and it's almost like a personal history, but you know, you're just doing small bits every day. So I really like it. It's 365 days or a year of you 365 journal writing prompts by Hannah brain VRI me, I'll put the link in the show notes.
So you know, that's something you could do in you know, instead of the loom journal, the journals are a little bit expensive, but you could just get a nice notebook and write those prompts in it and do the same thing totally easy and there's lots of prompts out there on the internet that you can use just learning more about each other can only help right something else you can do especially if like the kids are having their own moment yet side note their kids movies I don't want to watch
and their adult movies they don't want to watch so it's best to have like separate movie nights every now and then even when you have kids that can pretty much watch all movies. Yeah. Anyway, like ours wanted a whole Harry Potter marathon and I have to say that did not excite me. So they're watching that on their own movie night. You're welcome kids. Okay, you can play a game, just the two of you. Now our kids always are like, I won't get on that action.
So we kind of have to hide the game. But playing a game together can be really fun. There's so many fun games out there. I'll put a link to some of our favorites in the show notes. Also, you can watch a movie together. Like I said, kids have their own movie night you have your own movie night, as you have older kids, you know, back in the day at 8pm our time was our time whereas now I go to bed way before our kids do well, Paige is supposed to go to bed at about the same time as I do. But um, yeah, on weekends, I'm pretty sure she's up way later than me.
I'm not a night owl. Okay, so you guys wandered. And then also we've been getting takeout together. In the beginning. We were all getting takeout together. But our kids really like toastiness pizza rolls and I have no idea why I wish they would sponsor me totally knows who just kidding. But they like to totino so sometimes but they do not like to eat Thai food. So sometimes we get what We want so we encourage them to eat like early.
And then we have our own data in the kitchen later on because it just works out and our kids aren't mad that they didn't get the takeout because they left so to speak the rules, I don't know why. And also, you can just go get dessert one night, we went and just picked up cheesecake at the Cheesecake Factory. And that was our date to date night got to be, you know, really part of our routine for a long time, but the pandemic and everything has shifted it and it did not do our marriage any favors, I have to say and so we are slowly going back into it and trying to make our marriage a priority. You know, the problem is you can't have a priority for everything.
And so marriage needs to be up there. Because if the marriage isn't working, the family doesn't work. So those are my tips. I'd love to know what you guys are doing. I could definitely use some advice in this area. Maybe this podcast is mostly for me plus for you. But I'm guessing everyone else is kind of suffering in the same way. I just miss going out. I can't wait until we can do it again. But until then there are other things we can do. We can be grateful for each other and the things that we have.
So hope you guys like this episode. Hopefully it made sense. And you aren't just judging me and my marriage because I bet we're all very smart. Thanks so much for joining us today. Today I hope we help smooth out a few of the smiles in your life. We drop an episode every Monday and we always appreciate it when you guys share and review. Until next time, we hope you have a tangle free day.
Transcribed by https://otter.ai