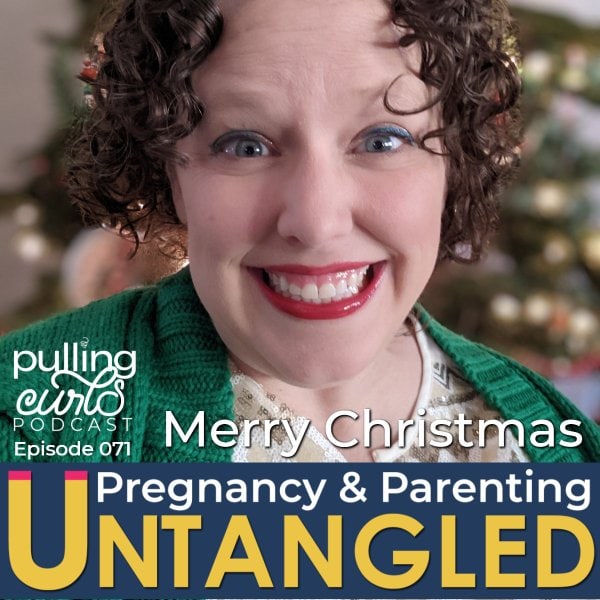 I want to wish all the listeners of The Pulling Curls Podcast a very Merry Christmas. We're talking about bringing goodness and light into our lives during this holiday season.
In this episode we're talking:
Little House on the Prairie Christmas
Hanukah Miracle Dinner
Producer: Drew Erickson
Check out all my podcasts: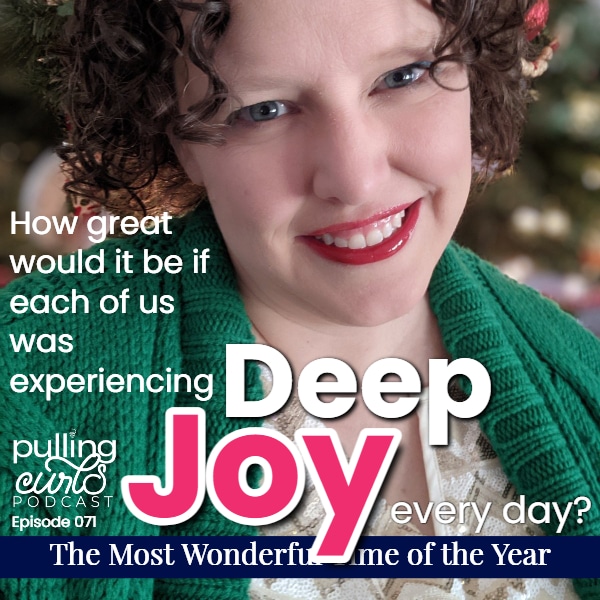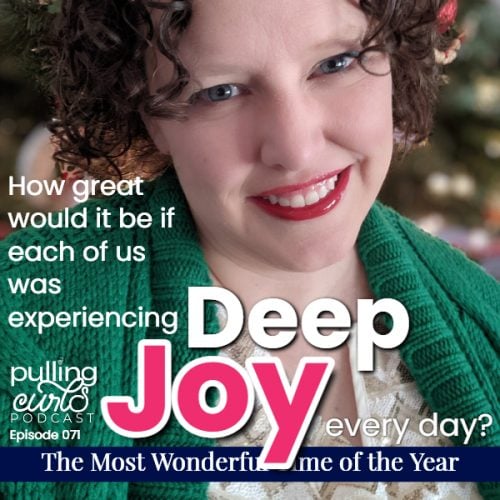 Transcript
[00:00:00.235] – Hilary Erickson
Hey, guys, welcome back to the Pulling Curls Podcast! Today, on Episode 71, it's all about Christmas. Guys, it's the most wonderful time of the year, isn't it? Let's untangle it.
[00:00:22.995] – Hilary Erickson
Welcome to the Pulling Curls Podcast, I'm Hilary, your curly headed host on the podcast where we untangle everything from pregnancy, parenting and home routines. I want you to know that there are no right answers for every family. And I find that simplifying my priorities is almost always the answer. It's tangled just like my hair.
[00:00:48.045] – Hilary Erickson
Christmas. Twenty, twenty five. I got I just got my yearly ornament. We do an ornament every year on our Christmas tree. I know we broke twenty sixteen this year. I think it was twenty sixteen. It was a snow globe and it is no more. Gonzo. Hello. Twenty twenty. Anyway, this year is a mask. Merry X-mask I think is what it says. My friend Becca made it. It is awesome. But yeah. Did you watch Little House on the Prairie.
[00:01:11.535] – Hilary Erickson
There's that Christmas episode where Mr. Edwards brings their Christmas presents across the creek and delivers it to them. He, of course, saw Santa while he was in town and Santa gave him the Christmas presents and he brings across the creek and Manpower so worried that Christmas wouldn't happen. But then they get these beautiful, simple gifts for Mr. Edwards and they all remember that he came and that he saw Santa. And that was the true magic. Right. I feel like twenty twenty is going to be our Mr. Edwards across the creek here. It'll be fine. Right.
[00:01:34.035] – Hilary Erickson
K, so I was talking to my Jewish friend Jamie and… Jewish friend Jamie. And I was just like, what is Hanukkah boiled down to? I mean, I know the Maccabees and sort of. But I was just wondering, like, what does it boil down to? And she was like, well, I guess like when you get at the heart of it, it's about miracles. And I was like miracles. Well, that is something I can 100 percent get behind.
[00:01:55.665] – Hilary Erickson
So for Hanukkah this year, we had a miracle dinner where, of course, we had latkes because that is at the heart of Hanukkah dinner and so delicious. I know I use the New York Times recipe. So does my friend Jamie. And you obviously can still celebrate Hanukkah. It might be over by the time you listen to this, but you could still have a miracle dinner where we just went around and we named the miracles in our life, both this year and in times past.
[00:02:18.105] – Hilary Erickson
And, you know, I was thinking about the miracles in my life and I have dropped into the some of the most nice bloggers ever when I started blogging. I mean, what a benefit that was to me and honestly, a miracle, because there are a lot of really crappy blogger groups out there. But it's a huge miracle for me because I have this great support of women who are kind, and giving. So I would just encourage you. I mean, obviously not a huge miracle.
[00:02:40.995] – Hilary Erickson
I don't know. I never see these women, but I can talk to him online whenever I want. And it has been a miracle in my life. So I would just encourage you to look for the miracles in your own life. I think that was a really fun dinner for us. And hopefully we make it a tradition because A. Latkes B. Miracles. And it's been really fun for our family to understand kind of what our Jewish friends celebrate at the same time.
[00:03:01.095] – Hilary Erickson
But while I was asking, Jamie, what does Hanukkah boil down to? I was like, Hilary, what does Christmas boil down to? And Hanukkah also boils down to light because it was these candles that stayed lit for eight nights versus the one night that it had oil. So there was a miracle and light. And I honestly feel like Christmas boils down to very similar things to in do you hear what I hear? Very common Christmas song. He will bring us goodness and light.
[00:03:25.905] – Hilary Erickson
And for me, I think that's what Christmas is. It's goodness and light and that's what that little baby brought into this world for us. He may have divided us in some ways, but I think Christmas ultimately reminds us that we want to be good people. No one wants to see a kid have an empty Christmas morning or Hanukkah morning or not enjoy things over that Christmas break. And I think as a community, we always come together to try and make sure that people enjoy it even during twenty twenty.
[00:03:52.215] – Hilary Erickson
So goodness and light, good things for this Christmas. I am actually reading a book right now about joy and she talks a lot about how important it is to remember the specific times that we have had joy. And I was thinking about like I'm happy a lot of the time. I tend to be a fairly positive and upbeat person most of the time. And I was just thinking about like I remember I was a young mom with two little boys that fought all the time and honestly has not changed a whole lot.

[00:04:16.575] – Hilary Erickson
They're not little anymore.
[00:04:17.565] – Hilary Erickson
They're both taller than me if you look at our Christmas card. But they just fight. They like to fight. Mentally, emotionally. But I remember, you know, I'd hauled them to the library once and we had had just just such a good time. And they were looking at books and talking about them and I just tried to savor that moment because they were getting along. I had always thought that going to the library was so important with my little kids and I absolutely did not love it.
[00:04:40.515] – Hilary Erickson
So just some things I've been thinking about is to think of beyond the times that you're just happy, like at Disneyland. I'm happy. Most of the time. It's crowded. There are a lot of things that bother me. I do not like standing in line, but like when we go down that first shoot at Pirates of the Caribbean and they sing the yo ho hee ho song? Pure Joy, because my whole family sings the pirate song with such a good time.
[00:05:00.045] – Hilary Erickson
That's like the joyous time compared to just like the happy time that does that make sense. And I think sometimes we just think of joy as being happy. But I think we know what deep down inside those times that we're really joyful and they don't tend to last super, super long. But there's something that stick in our heart. So I just think joy to the world. I mean, how great would it be if each of us has experienced.
[00:05:19.765] – Hilary Erickson
Moments of joy, deep joy every day, so I think that's something we can aim for, and if by thinking about the times that we've had, the more I've thought about the times that I've had joy, the more joyful moments I've actually had. So that's been kind of nice, too. So Christmas twenty twenty. I have to say, I'm ready for it to go. I'm excited. This was supposed to be our Christmas off, so I was supposed to go visit my parents.
[00:05:39.715] – Hilary Erickson
We haven't seen my parents. It's been about ten months for me and it's been almost a year and a half for my kids. My mom, my mom had knee surgery right after we saw her the last time. And so ever since then, they haven't really traveled. And she broke a leg that she had the other need. You know, how goes your old you got bones, so we were supposed to go see them. And so I'm really sad that we're not going to go see them, but I have hope in goodness and light that we'll be able to see them next year.
[00:06:03.805] – Hilary Erickson
And hopefully things change and get better. So Christmas twenty, twenty. Goodness and light. I believe he brings it to us. We just sometimes have to look for a little bit harder. Oh, before I forget, you guys pulling curls is going on a one week hiatus. Jingle Bells, Batman smells.
[00:06:18.115] – Hilary Erickson
Hilary's taking a week off. Anyway, I'll see you in twenty twenty one. We have so many good episodes you guys. I invited my twenty year old on to come tell me everything I've done wrong as a parent. So stay tuned. Thanks so much for joining us today. I hope we help smooth out a few of the snarls in your life. We drop an episode every Monday and we always appreciate it when you guys share and review until next time.
[00:06:38.875]
We hope you have a tangle every day.