While I decided to stop doing my income reports, I have decided to do a "state of the blog" post that will have a very edited income post, but also 5 things that are really helping my blog. I think there are plenty of pageviews for all of us. I figure helping others can only help myself. But first, I can't help but share a few numbers (don't miss my blogging income spreadsheet that will help you get your # as well!).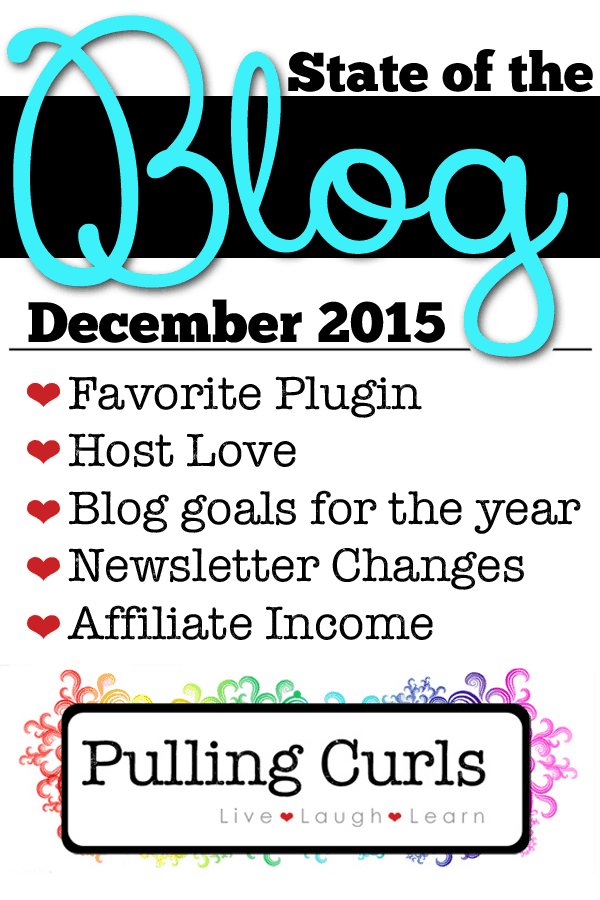 Pageviews: 280,000 (up 26%)
Income: $4,500 (up 26%)
45% ads
35% affiliate
25% sponsored posts
2% "owned" work (so far my book and my spreadsheet)
Now, for the tips!
I am slowly finding affiliate income that I can stand behind! I added a post to Owlet Baby Care which is a smart product. I'm excited to share it. I've also earned good money with kiwi crate (I paid for 2 kids to get those Kiwi Crate and Tinker Crate for Christmas). I've also continued to have a great time with Dressing Your Truth, and continue to enjoy sharing them (and have a makeover coming this month).
Starting on January 7th I have changed my desktop ads to MediaVine. You might notice less ads and a faster load time, which is really exciting! It is likely that ad income will initially go down (January means a pretty hefty decrease for all bloggers in ads) but with faster load times and less obtrusive ads I think it's worth it. I had a great run with Blogher and Blogger network, but I'm pretty sure that the days of more is more advertising is coming to a close. At least for me. I am still using PadSquad for my mobile site. I heard they're working on caching, which could be really exciting!
I love my host. I use InMotion hosting. They've been so great with a bunch of technical questions I've had.
I switched to ConvertKit in mid November. Since then I've had about 2400 sign-ups on my newsletter list. I've been using some printables that I already offered to get people on my list. Some unsubscribe, but many become avid clickers. I add a tag to my links when using ConvertKit which allows me to see exactly who is clicking over. It looks to be about 1500/month right now. I hope to have more!
Favorite Plugin of the Month: Content Views — It allows me to show a customized views of what posts I want to include. I can sort by category, tags, date posted, and many more. You can see it at the bottom of almost all of my recent posts and also on my category pages — like Finances.
---
2016 Goals
A few of my Facebook groups encouraged us to write blogging goals. Frankly, I had never done that before but I wanted to try it this year!
Income: 4k/month of "passive" income each month (that means ads and placed affiliate content by 2017. $48,000 for the year in passive income. I'd like to be at 6k/month of total income by December.
Pageviews: 500,000 pageviews/month by December 2016 (consistantly)
Teach a class at a blogging conference (that they pay me to teach and put me up for the conference) – I think I'd be great at finding your niche (how I settled into a writing style that combined my educated job and my writing) or tracking your stats.
Create, produce, promote and sell my prenatal class (coming soon!)
100k pageviews/month coming from my newsletter
500/month from Amazon by 2017
1k/month total from affiliate sales
Hire my teenage son part time by the end of the year
1k/month from my own personal sales by 2017
Social media by 2017
Facebook 5k likes
Twitter: 6k followers
Pinterest: 30k followers
Instagram: 1k followers
I have a little table that splits it all up by quarters, so we'll see how I'm doing and also how often I want to do state of the blog posts. Either way I'd love to know what's working for you! Give me the skinny!

If you liked this post be SURE to sign up for my blogging newsletter. These post aren't published on the front page and I mean to really only have the info if people are looking for it. The easiest way to do that is my newsletter. FYI. When you get the first email be sure to click blogging to get you in the club. 😉