I am looking for a miracle right now. In case you missed it, my husband has resigned from his teaching job, effective in 6 weeks. It's for a variety of reasons. It sounds insane, I'm totally aware. I'm a full on planner, and to quit one job while you don't have another — well. That's just ludicrous. BUT, the same goes for the situation we were put in.
Suffice it to say, I need a miracle.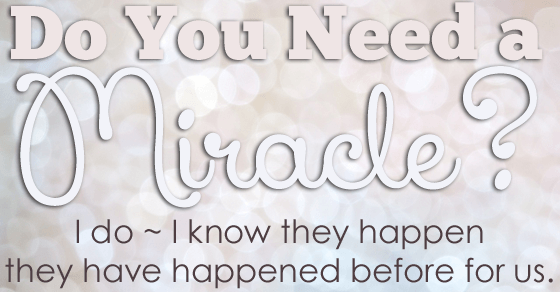 I'm wanting to do highlight some of my favorite blog posts that maybe haven't gotten all their love out of them yet.
Today I'm highlighting a favorite ~ the timeline of our move.
You see, once before our plight was actually more bleak. We had an INSANELY expensive house, and a layoff and no jobs in sight. God built us a home here in the desert. I remember wondering if it would EVER end and that timeline post was written the day that it ended. I finally plopped down on the couch with a job, a home and all of our worldly posessions put away.
Yes, it had been a LOT of work, but SO many miracles. Here's my top 5 miracles:
1. We found a job right near a school Drew had wanted to go to, to get a masters degree.
2. My kid's elementary highlights writing, which our school in CA had also highlighted. No drop there.
3. I had planned on doing an "advanced" program for Conner in the Jr High in CA — and they had something so VERY similar at the Jr High we chose ( randomly, had no idea until we signed up).
4. We bought our house on the internet. Truly. We had an offer in before we ever saw it. It just happened to be in one of the best neighborhoods, with great shopping. Great layout, great play space. Amazing. HUGE miracle.
5. I couldn't have found a better fit for a job. I have been so blessed by their flexibility and the good people I work with.
Miracles happen. They happened before, they will happen again.
Do you live near a community college or university? My husband is hoping to be able to work in an area like that. Maybe you could look around for a music opening? I am a great neighbor. I make delicious cinnamon rolls.
Which, by the way — is a miracle. 🙂