Lil Girl Toys are a fun way to grow the imagination of the little lady in your life.

Thankfully, I don't have a big girl – but Princess P is pushing 5 and I do have some REAL favorites that tend to veer towards the girl side of things. Don't judge me, most of these items are pink and I planned that they would be really GIRLY things. I would suggest these for ages 3-5 (and up). Here are my favorite lil girl toys. I hope you find one you'd like to give the little girl in your life!
Related Post: Gifts for toddler girls
Toys for Girls age 3-5
1. A kitchen. I wish I had found one at Goodwill or a Used Kids shop, but bought mine full and upright at the Step 2 website. It is so fun and there are SO many things a little girl can do in a kitchen. I'd recommend as real-to-life accessories that you can get. I found some great real-looking pots and pans and Pyrex dishes at JCPenny years ago. They have served us well. I have also thrown in some old measuring cups of my own. She uses this really often, since about age 3 and I see it continuing for a few more years. A great investment. A kitchen is a hugely popular girl toy (but kids of all ages and genders enjoy this one).
2. This one is pretty specific, but she ADORES this set of Strawberry Shortcake dolls (btw, the pictured set and the link are different because Amazon is being difficult, the one she likes best is linked). I think mainly because the clothes are doable (yes, Polly Pocket, I am looking at YOU). I think any set you find (because there are princess and pollys and many other brands) that your child can change their clothes and do their hair you're set. Plus, this one is so small we can take it to PTO meetings if I'm in the mood (and want to clean up 500 things from the floor when I'm done). This might be a good time to walk the girl toys at Toyrs R Us just to see what's relevant and looks somewhat easy to put the clothes on/off.
3. Lego Princess Sets. We have a LOT of legos. In fact, we had so many duplos I gave some away and this girl wasn't even MIDLY interested in them, until my parents bought her a princess to go with them — and all the sudden they're a treasure. It's not that she's building castles with them — but I love that they have some girl-themed items. Judge away, I still like it. I plan to get her some "friend" sets soon (although I think they now have regular Lego Princess Sets — so those will be GREAT!). I think it will just enhance the 5 million legos that my sons already have. I do mean 5 million. Yes. Yes I do.
4. Doctor Set. Ok, this one isn't girly, although my parents bought her this Doc McStuffins set which replaced a WELL loved Fisher Price set. I think a doctor's kit is a really important toy to have at your house. Not only does it promote pretend play, but it can come in handy if they ever have to have procedures or want to get some medical stress out on their dolls. Every child needs a doctor set. The end.
5. Baby Dolls with accessories. We have gotten a new baby doll and have found accessories at Goodwill. We have one that pees (thanks to potty training) and one that sucks a bottle and goes to sleep. She rarely uses either of these special features. She mostly sticks them in her stroller and hauls them around the house, and sometimes feeds them a bottle (btw, how great are those bottles where the milk "disappears" — love those). Which, is also what other kids do when they are at our house. BTW, I have had 2 of the fabric doll strollers and they have ALWAYS fallen apart fairly quickly. A good family friend bought us this particular stoller/shopping cart/ride on and it is SO great for whatever a little girl needs. I wouldn't go overboard with accessories. I have a carseat I got at Goodwill, which is rarely used. Again. Stoller, doll, maybe a couple of outfits and a bottle. The end.
Anyway, those are obviously all quite sexist. But, little girls just tend to enjoy these types of items, and GOOD FOR THEM. I had to learn all these amazing mothering skills at some point, and it started with a doll and making my dad pretend spaghetti from my "stove". That doesn't mean I don't have an abacus and counting blocks for her too. These just tend to be the stuff most loved.
Popular Girl Toys
Of course, there's also dress-ups and My Little Pony. We don't allow Barbie at our house yet. I'm not sure when I will. She seems to enjoy the other items a lot at this point, so we'll see.
I will say to find them at Goodwill. I have a personal rule that Santa himself doesn't bring things from Goodwill but me and Drew do. The kids know I saved money when they see that tag and they're fine with it. I tend to not get dolls at Goodwill, only because the hair, most often, is a rat's nest. My kids see that enough with my hair. 🙂 Everything else I'd keep an eye out for if you have a female approaching 3!
If anyone has favorite toys for a 5 year old girl I'd love to hear more, we're buying for a birthday soon and I LOVE play. Feel free to put links below!
The point is there are so many fun things to do. It's fun to be a girl. I wish I could make pretend spaghetti still. 🙂
If you liked this gift guide — be sure to check the crafty girl gift guide: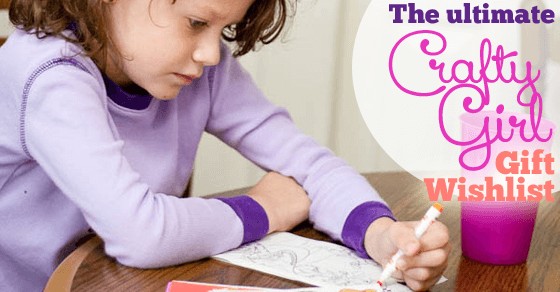 Think about signing up for my parenting newsletter, and check out my other gift guides below that:
<
[pt_view id="8d8937f4da"]