Scary Rides at Disneyland: Every parent goes to Disneyland with some trepidation — will your kid like it? Will there be a lot of crying and concern that they aren't enjoying the day. Are Disneyland resort rides scary? And what rides will trigger your kids depending on their personal fears?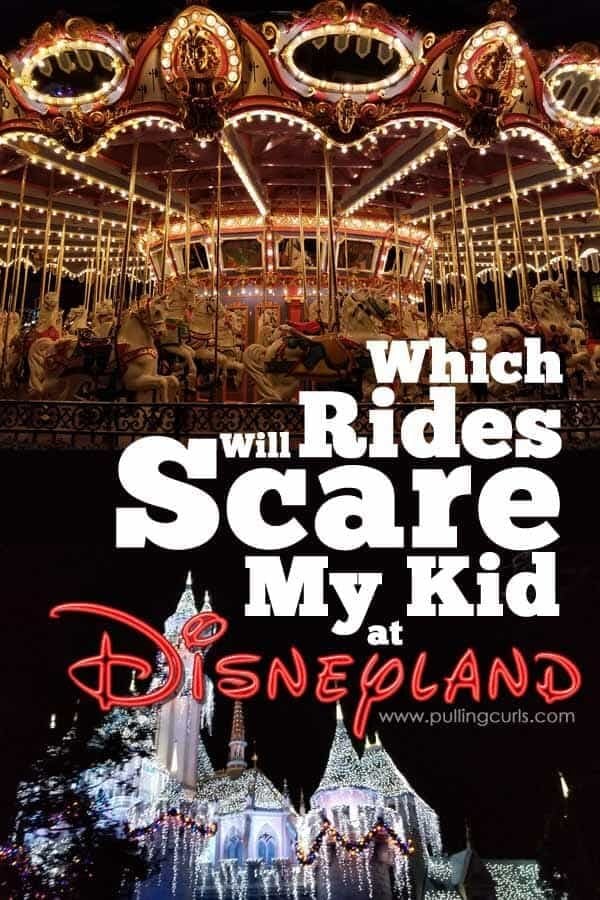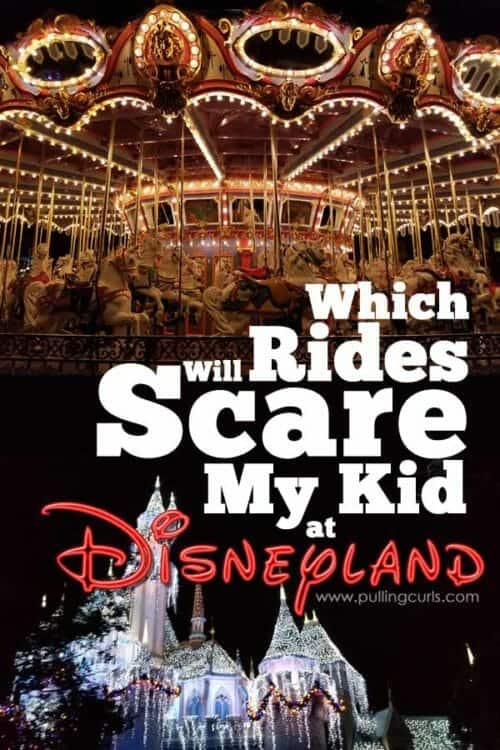 I wanted to give you all a run-down of what rides are scariest at Disneyland. I offer both a printable checklist about what makes each ride scary and also a top 10 scariest ride portion — so you can choose what works best for you! BTW, this is all part of my Disneyland Tips series which includes budgeting, a trip calculator, even how to take care of your Disney feet!
Yes lots of rides have a height requirement, but just because your child is tall enough for a ride at a Disney park, doesn't mean that they are set for that ride. However, if you're looking for height limits I absolutely love these height charts.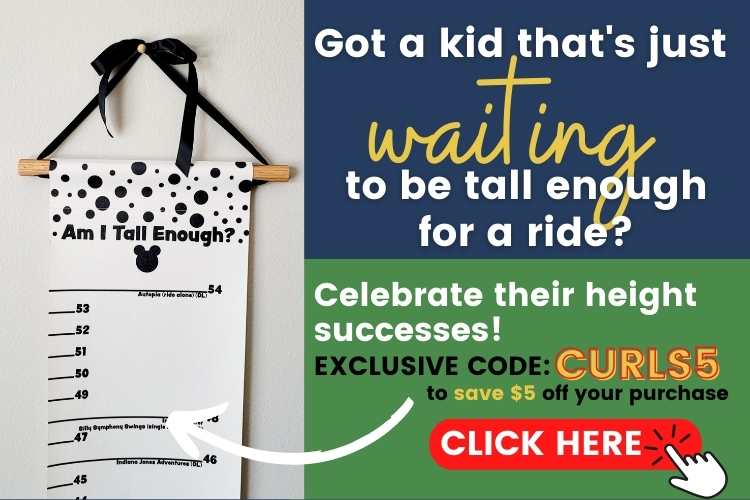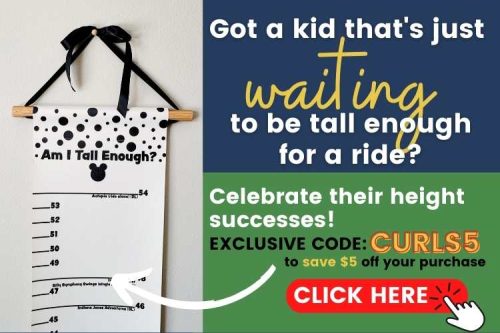 Check out my post on Disneyland height requirements charts. It also has all the height requirements listed.
Printable Scary Rides at Disneyland Checklist
I wanted to give rides a "scare factor" — but there are too many different triggers.
So, instead, I listed each ride — and what was scary about it. This post includes a printable list that you can use at your leisure.
Hopefully that — combined with your knowledge of your child will allow you to make great choices for your day at the happiest place on earth (and keep it that way).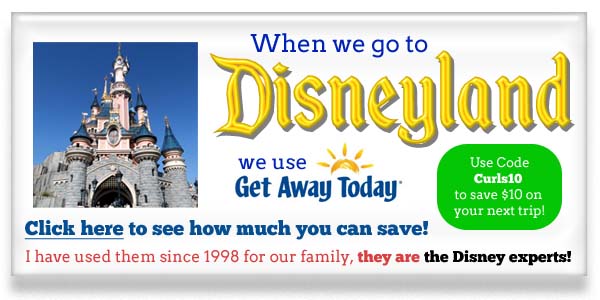 Disneyland Scary Rides
Please keep careful thoughts of the notes at the bottom:
Be sure to download my Disney Day Planner
Dark rides sounds like they will be child-friendly, but my kids often have the hardest times with them because they are SO dark and vibrant. A good "test" dark ride is Ariel or Winnie the Pooh — those are probably the two least scary ones.
While it can seem like you are "getting your money's worth" to spend your day on the popular rides, don't forget to see it from your child's perspective. We have had a great time at the Redwood challenge trail that is mainly line-free.
Fantasmic is a fun show, but has some effects that kids might not love including fire and a giant dragon
The fireworks are very kid-friendly, but they are loud as they light them off close by.
World of Color is kid-friendly, but also has fire effects (although, I think it is less scary than Fantasmic)
Parades are all VERY kid-friendly unless a particular character gives them the creeps.
Don't miss my post on what I think is the BEST age to go to Disneyland with your kids.
What's the scariest thing at Disneyland?
The scariest thing at Disneyland is paying FULL price — so be sure to use Get Away Today! Save $10 when you use code CURLS10. I use them for ALL my Disney trips – they're the Disney experts, the easiest and CHEAPEST way to book!
To give you an idea of my favorite hotels I have posts on walkable hotels to Disneyland, my favorite Disneyland Family Packages (which has reviews of all the hotels I've stayed at) and also the cheapest hotels near Disney!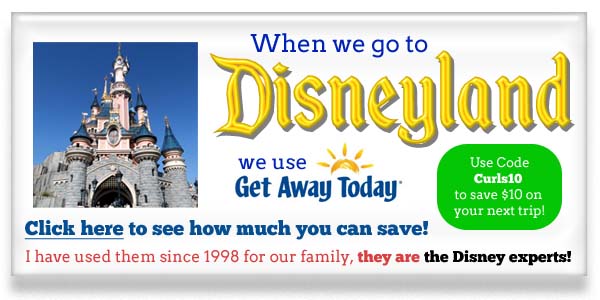 Included on this printable are:
Rides At Disneyland Park:
Alice in Wonderland
Astro Orbitor
Autopia
Big Thunder Mountain Railroad
Casey Jr Circus Train
Chip & Dale Treehouse
Davy Crockett's Explorer Canoes
Monorail
Great moments with Mr. Lincoln
Donald's Boat
Dumbo the Flying Elephant
Tiki Room
Finding Nemo Submarine Voyage
Go Coaster
Goofy's Playhouse
Haunted Mansion
Indiana Jones Adventure
Small World
Jungle Cruise
King Arthur Carrousel
Mad Tea Party
Many Adventures of Winnie the Pooh
Mark Twain Riverboat/Columbia Riverboat
Matterhorn Bobsleds
Millennium Falcon: Smugglers Run
Mr. Toad's Wild Ride
Peter Pan's Flight
Pinocchio's Daring Journey
Pirate's Lair on Tom Sawyer Island
Pirates of the Caribbean
Rise of the Resistance
Roger Rabbit's Cartoon Spin
Sleeping Beauty Castle Walkthrough
Snow White's Scary Adventures
Space Mountain (that changes to Ghost Galaxy at Halloween)
Splash Mountain
Star Tours
Storybook Land Canal Boats
Tarzan's Treehouse
Rides at Disney California Adventure Park:
Animation Academy
CA screaming (soon to be the "incredicoster)
Flick's Flyers
Ladybug Boogie
Gadget's Go Coaster
Golden Zephyr
Grizzly River Run
Guardians of the Galaxy – Mission Breakout
Heimlich's Chew Chew Train
Jumpin' Jellyfish
King Triton's Carousel
The Little Mermaid – Ariel's Undersea Adventure
Luigi's Tire Spin
Mater's Junkyard Jamboree
Mickey's Fun Wheel
Monster's Inc
Radiator Springs Racers
Redwood Creek Challenge Trail
Silly Symphony Swings
Soaring' Around the World
Toy Story Midway Mania
Tuck and Roll's Drive 'Em Buggies
Turtle Talk with Crush
The list is current as of 12/2017 – I will try to update as I go in the coming years — I have NOT been to Star Wars Land yet (but I hear that the the rides there are not too bad). I plan to update this checklist sometime in the next year with more info on those!
Top Ten Scariest Rides at Disneyland
While many rides TURN a lot — I don't personally call those "scary" — just something to avoid if you don't list twists and turns.
I was hesitant to do this list because each person has their own things that they are afraid of. These are just the top 10 that came to mind, but I'd recommend checking out the printable list if you're interested!
Guardians of The Galaxy
This it the one ride at Disneyland that I will never ride. It is basically a drop ride. It's my husband's favorite ride, but huge drops are the worst for me, so I'd just much prefer to people watch or go to the Animation Academy close by!
Incredicoaster
The good news is that this ride is all available to see — but once kids see the drop or the loop, they might prefer to not be involved in this one. It's not bad (I have ridden it), but I don't enjoy it. 🙂 I much prefer the Jack-Jack Cookie Nom-Nom. 🙂
Indiana Jones
I think this combines a LOT of movement, very dark, some flames. My daughter was TERRIFIED of this ride forever, but loves Incredicoaster, so it just shows you different folks, different tastes. 🙂
Matterhorn Bobsleds
This "coaster" is SUPER jerky, it also is REALLY loud, and they don't hide the fact that the Yeti (named Harold) is after you. I love this ride, but with little ones with big imaginations, this may be overwhelming — even if they hit the height limit.
Space Mountain
This is favorite of my kids. A previous iteration "Ghost Galaxy" they are not a fan of, but the regular Space Mountain is pretty great. Not too many big drops, and very smooth.
Splash Mountain
Again, because I hate drops I don't usually ride this ride. There are 2 drops, not bad — but I hate it. 🙂
Mr Toad's Wild Ride
This is the scariest of the "dark" rides. I think it's even scarier than Haunted Mansion. Loud noises, a lot of yelling. You drive through Hell…. just sayin'….
This serves also as a reminder that for little kids any of the Fantasy Land dark rides CAN be scary for little ones. My kids hated all of them but Peter Pan until about eight years of age.
Big Thunder
This one is also quite apparent as to what you're getting into. It's fairly fast, and somewhat twisty. I don't personally feel a lot of "drops" and it is always the preferred coaster for our youngest kids.
But, there's a reason it's the wildest ride in the wilderness. 🙂
Radiator Springs Racers
The majority of this ride is very tame (and amazing) but you do "race" at the end. It is fairly fast and you do some "bunny hills" that make your stomach flip a bit. Very fun, but if kids hate those kinds of things they may hate this ride as well.
Pixar Pal Around
There are two lines for this, you can either go on the stationary gondolas, or you can go on the swinging ones.
I'd rather die than doing the swinging ones, I think. I do the stationary, but my kids who are afraid of heights don't love it.
Please do NOT let this list scare you! I do think that Disneyland is the most fear-friendly theme park there is (even better than Knotts Berry). There are TONS of ways to take kids of all ages to Disneyland happily!
Disneyland Rides Faq's
What Disneyland rides are closed?
That really depends on when you're going. You can see which rides will be closed when you're there on the Disneyland calendar. Other sites predict what will be up/down but the actual page is your best source!
What Disneyland rides can babies go on?
Disney is AMAZING for babies.
There are a huge number of rides that have no height restrictions. You can see that very few have height restrictions on this page.
Also, many rides allow you to keep them in their carrier (like an Ergo or a Bjorn) on the ride!
What Disneyland rides have Fast/MaxPasses?
These sometimes do change, but I have a whole post about tips for using the MaxPass system.
What rides of a single rider line?
A few of them have them (I wish there were more) — they include:
California Screamin'
Goofy's Sky School
Grizzly River Run
Indiana Jones Adventure
Radiator Springs Racers
Soarin' Over California
Splash Mountain
Which Disneyland rides take pictures?
Some rides take your picture, which you can get free with your Photopass, currently included with Maxpass
Those rides include:
Space Mountain
Splash Mountain
Radiator Springs Racers
Guardians of the Galaxy — Mission: BREAKOUT!
Incredicoaster'
And yes, my kids do plan what their pose will be for the picture. 🙂
Which Disneyland rides have the longest lines?
I have a whole post that helps you plan your Disneyland day — it shares what rides to try to get on first as their lines fill long at times.
I also have a post on planning your California Adventure day.
Did you know there's a mixer that's almost as good as the Bosch but is $120 less? The Artiste is a great option for the home baker who wants a great stand mixer (way better than the Kitchenaid).
Which Disneyland ride to go on first?
Again — I'd reference that post up above — with the Disneyland & California day plans.
You can also get access to the plans themselves right here:
Which Disneyland rides are original?
Touring plans has a list of what rides were opened when.
The original rides include:
Autopia
Disneyland Band
Disneyland Railroad Main Street Station
Disneyland Railroad New Orleans Square Station
Jungle Cruise
King Arthur Carrousel
Mad Tea Party
Main Entrance
Main Street Cinema
Mark Twain Riverboat
Mr. Toad's Wild Ride
Peter Pan's Flight
Snow White's Scary Adventures
Storybook Land Canal Boats
Can you ride Disneyland rides while pregnant?
YES! While no one will actually stop you from getting on a ride when you look pregnant (my personal rule is to not ask if someone's pregnant unless a baby is coming out). I have a whole post on going to Disneyland pregnant.
Are Disneyland Rides Underground?
This is pretty interesting how rides wind through the park — you can read more in this post on disboards. Also, this article had some interesting info on the Indy Ride. 🙂
Be sure to check out my best tips for the MaxPass (a great way to let some of your family skip a ride without waiting a long time while you ride).
You can get your Disney Day Planner here as well, and check out all my other Disney tips below that:
Don't miss my list of Best Affordable Disneyland hotels — a list of 30+ of my favorite hotels (plus my own current top 10 hotel list).