In this post, I'm going to share 14 Disneyland secrets for families. Tips and tricks to help you ALL enjoy the day together, even with multiple ages and personalities.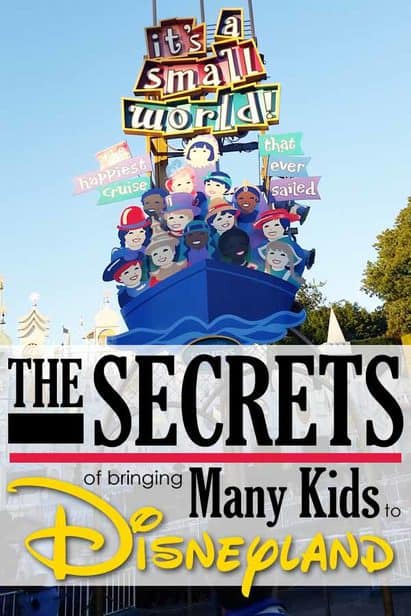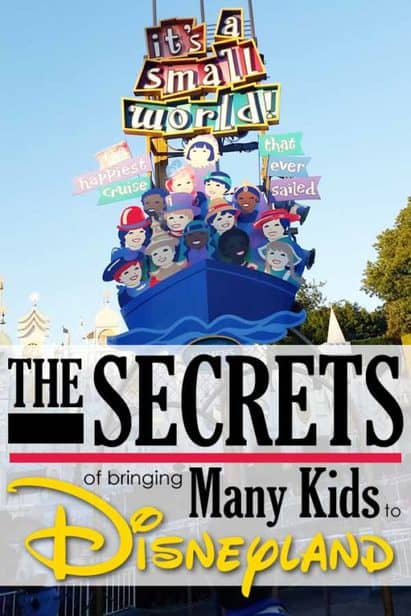 We don't usually head to Disneyland alone.  Taking into account what everyone wants to do and how to divide your time can be a tricky dance, especially for parents.
Our kids have a pretty big gap in the middle.  We stretch from age 16 to 7, with a 12-year-old in the middle.  We have been to Disneyland pretty frequently with these kids (and at different ages than they are now).  Here are my top 12 tips for taking kids to Disneyland of different ages.
This post is part of my Disneyland Tips page — be sure to check that page out for more tips and tricks for taking your family to Disneyland!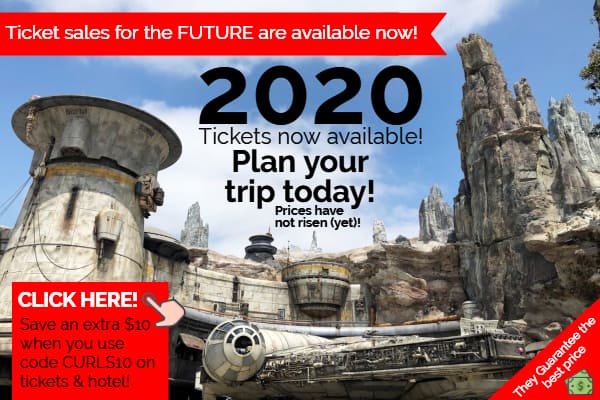 Disneyland secrets for families:
Picking Disneyland Rides when you have many kids:
Be clear that everyone will get to ride what they want to ride.  That may mean that everyone goes on Small World together (which I love, but I know some of my family isn't so keen on it).  Once.  That doesn't mean that the youngest in the family gets to claim the entire day with Small World and Fantasyland rides.  It also doesn't mean the oldest will get to ride Space Mountain 16 times in a row.  As long as they go into it knowing those rides will only happen a couple of times, they can make sure to REALLY enjoy them when they can go.  I have a post about Disneyland Planning and also Disneyland California Adventure Rides that are going to help you plan your days out well!
Be clear that everyone rides that can ride.  Just because someone says they hate Small World doesn't mean they get to not ride it.  Whenever possible we all ride together.  This is different if a child has a legitimate fear (even if their body is tall enough to on the ride).  I find that teenagers would often rather sit and text than go on Small World.  I didn't just shell out a bajillion dollars so they could text. 🙂
Discuss the importance of giving a little and taking a little — the importance of compromise.  Discuss it before you go — so no one goes wild saying that they "never get what they want"
Make a mental note of who's getting their way.  Make sure that no one is getting their rides again and again.  Obviously, when you're at Fantasyland, you're going to ride a lot of little kid rides, but be sure to balance it.
Finding a Disneyland Hotel with a Large Family:
Be sure to get a big enough room for all of you.  It's tempting to get the room that only sleeps 4 when you have 8 of you — but stepping all over each other will make everyone grumbly before you even get to the park.  I love asking the peeps at Get Away Today how big rooms are, and what hotel they would recommend for a family of our size.  They always know. 🙂  I talk about some of our favorite Disneyland family vacation packages right there.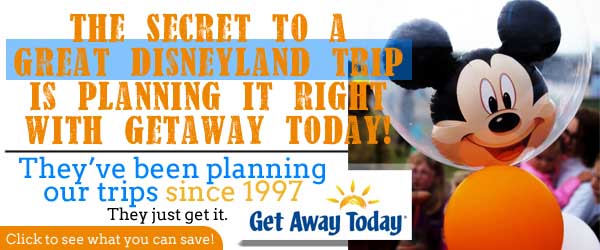 Look for activities that the younger kids can go on when the older kids are on another ride.  When older kids ride Indiana Jones, that is a great time for little kids to explore Tarzan's treehouse, or take another trip on the Jungle Cruise.  Remember:  Parents, you can get a split pass and have both adults ride the bigger rides while one of you takes the little kids.  California adventure also has a lot of great run-around spots for littles (like Redwood Creek Challenge Trail).
Sometimes there are even seasonal activities that would be great to split up and do — like at Halloween or Christmas.
Little Kids At Disneyland
Some rides are a good time for little legs to rest.  Sometimes you walk those kids to death (especially if they have older siblings), but maybe just all take a time out while older kids ride a different ride.  Enjoy a snack and some ambiance
Use fast passes especially for the rides that the whole group does not want to ride.  It makes it a lot easier to not wait for someone.  I have fast past tips in my Disneyland planning post.  Also, interested in splurging on a Maxpass — find out if the Maxpass is worth it?
Teenagers with your family at Disneyland
Let older kids have some freedom.  At our last trip, my oldest son was in charge of getting fast passes.  That gave him some independence to navigate his own way through the park a few times a day (and saved all our feet).  He was great at it, and I think it helped all of us have a little time apart.  You might enjoy some of the tips I figured out in this post about letting go of some control at Disneyland.
Talk to older kids about how hard you worked, when they were little, to cherish the magic.  That means not trashing on other's favorite characters or being mean about any one's excitement.  Remind them that there are times you're not having a blast with them, but you are there to do it as a family.  Ask them to remember how they felt about Disneyland when they were tiny, and ask them how they can foster that in their siblings.  More on this later….
Planning your Disneyland trip with a large family:
Go for an extended time.  I don't want anyone to feel "gyp'd" out of their Disney trip so we always try to go at least 3 days (this last time we went 4 days and it was WAY too much).  Plus, adding more days to a Disney ticket gets cheaper and cheaper the more you add.  Of course, you have the added expense of more hotel days but we've found it to be worth it in the long run.  Getting tickets at Get Away Today will save you enough to add an extra day!
Divide and conquer.  I've never had my boys wait in line to see the princesses.  It's just cruel.  They've always gone to do Buzz Lightyear with their dad and we hang out for Cinderella.  Everyone's happy.
Don't do Disney that frequently.  We do Disneyland every couple of years as a family.  More than that we'd probably not cherish the magic together as much as we do.  When we go it is truly a FAMILY vacation.  We do everything together and just really try to enjoy each other.
Find the compromise.  We ate at the Plaza Inn for lunch — my daughter really wanted to see it the parade, but no one else really did.  She got to "see" the parade, we all got to eat and sit in chairs (plus we easily got out when it was done and go on rides quickly while the crowd dispersed).  You can read all about the best places to eat in Disneyland for Families.

The benefits to Disneyland with your whole family:
I will say that nothing warms my heart than my older two talking to my younger one about how amazing a ride is, how much they loved it when they were little (especially when they don't love it now) and they all ride it together, often singing the song. Or when my youngest daredevil talks the older ones into going on a ride they were previously too scared to ride and they walk off comparing their pose for the "not-so hidden" camera, planning how they are going to pose next time.
Disneyland is a great family vacation, it caters to kids of many ages and you CAN have a great trip — all together — if you just do a little advanced planning!
If you liked this post — you can get Disneyland and California Adventure day plans right here.  And check out all my other Disneyland posts below that!
Don't miss my whole page all about Disneyland tips!