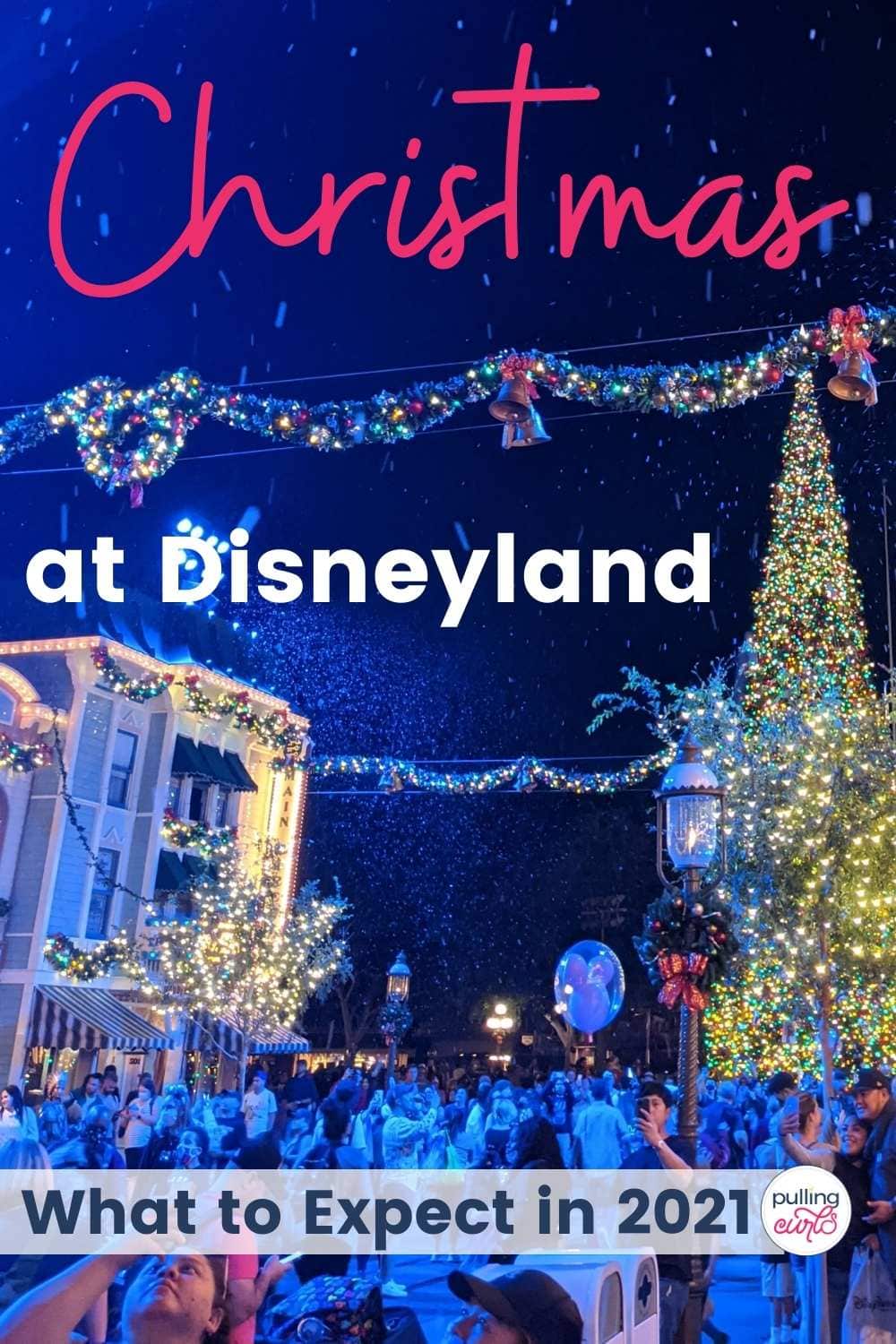 Christmas at the Disneyland Resort Theme Park is amazing! This page is going to share when it is, tips, where to get the best price on tickets, and what rides change. It was honestly one of our family's best memories at the Happiest Place on Earth!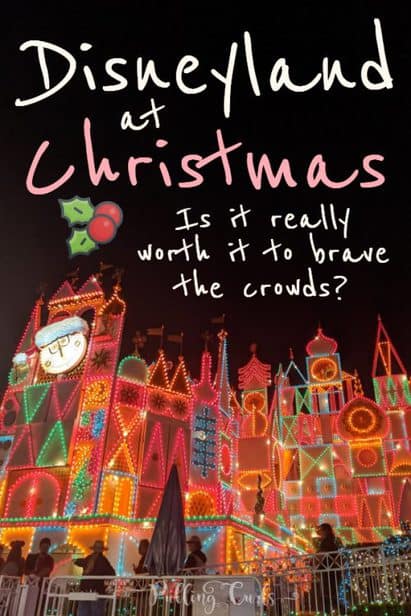 I also booked my trip with Get Away Today (as I do all my Disney Trips). Save $10 when you book with them using code CURLS10. Get Away Today does all-inclusive Disneyland vacations (almost).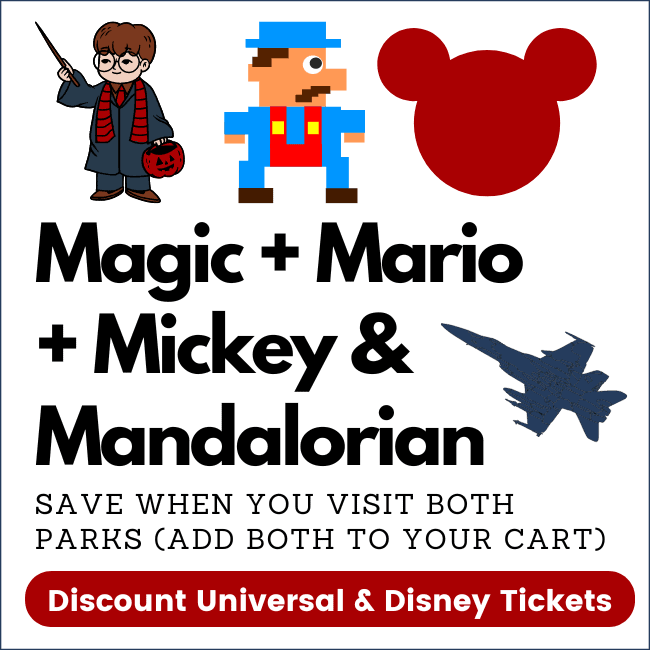 Disneyland During Christmas
Decorations during Christmas at Disneyland
Disney never does anything small and Christmas is one of those things it's amazing at. From the garlands across Main Street to the snow-covered castle it's all so cute and AMAZING. Don't you just love those Mickey Mouse wreaths? You'll notice all the decor first thing at Christmas time!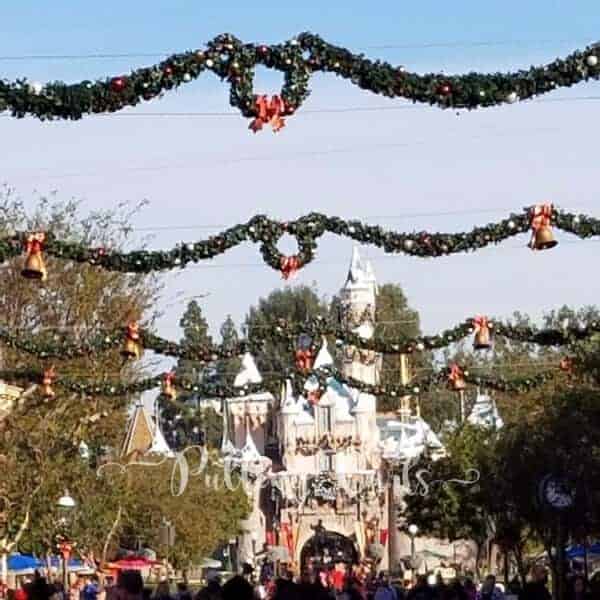 Being from AZ we don't get a lot of traditional Christmas in our area (neither does So Cal) so I enjoy it even more.
The decor extends across the park, it's in California Adventure too.
Fun places to check out that are different:
Christmas tree and garlands on Main Street USA and in the town square
Castle — Sleeping Beauty Castle is brilliant with its snow (especially at night)
Cars Land
Be sure to look for extra hidden mickeys in the decor
Carthay Circle & Buena Vista Street is decorated up in CA Adventure.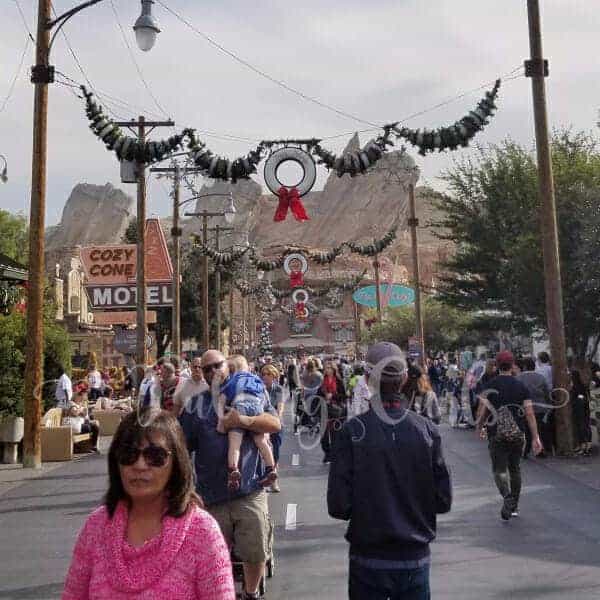 When do Christmas decorations go up at Disneyland?
Halloween decor comes down VERY quickly after October 31st, often that evening they are gone.
Christmas takes a bit to get up at the Disney Parks but it usually up by mid-November. In 2021 the first official day was November 12th. The timing is similar in Walt Disney World.
If you're looking for more info on other times of the year at Disneyland – -check out my post on the times of year to visit Disneyland.
What does Christmas Food Start at Disneyland?
Normally when the decorations go up, but sometimes they add new foods during the season too. Often they publish a Disneyland Christmas Guide with all the foods you can anticipate before your trip (and sometimes those foods are sold out, so use it as a GUIDE not a PLAN).
See below where I talk about the Disney Festival of Holidays where food is offered in a tasting menu at California Adventure.
Rides that are different during Christmas at Disneyland
(These are called "Ride Overlays")
Small World during Christmas at Disneyland
Oh my goodness, it's everything you ever thought it should be. The lights outside are absolutely amazing. Every 15 minutes there's a projected show on it that is really cute. It makes up for the line being much longer than normal.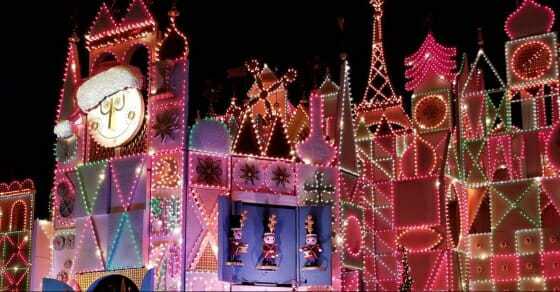 They also decorate inside and add Jingle Bells and Deck the Halls to their regular "It's a small world"
Nothing overtly religious, just a really nice Christmas feeling asking for peace on earth. One of my favorite things to ask for.
All your favorite regular dolls are there, just decorated for the holidays too!
Haunted Mansion during Christmas at Disneyland
Haunted Mansion Holiday stays the same as it was over Halloween — Tim Burton's The Nightmare Before Christmas. I talk all about that in my post about Halloween at Disneyland. Suffice it to say that it is super fun and colorful. 🙂 I love to see Jack Skellington come out!
New Orleans Square takes on a very festive appearance, so fun.
Cars Land during Christmas at Disneyland
Cars Land has a lot of rides that "transition" to holidays like Christmas or Halloween pretty easily by theming and music, including Luigi's Joy to the Whirl, and Mater's Jingle Jamboree. I find them both to be very fun, but not really "different".
Characters During Christmas at Disneyland
The "main" characters often have Holiday costumes they don, and sometimes special characters are out during the day). You can always ask a character attendant where your favorite Disney Characters are at.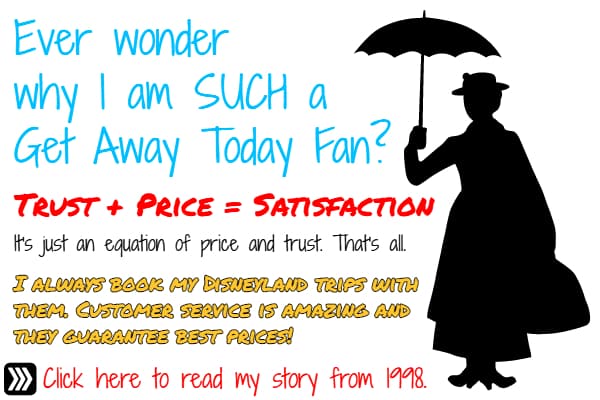 Disneyland tickets for Christmas
Disneyland does sometimes have particularly busy times a bit more expensive than other times of the year. One day park tickets are based on what is happening at the park (and how busy it is) but multi-day theme park tickets are the same price as they normally are. Just make sure you get a reservation for the day you want (as Christmas at Disneyland can get VERY BUSY).
I have always found the best prices right here. Remember if you get a whole package — code CURLS10 will save you $10.
Festival of the Holidays
There were a bunch of food booths with traditional holiday foods from across the world. They were small portions, but the pricing wasn't bad. A fun addition! You can find this throughout Disney California Adventure Park.
They have a Sip and Savor pass that can save you a few dollars if you plan to try a lot of dishes.
The Fireworks at Disneyland for Christmas
Disney has a holiday fireworks show that they do nightly during the Christmas season (weather permitting). It's so sweet, and centers on "believe". There are nods to all types of religious traditions in the show, including Christianity (which I thought was nice – I hate it when organizations entirely leave out the reasons we are each celebrating). At the end of it, it "snows". Super magical. Super sweet. The Holiday magic fireworks were one of my favorite parts of our visit.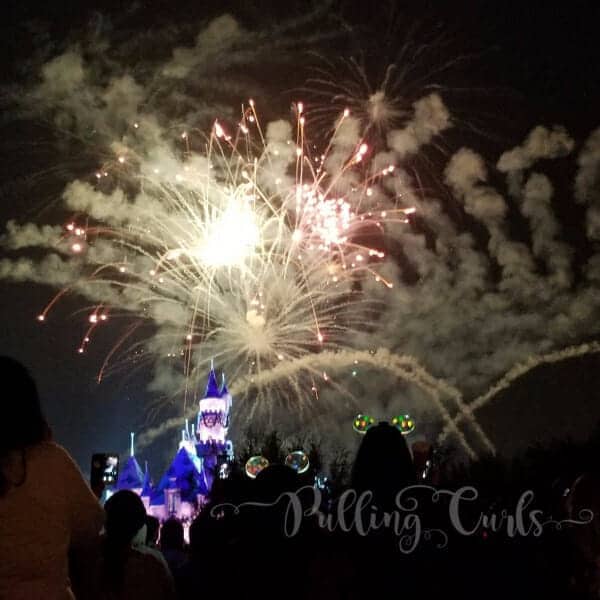 The Weather in Anaheim over Christmas
Oh man, it was JUST RIGHT. Sure we had sweatshirts, but we weren't too hot and not too cold. It was absolutely glorious! Be prepared for rain though — I always recommend having ponchos in your Disneyland Backpack anyway (see my post about what to bring to Disneyland).
Related post: Best time of year to go to Disneyland
Performances during Christmas at Disneyland
All of the regular performing groups had awesome Christmas tunes they'd gotten together. Brass Bands, Barber Shop from the Dapper Dans. All super cool!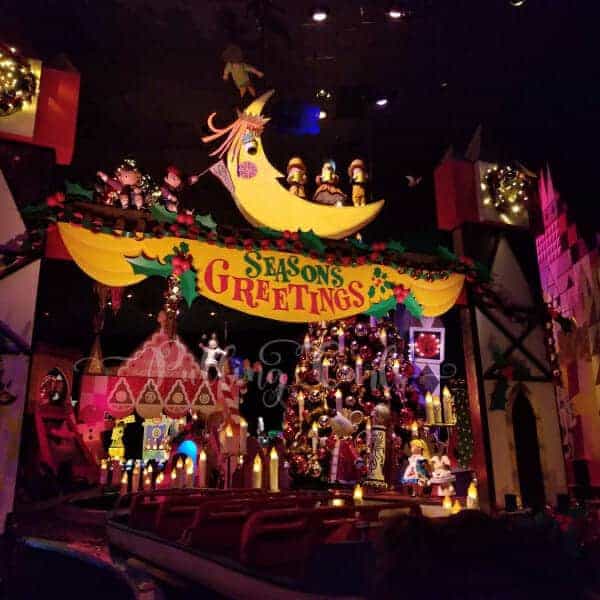 Downsides to visiting Disneyland during Christmas
Crowds – We did pull our kids out of school to go on our vacation in early December, and mid-week the crowds weren't bad at all. Our last day was a Friday and things picked up considerably. Just be aware that Christmas is a SUPER busy time! Your mindset should be that you're there to enjoy the spirit of the park and you will likely ride fewer rides and stand in line more.
Also, if at ALL possible — I would recommend going at least the week before Thanksgiving, or the week after Thanksgiving/the first couple of weeks of December.
Everyone just LOVES Christmas at Disneyland so it can be really hard.
Be sure to grab my Disney Day Planner to help you most effectively spend your time at the park:
---
I will also say that there are many reasons to enjoy Disneyland during the holidays. If adding it at Christmas is too stressful, pick another time of year. We've always enjoyed our Disney trips (thanks to quick and easy planning with Get Away Today). Each one has special things to offer no matter when you go.
Disney Merriest Nights Party
There is an after-hours holiday party called Merriest Nights in 2021 that is held "after hours" at Disneyland Park on select nights (frankly, not very many nights).
The party is held from 8 pm to midnight, although guests can enter as early as 5 pm.
Regular guests to the park are ushered out at 7 pm (party guests have a special wristband, and in 2021 we were given lighted necklaces).
The price varied depending on the nights, but I paid $175 for the first night's party.
They advertised it as themed parties throughout each land of Disneyland.
Pro's of the Merriest Nights Party
Wait times for rides were non-existant. You could almost walk on anything.
Music and festivities (including live music) in each land were very festive.
The Christmas Fantasy parade was fun and sweet (it's the same every year), and it was easier to find a spot with lower crowds
The sipping chocolate and waffle. Yummmmm
The muppets show was SO cute, really made me feel festive and happy. 🙂
Con's of the Merriest Nights Party
You'll find on tiktok I didn't love it…. let me outline why.
Foods that were only offered during the event were hard to get. The Jolly Holiday app broke and people were waiting hours to get their waffle. I understand stuff happens, but Disney seems to think we should just roll with it after paying for the high price ticket and the food.
The entertainment was lovely, but they said there would be "parties" in each land. Those parties consisted of music (when the band wasn't on a break) and a big board you could take a photo in front of. It just didn't feel special.
Waits to get your picture in front of a character were SO long. I would have expected fun characters throughout the park that people could just take photos by, but there were waits and they looked to be about half an hour, or longer.
The price. As I said, I paid $175. The party was only 4 hours officially, and during the "mix-in time" the park gets crowded, it's just a few hours for that price — and for each member of your party.
Personally, I don't think I would go again. I hope they re-work it and add more, but as it is now, it's just not enough. I'm also not impressed that they tell others that they need to leave early, but those guests pay full price and aren't able to hop over to California Adventure. Doesn't seem really fair to them either.
Christmas at Disneyland FAQ's
When does Disneyland put up holiday decorations?
After Halloween decorations quickly go up — but rides will be switched over (especially Small World) by early November
Disneyland Christmas Food
There are SO many amazing options at the Festival of the Holidays. They change every year — so keep your eyes open. Other popular options:

Candy Canes (people stand in line to get them)
Festive Churro options (like s'more)
Macaroons at the Jolly Holiday Bakery on Main Street
Disneyland Christmas Parade
It's a very sweet parade, very festive and fun. Check the Disneyland app or web page to see what time it's scheduled for your visit.
Is Disneyland Open on Christmas Day?
Yup! They sure are.
When is the absolute best time to visit Christmas at Disneyland?
I have heard the early hours are great on Christmas (but the park fills up quickly), but I also heard that January 1st morning is also great as many people are hung over from New Year's Eve. 🙂

I also talk about the best times to visit Disneyland in this podcast episode.
Where can I find Santa Claus at Disneyland?
Disneyland you can find him over by Critter country and in California Adventure he's on the Redwood Creek Challenge trail. 🙂
Does Star Wars Land / Galaxy's Edge Decorate for Christmas
Not really, no.
When do Holiday decorations come down at Disneyland?
They keep the decor up for sure for a week after new years, and then it slowly starts to come down after that in early January.
Christmas at Disney is absolutely magical. I am so glad we went, I doubt we'll head back during the December timeframe (not a fan of crowds and normally not a fan of taking my kids out of school, I just felt like we REALLY needed it this year) anytime soon, but we'll always remember our Christmas at Disneyland!
Don't miss all of my other Disneyland tips — be sure to sign up for my Disneyland packing list and check out my other Disneyland posts below that!
[pt_view id="d498c1b099″]