I just got back from a trip to Disneyland at Christmas.  I had always wanted to go – I had heard so much about the decorations and the spirit of the park.  I must say I did not leave disappointed.
Disclosure, I did receive 2 free 1-day tickets (but purchased many more days for the rest of my family) from Disney to provide them coverage of the park this holiday season.
I also booked my trip with Get Away Today (as I do all my Disney Trips).  Save $10 when you book with them using code CURLS10.  Get Away Today does all inclusive Disneyland vacations (almost).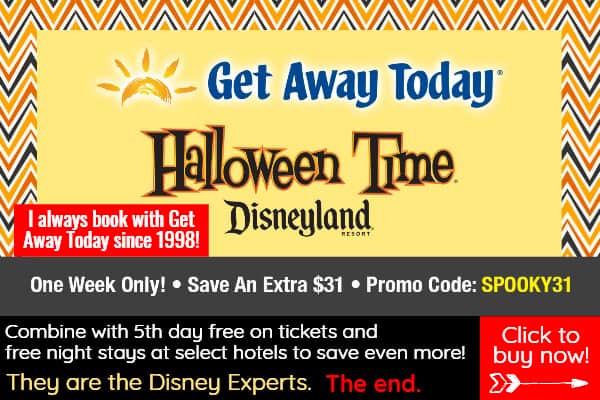 Christmas at Disneyland: 6 things you'll love
Decorations
Disney never does anything small and Christmas is one of those things it's amazing at.  From the garlands across main street, the snow-covered castle it's all just so cute and AMAZING.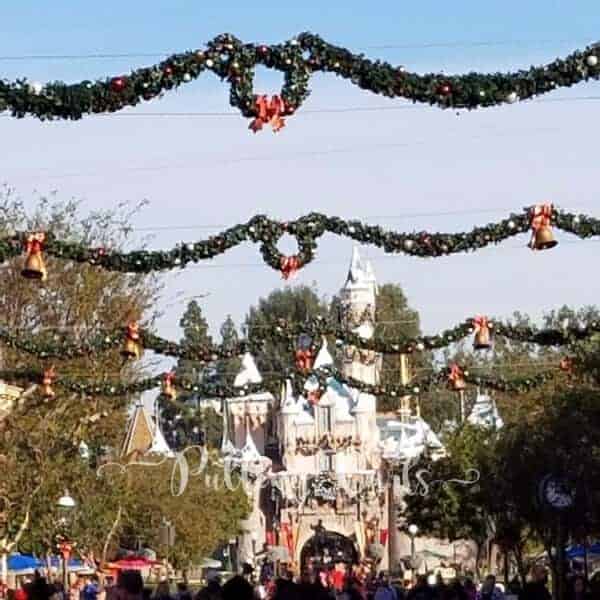 Being from AZ we don't get a lot of traditional Christmas in our area (neither do they in So Cal) so I enjoy it extra.
The décor extends across the park, also in California Adventure too.
Fun places to check out that are different:
Christmas tree and garlands on main street
Castle
Cars Land
Be sure to look for extra hidden mickeys in the decor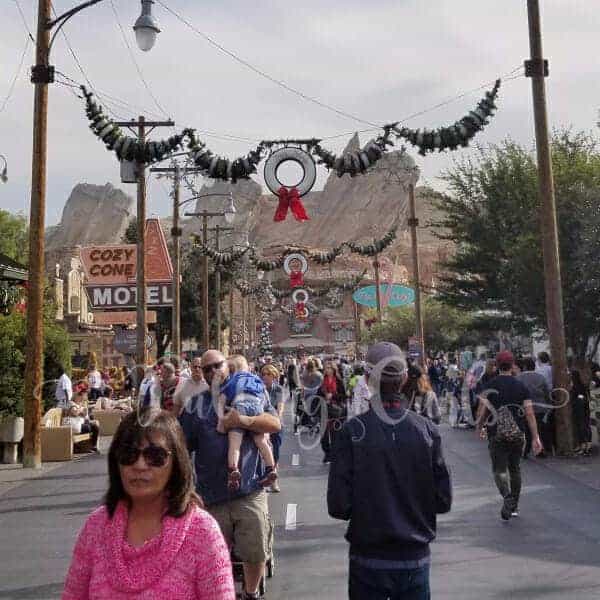 Small World.
Oh my goodness, it's everything you ever thought it should be.  The lights outside are absolutely amazing.  Every 15 minutes there's a projected show on it that is really cute.  It makes up for the line being much longer than normal.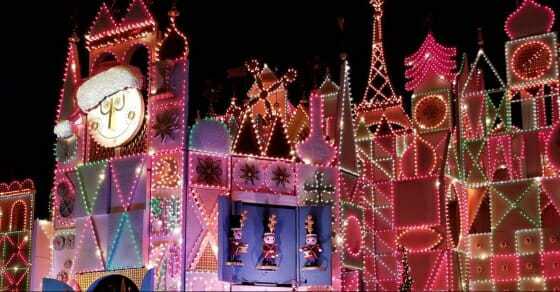 They also decorate inside and add Jingle Bells and Deck the Halls to their regular "It's a small world"
Nothing overtly religious, but just a really nice Christmas feeling asking for peace on earth.  One of my favorite things to ask for.
All your favorite regular dolls are there, just decorated for the holidays too!
The Haunted Mansion stays Christmas-y too as they keep the nightmare before Christmas decor up from Halloween.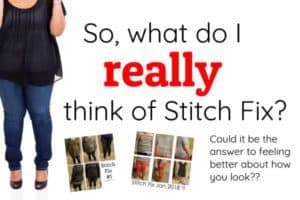 Festival of the Holidays
There were a bunch of food booths with traditional foods from across the world.  They were small portions, but the pricing wasn't bad.  A fun addition!
The Fireworks
Disney has a holiday fireworks show that they do nightly during the Christmas season (weather permitting).  It's so sweet, and centers on "believe".  There are nods to all type of religious traditions in the show, including Christianity (which I thought was nice – I hate it when organizations entirely leave out the reasons we are each celebrating).  And, at the end of it, it "snows".  Super magical.  Super sweet.  One of my favorite parts of our visit.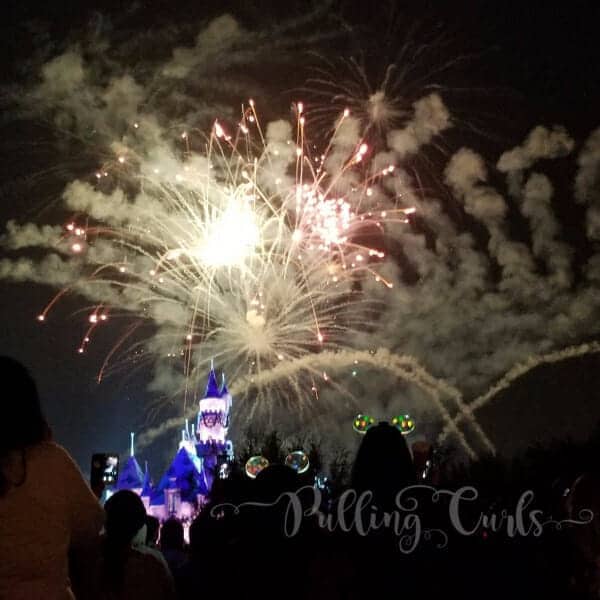 The Weather
Oh man, it was JUST RIGHT.  Sure we had sweatshirts, but we weren't too hot and not too cold.  It was absolutely glorious!
Related post:  Best time of year to go to Disneyland
Performances
All of the regular performing groups had awesome Christmas tunes they'd gotten together.  Brass Bands, barber shop from the Dapper Dans.  All super cool!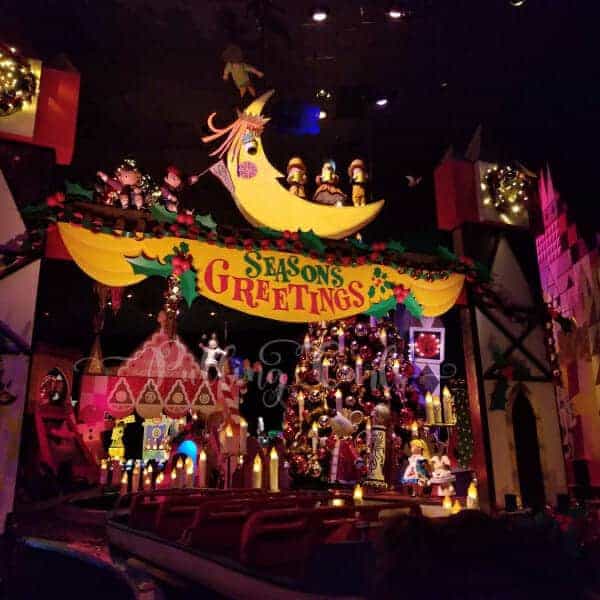 Christmas Downsides
Crowds – We did pull our kids out of school to go on our vacation in early December, and mid-week the crowds weren't bad at all.  Our last day was a Friday and things picked up considerably.  Just be aware that Christmas is a SUPER busy time!  Your mindset should be that you're there to enjoy the spirit of the park, and you will likely ride fewer rides and stand in line more
---
I will also say that there are many seasons to enjoy Disney at.  If adding it at Christmas is too stressful, pick another time of year.  We've always enjoyed our Disney trips (thanks to quick and easy planning with Get Away Today).  Each one has special things to offer if you're looking to enjoy your trip.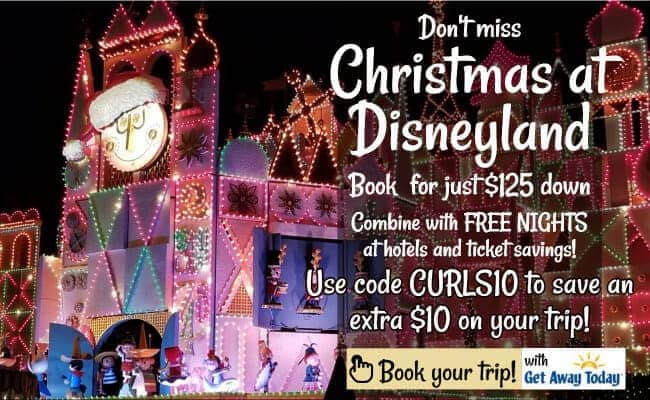 Christmas at Disney is absolutely magical.  I am so glad we went, I doubt we'll head back during the December timeframe (not a fan of crowds and normally not a fan of taking my kids out of school, I just felt like we REALLY needed it this year) anytime soon, but we'll always remember our Christmas at Disneyland!
Don't miss all of my other Disneyland tips — be sure to sign up for my Disneyland Day Planner and check out my other Disneyland posts below that!