An All-Inclusive Disneyland Package sounds amazing. To not have to worry about tickets, travel, food, or hotel — have it all booked for you? It's not as simple as it sounds, and I'm going to tell you why.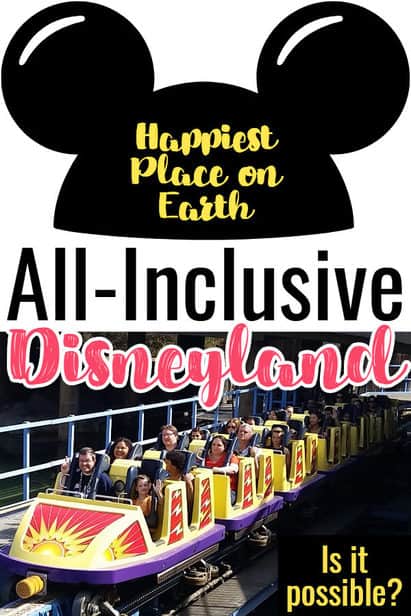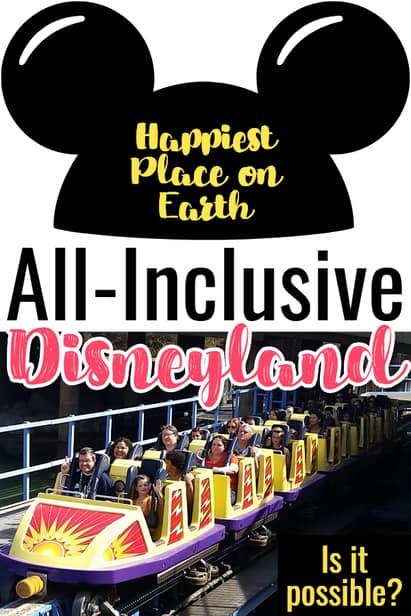 Disneyland Vacation Packages All Inclusive
The definition of all-inclusive is "including everything or everyone".
And while Disneyland does that better than anywhere else I've ever been (I mean it's a place you can all have a great time) — it mostly possible at Disneyland, but not entirely. Btw, see my post about taking kids of many ages to Disneyland — they really do try to include everyone!
So, an all-inclusive trip would include:
Travel (air along with rental car)
Hotel
Travel to the theme park (either parking or shuttle)
Food
It is possible to get 3/4 of that booked super-easily for you.
The fourth though — that's where the issue comes in.
Book Your Disneyland All Inclusive Package
I always have Get Away Today book my travel, hotel, tickets and travel to the theme park each time we go. You can find out ALL about their packages in my Disneyland Family Packages post. They are awesome if you are trying to save at Disneyland at Christmas.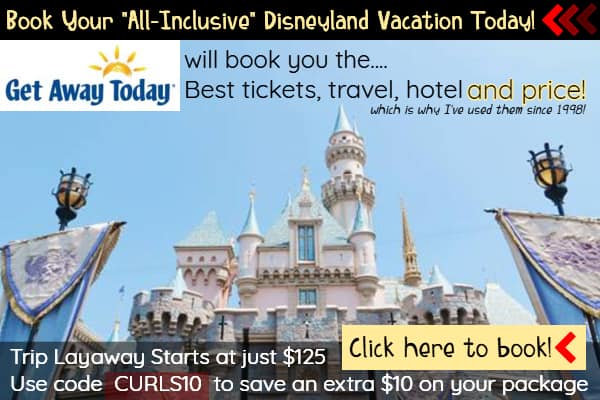 Get Away Today has the best price & best service guarantee — and you'll also find that their Disneyland experts will get you (btw, I have actually used them since 1998!)
The perfect hotel, because they've been to each one of them. If you tell them what you want, they'll find the perfect one for you!
The perfect travel — there are a TON of Disneyland area airports. They'll find the best one for you to fly into and also grab you a rental car that fits your family (and your Mickey ears), or help you book a shuttle to your hotel (as once you get to Disneyland, you may not need a car).
They'll help you get to the park either walking, parking at Disneyland, or if you would be better served with the ART transit (ART passes can be bought at the hotel of your choice or through Get Away Today)
The perfect tickets — at the best price. Let's face it, we're all going to the same park, might as well do it as cheap as possible!
They will also be available 24 hours/day should anything go wrong with your stay. They're available to help you out!
But, once they book that (super easily, btw — save your effort for the park when your kids want to walk from Splash Mountain to CarsLand)… let's talk meals….
Disneyland Meal Packages
Sadly, there is no way to book meals with your trip.
Disneyland currently doesn't offer an all-inclusive dining package. They used to — and DisneyWORLD does, but Disneyland (at this time) does not.
I do, however, have a Disneyland trip calculator, that will help you decide how much money you'll need for your meals around the park.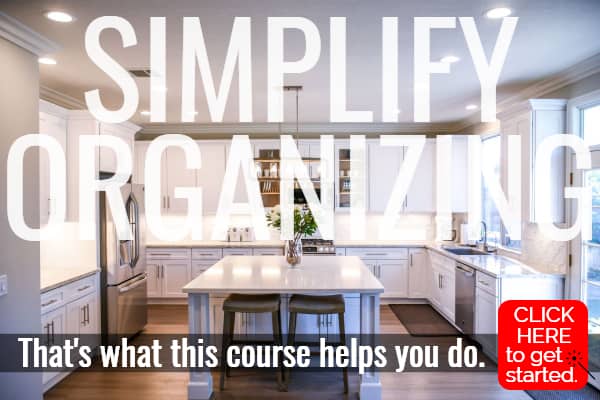 For us, we eat a good breakfast (either at the hotel or sometimes we stop by the close McDonald's and get a breakfast sandwich — the only thing I can eat from McDonald's), we bring in a lot of snacks and then we eat a hearty meal around 4 pm. We also supplement with churros and popcorn as needed (I have a post all about where to eat at Disneyland).
You can most certainly book reservations with Disneyland dining for your trip (and I recommend trying to do it 60 days before travel). Many of the restaurants are easily walked up to, and don't require a reservation (which makes your day more flexible while you use your MaxPass)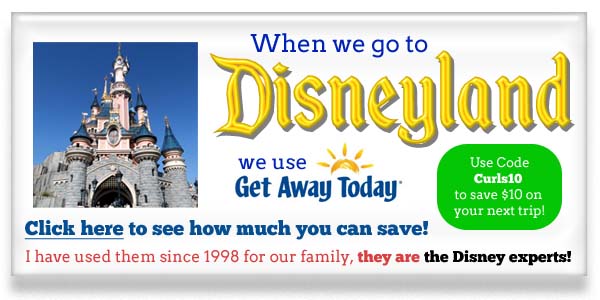 Once Get Away Today has booked your package…
> CLICK HERE to book your cheapest trip with Get Away Today <<
Now you just need to decide:
In fact, I have a Disneyland day planner that explains which rides are best to ride first:
AND I have a post (especially great if you have little ones) that explains which rides are scary that you might need to avoid (or ride, as I'm really clear about what to expect).
What is the cheapest way to stay at Disneyland?
I have a whole post on the chepest ways to stay at Disneyland, but time and time again Get Away Today says it's the Clarion Inn (links and review are all in that post)
How does the ART (Anaheim Resort Transportation) shuttle work?
You can get tickets at your hotel (Get Away Today no longer sells them). I believe it's around $5/day and shuttles come frequently (timing depends on the season).
Can I pre-pay for food?
You could always buy a Disney gift card, but no — food is bought on your own within the parks. Maybe someday they'll bring back food options!
Be sure to check out my post that has ALL my best Disneyland tips — and check out my other Disney posts below.
[pt_view id="d498c1b099″]
Don't miss my list of Best Affordable Disneyland hotels — a list of 30+ of my favorite hotels (plus my own current top 10 hotel list).