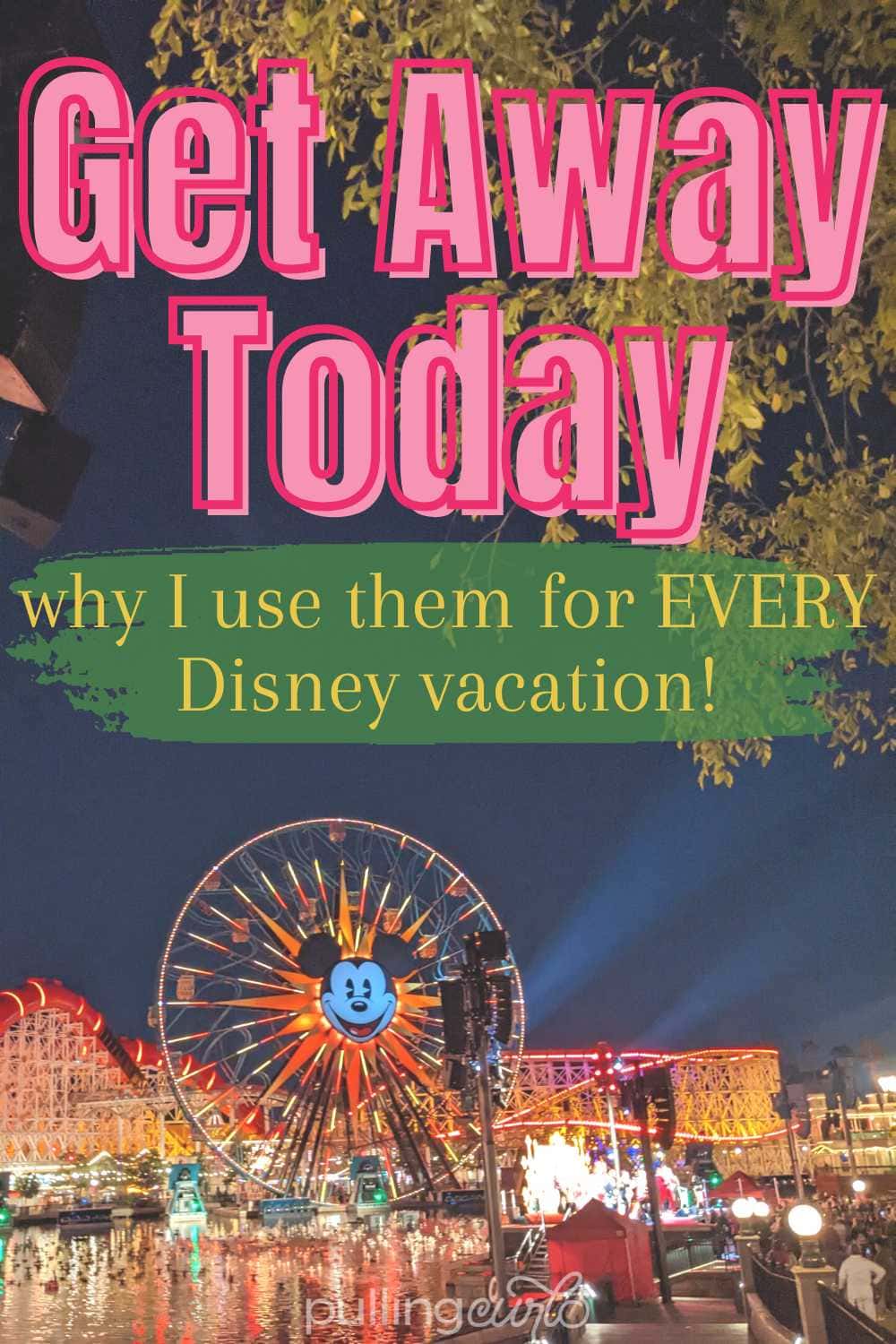 In this post, I'll review Get Away Today — why I have used them since 1998. This includes their best price guarantee, their hyper-attention to customer service and how easy it is to book with them!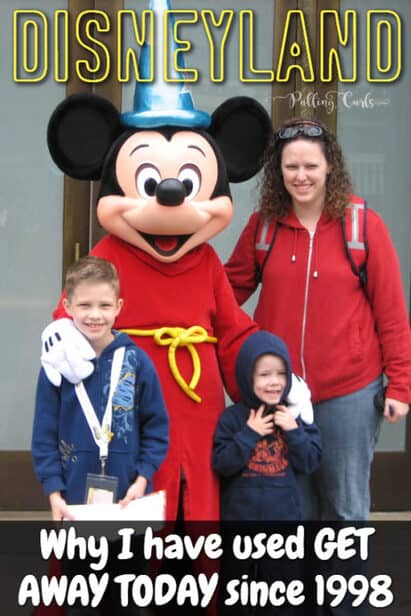 You'll see a lot of bloggers mention Get Away Today in their Disney posts. That's because they are great, and do a lot of outreach in the blogger community and are basically amazing (and, full disclosure: we are paid, and given the opportunity to earn fee trips when you book through them using us).
They aren't regular travel agents, they're COOL travel agents! When you book with Get Away Today, they always get you the best deal whether it's Disney vacations, other theme parks, or San Diego and other Southern California locations.
But, my story is a little different, and I've always wanted to share it with you guys.
But, we have to rewind my life quite a bit. All the way back to 1997.
But first, don't miss my other Disneyland posts:
So, I was in nursing school and newly married and frankly — not loving either of them. Nursing school took "it" out of me in ways nothing else did. SO much crying, so much hard work. The worry I wouldn't graduate. Just a lot of feelings and stress. It just wasn't my game (I was consistently told my writing was too casual — but it seems like that has come in handy now!).
Being married was hard, and being married WHILE finishing nursing school was killing me. I had a psych rotation that almost made me insane. Anyway, hopefully, you get the picture.
I was just starting to see the light at the end of my tunnel. School was ending. We weren't able to do much of a honeymoon the fall before because Drew had to be back for marching band and life just kept going even though we were married (and super poor).
I just REALLY wanted to celebrate, and have some time away from the chaos.
But Disneyland just seemed out of reach. The hotels were so pricey and I wasn't sure what one I could stay at without regretting it (I have a whole post on the cheapest places to stay at Disneyland without regretting it — if that's you right now). I remember I just sat on my bed and cried (which, frankly –was not unusual).
And then I somehow saw Get Away Today travel agency on TV or at our Credit Union, or something?
So I called them.
And suddenly I had a vacation. They found us a great hotel, they explained the shuttle system, and said I'd have a GREAT time.
Which, I did.
My husband and I went and played and let go of all those cares that had made our first year of marriage a bit of a chore.
It was a new beginning for me and I was so thankful for it.
Honestly, I remember watching the fireworks that time, thinking we'd have kids someday and how much I HOPED we'd be able to bring them.
Of course, we didn't make it back there for quite a few years. With tiny children it's hard and you're poor and I worked a lot as a nurse, but finally, we had kids that were ready.
And I did it with Get Away Today. I have kids who somehow can't sleep if they see me when they're tiny and they found me a room that had a tiny wall where I could stick the playpen because they've been to all the hotels and knew which one could save us cash AND get us some sleep.
Over, and over again Get Away Today has saved me.
I have ALWAYS recommended them to friends. And then one day I was somehow a "blogger" and I found out they had a program to work with bloggers.
It's basically a match made in heaven.
Because there is nothing more exciting than sharing something you LOVE and has saved you some cash and sanity with a trusted friend (which is how I view all the readers of my blog). So I always share them.
And honestly, working with them has been a dream come true. I've even spoken with them at a few conferences. I always think back to that girl who was so sad on her bed in her 300 square foot apartment (I am not exaggerating that).
I just want you to know that Disney is my dream, it always has been — and they have always come through to make it work. I've had countless emails of families telling me the same thing once I recommend them. They are integral to my Disneyland Budget.
If you think Disneyland is out of reach (and honestly, it may be this year — Disneyland is NOT cheap — check out their pricing and start a savings account for your next vacation) — check them out. Their website is pretty slick, or call them. Plus, you can save an extra $10 on a trip with hotel & tickets if you use code CURLS10 (you can even mention it when you call them). They have the best price guarantee!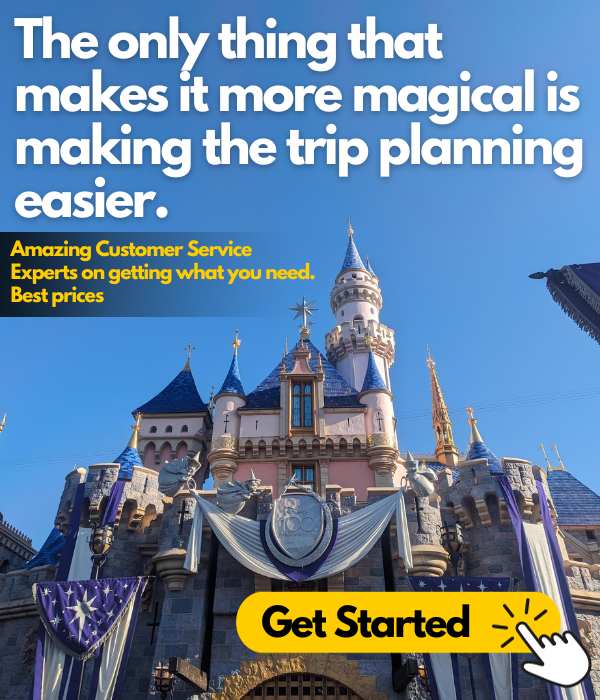 How to Use Get Away Today
Personally, I prefer calling them — at least for the first time, to see the great deals they have. I tell them what I want (aka, my kids can see me when they sleep) along with travel dates and they will give me a list of hotels that might work for me, then I usually discuss with my husband and book online.
You can also book over the phone, just be sure to mention you heard about them from ME and use promo code CURLS10 to save $10.
If you're online, you can also use the code as shown here:
Don't forget that Get Away Today also offers tickets to other great Southern California attractions like Knotts Berry Farms, Medieval Times, Universal Studios Hollywood, etc.
Pro's of using Get Away Today
Their agents visit the hotels each year (if not more than that) and have SEEN each room with their eyeballs so they can tell you exactly what you'll be getting (or can steer you to a room that might be a bit more to your liking) from personal experience.
They literally make a phone call before your trip to see if you have any questions — and their agents are so friendly (and so Disney-smart) it's awesome!
They have the best pricing (seriously, if you find a better deal, let them know and they'll match it and STILL give you their awesome customer service)
You can purchase just a hotel or just tickets, make it really easy!
Really easy to see where each hotel is as you book (because they ALL say they're "so close" to Disneyland — which, is a lie)
You can think of them as an All Inclusive Disneyland Vacation shop — they can do hotel, airline, transportation, etc. Anything they can't book directly, they can explain and make it super simple!
You can do trip layaway and book your trip for just $175 down (makes it easy to save and pay off a trip a bit at a time!)
One of my favorite perks is that they call you before your trip to confirm details (they also reminded me that I would need to pay parking — which was clearly on the website — but it helped so I wasn't caught off-guard).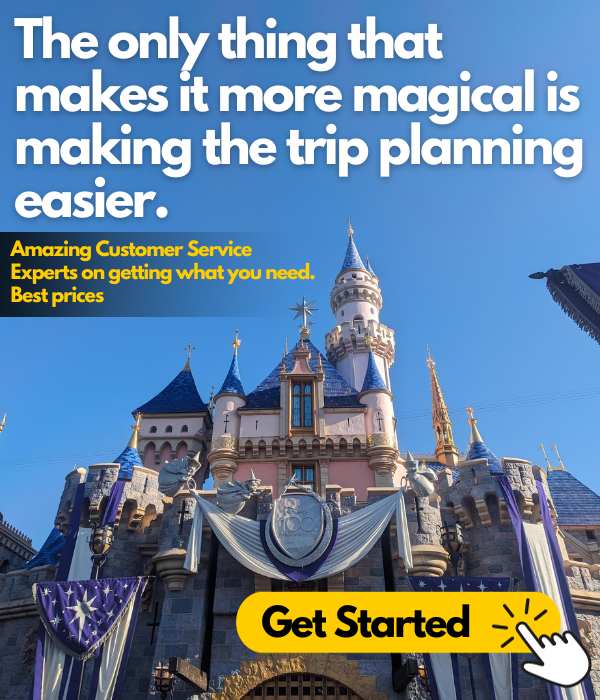 Con's of using Get Away Today
There was once I found a room at a better price — but, honestly, the hotel was crap and so much further away than I thought. I mostly thought it was a mistake every time I trudged there after the park.
There are a few hotels that don't work with them (such as the Candy Cane Inn) — so, if you have you heart set on one of those, it doesn't work.
I have found tickets a bit cheaper through my employer (but still booked my room with them), although my employer stopped that program last year.
If you want the ability to cancel the trip, there is trip insurance you have to pay for. SO, if you are super "iffy" on if you're going to go or not (which is fairly rare) that does add to the cost of the trip. However, the peace of mind plan to be able to move it or adjust it is REALLY nice as well (and worth the price for me).
Have questions about them? Ask me in the comments!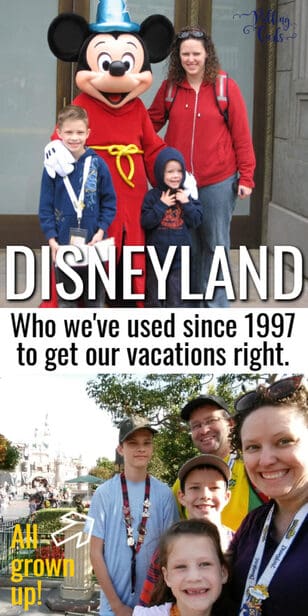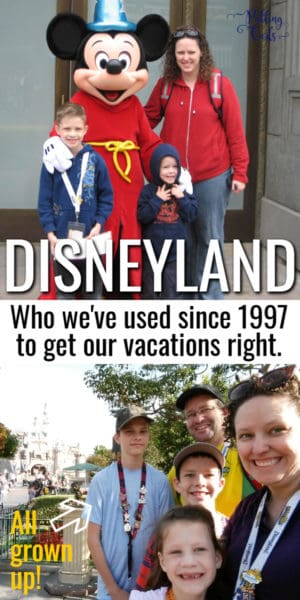 The last time I went — I had some questions about how their new paperless ticket system worked.
It's fairly new and they've since added some optional upgrades, so today I'll give you all the details. I actually had Get Away Today write most of this so it is really clear, but I'll be adding my two cents here and there. 🙂
Get Away Today e-Tickets
In the past, Get Away Today e-Tickets were actually "Will-Call" tickets. You received a ticket voucher from Get Away Today and then went to the Will-Call window at the Disneyland® resort gates to receive hard copies of your Resort tickets. Now, you can take Get Away Today e-Tickets straight to the gate! Whether you print the voucher or have it scanned directly on your electronic device at the Disneyland turnstile, Get Away Today e-Tickets now offer a new level of convenience.
I love that with e-Tickets, there is no way to lose a physical ticket before you arrive at Disneyland. The e-Tickets are in your email, and if you accidentally delete the voucher email, it can easily be re-sent to you. As long as you bring an electronic device like a phone or tablet with you to the Disneyland gate, you'll be able to get a hard copy of your Disney tickets without a problem.
Hilary's 2 Cents: Ok, this is sort of confusing when they email you. They say you can NOT add your passes to the app (but you can, if you type in the number of your ticket (not the voucher #). You can use either your phone or you can print the ticket (which is what I always do because I fear my phone will freak out) at the turnstiles.
Get Away Today e-Tickets with Disney MaxPass
Another recent change to Get Away Today tickets is the option to purchase Disneyland tickets with Disney MaxPass already included. Before April 2019, guests could only purchase MaxPass after arriving in the Disneyland Resort. Now, you have the option of adding that $15 per ticket, per day upgrade when initially booking your vacation.
If you're not familiar with FASTPASS, MaxPass and PhotoPass, I'll give you a quick rundown so you can decide if purchasing MaxPass in advance for each day of your Disneyland trip is right for you.
FASTPASS – This is an optional, free service at Disneyland and Disney California Adventure Park that allows you to request a return time to ride select rides or view select attractions and shows. You have to request a FASTPASS in person, which means you walk around the parks to the ride to make your request.
MaxPass – This is an optional, additional-cost service at Disneyland and Disney California Adventure Park. For $15 per person, per day, you can avoid running around the parks and electronically request a FASTPASS on your personal devices. It saves you time not only when it comes to avoiding lines, but because you can request a FASTPASS from anywhere in the Resort. The purchase of MaxPass also includes unlimited PhotoPass downloads for the day. You can learn more about the MaxPass in my post all about it.
PhotoPass – This is an optional, additional-cost service at Disneyland and Disney California Adventure Park. When you purchase MaxPass, PhotoPass is a bonus that allows for unlimited downloads from PhotoPass photographers and rides that include PhotoPass opportunities. It's a great way to capture memories while in the parks without having to worry about taking selfies or group photos on your own.
Hilary's 2 cents:
**I totally think the MaxPass is worth it, except in these cases:
Large families: That price can be a LOT when you're adding it to tickets, and if you have older kids willing to grab fast passes, it can save you a lot of cash
Kids with small children, Maxpass is most helpful on rides tailored more for people over 40 inches, so if you have a lot of smaller people it likely isn't worth it. You can also use rider switch to still get in these rides pretty easily!
If you have several days at the park and want to just take it nice and slow, you totally can and the MaxPass isn't necessary!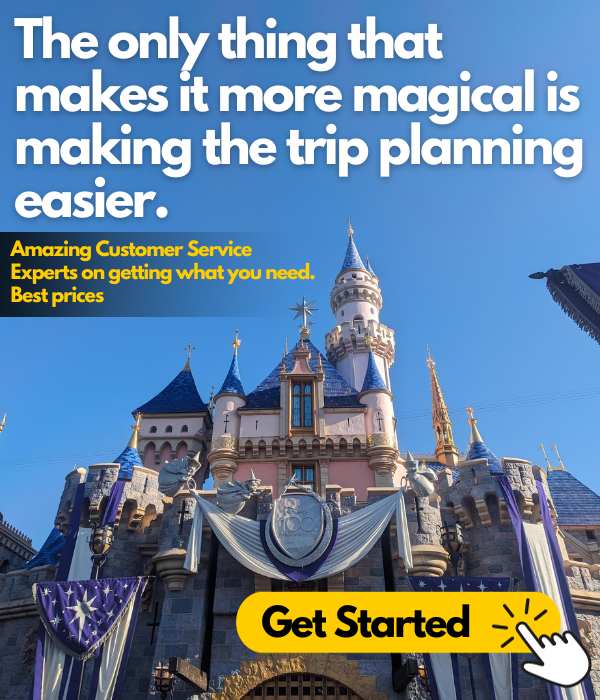 Get Away Today e-Tickets – Same Great Savings!
No matter what, Get Away Today is a top travel provider that always offers the lowest rates on discount Disneyland tickets. They work hard to continually make planning and taking vacations affordable and stress-free, without passing costs along to you. And for just $175 down, you can book your next family vacation and make interest-free payments with the Get Away Today Layaway Plan. With their Layaway Plan, you just make payments according to your budget, and you're good to go as long as you pay your final payment five days before you travel.
Get Away Today hotel Vouchers
Get Away Today will send you the hotel information, which I would certainly save — but the hotel will just ask for your name and want to see ID to check you in. Easy Peasy!
While Get Away Today specializes in Disneyland vacations, they also offer vacation packages to Walt Disney World, Universal Studios, cruises and so many other vacation destinations. See all the options at www.getawaytoday.com, or call an agent directly at 855-GET-AWAY. When you book with Get Away Today, let them know Pulling Curls sent you! And when you book a Southern California vacation package, use my promo code CURLS10 for an additional $10 in savings.
Be sure to check out my Disneyland Day planner and check out my other Disneyland posts below that!
[pt_view id="d498c1b099″]
Don't miss my list of Best Affordable Disneyland hotels — a list of 30+ of my favorite hotels (plus my own current top 10 hotel list).