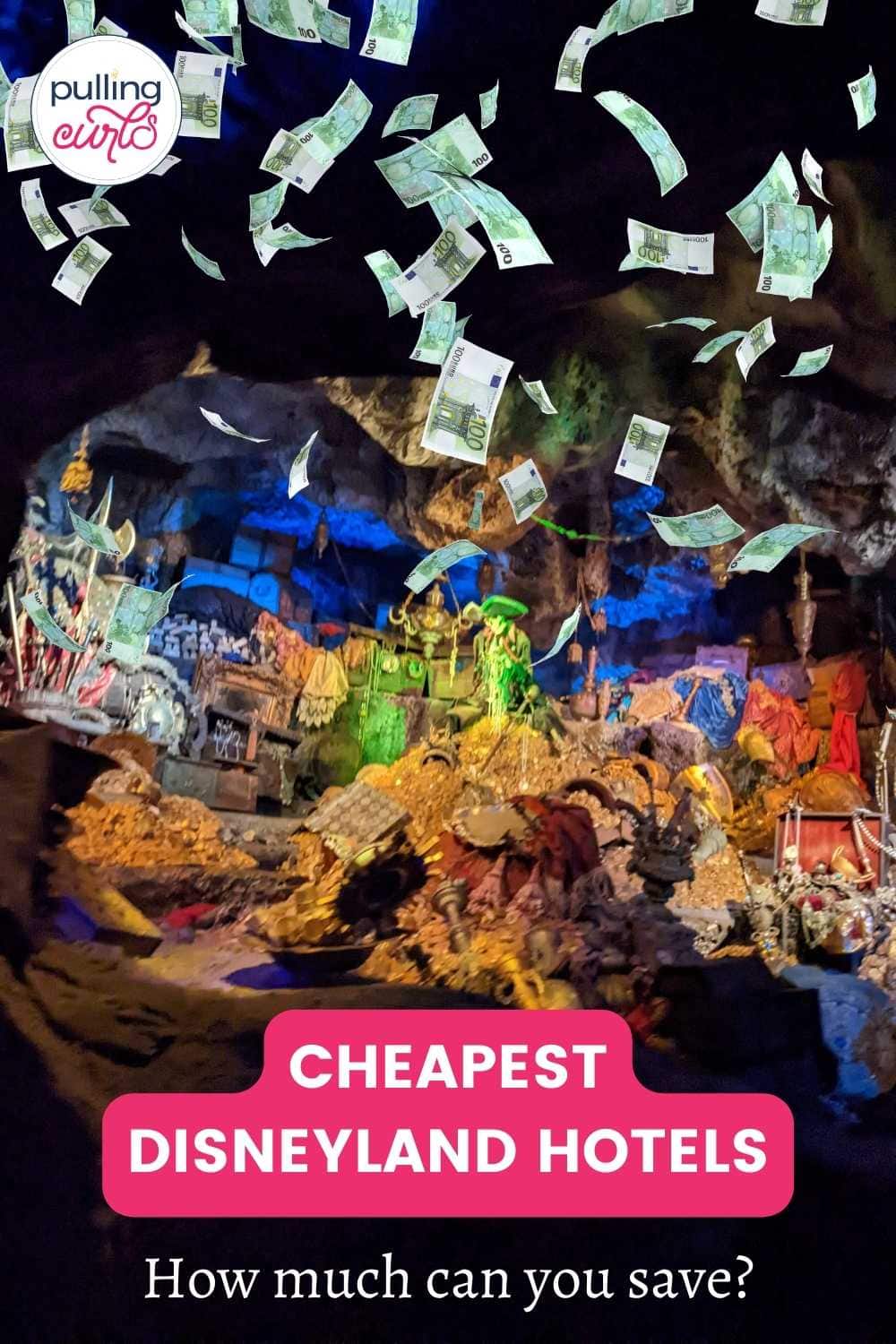 What are the cheapest hotels near Disneyland? These hotels in Anaheim and the surrounding cities will keep your Disneyland budget in check, but also not make it hard to visit the happiest place on earth in the morning!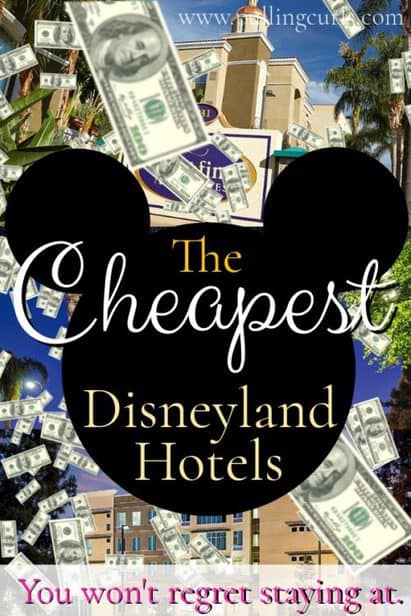 Today's post is for that family who REALLY wants to go to Disneyland, but has no idea if they can afford it — and if they can, it will be bare bones.
Let me just say I have 100% been there. And I have enjoyed those trips JUST as much as the ones where we had a bit more room in our budget. As long as you can get in, Disneyland offers a day of fun for EVERYONE. This is part of my Disneyland budget series.
So, of course, I asked my friends at Get Away Today to give me their input with all their knowledge about the theme parks. Clearly, I can't stay at every hotel in Anaheim (although, I am trying) — I wanted their opinion on some places for YOU to look at when you're looking for a budget hotel room. Don't forget, they have a best price guarantee!
I wrote a whole post on if you can get Disneyland tickets at the gate (no, not really) that shares the CHEAPEST way to get Disneyland tickets. I also have one on the cheapest TIME to visit Disneyland you might find helpful as well!
So, without further talk from me — let's let them get down to business (with me chiming in every now and then with my own input! 🙂 But, don't miss these other Disneyland planning posts you might like:
Cheapest Hotels Near Disneyland
When planning a trip to the Disneyland Resort, it's no surprise that costs can start to add up quickly. Planning out flights, reserving rental cars and purchasing park tickets can begin to seem stressful (btw, you can get my Disneyland trip calculator that helps you remember all those hidden costs and not get caught by surprise) – especially if you're trying to keep a budget. Plus, with so many hotel options to choose from, how will you know if you're getting a good deal? Luckily, there is no need to worry!
Don't forget you an always save an EXTRA $10 on your Disneyland vacation (hotel AND tickets) with code CURLS10!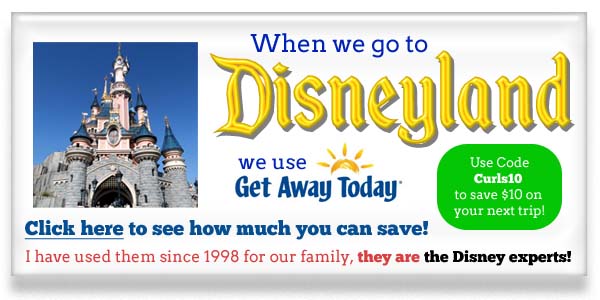 Don't forget you can also check out the value hotels on property (like the Disney hotel) — see how their pricing stacks up (and what benefits there are to staying on property).
The good news is that all of these hotels have been vetted. While they aren't the best hotels in the area, they're all adequate — clean, and well-kept, even though some of them aren't as nice as you might prefer (the other good news is that you don't spend much time in your room when you're visiting Disneyland). Most of the hotels offer a an outdoor pool, hot tub, laundry facilities, coffee maker access to the ART bus (Anaheim resort transportation). Guest rooms offer free wi-fi, and a flat-screen TV, but if something in particular is important to you, be sure to ask Get Away Today if it's offered (remember code CURLS10 can be used online or over the phone 1-855-GET-AWAY to save $10 on your trip).
These are also all Disneyland Good Neighbor Hotels. I hope one of the cheap hotels on this list fits your bill.
Best Value Hotels Near the Disneyland Resort
Clarion Hotel near Disneyland — a best buy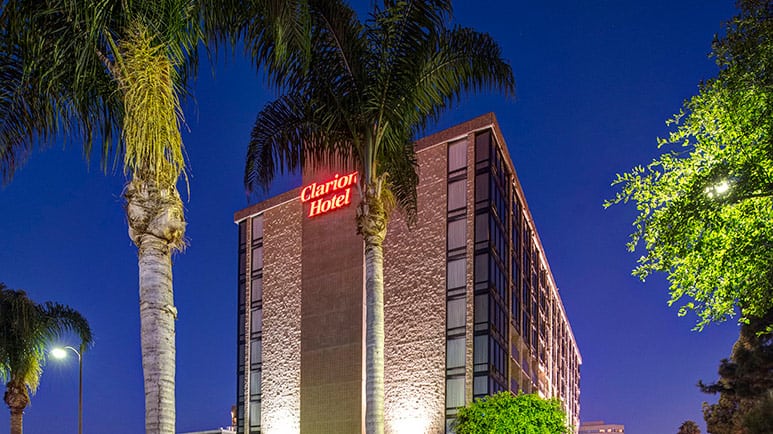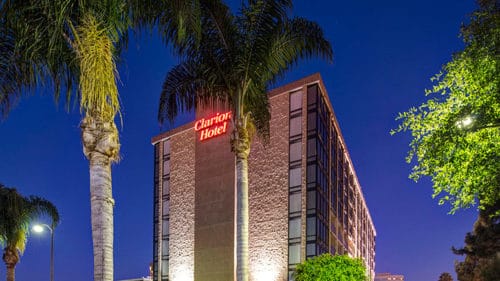 The Clarion Hotel has been a family-favorite property in the Anaheim area for years. Not only is it just 0.5 miles away from the Disneyland Resort, but they have the BEST exclusive amenities, just for Get Away Today guests. This hotel regularly offers 3rd night free specials, which means that you'll be able to stay and play at The Happiest Place on Earth without the extra cost. Plus, as a Get Away Today guest, you'll be able to take advantage of a daily breakfast buffet and free nightly parking. With two different room types, incredible amenities and a great location, you'll want to check out the Clarion Hotel when planning your next trip.
You can either use the ART shuttle service next to the hotel, or cross the street and use the free Toy Story parking lot shuttle.
Hilary's Say: When I have asked Get Away Today about the best values they think they have, they have all consistently said this hotel. The third night free at such a low rate is almost insane. Add onto that the daily breakfast and FREE parking (!) you have a BANGING good deal. Yes, it's not right next to the park, but it's only 1/2 a mile and you can always take the ART shuttle. It's a total win and I really recommend this one!
>> Check out pricing on the Clarion Hotel
Portofino Inn & Suites near Disneyland — A great deal in walking distance!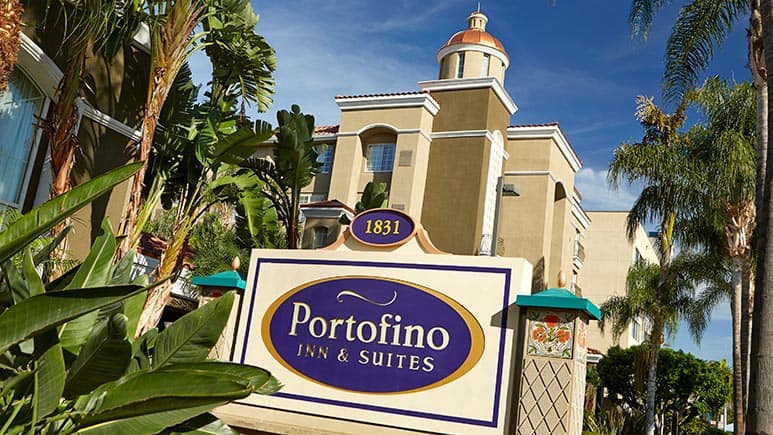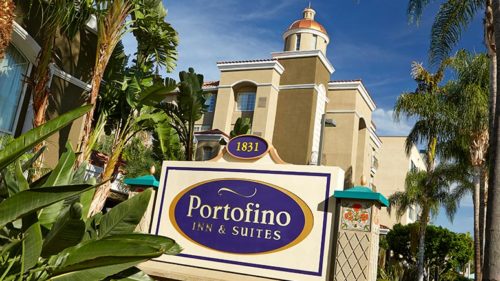 If you're looking for a family-friendly hotel, that's also budget-friendly, the Portofino Inn & Suites is a great bet. As a Get Away Today guest, this hotel includes free parking, a reduced resort fee and frequent 4th night free offers. Plus, it also has Kid Suites available, which are equipped with a bunk bed and king bed separated by French doors, perfect for privacy when needed. Did I also mention that this hotel is only a short walk (10-15 minutes) from Disneyland Park? The Portofino Inn & Suites is a great value for anyone who wants to stay close to the magic, without the steep price.
Hilary's Say: This is an awesome deal. Probably the best one within walking distance. It does get higher reviews than the Clarion. Keep in mind that it is a REDUCED resort fee (Get Away Today saves you almost $10 on it — and I HATE resort fees!) — so you will have to pay a bit on top of what is shown on the checkout page (you pay that at the end of your stay). BUT, there is free parking, which is pretty rare that close to Disneyland. I think this is an awesome pick for families, I love the bunk beds!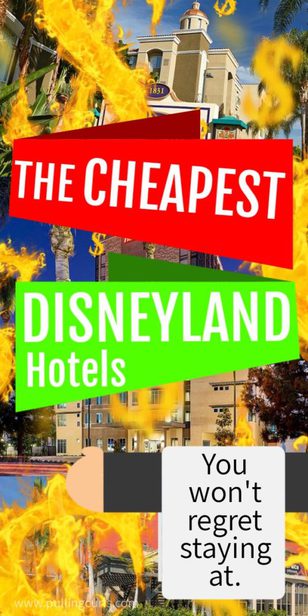 ALO Hotel by Ayres near Disneyland — Satisfying hotel in the budget and close by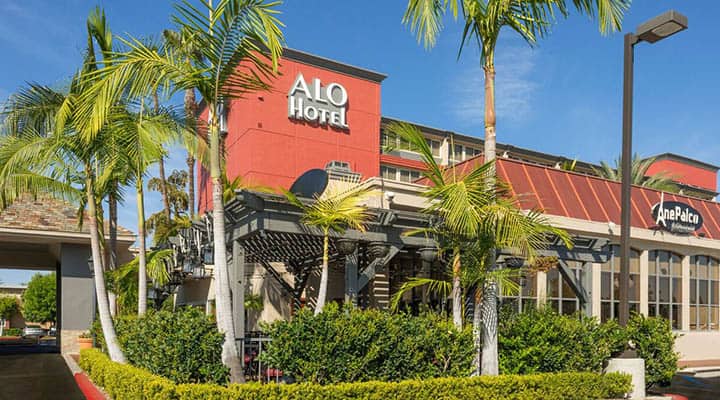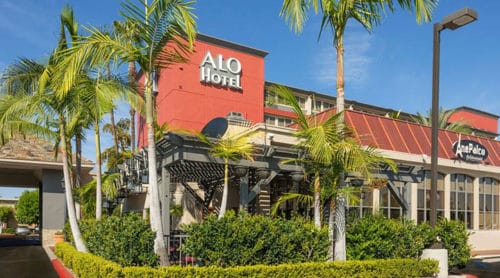 Although this hotel is a mile away from Disneyland, it's one of my favorite properties to stay at. When you book with Get Away Today, you're almost guaranteed to get a 4th night free at the ALO Hotel by Ayres. Plus, when you factor in how much you're saving with a free daily breakfast buffet and free parking, you won't mind that you're not able to see the fireworks from outside of your hotel window. The rooms at the ALO Hotel by Ayres are also spacious and include comfortable beds, which means that you'll be ready to go back to the Disneyland Resort without skipping a beat.
Additionally, this hotel shares a parking lot with its sister properties Ayres Hotel Orange and Ayres Hotel Anaheim. So, if you're looking for something a little more deluxe, but still offers a great price, be sure to check out these hotels as well.
Hilary's Say: We love staying at Ayers hotels (they have several in the Disneyland area we've stayed at for other events). The breakfasts are TOP NOTCH (some even have lucky charms, which is a total win in my book) and the rooms are super comfortable. This is certainly one I'd check out. Just make sure to mentally add either the Shuttle service or Disneyland parking to your budget as well. This one does get better reviews — so, if a nicer hotel is important to you, check them out!
Sonesta Anaheim Resort near Disneyland — a renovated favorite!
The Sonesta Anaheim Resort recently underwent a renovation and has quickly become one of my favorite hotels since. As a Get Away Today guest, this hotel includes free breakfast, free parking and a 4th night free on some dates.
Hilary's Say: Manchester is a quick trip on the Art Shuttle, so even though it's a bit away — you shouldn't be afraid to stay in this area. I love that Get Away Today offers free breakfast and the reviews seem to be top notch (I love Get Away Today Reviews because they are from park guests like you, who have different expectations than someone who might be going for business). Also, having an in-house restaurant can be really nice after a long day at the park.
>> Check out the Sonesta Anaheim Resort
Sonesta ES Suites near Disneyland — Our Family's Budget Stay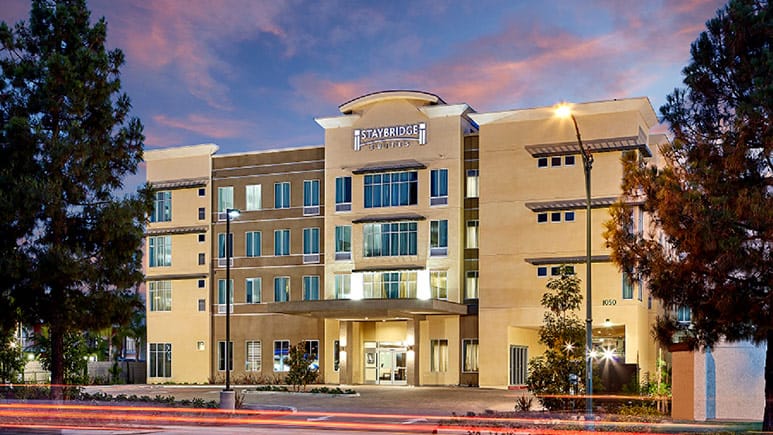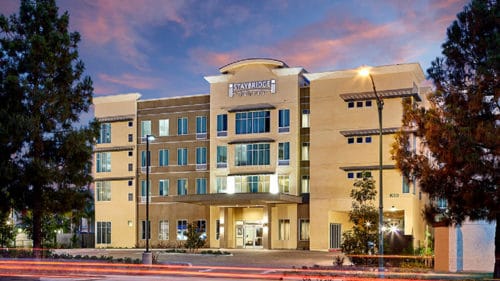 Last, but certainly not least, is the Sonesta ES Suites. Whether you're traveling with a large group, or just as a couple, the Staybridge Inn & Suites is a perfect option for anyone visiting The Happiest Place on Earth. Not only does this property include free breakfast, free parking and 4th night free specials for Get Away Today guests, but they also have a sundowner reception on Tuesdays, Wednesdays and Thursdays. This free reception includes a variety of snacks, drinks, beer and even a BBQ with hot dogs and hamburgers on select dates. The hotel also offers a variety of suites that can fit up to 8 people in one room, which means that you'll be able to save even more by sharing with your family members or friends!
Hilary's Say: We actually picked this as our hotel when we were trying to have a decent-sized room and stay on budget. We really liked it. The breakfast is a good size and includes filling foods — not just donuts. The sundowner reception saved us a ton — not only having to find a new restaurant to eat at, but also the cost of food. Keep in mind it's not really a full MEAL but supplement with a few snacks of your own, and our kids were very satisfied. You can read more about it in my Disneyland family packages post.
>> Check out Sonesta ES Suites
Not sure any of those fit the bill — check out these other hotels:
Castle Inn & Suites — This is a favorite of mine, and it is one of the closest hotels on this list– less than a 10 minute walk to the main entrance. This is also one of the best places for people with kids as it's all castle-themed!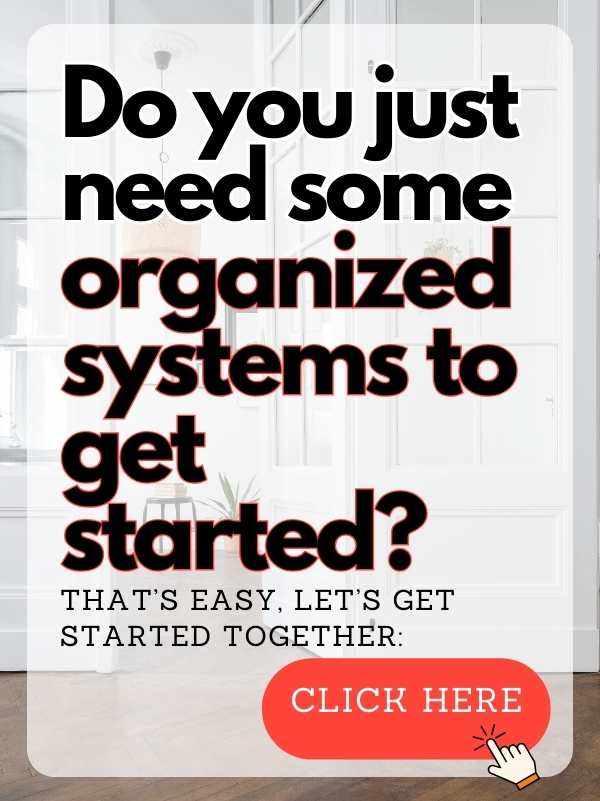 Eden Rock is an adequate hotel, and the price is nice.
Cortana Inn and Suites This one offers a free breakfast too!
Candlewood Suites offers full kitchens in their suites
Stanford Inn & Suites offers a great value!
As you can see, booking a hotel to the Disneyland Resort doesn't have to break the budget! As long as you book with Get Away Today, you'll have the peace of mind knowing that you're getting the best price and best service, guaranteed.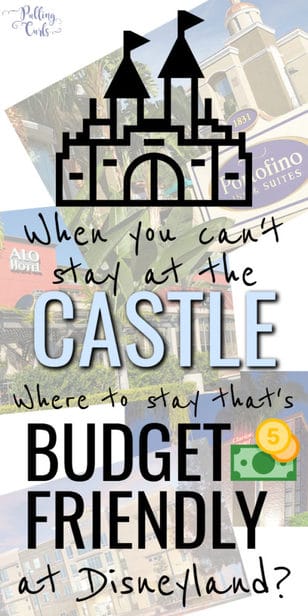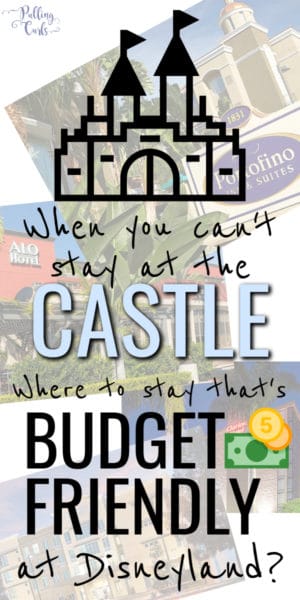 Hilary's Say: Their service is BAR none my favorite travel company. I have booked with them since 1998 when they saved my college graduation trip and found me somewhere we could afford on our tiny salaries. I love them, and I'm happy to share them with you. 🙂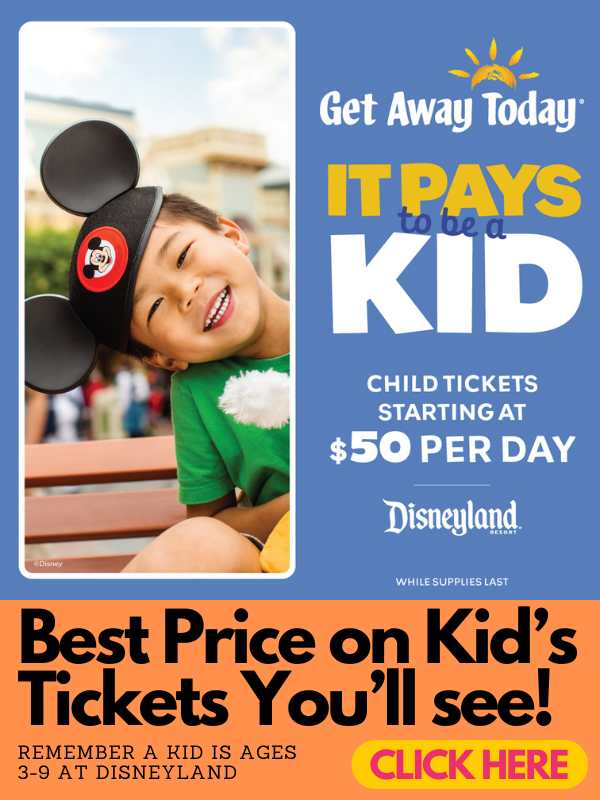 To save even more, be sure to combine their hotel specials with their incredible ticket offers. So, what are you waiting for? To book, visit getawaytoday.com or call 855-GET-AWAY to speak to a travel expert directly. Don't forget to mention promo code CURLS10 to save an additional $10 off your next vacation package. Let them know that Pulling Curls sent you!
Big thanks to Get Away Today for letting us in on some of their hidden pricing gems, and if you liked this post be SURE to grab my Disneyland packing list right here:
Don't miss my list of Best Affordable Disneyland hotels — a list of 30+ of my favorite hotels (plus my own current top 10 hotel list).