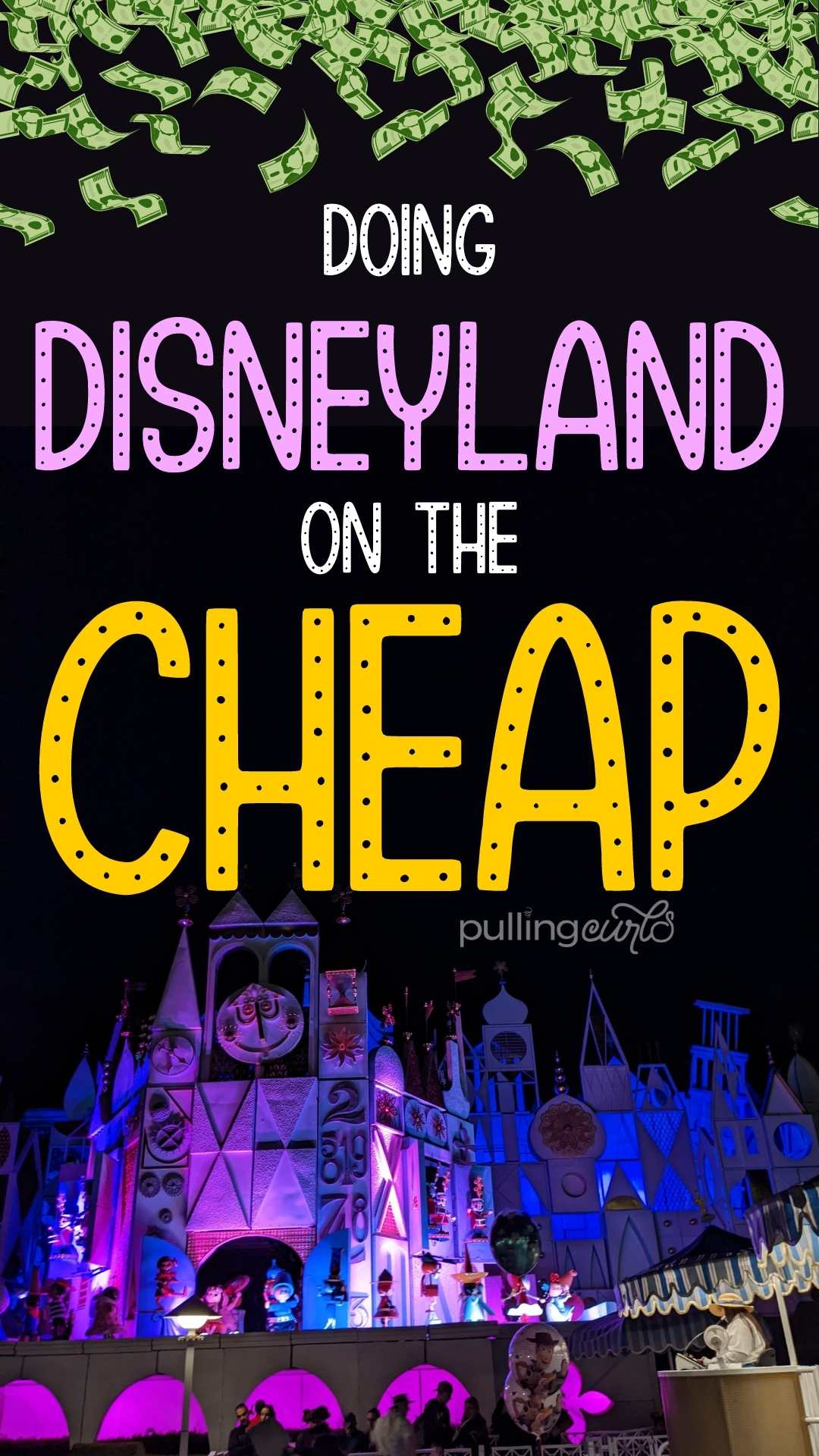 Today we're going to chat about doing Disneyland on the cheap. Because Disneyland will take care of all your entertainment needs for the day, I find that often it can be done cheaper than a lot of vacations — as long as you follow my tips!
Hi, Hilary and a HUGE Disneyland fan. I think that some of our family's very best days have been at Disneyland, as everyone is enjoying themselves and we have a plan for what to do for the day. So, I'm excited to share with you some of my favorite tips to do it cheap(er).
As a note, Disneyland is not going to be super cheap at any point in time, unless you won your trip from somewhere. Sometimes just accepting that it's going to be X amount of money and making sure that isn't going to stretch your budget too much (and if it is, waiting a bit until you have enough to afford it comfortably).
Because my #1 tip for family travel is to forget how much it costs and just move on as if the day was free. Feeling like you need to "wring" out all the fun of the day because it's costing you so much will ultimately make the day less fun. Just a tip before we get started.
Make sure you don't miss my Disneyland budget post, or my Disneyland cost calculator — because both of those will remind you of all the things you'll need to afford for your vacation.
Ok, let's get started:
Cheap Disneyland Tickets
Disneyland tickets are something that is fairly consistent amongst all Disneyland goers. Yes, I have a link that will provide you the cheapest Disneyland tickets you can find (and no, you can't buy Disneyland tickets at the gate) — but even amongst the ticket sellers the price doesn't vary too much.
I do have a whole post on when is the cheapest time to visit Disneyland you might find helpful too!
But, beyond tickets let's talk about 3 ways to save on tickets that maybe you hadn't thought of:
Buying Genie+ Can Save You Money
Yes, Disneyland Genie+ costs $20, so normally you'd think it's not going to SAVE you. However, for our family we often cut a day of tickets off of our park visit if we get Genie+. Beyond just the daily ticket savings, you're also saving on the park food, an extra night of hotel etc. I truly believe if you do the genie right (and I have Genie+ tips here) you can get everything you want done in a day or two.
Pro Tip: I also recommend not buying Genie plus with your tickets (although you can). You may not know what's going to happen that day, and I like the flexibility of not purchasing it. You may not be up for a full day of "pushing" it, or if you have small kids you might not want it (because they can't ride as many rides). Or, the parks may not be as busy and you don't need it.
I'm a HUGE fan of the 2-day Disney trip if you're using Genie+.
Don't Buy Park Hoppers
Park hopping is an additional $60 to your tickets, no matter how long you will be at the park. If you eliminate park hopping it truly can save a LOT of money (especially if you're buying multiple tickets).
While Disneyland and California Adventure are close to each other (especially compared to Disney World) it is still quite a bit of walking.
Going at the Low Times of Year
If you're planning just a 1-day visit to Disneyland, you have to purchase your tickets through Disney. AND those one-day tickets have quite a difference in pricing.
They go in tiers that range start around $104 and go up close to $150 — so clearly, picking the right day for that ticket can save you a lot.
Now, if you're going to buy multi-day pass this doesn't matter as those don't go by tiers (at least not at this time).
Pro Tip: Whatever you do with your tickets, make SURE you get reservations in advance. You literally can't get in the park without them. I have seen them turn people away. I go into this more on my post on why you can't buy tickets at the gate.
Cheap Disneyland Hotels
Ok, this is a fine line, right? I mean, you want to stay cheap — but you definitely don't want to stay unsafe. I want you safe… so let's chat about it.
Stay with Someone Close to Disneyland
Obviously, if you have a friend or family member that lives close to the park that can be a nice way to save some cash.
I just want you to understand LA traffic — and even if you're just a few miles from the park, that can translate into an hour (sometimes more) in traffic. So, while you're saving money, you'll need to get up early to get the parks early and beat crowds (if that's your thing).
Don't forget you're also going to need to pay for parking (we'll talk about that a bit below).
Don't Stay On Property
This one seems like a no-brainer to a Disney pro. Disneyland hotels cost a LOT more than the "good neighbor" hotels that line the areas around Disneyland.
This is surprising to a lot of people who are used to Disney World where the on-property hotels aren't that much more. Let's just say they're a LOT more — and frankly, often they're not much closer than the hotels on Harbor.
Book With Get Away Today
Like we talked about above — you want to stay cheap, but you also want to stay safe.
And frankly, if you get into the wrong part of Anaheim, it is likely not going to feel all that safe.
And it's sort of hard to know if your hotel is going to be great or not.
Which is why I've always booked with Get Away Today. Ok, there was one time I found a cheaper price and went with another hotel. It was gross, it felt unsafe for me and my family and I learned a lesson.
I have a whole post on the cheapest hotels close to Disneyland, but I'll give you a few links to look at right here:
The Clarion is the cheapest price hands down. I also just had a friend stay here and she felt totally safe (she stayed here as a woman, alone) and she said the room was clean and felt fine. It's definitely not luxury. AND if you don't want to walk to the parks the Toy Story garage is just across the street and you can catch the bus there (for free)
Sonesta Suites has nice large rooms for families and often has great rates. We stayed here 2-3 times when I had young kids. We loved the free breakfast and had good stays.
If you'd really like to stay walkable, I'd recommend checking out The Anaheim Hotel or Castle Inn & Suites.
When in doubt, call Get Away Today with what you're looking for in a hotel and they can talk you through your best options. The majority of their agents have been to all the hotels and can give you personal experience on what to expect.
Pro tip: Use code CURLS10 to save $10 on your hotel/ticket package with Get Away Today! I've been using them since 1998 and I really think they are the best for Disneyland travel.
Cheap Disneyland Food
I really feel like food is something that can make or break your budget.
Personally, when I had small kids (that could have cared less about what they ate at the park) we just brought in a ton of snacks in our stroller and then ate a meal at our hotel for breakfast and dinner (that we likely brought, or the hotel offered).
Eat Snacks
Disneyland is AOK for you to bring in snacks to the park. Now, if you try to bring in a full KFC chicken dinner into the park they will likely tell you to eat at the picnic area outside the park (or put it in a locker).
We brought a soft-sided cooler bag and bring frozen gogurts, string cheese and fruit that stayed cool all day. We'd just grab a few before we got in line and it made the lines go faster too!
Eat Outside the Parks
This can mean a few different things:
Eat breakfast at your hotel (or on the way)
Eat meals in Downtown Disney (honestly, not sure if this saves you money, but it might — there are more options)
Head across to Harbor to eat at the IHOP or Panera — while this pricing is higher than those chain's regular pricing it isn't as much as Disneyland's, for the most part.
Split Entrees
If you know the right places to go, you can get GIANT portions and split. When we had small kids all three would split a chicken dinner at Plaza Inn, and my husband and I would split one too — we were all very satisfied afterwards. Plus, the Ambience at Plaza Inn can't be beat.
Other places to look for big portions are Rancho Zocalo or Flo's Kitchen in CA Adventure
Stay Away From Sit Down Places
The Sit down places at Disneyland (often you need a reservation for, and a waiter serves you) are often SO much pricier than the other places around the park, plus when you add that tip it adds-up.
Places we love to eat in Disneyland
Plaza Inn (this still has inside seating for hot days, but is served cafeteria-style)
Jolly Holiday
Bengal BBQ
Hungry Bear
Red Rose Tavern
Rancho Zocalo
Places we love to Eat in Disneyland:
Cochina Cucamonga
Corn Dog Castle
Paradise Gardens
Flo's Cafe
Pym's Test Kitchen
Most of these restaurants are available on mobile ordering too — so you can order when you're in line and just go pick it up. That's right NO WAITING IN LINE TO EAT. I love that.
Cheap Disneyland Transportation
This one is a bit harder, since I have no idea where you live. But, I thought I'd share a few ways we've saved:
Drive to LA
Driving to the parks can often save you money, especially if you have a lot of people in that car. However, if it's just me going to Disneyland it's actually cheaper to fly because tickets aren't much and if you add up gas, plus wear and tear on our car into LA — anyway, flying is cheaper.
Use Uber
A lot of people think they totally need a rental car if they fly into the parks. I am here to say that Uber/Lyft is a viable option.
Although it can be pricey to get to your hotel, you have to remember you're saving the car rental fee PLUS any parking fees at your hotel or at the parks (not to mention having to go get the rental car, etc).
People with young families can't use Uber as easily, so if that's you — a rental car may make sense.
Check the Airports
Check the airports around the parks for the best price to fly into. The three airports I consider when I go:
SNA — Orange County
LGA — Long Beach
LAX — LA's largest airport — and this one is the furthest from the parks (but has a LOT of flights each day)
I also fly Southwest. It's almost always the cheapest for me. I wish I had gotten their credit card LONG ago — even if it was just for purchasing flights with, I would have gotten a lot more miles and more free flights!
But, definitely check around!
Cheap Disneyland Souvenirs
Again, this price point varies SO much!
Buy Before You Get to the Parks
I know this sounds sort of crazy, but hear me out.
If you buy your kids a favorite character T-shirt before you go, it's much easier to remind them about the new t-shirt that they're wearing and then just leave the more expensive t-shirts behind.
Just figure out what fits your budget, and buy a few Disneyland items before you go. Then, once you're in the park stay strong as to what they can and can not buy.
Let Kids Use Their Own Money
Letting kids use allowance money, or money they've earned on their own will be a quick eye-opener as to how expensive those items are (vs what they would normally pay for a t-shirt). Anyway, it reminds them about the economics of the park.
Limit Times in Stores
Yes, a lot of rides "exit through the gift shop" — but often I say we don't have time to stay in the store, that we have a lightening lane or something else to go to.
I do try to take some extra time (often we have some time in the evening as we're waiting for a Lightenin Lane) and allow them to look in the stores, but I am a BIG believer of not lingering in every shop. We'll all find something we want if we stay there enough (looking at you giant Darth Vader sweatshirt).
Limit Souvenirs
For us, we just tried to buy each kid a pin (in a mid tier, because even pins can get expensive) on each stay. They loved to wear them on their lanyards, and it's a fun reminder of what character they loved as they grew up. Many warm feelings as I look at their lanyards now (my kids are almost all adults at this point).
Ok, those are my best tips for saving at Disneyland. Did I miss any? Tell me in the comments.
And, be sure to join my newsletter through the options on this page so I can send out any promotions that are available for you!
Don't miss my list of Best Off-Site Disneyland hotels — a list of 30+ of my favorite hotels (plus my own current top 10 hotel list).