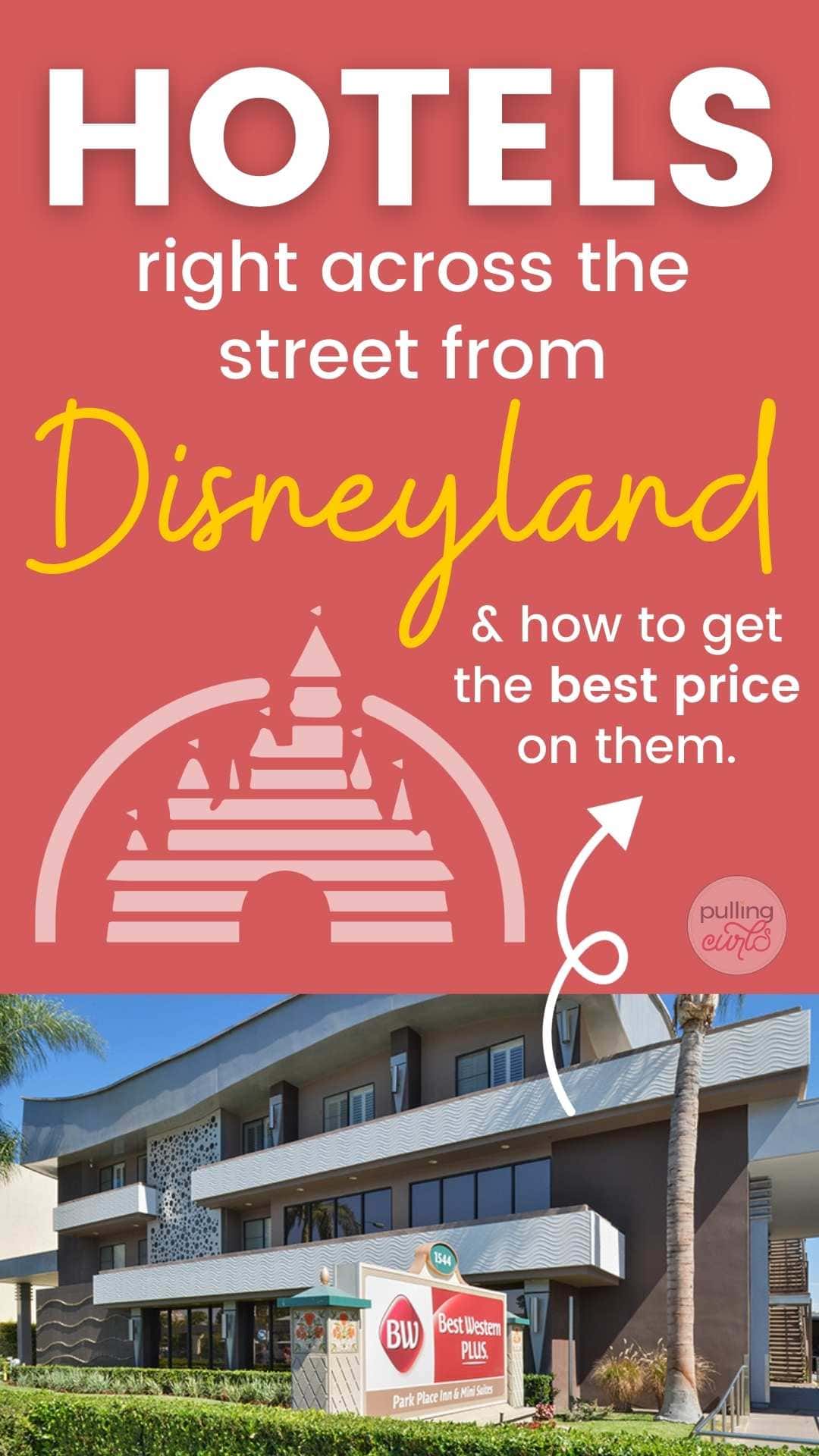 Being closed to Disneyland is a HUGE perk. I totally agree. So, today I am going to share the top 10 hotels across the street from Disneyland. I will put them in order or closest to farthest (the farthest is about an 8-10 minute walk to the security gate).
First off, Harbor hotels are the closest off-site hotels to the PARK. The Grand Californian is the closest hotel, but most of these hotels are closer than Paradise Pier or the Disneyland hotel. However, there are perks to staying at on-site hotels, so that is something to consider (it does come with a price though).
Pro Tip: Many of these links open up a site called Get Away Today. I am always AMAZED by how low their prices are even compared to the rate directly on the site. I'm a huge fan of them and I've used them myself since 1998. They have trip layaway (starts at just $175), a peace of mind plan to make all changes free (including tickets) and a best price guarantee!
I also have a post on if you can buy Disneyland tickets at the gate that shares the CHEAPEST way to get Disneyland tickets.
This is part of my Disneyland budget series (you'll find that price point is important to me) — grab your free Disneyland trip calculator right here:
A note on these hotels:
Since prices change all the time I will be using $ signs to say which is least or most expensive. In general, I took the price of a 2 night stay and minused $200 from it and then put that to $ signs. So, a $500 dollar room = $$$ (a $600 room=$$$$)
Most do NOT have a free breakfast, it will be noted if it does
When I say fridge almost all of these just have a mini fridge without a freezer section
The majority of these hotels I would not call "nice" — they are comfortable, clean and well-used. You're looking for location here, not luxury. I did review some of the nicest hotels here.
Most of these hotels charge for parking (often using Get Away Today lessens that fee) — so check for that if you need to park a car.
And, don't miss out on my best Disneyland Hotel tips for more hotel picking tips!
** If you have bigger questions about hotels and if they will work for you — I TOTALLY recommend calling Get Away Today (1-855-GET-AWAY) — their agents are SO nice and can help you pick the best room for you! I had a baby that wouldn't sleep if they could see me, and they always found me the perfect room that fit my budget. I sure do appreciate it when you tell them you heard about them from Pulling Curls! Use coupon code CURLS10 to save an extra $10 on your trip (use it online or over the phone).
Hotels on S. Harbor Blvd Across from Disneyland
Price Point: $$$
Bed Options: Doubles, queens, sofa beds
Pool: Small area
Breakfast: Yes!
I have actually stayed at this hotel. I. LOVE. HOW. CLOSE. IT. IS. It is also the rare one on Harbor that does provider FREE BREAKFAST. They do have an in-room microwave and fridge. The rooms are dark, and not as clean as I would have loved.
But, the breakfast is good, and there are even some grab and go options so you can head right to the park.
I would 100% stay here again. Very happy with it. This hotel fills up quickly, if you see a spot — take it (or call Get Away Today to see when they have openings and schedule your trip that way). As I reviewed the other hotel price points I think this one is a GREAT value.
Price Point: $$$$
Bed Options: King, Queens, Bunk Beds
Pool: Small Area
Free Breakfast: No
I have not stayed here. This hotel is super close though and I have heard good things about it. Since it can not be booked with Get Away Today, it is a bit pricier.
Price Point: $$
Bed Options: Queens, sofa beds
Pool: Indoor
Free Breakfast: YES!
I have also not stayed here but they DO have free breakfast! This hotel is sort of tucked behind a restaurant area, so it is easy to miss. It does have that indoor pool, and some larger rooms for families. I was impressed by the price point. I hope to try them soon!
Price Point: $$$$
Bed Options: Kings, Queens, Pull-out Chair (for 5th person)
Pool: Yes, small area
Free Breakfast: No
I have stayed at this hotel a couple of times. Most recently we had FIVE of us in this room (two kids are adults) and it fit is fine. It was tight, but the hotel is so close to the parks I found it to be worth it. Again, clean, comfortable — but not a stand-out hotel. It's just close.
Price Point: $$$$
Bed Options: Queens, kings, sofa beds
Pool: Small area (fun place to watch fireworks)
Free Breakfast: No.
I have stayed at this hotel's family suite a couple of times. I think it's a GREAT option for larger groups. It is super roomy, so I'd check it out of if you are looking for a larger group.
I mostly enjoyed how much storage this hotel has. A GREAT option for larger families. They have lots of counter space, drawers and areas to put things. I am a big fan, and it's VERY close. 🙂
Price Point: $$$$
Bed Options: Queens, bunk beds
Pool: Small area
Free Breakfast: No.
This is a REALLY small hotel that is close to the parks. I haven't stayed here, but it looks as nice as the rest. The price point seems high for the rooms, however many of the rooms have bunk beds — so if you're looking for that, it is a good option (and I felt like their bunk bed room pricing was reasonable).
Price Point: $$$
Bed Options: Doubles & Queens
Pool: Pool & Splash Area
Free Breakfast: No
I have not stayed here, but it is on my list. They have a nice rooftop pool area that you can also watch fireworks from. The price isn't bad, and rooms do come with microwaves and mini fridges.
Price Point: $$$
Bed Options: Queens, kings, pull-out chair (to sleep a 5th person)
Pool: Outdoor
Free Breakfast: No
I have stayed here. I felt like the rooms were VERY clean and well kept. I would say that it's a bit nicer than the Tropicana (and seems to be a bit cheaper), a bit further but maybe worth it if you're looking for that extra chair to sleep 5.
Price Point: $
Bed Options: Queens
Pool: Big outdoor area (olympic-sized)
Free Breakfast: No
I have toured this hotel (and am trying to arrange a stay soon). The price point can. not. be. beat. for a hotel close to the parks.
The rooms, again are fine. They're clean and comfortable. The hotel also has a funky vibe and has some nice outdoor area (many rooms also have balconies or patios) if the regular hotel crowded-ness is off-putting to you. Rooms have a mini fridge (but no microwave).
Price Point: $$$$$$$$ (I am not kidding)
Bed Options: Queens, bunk beds
Pool: Large water park and pool areas
Free Breakfast: No
The price is the killer on this hotel. It's double the price of a lot of these rooms.
If you plan to use the waterpark this could be worth it, however if you are not planning to use the waterpark I would not stay here. The rooms are similar to the rest. Comfortable and clean — but nothing to write home about.
Price Point: $$$-$$$$
Bed Options: Queens & doubles (some rooms with bunk beds — see below)
Pool: Small water park (great for small kids) and a large pool area
Free Breakfast: No
I love this hotel. Mainly because the beds. are. so. comfortable! Now, I have only stayed in the queen bed (remodeled) rooms. The lower price point rooms just have doubles and I do not think the beds are as good.
But honestly, I almost always have one of the BEST sleeps of my life at this hotel. They're great beds (and I am not sure that is more valuable anywhere else than at Disneyland).
If you purchase through this link, and then use the following codes you can still save on the bunk bed rooms (these codes work for all rooms, not just bunk beds):
20% off Disneyland Magic Key Passholder Discount – Corp code: 1000025935
15% off Discount for everyone! Corp code: 1000022077
Price Point: $-$$$ (higher pricing for a suite)
Bed Options: Queens, kings
Pool: A small area
Free Breakfast: No
My boys LOVED staying here when they were little. Rooms are very basic, but this family-run hotel (I have met the owners) is clean and well-run. I believe rooms come with a fridge and microwave
Ok, those are the hotels on Harbor that are most walkable to Disneyland. There are a few further down south, and some around the corner up past Fairfield but those are getting a bit far for families (in my opinion).
If you're still not sold on any of these hotels I have lots of other hotel review posts:
I also try and share any sales going on with the people on my newsletter. Grab a packing list and join the newsletter today:
Don't miss my list of Best Affordable Disneyland hotels — a list of 30+ of my favorite hotels (plus my own current top 10 hotel list).