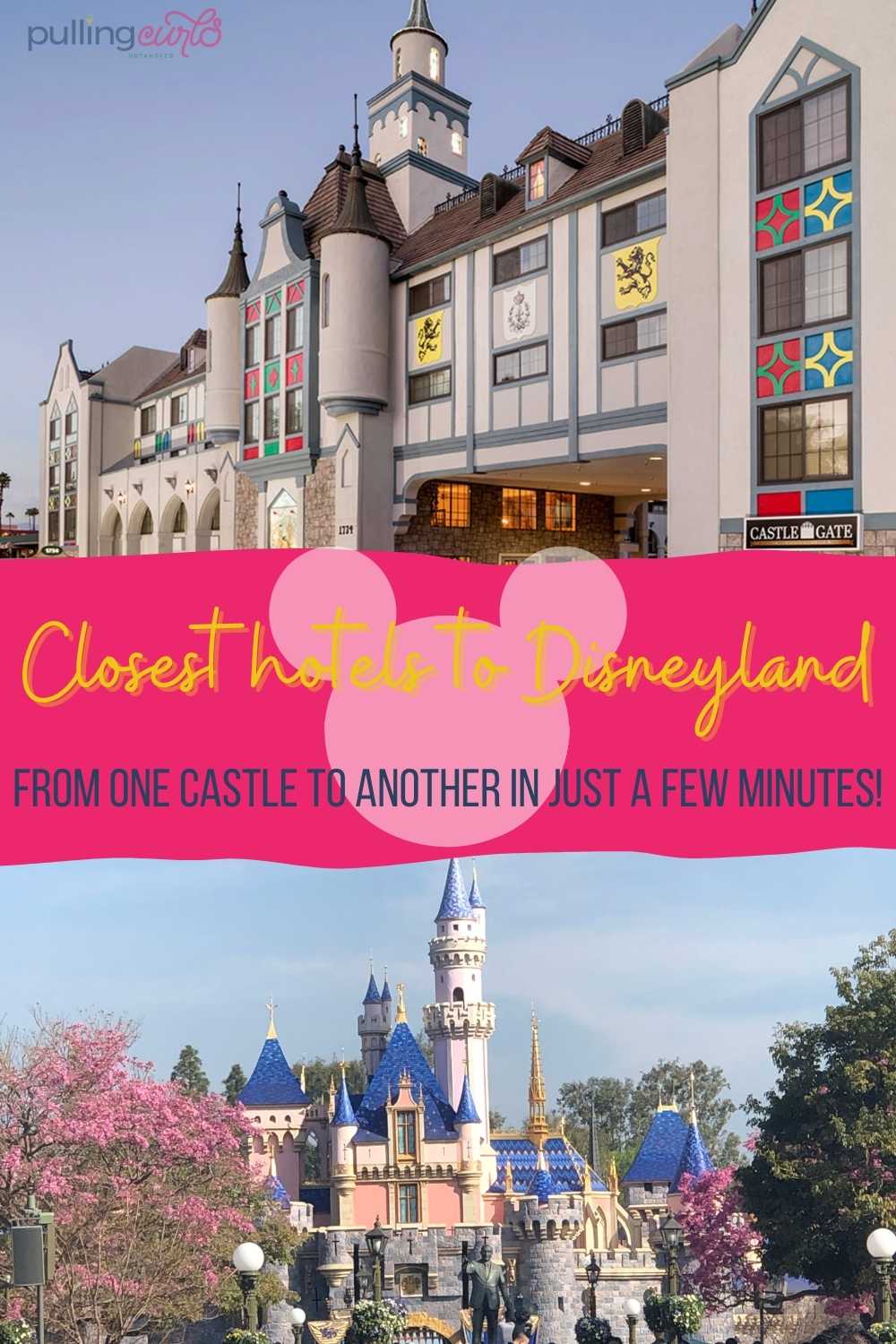 Hotels Nearby Disneyland: Many hotels say they are within walking distance to Disneyland, California — but you have to remember that even if you stay at the Disneyland Hotel, the park itself starts far beyond the property line and that walking will be a huge part of your day already. Let's talk about value hotels that are really close to Disneyland!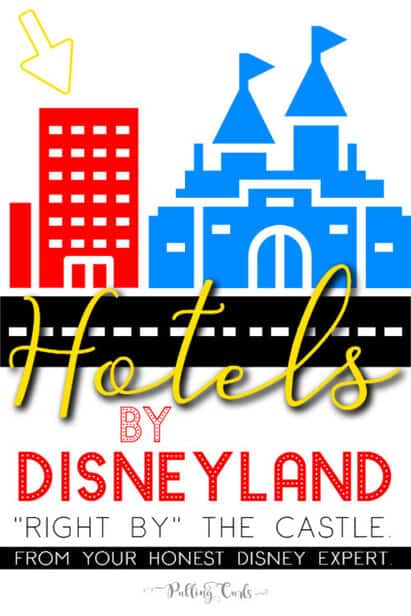 Hotels Near Disneyland California
Today I want to talk about the hotels near Disneyland. You'll find that many of the hotels near Disneyland are a bit more expensive (location really is everything!) — but I had Get Away Today put together some of the best values near Disneyland. These cheapest hotels near Disneyland (that you won't regret staying at) should fit the bill.
BTW, if you're looking for your BEST value for a hotel at Disneyland — I have a post on the cheapest hotels by Disneyland. All of these hotels are part of my Disneyland budget series.
Close Hotel Quick Reference Guide:
Closest Hotel: Best Western Park Place
Best Beds Close By: Howard Johnson's
Best Close-by with waterpark: Marriot Courtyard
Favorite Close Family Suite: Camelot Inn
Closest on a Budget: Tropicana
Closest & Cheapest (a tie): Anaheim Hotel & Castle Inn & Suites
Be sure to use code CURLS10 when you book a hotel/ticket package to save $10!!!!
What is a Disneyland Good Neighbor Hotel?
You'll see this referred to pretty frequently. It's how Disneyland chooses to work with hotels that they find up to their brand around Disneyland.
Disney itself doesn't have enough Disney hotel rooms for all the visitors, so they rely on the outside hotels to provide a place for guests to stay. Usually, you can also get Disneyland tickets at Disneyland Good Neighbor Hotels (but not as cheap as you can get park tickets here).
However, there are a lot of benefits to staying on property << so check out that post to decide if it's worth it to you. 🙂
Priorities in Hotels Near Disneyland
I have stayed at a LOT of these hotels, and a few others that I'll mention at the bottom of the post.
Keep in mind that hotels near Disneyland are:
Small — the hotel room is not likely to be spacious (although I just did a Camelot family suite and it had large rooms, so that was nice)
No breakfast (just one hotel on this list has breakfast, but most hotels have fridges and/or microwaves, so you can utilize those pretty easily) free breakfast isn't often found close to the parks.
Nothing fancy — even though they say "Marriott" — I will admit it's not been as nice as other Marriotts I've stayed at. BUT, the location is key (as you get a bit further out they get nicer).
Also, you won't be in your room much. I just don't want you to think you're staying plush at these. You're staying close, and that's the perk we're talking about here. 🙂
I will say that a lot of these hotels have really nice outdoor pool & hot tub areas. So, that's not an area that they skimp on.
Map of Hotels Near Disneyland
Like I said — a lot SAY they are walkable — but I wanted to share what is most walkable, for myself (and I have foot problems — so my walkable is very doable for families).
Also, you'll find this with a LOT of theme parks. So many say they're like .2 miles away from the parks — but I think that refers to park property vs the park entrance. Candy Cane Inn USED to be the closest before Disney California Adventure was created, but now they aren't just across the parking lot (they have to walk around).
As you can see on this map, Disneyland Park property is large!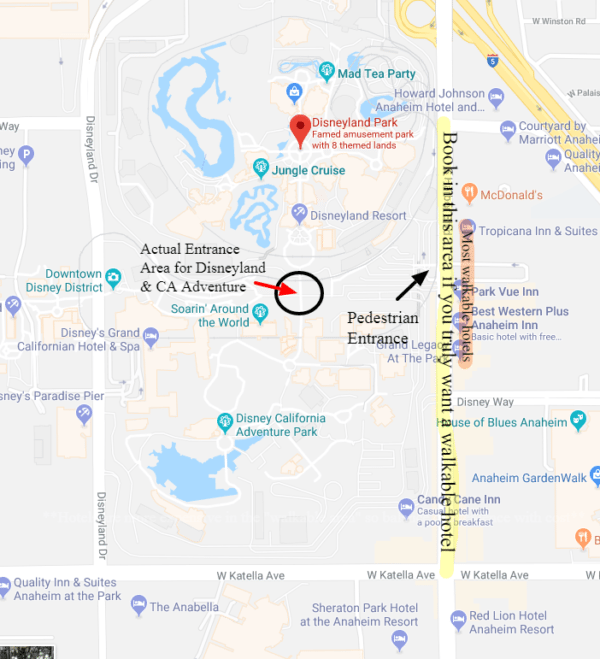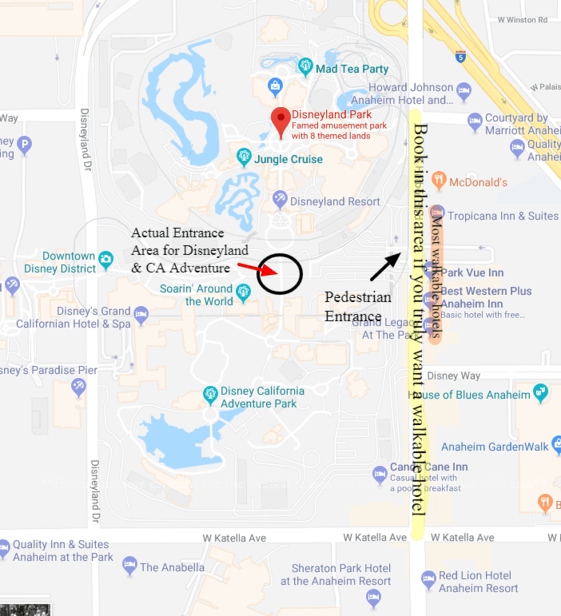 Although they are working on making hotels by Disneyland drive a bit more walkable, I still think the hotels on Harbor are the best option, as shown above.
FYI the cloest of the on property hotels is on that map to the left of the circle — the Disney's Grand Californian Hotel. It's a goal of mine to stay there, but it is extremely pricey! The three Disneyland resort hotels are very different than how Walt Disney World's hotels work.
When you shop at Get Away Today it's easy to see the map option: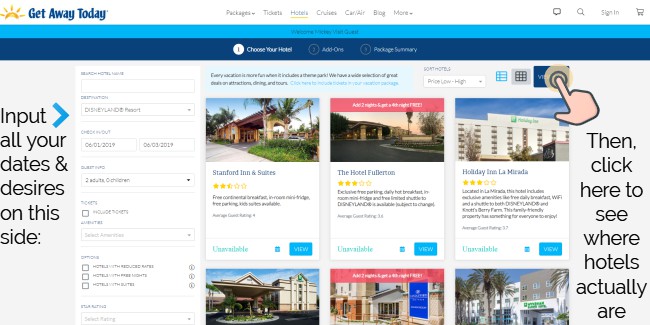 Ok, now I'm going to share the info I got from Get Away Today. I've used them since 1998 and they are my Disneyland partner. They have some good info here! I actually did a hotel tour with them with some of the best hotels for families.
Of course, I will add my two cents now and then as well. 🙂 Can't stop myself from that. 🙂
FYI, staying close is a huge priority for me and my feet. 🙂 I have stayed at a LOT of these hotels. 🙂
Pro Tip: Much of what I'm referring to is their standard rooms, but sometimes you can upgrade if you call Get Away Today to see if they have any other large guest rooms available at a hotel that interests you.
Cheap Hotel Near Disneyland
These are both close proximity and a short walk.
Castle Inn & Suites
Only a 10-minute walk away from the Disneyland Resort main entrance, the Castle Inn & Suites is a great hotel for every type of family. As a Get Away Today guest, you can take advantage of frequent free-night specials and free parking, all while enjoying spacious rooms. Plus, kids love the castle theme at this property! If you're looking for a comfortable hotel at a great price, then the Castle Inn & Suites is the pick for you.
Hilary's Input: This hotel is nothing fancy, but my boys literally DIED staying here, they were so excited. It is very walkable. The rooms are clean and well-maintained. No breakfast (you'll find this is usually the case), but they have a mini fridge (great to keep Gogurts to eat on your way to the park).
Cheap Hotel Near Disneyland
The Anaheim Hotel
Next door to the Castle Inn & Suites is The Anaheim Hotel. This value hotel has spacious rooms, reduced parking and an in-room microwave and mini-fridge. Plus, this hotel also has an incredible on-site restaurant called The Pizza Press. Open for breakfast, lunch, and dinner, you can create your own pizza using a variety of fresh ingredients. Not only is The Pizza Press delicious, but also an affordable dining option for families. In addition to all of these great features, The Anaheim Hotel is the ONLY hotel within the Anaheim area with an Olympic-sized swimming pool and nine acres of gardens. As you can see, The Anaheim Hotel is easily one of our favorite properties to stay at when visiting the Disneyland Resort.
Hilary's Input: I toured this hotel. It has a fun "vibe" (the pool area is very fun) but the rooms are tight. I think these rooms are best for 2 people (or less). 🙂 It's a great value for a room close by though.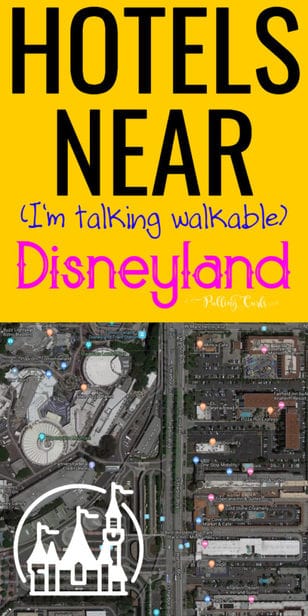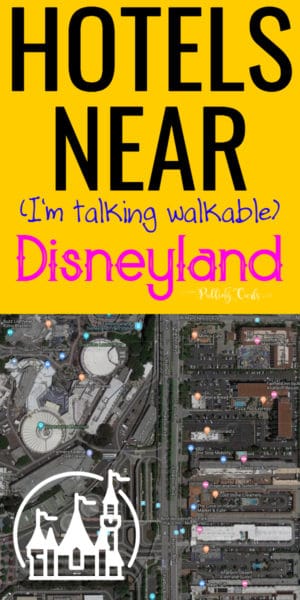 Closest Hotels Across the Street from the Disneyland Main Gate Entrance
These are all within VERY easy walking distance.
Tropicana Inn & Suites
Located directly across the street from the Disneyland Resort, the Tropicana Inn & Suites has become a staple for guests visiting the Anaheim area. Not only is the location ideal, but the Tropicana just recently renovated all of their hotel rooms – making them more modern, bright, and fun for guests of all ages. Although this hotel has a $15 parking fee per night, it still beats the $25 parking fee you'd pay at the Disneyland parking garages. With low, nightly rates through Get Away Today and a prime location, the Tropicana Inn & Suites is a great option for travelers of all ages.
Hilary's Input: I stayed here when I went with the Jr High Band one year. Again, well-maintained, but NOTHING fancy. However, it is the hotel we have booked our next trip with because it is SO close. The price is nice and did I mention how close it is? Walking distance of the parks is #priorities. 🙂
I love how it has microwaves AND fridges in the rooms! That is a huge plus.
Disneyland Hotels Nearby
Best Western PLUS Park Place Inn
Located across the street and within walking distance of the DISNEYLAND® Resort, the Park Place Inn puts you on the doorstep of the Happiest Place on Earth! Mini-suites are available to comfortably accommodate large families on vacation. On top of all of this, you can enjoy a complimentary continental breakfast each morning at this family friendly hotel.
Hilary's Input: This is my next hotel stay, I have lusted after this hotel for a LONG time. Keep in mind this fills up REALLY fast. You want to book far in advance if you want this room through Get Away Today.
Cheapest Hotel Near Disneyland
Clarion Hotel
Although the Clarion Hotel is a 10-15-minute walk to the Disneyland Resort, the low-price and fantastic amenities outweigh the longer distance. As a Get Away Today guest, you'll be able to take advantage of 3rd night free specials, a hot breakfast buffet and free nightly parking. With so many fantastic amenities and room types to choose from, you'll want to be sure to keep the Clarion Hotel in mind when booking your next trip to the Disneyland Resort.
Hilary's Input: Ok guys — I have to veer from GAT on this one. I do NOT think this hotel is walkable. I'd use the Anaheim Resort Transit or Uber if we stayed here. BUT, it is probably the best bang for your buck! Whenever I'm looking for a great price on a Disney trip — this one tops the list!
Hotel Close by Disneyland
Portofino Inn & Suites
Only 0.5 miles away from the Disneyland Resort, the Portofino Inn & Suites is a wonderful option for guests visiting The Happiest Place on Earth. Not only is it within walking distance, but you'll also be able to get free parking, a reduced resort fee and frequent 4th night free offers as a Get Away Today guest. Plus, this hotel also offers Kid Suites, perfect for families who are looking to stay close.
Hilary's Input: This hotel is just about too far for me. I stayed at the Deseret Inn & Suites just north of here, and my feet were very sad… BUT if you're good walkers, it is certainly possible. 🙂
Hotels Near Disneyland on Harbor
Ok, so I noticed they didn't include a bunch of the hotels we stayed at (honestly, they are probably not the best value) — so, I wanted to share my thoughts on the hotels on Harbor Boulevard. We have actually been making our way south on Harbor the past few visits — I'll give you a map so you can orient yourself:
#1: Courtyard Anaheim Theme Park Entrance
This one has a nice waterslide area/ water park, but it is not open after the parks, so don't get your hopes up. In retrospect, it is probably the nicest of the 4 hotels I'm going to share with you. But, keep in mind it's nice for WALKABLE TO DISNEYLAND — which does not equate a "nice" hotel in other places. 🙂
We didn't love this one much at all. It was fine, but the pullout bed was fairly uncomfortable and it feels like a VERY basic motel with the Marriot name stamped on it. It does have bunk beds in the rooms, which makes it nice if kids don't like to sleep in the same bed. They also have a fun game room down the hall.
I stayed here on a recent girl's trip. They have a family suite that has a TON of room. The pull-out couch is a total joke though. Only a very easy going child would be willing to sleep there. It's absolutely horrible. BUT, otherwise, the hotel was really nice. Fairly quiet and well kept. They also had a TON of storage, which would be awesome for families! I love how close it is!
We've already talked about this, but I swear the longer I do Disneyland I just want to be as close as humanly possible. Everything else just doesn't matter as much. Hence, the Tropicana. 🙂
And, yes — I do plan to stay at that Best Western on my next trip. #stayingdownHarbor 🙂
Note: The good news is that almost all hotels as they remodel are putting in Queen beds. I believe that all of these hotels have queen beds (not doubles — thank goodness).
Please note that the Anaheim Convention Center is down the street from these hotels. If you're looking at a Convention Center Hotel it is NOT walkable (but some have their own buses to Disneyland and an Uber isn't that much).
Do NOT miss my post on Disneyland Family Packages where I share about all the hotels I've stayed at in Disneyland!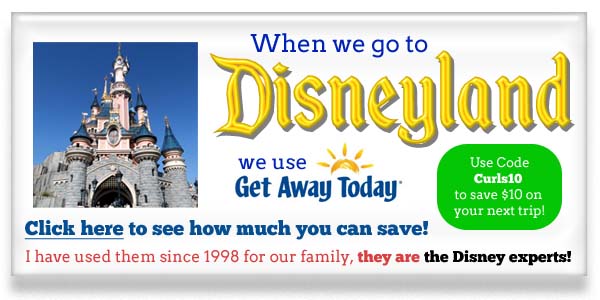 No matter where you choose to stay, your next Disneyland vacation is sure to be a magical one! To book, visit getawaytoday.com or call 855-GET-AWAY to speak to a travel expert directly (they know everything Disneyland, seriously!!!). Plus, when you combine their hotel specials with their discount Disneyland tickets, you'll be able to save hundreds on your next trip. To save even more, be sure to mention promo code CURLS10 to save an additional $10 off your next vacation package. Let them know that Pulling Curls sent you!
What is the closest hotel with a full kitchen?
I would guess the the Element, possibly the Cambria (Cambria has water slides too if you book with Get Away Today).
Should we use the shuttle service instead?
I have heard some unreliable things about the ART shuttle. I will say that I used Uber/Lyft a lot on my last trip and I REALLY liked it. Fast and efficient! I have a whole post about best hotels with free shuttle service.
Be sure to grab my Disneyland trip calculator:
Don't miss my list of Best Affordable Disneyland hotels — a list of 30+ of my favorite hotels (plus my own current top 10 hotel list).