Today we're going to talk your Disneyland Budget — I have a Disneyland Trip Calculator set to help you make it magical.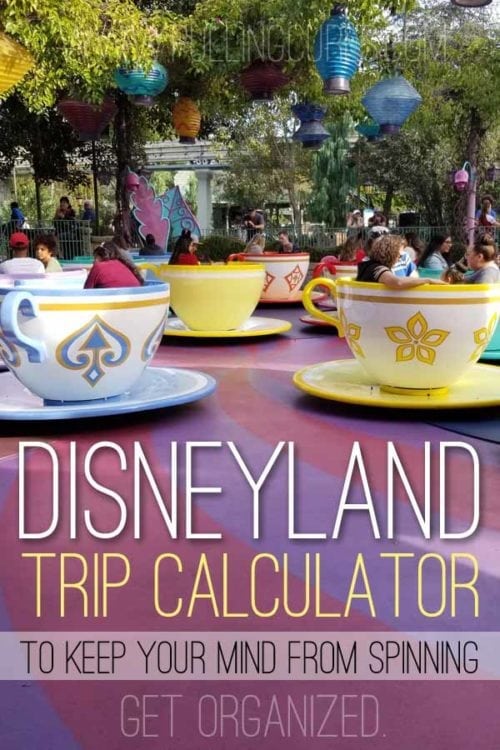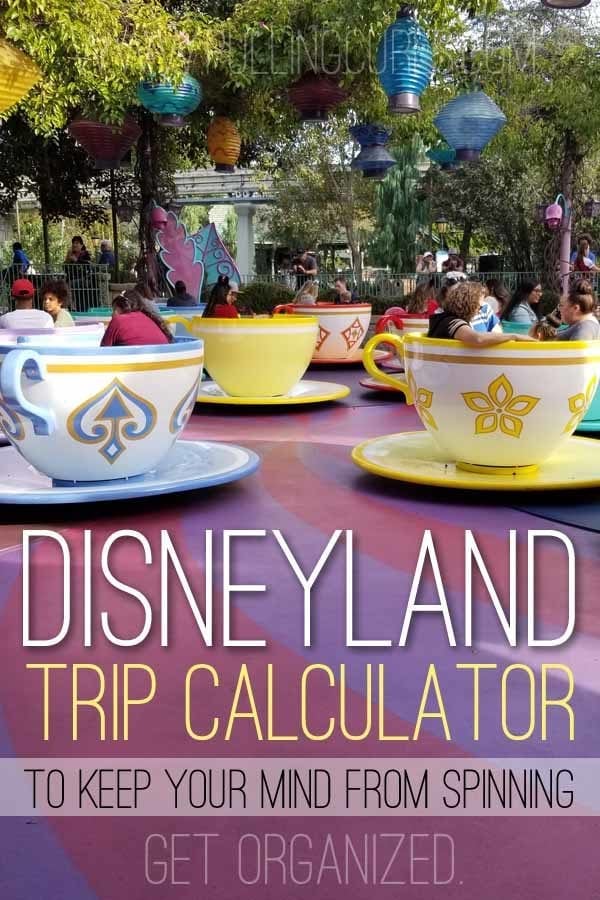 Let's talk a little bit more about the costs associated with your Disneyland Trip and then you can use the calculator to estimate your basic costs.
I also have a totally free spreadsheet that you can use to both calculate the cost of your Disneyland trip — but it ALSO serves as a Disneyland Trip Planner — so everything is in one spot (you can use it as a google sheet, or download it to use in excel).
Disneyland Trip Calculator
Let's plan your Disney Trip!
This Disneyland Trip calculator has everything from tickets, to travel -- plus, my favorite spots to get everything taken care of!
Disneyland on a Budget 2018
Airfare costs to Disneyland
I have flown into Disneyland a few times.  The good news is that there are several airports in that area to choose between.
Airports you can use (from closest to farthest)
John Wayne Airport 14 mi
Long Beach 19 mi
Ontario 35 mi
Los Angeles Intenational (LAX) 35 mi
Most of these airports have cheap'ish shuttles you can use to get to your hotel if you prefer not to rent a car (or use Uber).
I love using services like Airfare Watch Dog to make sure I get the best price. 🙂
Disneyland Road Trip — Mileage
You can find out the approximate amount it will cost you to drive from home right here.
Related Post:  Best time of year to go to Disneyland
Rental Car at Disneyland
Make SURE to shop around when you get a rental car.  I find that the prices vary a LOT.  Places to check out include:
Hotel at Disneyland
I 100% believe that Get Away Today is the fastest, easiest and cheapest way to book your hotel.  Be sure to use code CURLS10 to save another $10 on your order!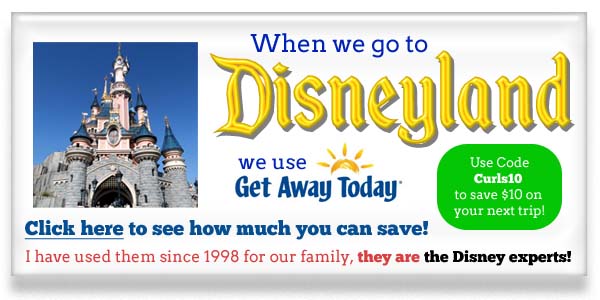 Disneyland Tickets
No surprise, but Get Away Today, has the BEST prices for tickets as well.  Often you can get a free day, or great discounts, I would NOT book with anyone else til' you see their prices.
Be sure to check out the Disneyland Maxpass too.
Theme Park Tickets — Disneyland, Knotts, SeaWorld, Universal
They also have tickets for the other attractions in the area including:
Seaworld
San Diego Wild Animal Park/Zoo
LegoLand
Knottsberry Farms
BTW, Get Away Today also has awesome hotel deals for the San Diego area as well (I used them for my last trip there and found it to be WAY cheaper than what I had called around for).

Related Post:  Family-Friendly Hollywood Fun
Parking/Shuttle Budget for Disneyland
Disneyland's parking is a bit steep at $20 (although it also includes a shuttle from the garage to the park)
You can also use the local transit system that drops off at Disneyland (and other areas) called the ART Shuttle.  I have done both, they are both fairly convenient.  BTW — Get Away Today has 5 day ART passes for the price of 3 days (but you do need to get them a bit in advance, since they have to be mailed).
You can also stay close enough to walk (but check it on a map — many hotels SAY they are walkable, but really aren't).  I recommend staying in this area if you plan to walk: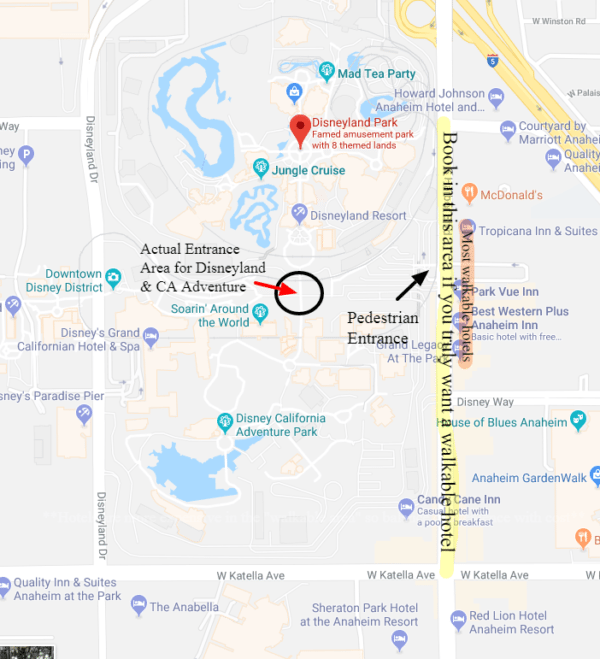 Souvenirs for Disneyland
I am a BIG fan of buying things in advance on Amazon or at Big Box stores (like Walmart or Target).  So often they have Disney Merchandise, and if you can't find it nearby — you can always stop by one closer to the park and grab some there!


Be sure to check out my post on how we saved at Disneyland for more info — or check out this fun way to make a free souvenir.
Food for Disneyland
Disneyland food can certainly break the bank.
I wrote a post that outlines the best place to eat at Disneyland.  The good news about food at Disney is that they usually serve VERY large portions.  Often we split 2-3 dishes and all walked away full and happy.
The other good news is that Disneyland allows you to bring snack food into the park.  As long as you're not carrying a cooler full of KFC of Subway I think you're good to know.
I have a post on what to bring to Disneyland that I think you'll really like — to help you with ideas on what to bring.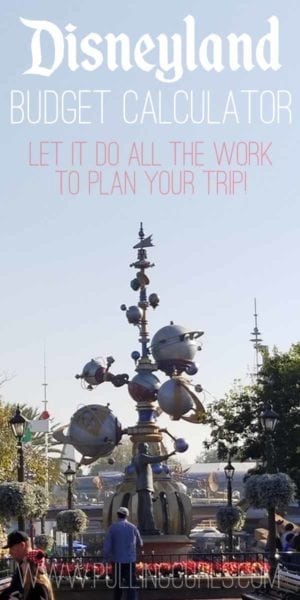 Disneyland Trip Calculator
Alright, now that we've talked about all the costs — hopefully, you're ready to plug in some numbers:

How much does it cost to go to Disneyland for a family of 4?
Simplified Trip Calculator
I asked the nice people at Get Away Today to give me some average numbers for them — don't forget to use code CURLS10 to save another $10 on your trip!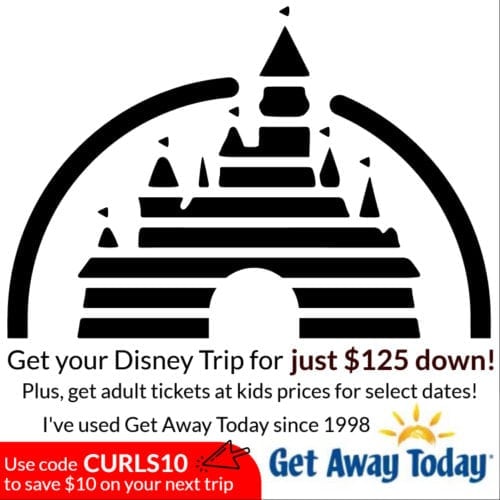 Hopefully, this makes Disneyland seem a little bit more "doable" — I am always overwhelmed when I think about planning a trip — but this spreadsheet/calculator will break it down into steps to give you the trip of your dreams. 🙂
Disneyland Trip Calculator
Let's plan your Disney Trip!
This Disneyland Trip calculator has everything from tickets, to travel -- plus, my favorite spots to get everything taken care of!
And check out my other Disney posts: