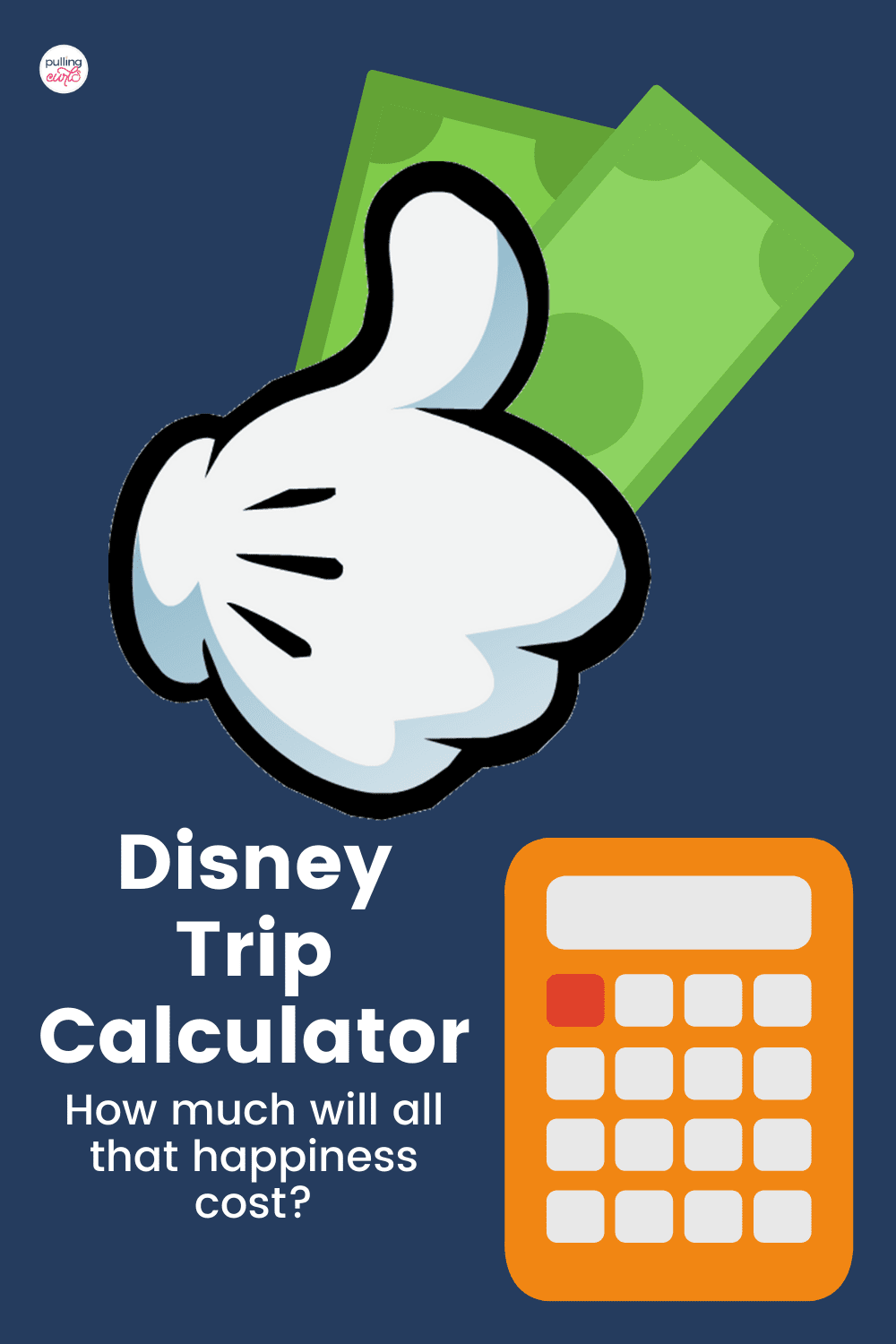 Today we're going to talk about how much will your Disneyland vacation cost? — This Disneyland Trip Calculator is set to help you make it magical. This Free Trip Calculator can help you plan ANY trip (but also has some great Disneyland budget travel tips).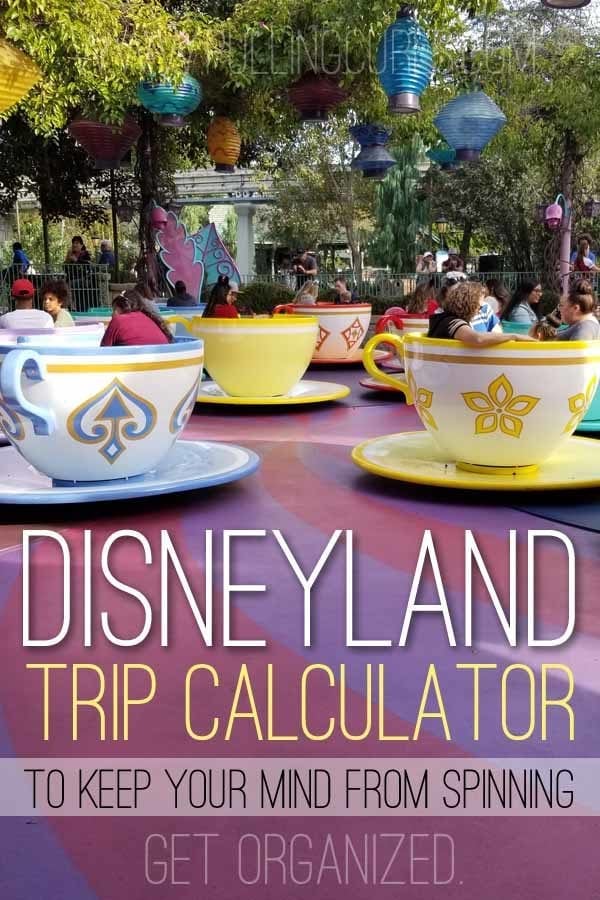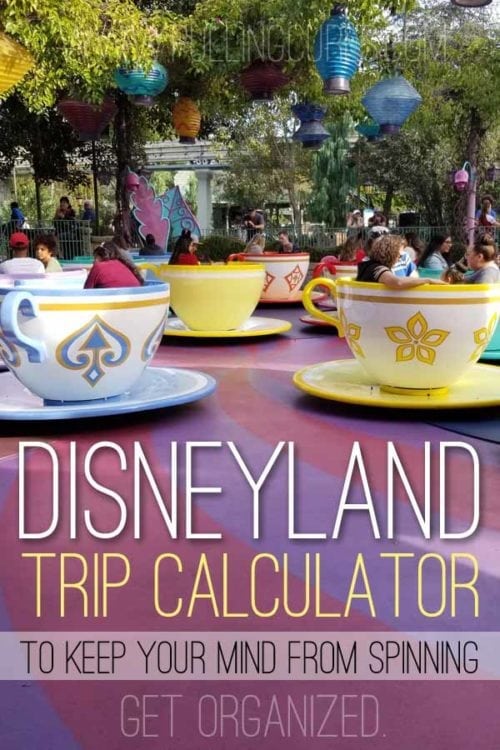 How much DOES it cost to go to Disneyland?
Let's talk a little bit more about the costs associated with your Disneyland Trip and then you can use the calculator to estimate your basic costs (can be used for any trip — I just use Disneyland as an example).
Want to just book the whole thing together — check out my post on Disneyland All-Inclusive Vacations.
This is part of my Disneyland Budget series (I have a Walt Disney World budget post also), which is also part of my broader Disneyland Tips series!
AND, don't miss my video where I share the six areas in your trip calculator:
Disneyland does NOT need to cost a small fortune, and hopefully this post can show you the wide variety of pricing that Disney could be!
Disneyland Trip Cost Calculator
I also have a totally free spreadsheet that you can use to both calculate the cost of your Disneyland trip — but it ALSO serves as a Disneyland Trip Planner — so everything is in one spot (you can use it as a google sheet, or download it to use in excel).
And yes, I share my actual dollar numbers in my Disneyland Budget post — yup, exactly what our Disney vacation costs were! DO NOT miss that post!
Like all travel budgets, this one can be broken down into (click the link to skip to that section)
What Do You Want to Know About?
Pro Tip: One of the best ways to save is going at a less-than peak times. Airfare, hotel and sometimes even ticket prices can be less (they have price tiers based on how busy they think it will be). I have a podcast on the best time to go to Disneyland.
Another pro tip I learned is that Target Red card gives you 5% cash back when you buy Disney gift cards. That means you can get $100 of Disney Gift Cards for just $95 — great for meals around the park, etc.
Travel to & Around Disneyland
Airfare costs to Disneyland
I have flown into Disneyland a few times. The good news is that there are several airports in that area to choose between.
Airports you can use (from closest to farthest — mileage listed is to Disneyland itself)
John Wayne Airport 14 mi
Long Beach 19 mi (although it is MUCH smaller and easier to navigate)
Ontario 35 mi
Los Angeles International (LAX) 35 mi
Most of these airports have cheap'ish shuttles you can use to get to your hotel if you prefer not to use a car rental (or use Uber/Lyft — which is usually cheaper, FYI).
I love using services like Airfare Watch Dog to make sure I get the best price. 🙂 Also, if you're going to use Southwest, just get their credit card. The miles never expire, so it makes sense to use it at least for them.
Disneyland Road Trip Costs — Mileage
You can find out the approximate amount it will cost you to drive from home right here.
Keep in mind that driving your own car makes you need a place to park it. Many hotels around Disneyland charge for parking — so double check that when you book!
Rental Car Cost at Disneyland
Make SURE to shop around when you get a rental car. I find that the prices vary a LOT. Places to check out include:
Pro tip: Be mindful as to which is better/cheaper for your family. Many families don't use a car while at Disneyland so an uber/lyft might be cheaper than renting!
Parking/Shuttle Budget for Disneyland
Disneyland's parking is a bit steep at $30 (although it also includes a shuttle from the garage to the park). FYI, many hotels also charge for their nightly parking (but some also have free parking if you book with Get Away Today).
You can also use the local transit system that drops off at Disneyland park (and other areas) called the ART Shuttle. I have done both, they are both fairly convenient.
You can also stay close enough to walk (but check it on a map — many hotels SAY they are walkable, but really aren't). I recommend staying in this area if you plan to walk: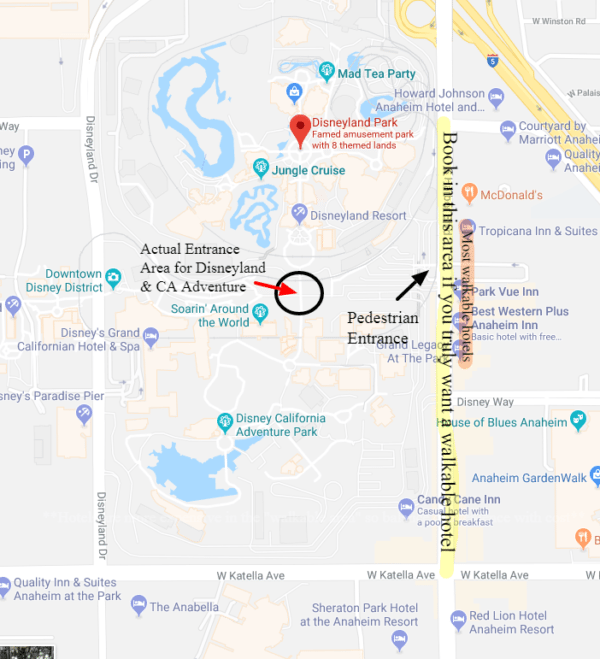 Disneyland Hotel Trip Calculator
I 100% believe that Get Away Today is the fastest, easiest and cheapest way to book your hotel room. Be sure to use code CURLS10 to save another $10 on your order! They have the best price guarantee. Also, it's true that I have used them since 1998.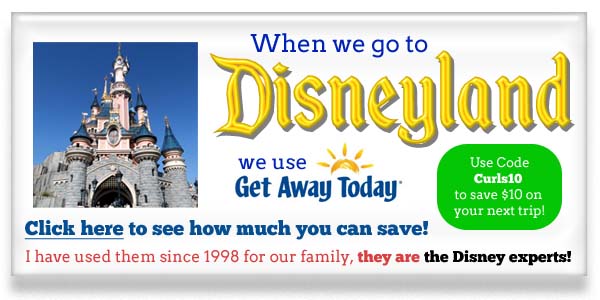 As the parks get busier, it is getting more important to book early to get the most hotels available. I would check out their site just to get an idea of what they have for your time frame now. They have a TON of different hotels, but if staying close to the park is important to you, book early.
I have a few posts on Disneyland hotel stays. I have listed out the most budget-friendly hotels (but still tolerable) hotels around Disneyland. For us, we really like to stay walkable — so I have a post on the closest hotels to Disneyland. I also list out all of our hotel reviews in my Disneyland Family Packages post.
If you want to stay on site — at a Disney Hotel, plan on a MUCH higher cost – -but they do have perks which I outlined in my post about staying at the Disneyland Resort. There are also many deluxe resorts that are super nice around the area that might be further from the parks (but a nicer stay). I outline some of those in my post on family hotels near Disneyland.
Confession: One of our years I did NOT book through Get Away Today (I thought I could save money). Our hotel ended up being a dump and we had to walk SO far to it. Huge mistake. I also probably only saved $10/night. It was a grave error. One of the Disneyland mistakes I try to help you NOT make.
**Be Sure and ask Get Away Today about any special offers with hotels. When we had smaller kids we often used their buy 3 get a free night deals. It made it SUCH an affordable vacation (and sometimes we took a day to cool our feet by the pool in the middle).
Disneyland Tickets Cost Calculator
Before we get started I have a whole post on if you can buy Disneyland tickets at the gate (no) — and it shares my CHEAPEST way to get Disneyland tickets, don't miss it.
A few questions to ask yourself about park admission:
How long do you want to go to Disneyland (they offer passes from 1-5 days) — deciding your number of days in the park will help you make a plan.
Do you want to "hop" between parks (that makes it so you can go from one park — Disneyland (some call it Magic Kingdom) to Disney's California adventure in a single day — which can be hard for families, and frankly — me) — those are called Park Hopper Tickets (and the park hopper option is more expensive)
Will you need the Genie +? It is $20/person/day — and it may be more if you add individual lightening lanes.
The most popular option is the 3-day Park Hopper pass. The more days you get, the less they individually cost. Although, honestly, now that I use the Genie — I could easily get away with 2-days. Since you are in line less, you need less park days. A great way to save on your overall budget. Three day tickets often gives you a magic morning, where you get into the park an extra hour on one of your days.
While the single-day ticket is the cheapest, be aware that every day you add makes each day cheaper. The 5-day ticket is obviously the best-price given per DAY (hopefully that makes sense).
What you DON'T want to do is buy at the gates. Tickets are more, and you waste time at the ticket counter!
No surprise, but Get Away Today, has the BEST prices for tickets as well. Often you can get a free day, or great discounts, I would NOT book with anyone else til' you see their prices. DO NOT GET YOUR TICKETS AT THE BOOTH AT DISNEYLAND! They will NEVER be the cheapest tickets!
Their tickets most often come as e-tickets which means you walk right to the turnstiles!
How many days do I NEED at Disneyland?
This is a tough one. A few questions to ask yourself:
How busy is it likely to be while I am there? I have a post on the best time of year to go to Disneyland. However, even if you need to go on a busy day — it can still be super fun! Not a bad idea to know what special events or holidays are around that time of year. Pick your date can change the budget quite a bit.
How much of Disneyland do I want to experience? — are you OK with just riding some rides that really get your interest, or do you want to ride ALL of them?
Do you have kids with you? — if they're small, they'll likely slow you down (and if they're teens, they may speed you up) — taking families of all ages can still be amazing at Disneyland
Would it be worth it to wait a few more months, so I could afford an extra day to really enjoy my time there and not be rushed?
Theme Park Tickets Cost — Disneyland, Knotts, SeaWorld, Universal
GAT also has tickets for the other attractions in Southern California including:
Seaworld
San Diego Wild Animal Park/Zoo
LegoLand
BTW, Get Away Today also has awesome hotel deals for the San Diego area as well (I used them for my last trip there and found it to be WAY cheaper than what I had called around for).

Related Post: Family-Friendly Hollywood Fun
Souvenirs for Disneyland Budget
I am a BIG fan of buying things in advance on Amazon or at Big Box stores (like Walmart or Target). So often they have Disney Merchandise, and if you can't find it nearby — you can always stop by one closer to the park and grab some there!
Avoiding gift shops is a way that you can avoid the additional cost of souvenirs.
Last time I even made shirts for us.
Be sure to check out my post on how we saved at Disneyland for more info!
Disneyland Food Cost Calculator
Disneyland food expenses can certainly break the bank.
I wrote a post that outlines the best place to eat at Disneyland. The good news about food at Disney is that they usually serve VERY large portions at their retaurants. Often we split 2-3 dishes and all walked away full and happy.
But honestly, we didn't even start eating Disney foods til' our kids were getting older. Prior to that we just bought our own food. Speaking of which…..
Can you bring food into Disneyland?
The other good news is that Disneyland allows you to bring your own food into the park (they define it as "snack food" – -but I think they're just not wanting you to bring a full outside meal into the park). As long as you're not carrying a cooler full of KFC or Subway I think you're good to know. This is a GREAT IDEA to save money in the parks.
There are several grocery stores around the area that do delivery (or you can pick up with an uber or your own car).
However, even if you want to eat in the parks, it doesn't have to be much money — the portions are huge, so splitting is always very doable. I have some of my favorite places to eat in Disneyland & CA adventure.
And no, there is no Disneyland Dining plan. At least not as of late.
I have a post on what to bring to Disneyland that I think you'll really like — to help you with ideas on what to bring.
Disneyland Trip Cost Calculator
Alright, now that we've talked about all the costs — hopefully, you're ready to plug in some numbers: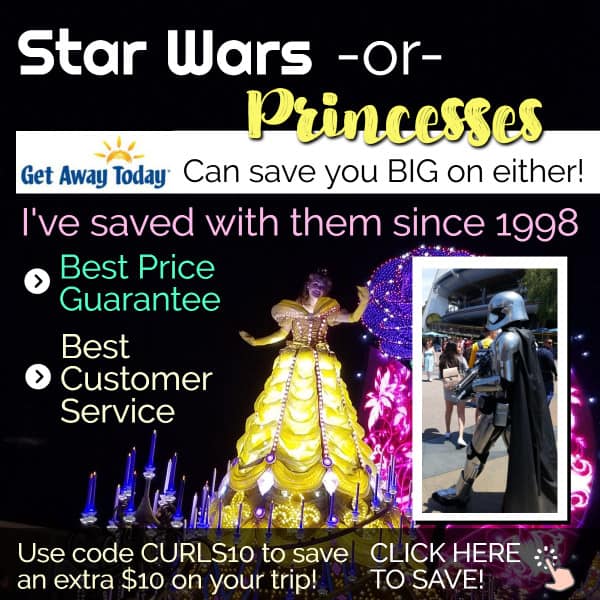 How much does it cost to go to Disneyland for a family of 4 in 2019?
Simplified Trip Calculator
I asked the nice people at Get Away Today to give me some good baseline, average prices for them — don't forget to use code CURLS10 to save another $10 on your trip!
Hopefully you'll find that the average cost is pretty reasonable:
This should give you an IDEA of your total cost.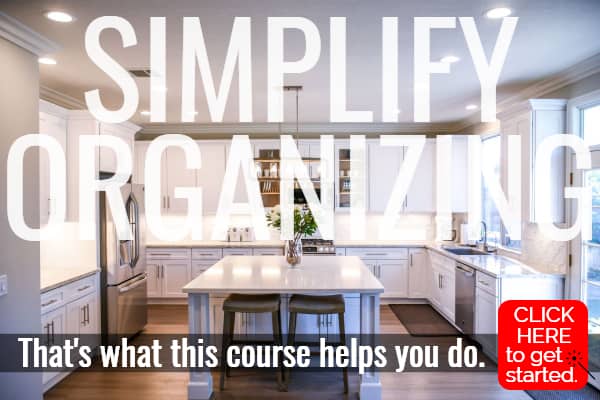 What is the cheapest way to go to Disneyland?
I would call Get Away Today — and ask them the ABSOLUTE cheapest way for you to go. Because they know SO much about Disneyland, they can almost plan you an all-inclusive Disneyland trip!
When I have asked them in the past, they have mentioned a few hotels that have a great deal. They're no-frills, but can be a great option.
That's my advice. Oh, and be sure to use code CURLS10 to save an extra $10 on top of that! 🙂 You can use that if you CALL or if you go online (you'll see the spot to put it on the bottom left on the checkout page where it says "promo code".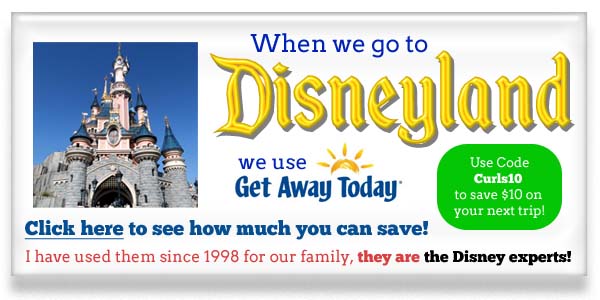 Disneyland Vs Disney World Vacation Budgets
I JUST booked a Disney World Theme Park Trip (also including Universal Studios Orland) The pricing is actually simlar. However, I am staying on-property for my Disney World trip. Since they have a larger variety of helps decrease my price.
If you're looking for a Disney World budget vacation, I'd encourage you to get a price from Get Away Today 1-855-GET-AWAY. It is so easy to call, and they can quickly price a vacation (and help you know what perks you'd like to pay more for). Be sure and tell them you heard about them from Pulling Curls! 🙂
FYI, you really can't price the options on their website, so a quick call can get you a price for the time of year you want to go! They are super quick and nice (and the price was about what I was thinking) And yes, I've used them since 1997.
That will really help you decide which of the Disney theme parks you want to visit.
BTW, my Disneyland Cost calculator can EASILY be used as a Disney World cost calculator too — it still has the main areas you need to plan pricing for (and I am using it for my own vacation).
Final Pro Disneyland Budget Tip
If you go to Disneyland with the entire goal to spend VERY little and save as much as you can — you should go somewhere else. Maybe, go camping. That's pretty cheap.
Disneyland is not a cheap trip, by any stretch of the imagination. But, I found to be cheaper than other places (like Yellowstone). You can go with a frugal mindset, but know that your family enjoys themselves, will be more important than pinching every penny. And if you can't afford a Disney trip — save until you can. 🙂
My #1 trip for family travel can be hard to use if you are worried about every dime.
Hopefully, this trip calculator gives you a target to save for.
Hopefully, this makes Disneyland seem a little bit more "doable" — I am always overwhelmed when I think about planning a trip — but this spreadsheet/calculator will break it down into steps to give you the trip of your dreams. 🙂
Don't miss my list of Best Affordable Disneyland hotels — a list of 30+ of my favorite hotels (plus my own current top 10 hotel list).