Making a gift to announce ANOTHER gift is a fun way to share the experience with your kids, while still having something under the tree. The key is making sure it's something the kids will love as well!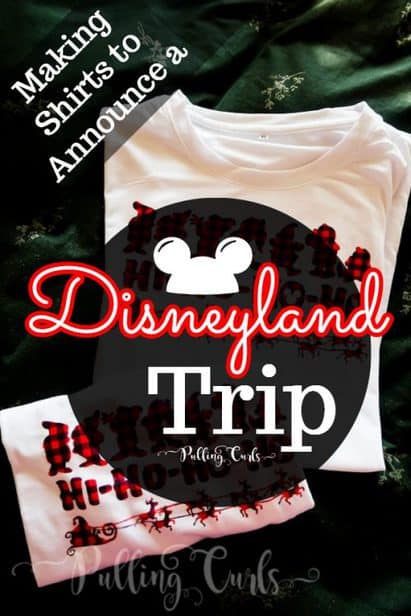 I am a big fan of giving experiences as a gift for Christmas.
BUT, I am also a big fan of the fun of opening things on Christmas morning, so how can you give them something (hopefully not crazy expensive) that shares the gift, while making the MAIN gift the experience.
This is a sponsored conversation written by me on behalf of Cricut. The opinions and text are all mine.
Enter the Cricut Maker!
That way you can personalize whatever you're giving (instead of just a card, which is pretty anti-climatic for kids).
This year, we decided to go to Disneyland for Christmas.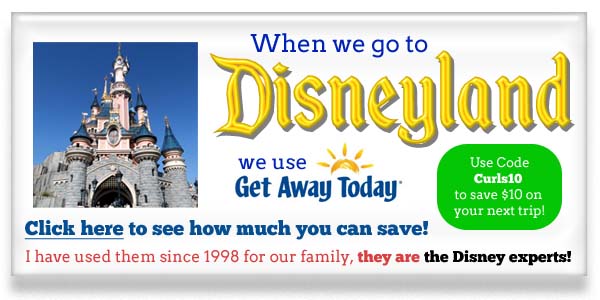 You guys might be giving Disneyland as a gift for Christmas, and hopefully this gives you some ideas.
Customizing Your Disneyland Shirt
Supply list:
Since I have teens who are super different, along with a mildly grumpy husband at times — I needed a shirt that didn't have Pixie dust vomited on it (which is how I'd like to do it). It needed to be fun, snarky and sort of a shirt they'd need to "figure-out"
So, here's what I did (you can see my last Disney shirt here)
Search Pinterest to see what other ideas people have used to spark ideas. You can also search Etsy (frankly, you could just buy a shirt there, but that won't be as customized!)
Adjust it to work for your family.
For me, I went to Pinterest and liked a lot of Snow White shirts…. but I couldn't really assign us each a dwarf….
So, I went to PInterest to look at Snow White Images…. and I saw all the dwarves together with #squadgoals under it.
I was thinking something along the hi-ho song….
And then I realized SANTA says Ho…..
And boom, a shirt was born!
Pro Tip: one of the BEST things about Cricut is the Cricut Access store where you have SO many designs available at your fingertips at no cost to you! I did need to pay for the 7 Dwarves, but beyond that I was able to design it entirely within Cricut! It made it really cost effective.
While I used a 7 Dwarf Image because my kids liked that best, I also made a Cricut image you can use for your own (all Cricut Access, so it's awesome!!!)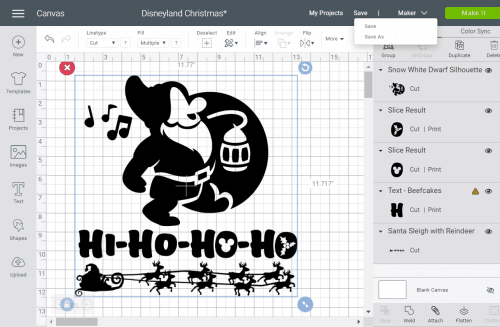 I was going to use vinyl, but with how active you are in Disneyland shirts, I thought I'd like to try the infusible inks — as you can see in this video (btw, you need the EasyPress 2 to get those inks to look their very best).
I love how they turned out.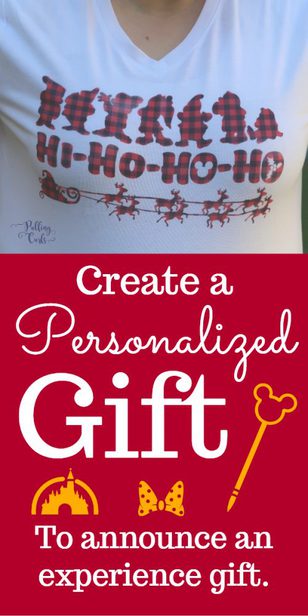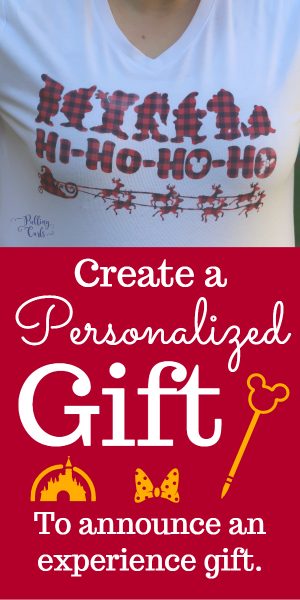 Other times you could give a personalized gift to announce an experience gift:
Concerts
Lessons or classes in something they're interested in
A play they're going to
I just think it's fun to give them something to wear to their experience as well. I hope you find it fun too!
Be sure to sign up to get my NEXT Cricut cricut post, and check out my other similar posts below that!
[pt_view id="deca5f5rkq"]