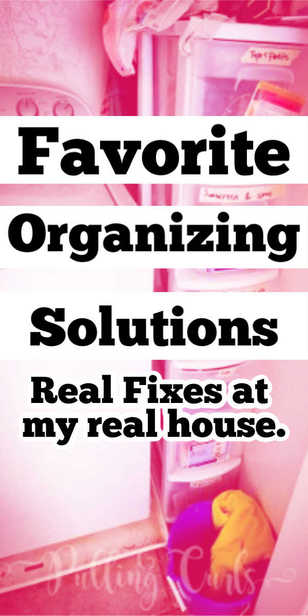 Today I want to share some of my favorite organization projects! A lot of the time I am inspired by something else someone else loves. So, hopefully, this inspires you!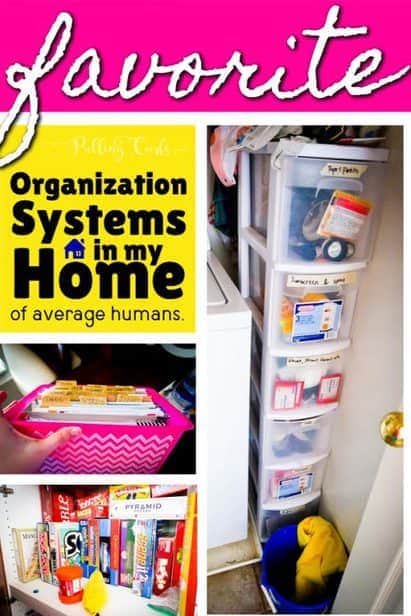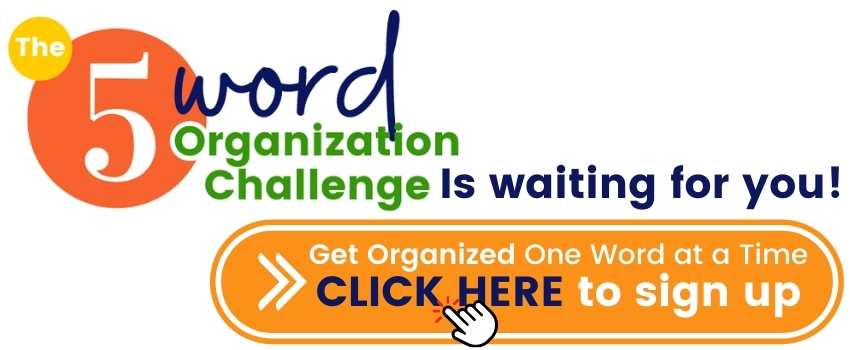 I LOVE seeing how other people's minds work with organization. I have a whole course on how I organize at my own home that can inspire you in your house as well!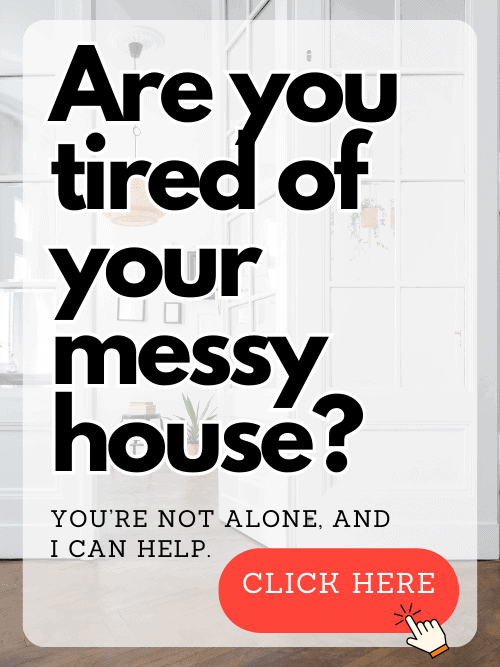 My Sticker Organization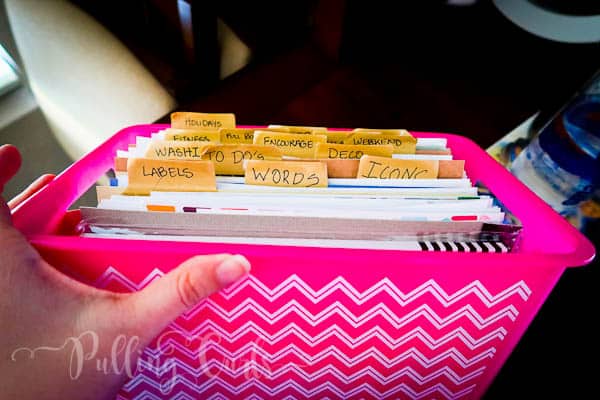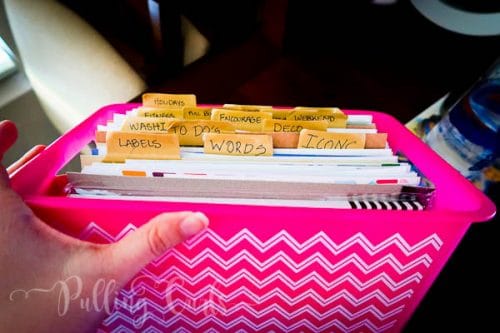 I am a huge planner. I love to decorate it with Washi and have encouraging stickers in it. It may sound crazy, but it works for me. BTW, if planners are something you might like, check out my best planners for moms (and all of my other planner posts are there at the bottom of that post as well!
ANYWAY, I just had all these random stickers that I couldn't find what I wanted. It was super frustrating.
I found a bin at the dollar store that would fit the firm majority of all the stickers I had (while also fitting in the space I had for it).
I then went ahead and made tabs for each section I wanted. I've had this system for almost two years and I LOVE IT. I actually outline the whole thing in a video for my organization course.
Lateral Washer Organization
We had a small spot of space next to our washing machine. There are just SO. MANY. PRODUCTS. that I needed in that area that I HATED the wasted space. BTW, you can click here if you want to see all of my laundry organization
Enter Amazon. I think I just searched "narrow drawers" and I started scrolling.
A lot.
Of course, we also had a pretty tiny budget (surprise!)…. but I finally found some. The ones I used aren't available anymore, but there are similar ones out there.
You could easily take measurements and walk the floor of the container store. I love doing that type of thing too.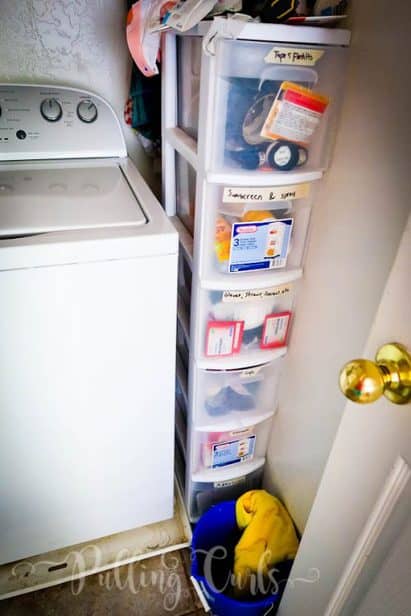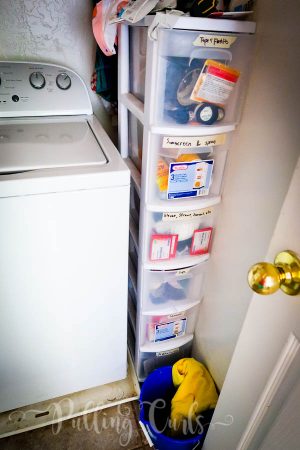 Pro tip: Don't limit yourself to things meant for "the laundry room" — even at The Container Store. A lot of times my best things were found in isles that weren't for my purpose.
Game Organization
I have a whole post on how I organize games vertically.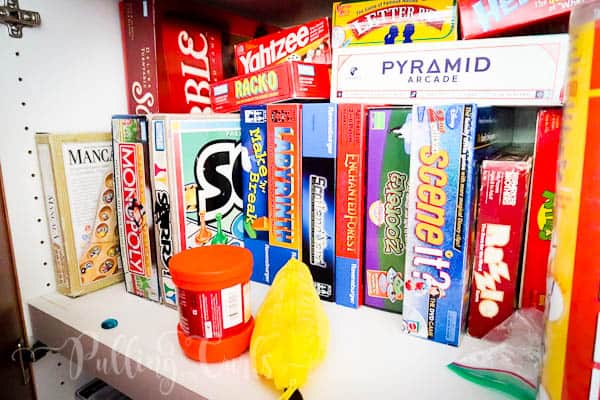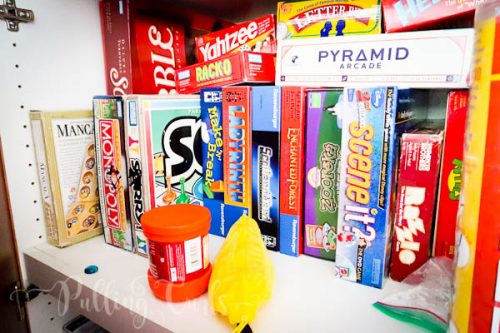 It just made getting OUT games so much easier, and even though we have some games stacked on top — it's still so much more useable, I love it!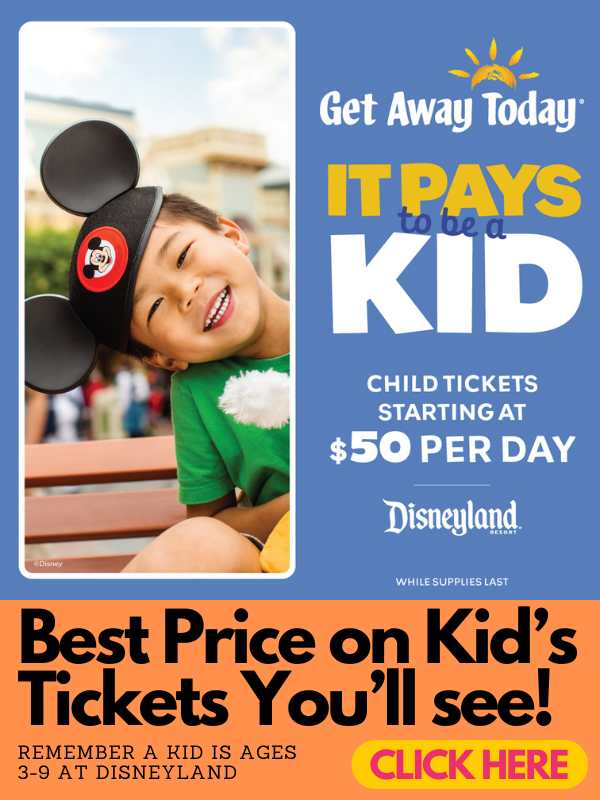 BTW, wondering some of my favorite games?
What do my favorite organization systems have in common?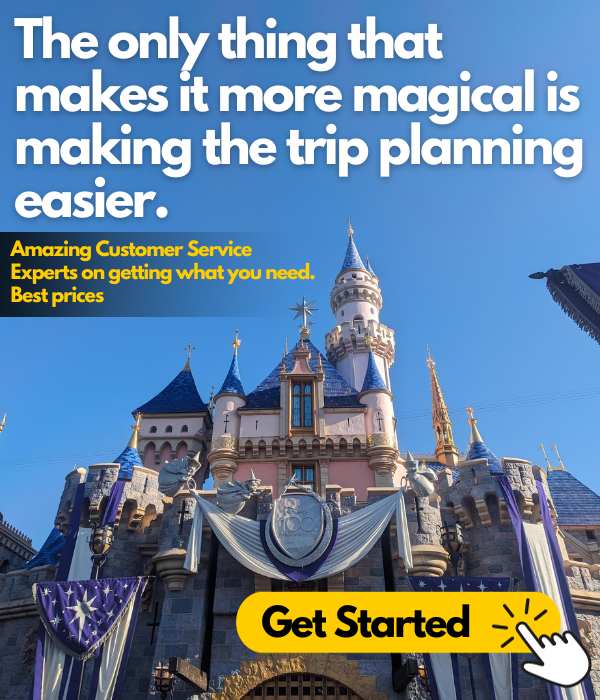 In taking photos of these systems I was thinking about what these systems did for me:
They solve a problem I am passionate about
I wanted more useable stickers, I had a lot of smaller things to organize by my washing machine, and I wanted my kids to play games more often.
These systems easily solved those problems.
They were easy & cheap to put together
This isn't something crazy or giant. In fact, my ingenuity in keeping them with a low budget is also a self-esteem builder, thinking how smart I am every time I use the systems. 🙂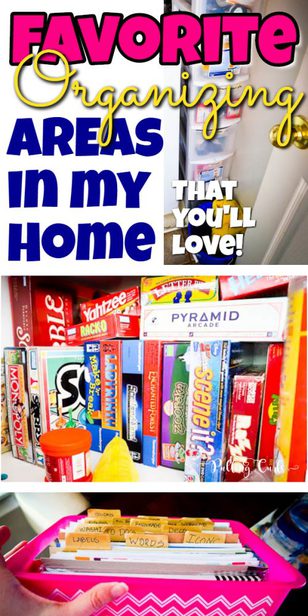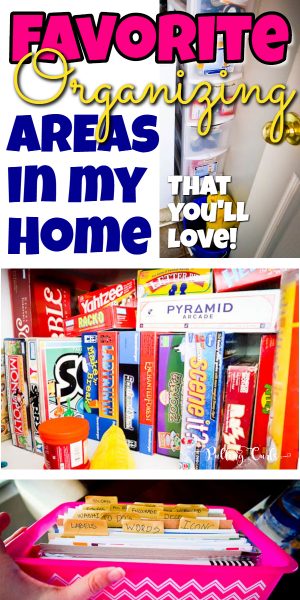 They work!
Sure, I could have come up with something cheap and easy, but if it didn't work then it doesn't matter!
Yes, with the drawers by the washer I have had to re-organize them a few times to get something I liked — but now that I have it, I LOOOOVE it!
Anyway, I'd love it if you share in my free Home Organization Facebook group some of YOUR favorite organization systems (and hopefully we can all take inspiration from everyone's ideas).
We talk lots about ideas like this in my 5-Word Organization Challenge. It can help you look at Organization in a whole new way! Join right here: