Knotts Berry Farms vs Disneyland Which is better? How are they different? I'm here to tell you that they're very different, but both fun. Knott's Berry is a favorite of mine, and today I'm gonna compare the two and tell you why.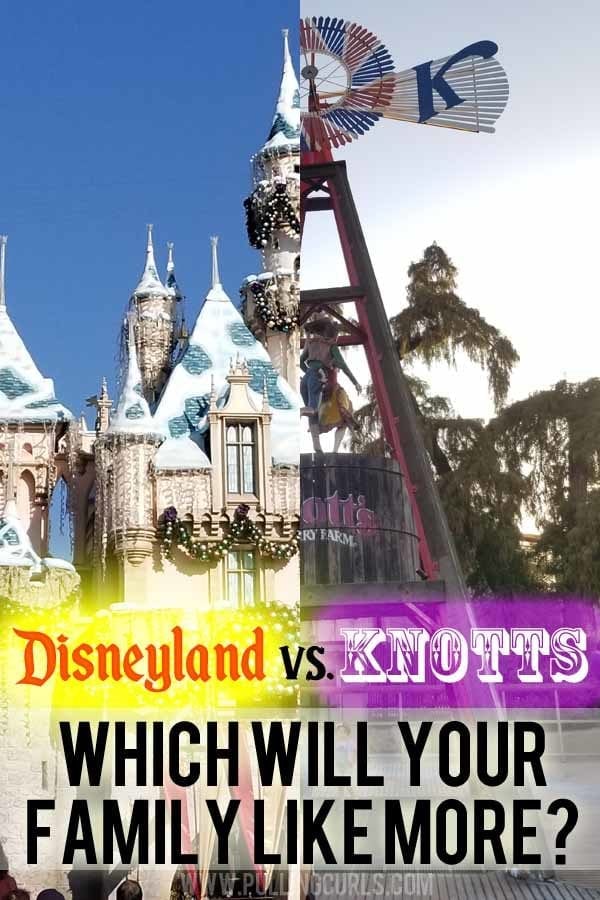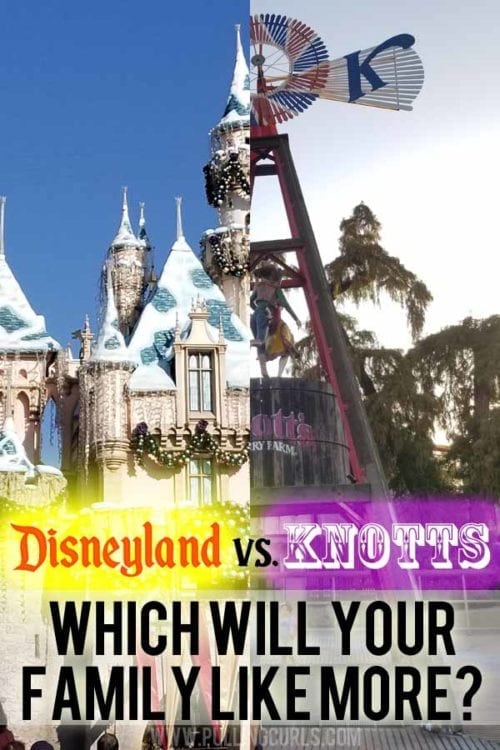 Knotts Berry Farm vs Disneyland
Disclosure:  I was given Knotts Tickets for our family nad have gotten Disneyland tickets at times in the past, but no posting requirements were included.  All opinions are my own.
Pulling Curls is one of the family travel blogs to give you the best ideas of what will work for your family!
Differences between Knotts Berry Farms & Disneyland
Disneyland is truly a magical place. I don't think of it as a theme park, but as more of a destination.
Knotts Berry is a theme park. And frankly, probably the best one I've been to.
Knotts has big rides — HUGE rides, that are super fun. It's well-kept, themed well, good food and great for a family day.
Disneyland has smaller rides, with more imagination. There is something for every member of your family to delight in. It has a high standard of cleanliness, has great food and is a destination for family travel.
BUT, each one has their place. I've talked a TON about Disneyland tips — so, today I'll talk more about Knotts Berry and what is great about it!
Knotts Berry Farms Pricing
Oh. My. Gosh. You can get a hotel, with free breakfast plus tickets for a steal. Pricing depends on how long you plan to go and the time of year — but I'd totally recommend checking their page out.
Now, their hotel doesn't get rave reviews, but I think families enjoy it — as they're mainly at the park vs in their room. Even if you get tickets and a nicer hotel nearby, you'd still come out WAY ahead of going to Disneyland, financially.
If you're looking more into Disneyland — check out my Disneyland budget, ane my Disneyland trip calculator.
Knotts Berry Farms Discount Tickets
Like most places, I recommend buying your tickets before the gate.
My #1 choice for Southern California tickets is Get Away Today. You can get Knotts tickets on this page.
You can also get great prices on Universal, Disneyland, Sea World, and more!
I would 100% recommend pricing a Knotts hotel in the area with them as well. They have a best price guarantee.

Knotts Berry Farms Hotels
If you plan to go to Disneyland, I would get your hotel off of Disneyland, and drive to Knotts. They're actually quite close to each other.
If you're just going to Knotts, they have their own hotel Amber Waves.
I had heard the hotel was pretty loud, so we decided to stay with the Ayres chain that is in LA (we stayed in their Seal Beach Location — and Get Away Today can book any hotel if you call them). Get Away Today offers a few of them. They have an AMAZING breakfast, the rooms are large and we really enjoyed our stay there.
They also recommend the Holiday Inn Buena Park — which is at a great price point.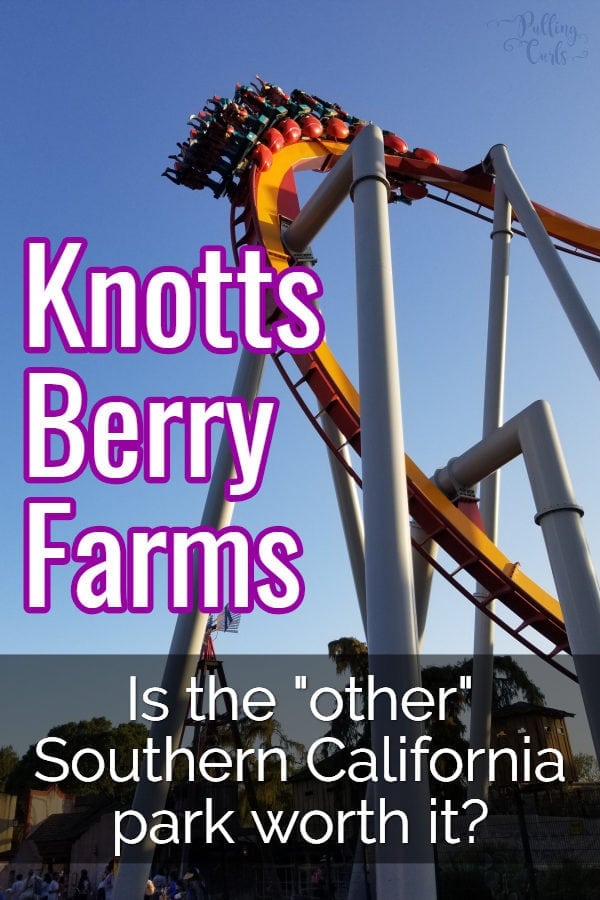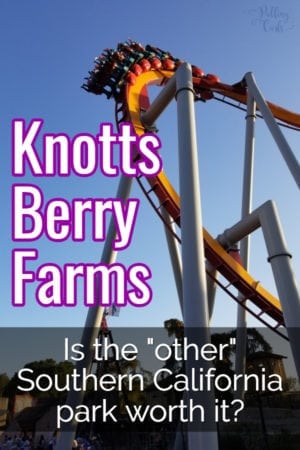 Disneyland to Knotts Berry Farms
They aren't far from each other at all.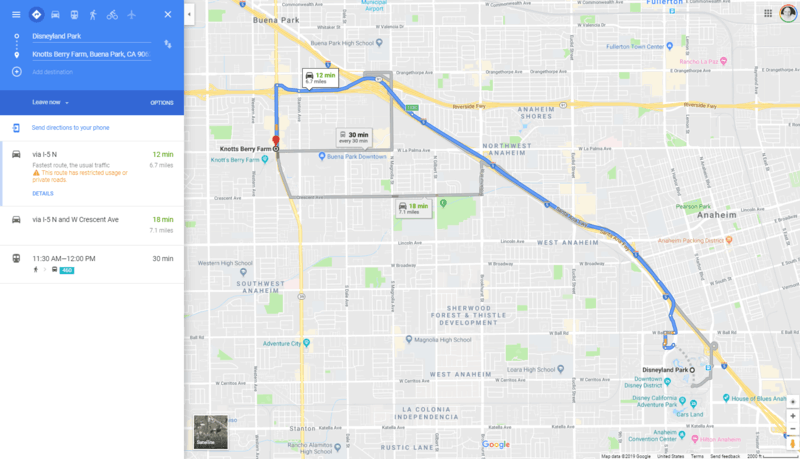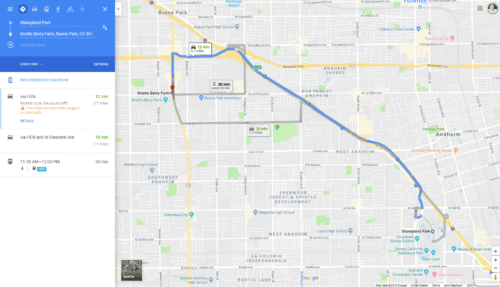 Personally, I find that the area around Disneyland to be much harder to navigate, so we usually stay near Disneyland and drive to Knotts on the day we are headed there.
This shows to take the 5, but we often drive down Ball and then turn north just past the 39 — there are some fun things to see along the way.
Knotts Berry Farms Rides
Knotts Berry Farms has rides for everyone in your party. Even with small children, Knotts can be very fun. There is a Snoopy area, and lots of other fun rides for kids & families. Many rides don't have height restriction, and kids will find them SUPER fun.
I think Knotts can be fun for kids of all ages, similar to Disneyland.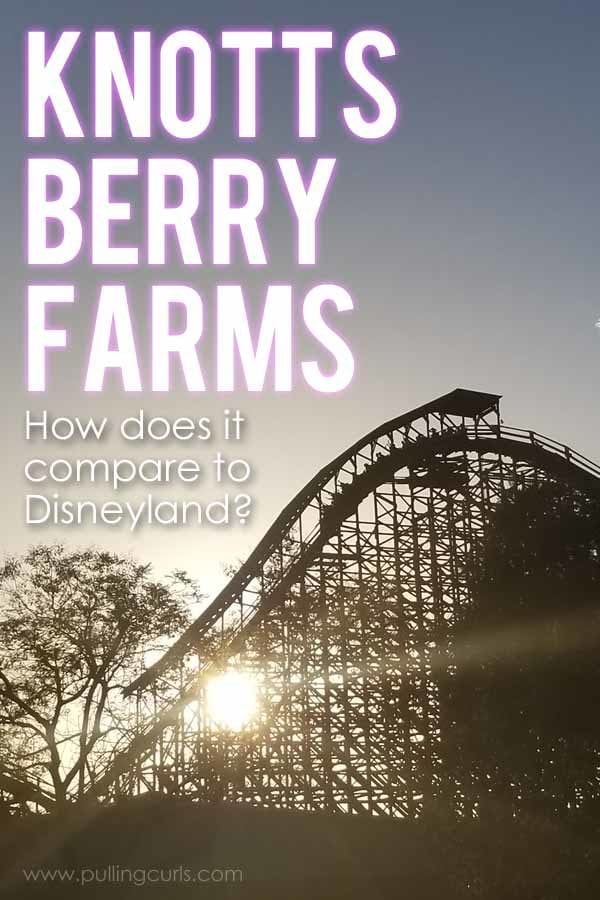 Knotts is split into areas. There are lots of rides and something for every taste. However, they are much more amusement-park-like rides, vs Disneyland that seems to have their own brand of rides.
Of particular note:
GhostRider — a great wooden roller coaster, my husband said it's one of the best he's ever been on (you can see it in the photo above)
Voyage to the Iron Reef — a 3-D shooting game where you compete against the other members in your car.
Timber Mountain Log Ride — A log flume — it has a lot of story to it. Very similar to Splash mountain, we really enjoyed it (and didn't get TOO wet)
Calico Mine Train — This is a family-friendly ride through a mining mountain. It's like Knott's Berry's Pirates of the Carribbean.
HangTime — this was their newest ride when I went and has one of the steepest drops of a coaster on the west coast.
Xcelerator — Another steel rollercoaster that is amazing – per my husband, because I am NOT a roller coaster rider
There is also a raft ride, lots of spinning rides. Like I said, most of your basic amusement park rides.
Knotts Berry Farms Crowds
Now, we've been to Knotts three times, and the first time was AMAZING. Hardly any crowds, rides had hardly any wait at all.
But, the second (and most recent) time it was SOOOOO busy! Miserably busy. I think we had to wait 45 minutes to get lunch as all of the food places were so crowded. BUT, we were there on a Friday towards the end of the school year, and I think many schools were going there for a fun day at the end of the year.
Thankfully, we had fast lane passes. That got us on to the rides quite quickly, and I think they were 100% necessary on that day.
The third time was during Halloween and it was also sort of rainy. It was still fairly busy with wait times around 30 minutes for coasters. For a Saturday at Halloween, it wasn't bad though.
On a regular day, I think the Fast Lane passes might not be worth it. You can add them to your pass in the park if you decide to do so (you can get them at many of the stores).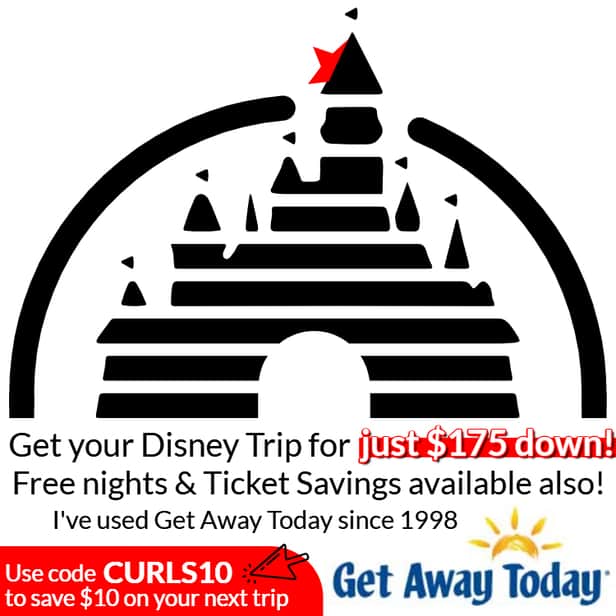 Knotts Berry Farms Parking
Knotts doesn't have a lot of hotels that are within walking distance, but there is plenty of parking in the area — at the time of our visit it was $18, vs the $25 it costs at Disneyland. I recommend the North lot — it seems to be closest.
Food at Knotts Berry Farms.
Knotts has a LOT of food options
We got some Carne Asada fries that were really yummy, and very shareable — just near the Fiesta Plaza.
We got those in the afternoon, and then had an early dinner at Mrs Knott's Chicken Restaurant.
It was SO tasty, and HUUUUUGE. I would recommend ordering the fried chicken dinner — My 14 year old and I split and we still couldn't eat even close to all of it. it included:
Soup
Salad
Biscuits (SO yummy, with their delicious KNOTTS jam)
4 pieces of chicken
Mashed potatoes
Corn
Pie
All that was under $25. I think 3 of us could have split that dinner!
Disney also has a great chicken dinner, at a bit lower price point, but less food. I think their chicken is better (you can find it at the Plaza Inn at the end of Main street).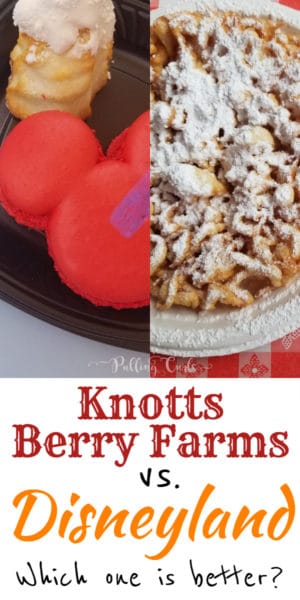 Knotts vs Disneyland at the Holidays
We actually attended Knott's and Disneyland last fall for both of their Halloween festivities.
While Disneyland is certainly amazing at Halloween, I was really impressed by how Knotts did it up. Our kids were able to trick or treat (no additional charge) and the ghost town was done up really fun.
A few of the rides (especially the log flume) were done-up for Halloween. Although, I am pretty sure my kids are scarred for life from the Log Flume — it's a litle weird, and the music is certainly an ear worm. 🙂
---
All in all a trip to Knotts is a LOT of fun. I think it's different than Disneyland, but can be done for a LOT cheaper, and a lot less lines.
All in all — Knotts is awesome for thrill-seekers, and Disneyland (for me) is more magical. I am not a thrill seeker though, and our kids absolutely love both parks.

If you liked this post, be sure to join my #1 tip for family travel, and check out my other travel posts below that.