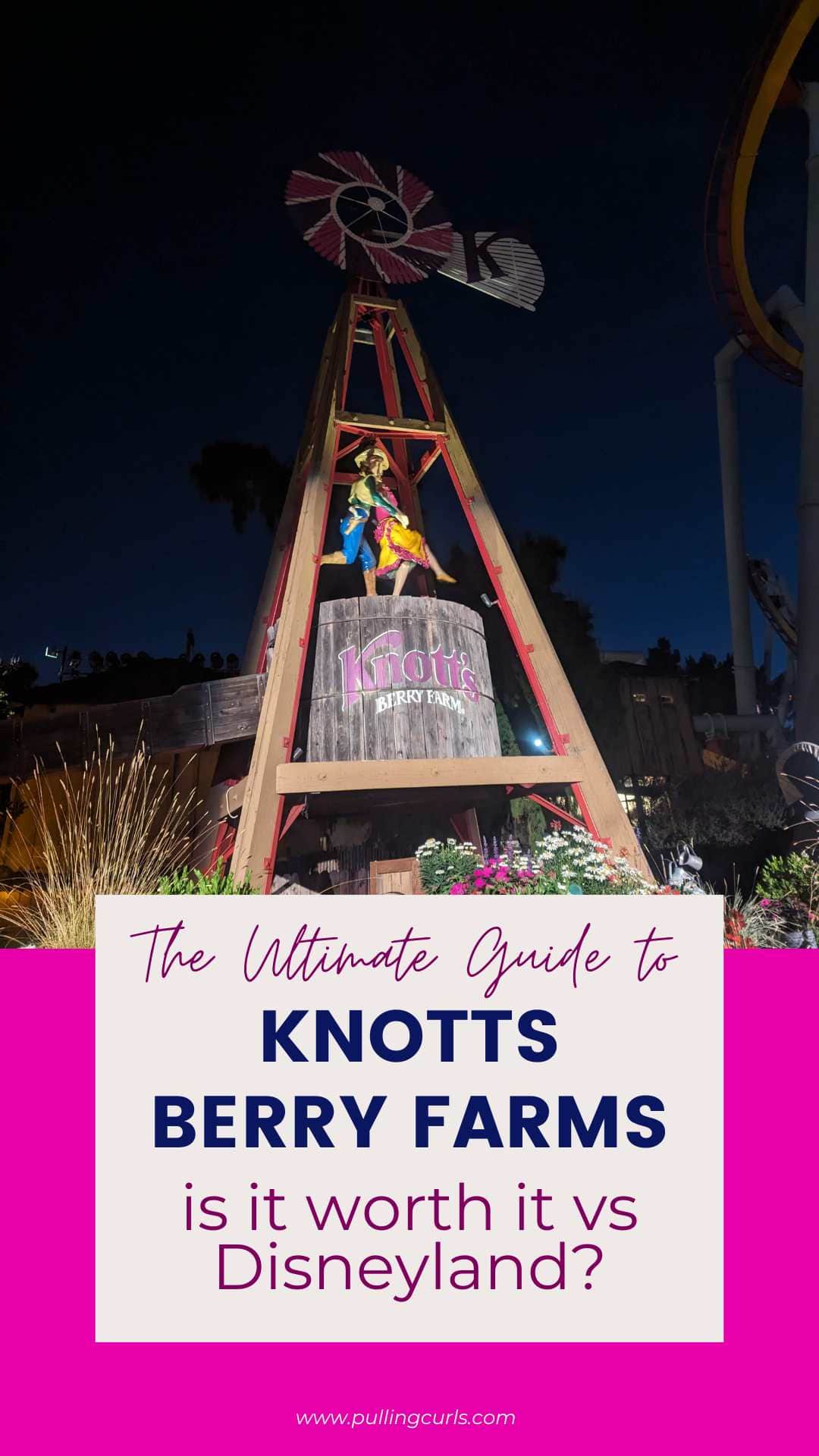 Knotts Berry Farms vs Disneyland Which is better? How are they different? I'm here to tell you that they're very different, but both fun. Knott's Berry is a favorite of mine, and today I'm gonna compare the two and tell you why.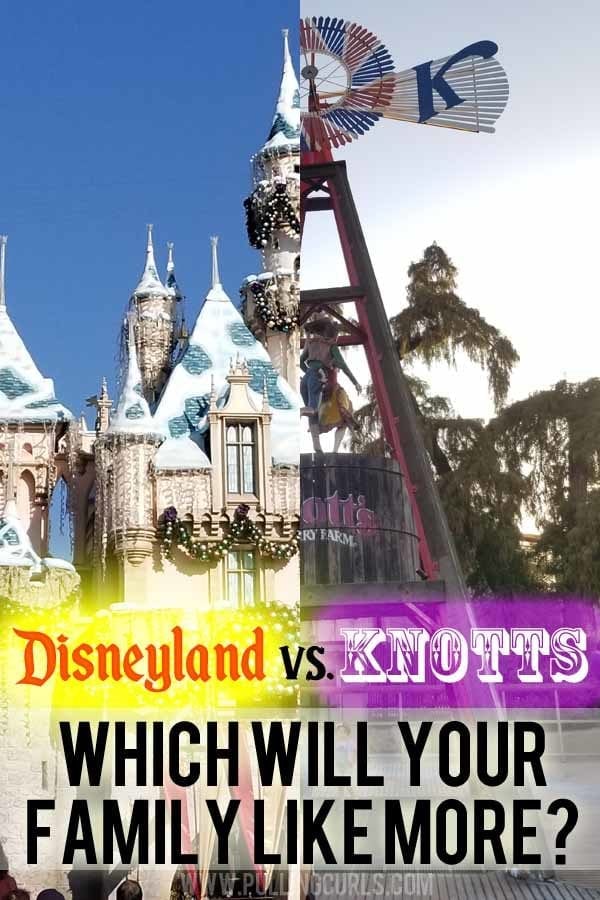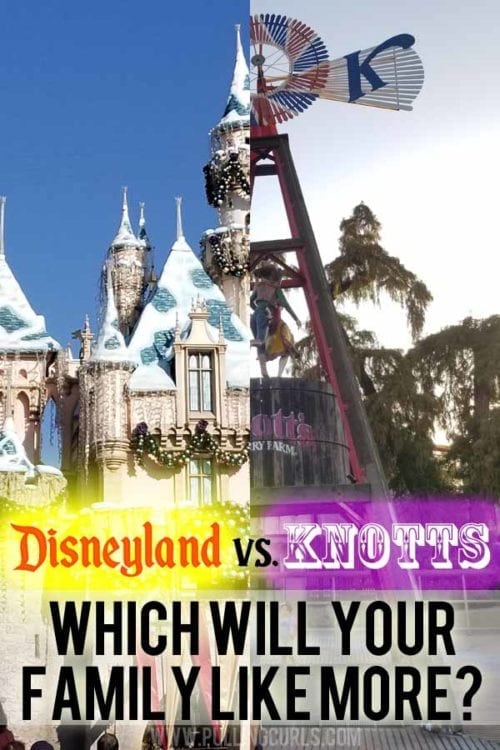 Knotts Berry Farm vs Disneyland
Disclosure:  I was given Knotts Tickets for our family and have gotten Disneyland tickets at times in the past, but no posting requirements were included.  All opinions are my own.
Differences between Knotts Berry Farms & Disneyland
Disneyland is truly a magical place. I don't think of it as a theme park, but as more of a destination.
Knotts Berry is a theme park (owned by Cedar Fair, which owns a LOT of US theme parks). And frankly, probably the best one I've been to.
Knotts has big rides — HUGE rides, that are super fun. It's well-kept, themed well, has good food, and is great for a family day.
Disneyland has smaller rides, with more imagination. There is something for every member of your family to delight in. It has a high standard of cleanliness, has great food, and is a destination for family travel.
BUT, each one has its place. I've talked a TON about Disneyland tips — so, today I'll talk more about Knotts Berry and what is great about it!
Knotts Berry Farms Ticket Pricing
If you're looking more into Disneyland — check out my Disneyland budget and my Disneyland trip calculator.
Knotts Berry Farms Tickets (when bought online at the time of publication) are about half the price (or more — depending on when you go) of Disneyland. That is HUGE. If you have other things you'd prefer to spend your money on, but still have a fun vacation, that makes Knotts a great option!
Plus, Disneyland has the whole park hopper/Genie+ add-on, so that adds to the price as well.
Let me spell it all out for you in a table. Please note that both parks have dynamic pricing for 1-day tickets (meaning it's more expensive on weekends, etc).
Disneyland tickets vary from about $90 to $169/day (this is why most people prefer multi-day tickets — your price/day goes WAY Down). Knotts seems to vary from $69-$89
| | | |
| --- | --- | --- |
| Park | Base Average Price | Base Price Plus Line Skipping |
| Disneyland 1-park-day | $140 | $165 |
| Disneyland Park Hopper | $205 | $230 |
| Knotts Berry Farms | $70 | $170 |
Disneyland Line Skipping = "Genie+" | Knotts Line Skipping = "Fast Lane"
Keep in mind that with Disneyland "Genie" you only get to use each Lightening Lane once, vs the Knotts Berry farms Fast Lane allows you to the ride the same rides over and over if you'd prefer. It is a much better value for people who want to ride a few times many times in one day.
Like most places, I recommend buying your tickets before the gate (buying at the gate is one of my biggest Disneyland Mistakes)…..
I have a whole post on if you can buy your tickets to Disneyland at the gate (you shouldn't, and 99% of days you can't) — that shares the CHEAPEST way to get Disneyland tickets!
Knotts Berry Farms Discount Tickets
My #1 choice for Southern California tickets is Get Away Today. You can get Knotts tickets on this page (just scroll down a bit to find the Knotts tickets). FYI, sometimes Knotts has sales that make buying off their site cheaper, but Get Away Today will price-match their ticket prices.
You can also get great prices on Universal, Disneyland, Sea World, and more (and when you combo them, you save even more!).
I would 100% recommend pricing a Knotts hotel in the area with them as well. They have the best price guarantee.

Knotts Berry Farms Hotels
If you plan to go to Disneyland as well, I would get your hotel location based on Disneyland, and drive (or Uber) to Knotts. They're actually quite close to each other.
If you're just going to Knotts, they have their own hotel — The Knotts Hotel
We actually stayed there at our last visit and I was nervous because the hotel doesn't get great reviews.
The hotel has recently been updated and the rooms were nice, but it was definitely a surface remodel. The rooms were loud, and the handle on my sink came off when I turned it to hot. However, it's SUPER close to Knotts, and if I was visiting Knotts again I'd probably stay there.
The price is great — check it out here
It's so close
The rooms were comfortable, just loud.
**AND when you book with Get Away Today you get FREE PARKING which is a nice savings!
There are some great deals that can be found if you want to go to Knotts and stay at their hotel. Their packages can be found here.
If where you stay is important to you, we have also stayed with the Ayres chain that is in LA (we stayed in their Seal Beach Location — and Get Away Today can book any hotel if you call them). Get Away Today offers a few of them. They have an AMAZING breakfast, the rooms are large and we really enjoyed our stay there.
They also recommend the Holiday Inn Buena Park — which is at a great price point.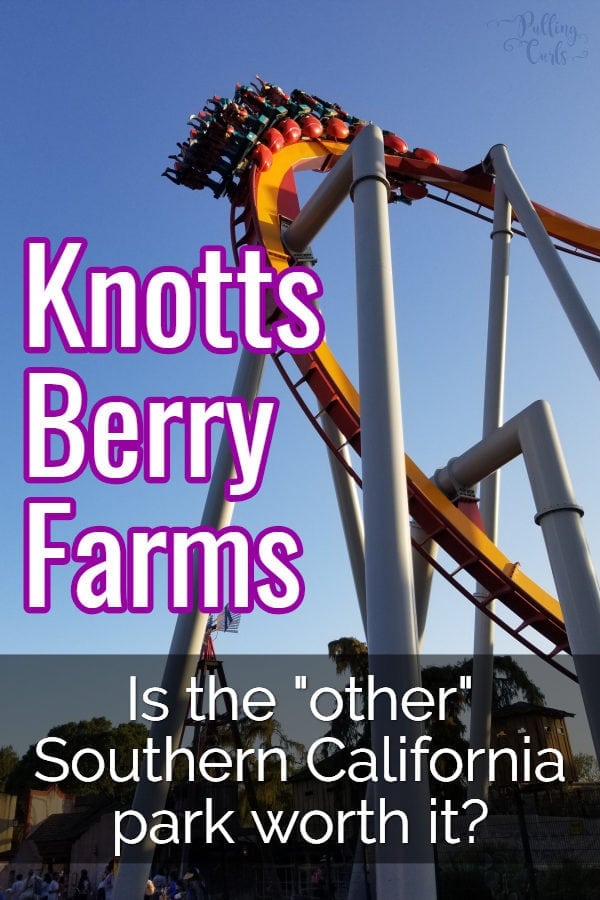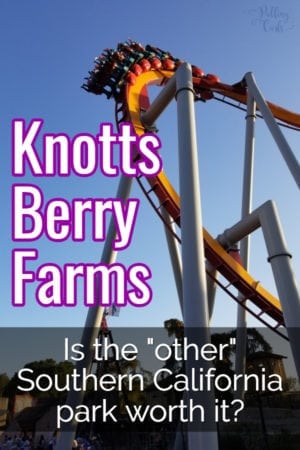 Disneyland to Knotts Berry Farms
They aren't far from each other at all.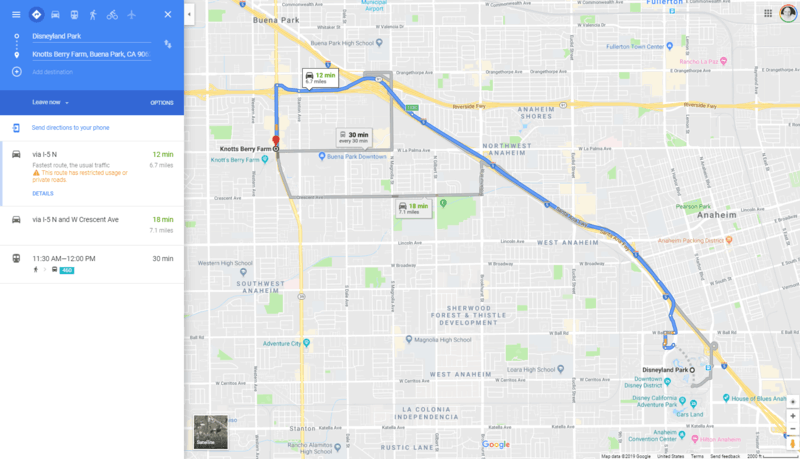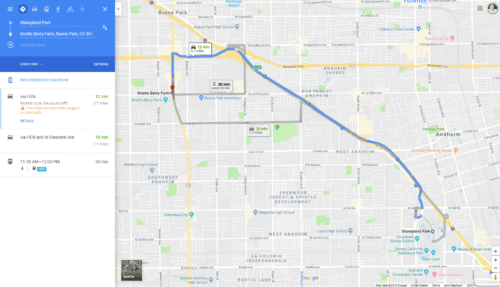 Personally, I find the area around Disneyland to be much harder to navigate, so we usually stay near Disneyland and drive to Knotts on the day we are headed there.
This shows to take the 5, but we often drive down Ball and then turn north just past the 39 — there are some fun things to see along the way.
I also checked the price for an Uber/Lyft, and it was about $25 each way (obviously depending on timing) to go from Disneyland to Knotts.
Knotts Berry Farms Rides
Knotts Berry Farms has rides for everyone in your party. Even with small children, Knotts can be very fun. There is a Snoopy area, and lots of other fun rides for kids & families. Many rides don't have height restrictions, and kids will find them SUPER fun.
I think Knotts can be fun for kids of all ages, similar to Disneyland.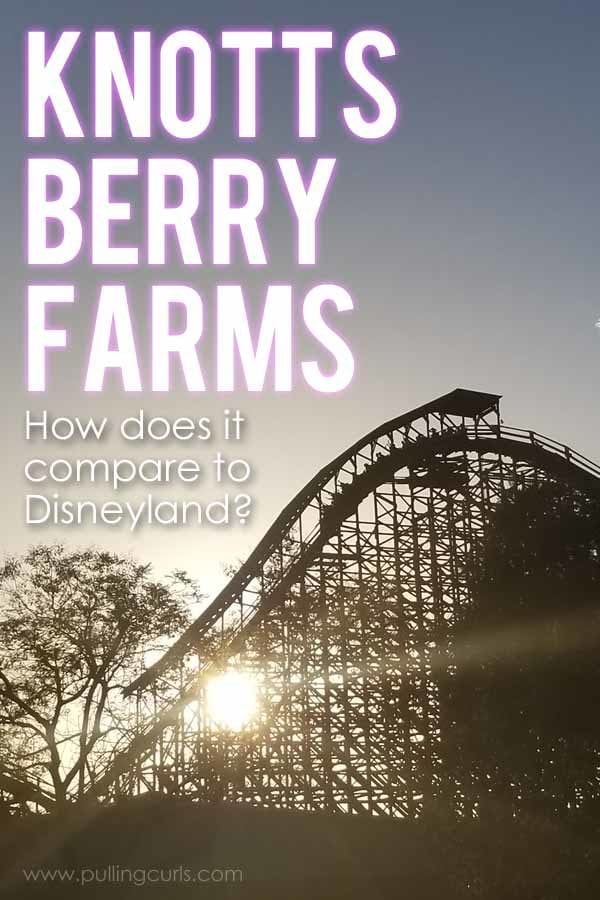 Knotts is split into areas. There are lots of rides and something for every taste. However, they are much more amusement-park-like rides, unlike Disneyland which seems to have its own brand of rides.
Of particular note of popular rides:
GhostRider — a great wooden roller coaster, my husband said it's one of the best he's ever been on (you can see it in the photo above)
Knotts Berry Tales — an interactive dark ride where you learn the history of Knotts and "shoot" things.
Timber Mountain Log Ride — A log flume — has a lot of story to it. Very similar to Splash mountain, we really enjoyed it (and didn't get TOO wet)
Silver bullet — a hanging-type coaster.
Calico Mine Train — This is a family-friendly fun ride through a mining mountain. It's like Knotts Berry's Pirates of the Caribbean.
HangTime — this was their newest ride when I went and has one of the steepest drops of a coaster on the west coast.
Xcelerator — Another steel rollercoaster that is amazing – per my husband, because I am NOT a roller coaster rider
There is also a raft ride and lots of spinning rides. Like I said, most of your basic amusement park rides.
I will say if you're a lot on the overweight side, Disneyland will likely be more comfortable.
There were a couple of rides that I was too big to ride (or very uncomfortable buckled in).
Also, if you're pregnant, there isn't a ton for you (but you could still have a fun day. There are a lot of places to sit down, and a few rides you could enjoy. Knotts is MUCH easier on my feet.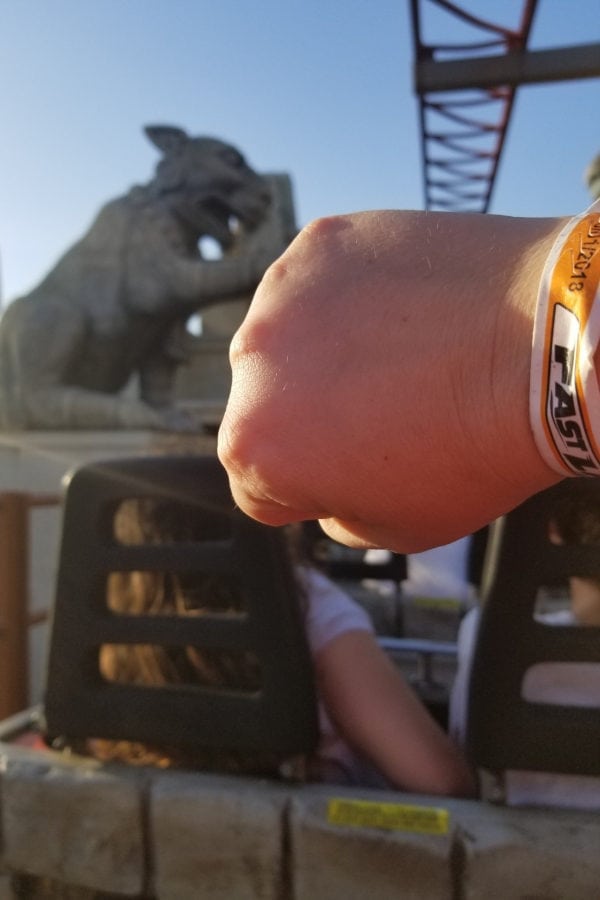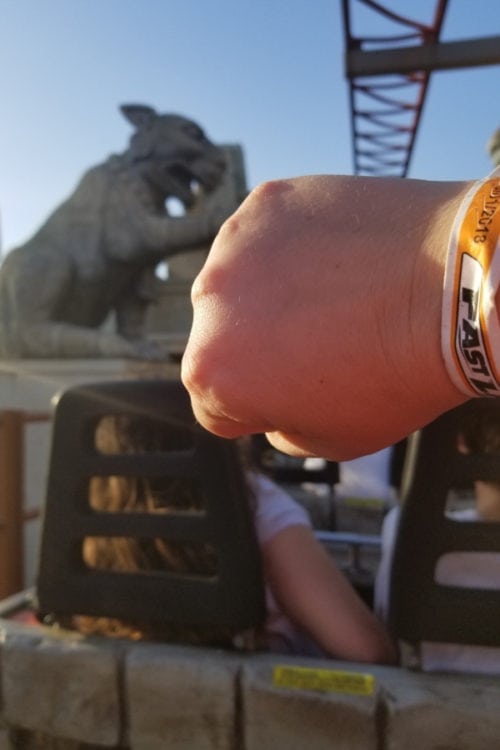 Knotts Soak City
Knotts also has a water park tied to it called Soak City. You can get tickets to it here. It's only open during the summer months, and is just your basic water park. It was crowded, but spread out enough I didn't feel claustrophobic. They had a nice locker system and changing area. It's across the street from Knotts. Most people that are doing Soak City have a pass and are enjoying both. I would not recommend buying Knotts Theme park tickets, and adding on Soak City also.
On our stay we went to Soak City on our arrival day for a few hours and then went to Knotts the next day.
Knotts Berry Farms Rides for Little Kids
They have a really sweet kid's area (better than most amusement parks, I think). It's all themed around Camp Snoopy and it does have similar rides to many amusement parks for small kids. But there are some fun ones that might "test" them a bit more.
There is also the Ghost Town area that has informational stuff on the history of California and sometimes extra fun for little kids (especially at Halloween and Christmas). Lots of interactive experiences (including a blacksmith etc). That type of interactive entertainment isn't just for Disney. 🙂 When I was there they also had "Ghost Town Alive" where characters would talk to kids and it was super interactive and fun!
One of the biggest perks for small kids is not having to wait long for rides. Anyone who's waited an hour for Buzz Lightyear with a 2-year-old knows from whence I speak.
Knotts Berry Farms Rides for Teenagers
Like most amusement parks — Knotts is a mecca for teenagers. yes, while they will likely skip Camp Snoopy (and the many routes through the park makes that doable, the rest of the park is perfect for them).
While not impossible, I think Knotts is a little harder to do with kids of all ages.
Knotts Berry Farms Rides for Adults
I think adults will find a lot of fun at Knotts as well. Because it's not as crowded you aren't constantly faced with teenagers who will annoy you. There are a lot of really nicely themed areas and adults also appreciate the lack of lines.
Knotts Berry Farms Crowds
In general Knotts is much less crowded than Disneyland. But, at crowded times at Disneyland, Knotts also tends to be quite crowded.
We went the 3rd of July, and it was BU-SY. Thankfully, we had fast lane passes. That got us on to the rides quite quickly, and I think they were 100% necessary on that day — I would not have wanted to go to the park without them.
On a regular day, I think the Fast Lane passes might not be worth it. You can add them to your pass in the park if you decide to do so (you can get them at many of the stores).
Knotts Berry Farms Entertainment
I have to say that I'm not sad that my kids aren't too into the "shows" anymore.
Knotts has great shows, some of the best I've seen at amusement parks. They also have great bands and characters around the park. WAY better than your "average" amusement park.
But, Disneyland has broadway-esque ones. So, for me, there isn't much of a comparison. The win to Disneyland on this one.
Knotts Berry Farms Parking
Knotts doesn't have a lot of hotels that are within walking distance, but there is plenty of parking in the area it is currently $30, vs the $35 it costs at Disneyland.
As far as WHICH parking lot at Knotts, I recommend the North lot — it seems to be closest to the main entrance.
Food at Knotts Berry Farms.
Knotts has a LOT of food options, and I found the pricing to be pretty great in comparison to Disneyland food.
We got some Carne Asada fries that were really yummy, and very shareable — just near the Fiesta Plaza.
We got those in the afternoon and then had an early dinner at Mrs. Knott's Chicken Restaurant.
It was SO tasty, and HUUUUUGE. I would recommend ordering the fried chicken dinners — My 14-year-old and I split and we still couldn't eat even close to all of it. it included:
Soup
Salad
Biscuits (SO yummy, with their delicious KNOTTS jam)
4 pieces of chicken
Mashed potatoes
Corn
Pie
All that was under $25. I think 3 of us could have split that dinner!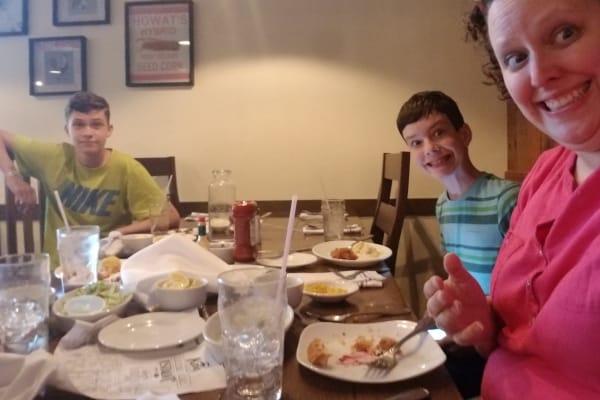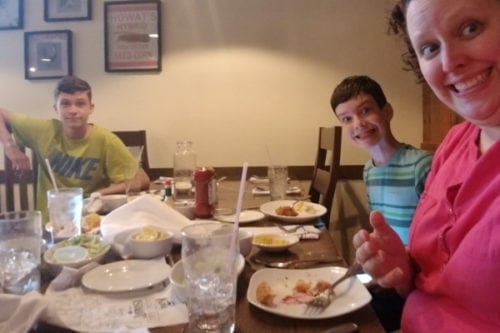 Disney also has a great chicken dinner, at a bit lower price point, but less food. I think their chicken is better (you can find it at the Plaza Inn at the end of Main street).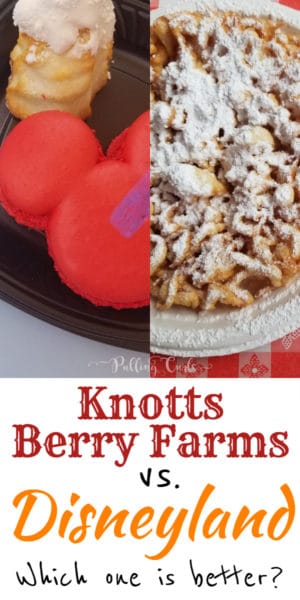 Pro Tip: Knotts has a bit different rules on what you can bring inside vs what you can bring to Disneyland, so be aware.
Knotts All Day Dining
This last time we went I tried the Knotts all-day dining package. It was around $37 I think. It allows you to get a full meal every 90 minutes. There were 3 of us, and we just got one. Obviously, it could be a GREAT value if you do it right:
Get a meal every 90 minutes
Enjoy the types of foods offered on this meal plan.
Some downsides:
Obviously, this is just for "one person" (although there are no rules about who can eat the food, they're just very clear that only one person can purchase the food — you are given a wristband). So, THAT person has to stand in line to get the food each time.
This only includes MEALS. Much of the offered food is fries or burgers. During Our day, we got:
Carne asada fries in the Fiesta Village
Orange chicken from Panda Express
Pizza & a salad
In total that food would have been around $45, and we just paid $32. But sadly, this meal plan does NOT include the delicious chicken dinner.
Pro Tip: The Boardwalk BBQ has HUGE meals and are included in the wristband — it was yummy, easily split-able and I'd recommend it!
You're stuck. The Panda Express line stretched far out of the restaurant, but since I'd already paid the money I was stuck eating at those venues. I also couldn't just decide we'd rather sit down for the chicken dinner.
Be aware of open/closing. There are no breakfast options on the meal plan, which made it so we couldn't even get a meal til' around 11. We'd hoped to get some tots, but that place was closed, so we went for Pizza. Just be aware of those things. Also, if you plan to leave early that limits how many meals you can get since it's just one every 90 minutes.
The Lines are Long — in reality, you almost need to get in LINE about every 75 minutes, because some of the lines are long. It was fine for me because my kids love big rides and I don't mind sitting out — but again, something to think about. It did take up a considerable amount of my day.
Honestly, for the 3 of us, it was a decent amount of food for the day. The portions are pretty decent. If our boys were there, I would think 2 bands would do all of us for the day.
Pro Tip: What to BRING to Knotts is very similar to what to pack for Disneyland.
Knotts All-Inclusive Vacation:
As I was typing all of this up — you could get a REALLY sweet Knotts Vacation (pricing is current in July 2023)
Get a 1-day knotts ticket for $60-$70 (looks like weekends are higher)
Option: Add Fast Lane in the Parks for $79-$119 (busier days being more expensive)
Optional: Add the all-day eating for $32'ish (might be able to knock off a kid or two depending on if they're big eaters)
For a family of 4, here's your pricing (and I'm using average pricing)
$564 without fast lane
$964 with fast lane
You'd even be just over $1,000 if you added in food.
This gives you a total of under $1000 for all the food and fun for 2 days (you'd only get one day of the food pass, I'd recommend splitting a couple of meals at the chicken dinner spot your first day).
Honestly, that's less than just our Disneyland tickets cost us. Just putting that out there. Be sure to check out my Disneyland Budget. You can also get a better idea in my Disneyland All-Inclusive Packages post.
But, here's some basic comparative pricing (and I want to be clear that most people visit Disneyland for more than one day, but I want to compare apples to apples):
1-day Ticket ($169-$104) I'm taking an average day at $144
2-nights at The Anaheim Hotel $430 (this is a similar type of hotel that is close to Disneyland)
The total for those for four is: $1,006 (so, basically double what Disneyland was)
If you add Genie the price goes up to $1106, and if you add park hopping to that it goes up to $1,366
Anyway, that's just to give you some pricing ideas. The pricing does vary a bit depending on when you go, for both parks. I have a whole post on the cheapest time to go to Disneyland.
Knotts vs Disneyland at the Holidays
We actually attended Knott's and Disneyland last fall for both of their Halloween festivities.
While Disneyland is certainly amazing at Halloween, I was really impressed by how Knotts did it up. Our kids were able to trick or treat (no additional charge) and the ghost town was done up really fun.
A few of the rides (especially the log flume) were done up for Halloween. Although, I am pretty sure my kids are scarred for life from the Log Flume — it's a little weird, and the music is certainly an earworm. 🙂
Knotts does Knott's Scary Farms in the evenings in the park and I hear it's some of the scariest stuff in the area, which has ZERO appeal to me. So, there's that. 🙂
They also do a "Knott's spooky farm" during the day for the littles where ghosts hang out in the Ghost town. It's pretty fun. Kids can even trick or treat on the weekends.
Disneyland again does Christmas up like crazy, but Knotts isn't to be beaten with their Knotts Merry Farms!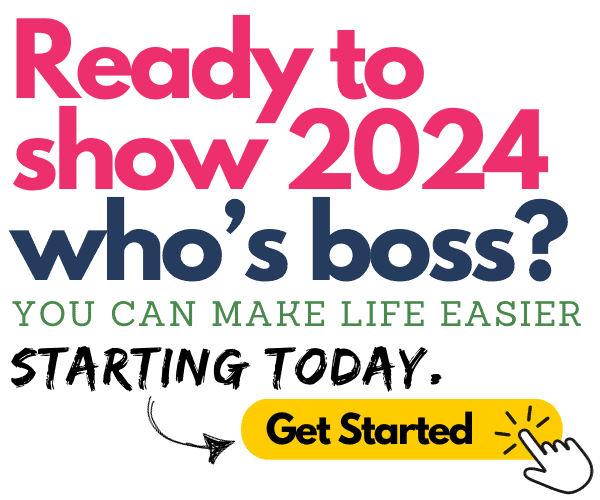 Knotts also has their own festivals including the Knotts Boysenberry Festival (which sounds delicious).
Disneyland or Knotts Berry Farms: Final Answer.
While each definitely has its own place. A few thoughts:
If Disneyland tickets/hotel alone is going to stress your vacation budget to the max, go to Knotts — I think you'll have a great time and feel less financial strain. BTW, check out my Disneyland Trip Calculator (which can easily be used for Knotts or any other trip).
If it is your visit to Southern California and can only pick one — pick Disneyland. Overall, it's better, more iconic, and — something your family will always remember. There are tons of other fun things in Southern California as well!
If you've gone to Disneyland a few times, I say try Knotts! I think you'll be pleasantly surprised at the decreased crowds, fun rides, good food, and enjoyable days!
---
All in all a trip to Knotts is a LOT of fun. I think it's different than Disneyland, but can be done for a LOT cheaper, and with a lot fewer lines (although I do have a whole post on how to skip the lines at Disneyland).
There are just SO many California Theme parks to choose from (which is awesome). Be sure to check out my post about Universal also (I even have one on the brand new Nitendo land).
All in all — Knotts is awesome for thrill-seekers, and Disneyland (for me) is more magical. I am not a thrill-seeker though, and our kids absolutely love both parks.

If you liked this post, be sure to join my #1 tip for family travel: