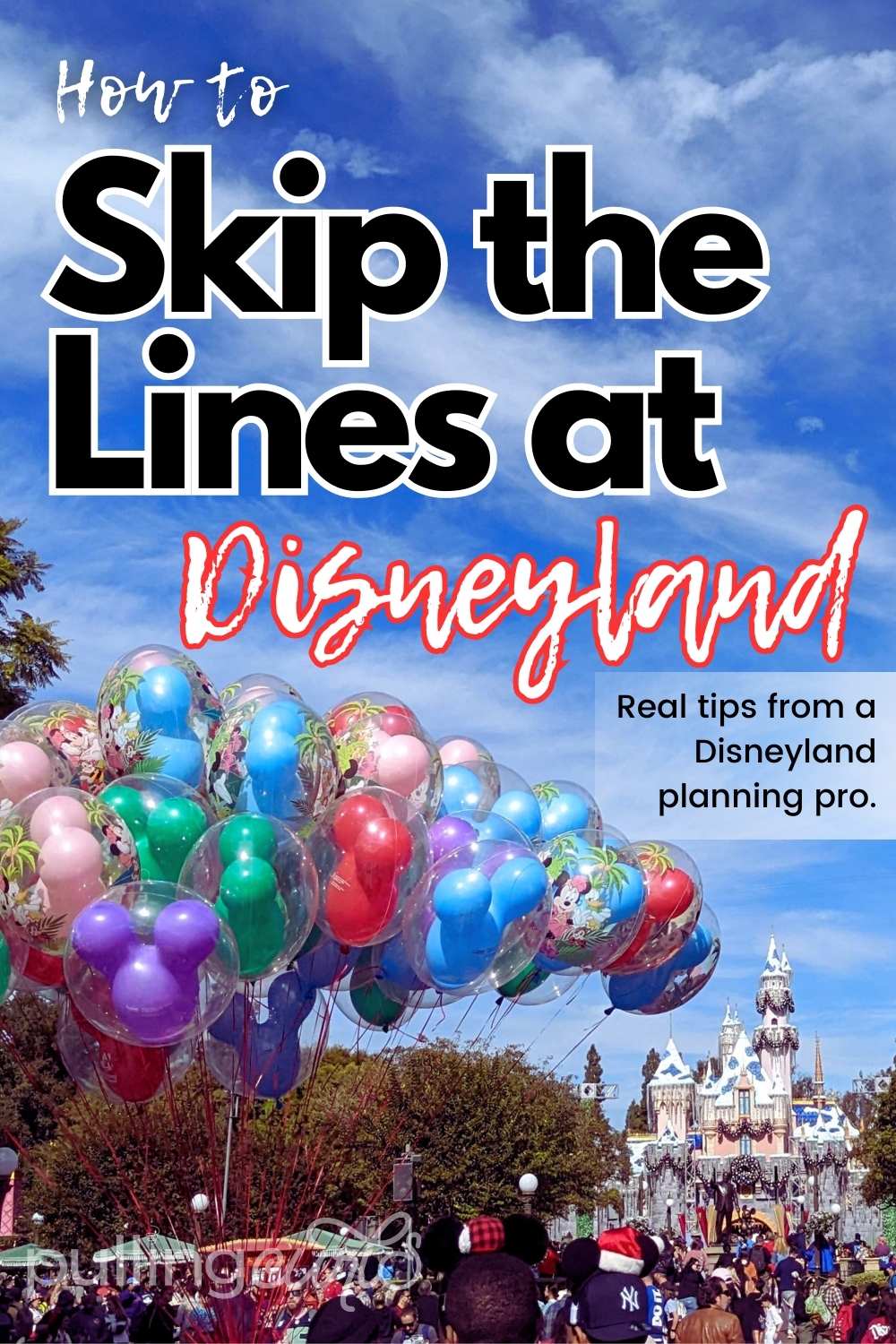 Are you looking to skip the line at Disneyland Resort (or Walt Disney World — the basics are the same at both parts). Some attractions may have hours long of a wait, but there are a couple of few to skip those lines! I'm going to share about how you can do them, and the pricing (because most aren't free).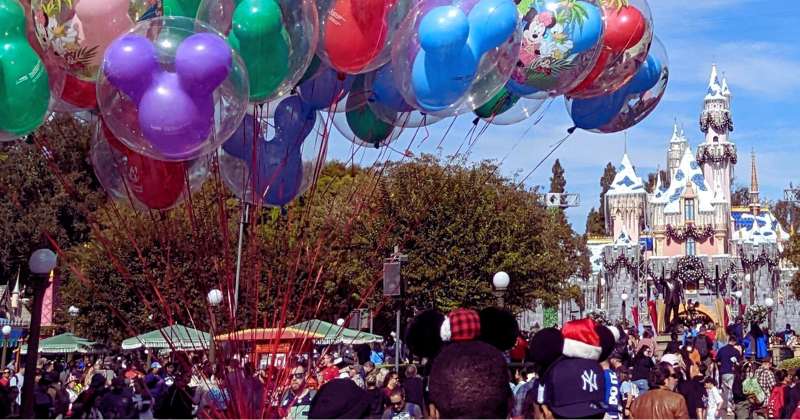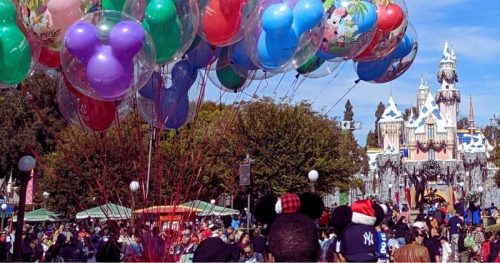 Hi, I'm Hilary — I'm a Disneyland planning pro and I HATE waiting in lines. I totally feel you when you google this. SO, today I'm going two ways to do it, PLUS my best tips for skipping as many lines as possible.
There are a few ways to skip lines (click the link to skip to just that section)
One way that is NOT a way to skip the line is to have someone in your party wait in line and then you re-join them at some point. Sure, a kid needs to pee in a long line, but cutting your way up to someone "holding" your place isn't cool and people will be angry (and rightfully so).
There is their disability (DAS) pass, but that's out of the scope of this article and only for a very small group of people. If that is you, I'd google that and talk with Disneyland to see if you qualify for it.
BTW, if you want to skip all the time trying to find the right hotel, I always use Get Away Today. Use coupon code CURLS10 to save $10 on a hotel/ticket package!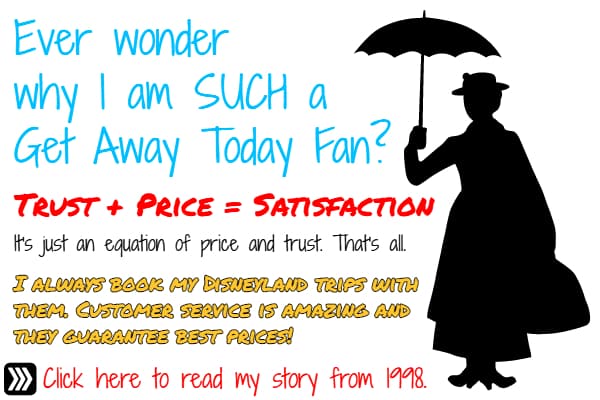 Ok, back to the skippers (these work in all the parks, Disneyland and California Adventure — works this way too in Disney World)
Early Morning Arrival
If you're desperate to wait in as few lines as possible, the early morning hours are your friend.
In FACT I actually don't recommend you even start using the other two options until the park has been open an hour or two.
To be some of the first groups into the park, here are my tips:
Plan to get to security by an hour before the park opens. So, if the parks opens at 8, try to get to security at 7 am. If you're parking in the garage add a half an hour to park and get to security for when you should get to the garage.
Wait in line at the gates (they usually open the gates 30 minutes before the park opens)
Hustle down main street and wait near whatever attraction you want to do first.
When the park opens, check the app on your way to that attraction to make sure it's actually open.
After you do that first attraction, try to do as many long lines attractions as you can early in the morning. Usually the wait times for the first couple of hours are Ok.
A few other tips:
If you're going to use Genie Plus pick those early morning hours to ride things you might want to ride more than once. (more on that coming up)
OR, if you're using Genie+ it's a great time to ride some rides that aren't on Genie+ — like Pirates or Fantasyland rides.
Try to pick an attraction that has a few other rides you want to ride near your first one. That's one of the reasons I don't recommend going to Rise of the Resistance because it's so far away and there isn't much else around it. I'd rather wait longer for that one singular attraction, and skip a lot of lines instead in the morning (also a lot of Rise's line is inside so it's not as hot mid-day).
Personally, because I am not ride-hungry any more I like to get to the rope right as the park is opening. I love the park opening recording (it makes me happy) and then while we're not the FIRST to walk to a ride, we still get on pretty quickly. I either do:
Space Mountain (I swear it's closed at least 30% of the time I try to rope drop it though), then I hit Matterhorn and Big Thunder because I love all of those. Then, if it's still early I'll hit Pirates and Jungle cruise because they don't have Genie+
Another good option is to do indiana Jones if you love that ride, and then Jungle Cruise and Pirates
OR, if you're in CA Adventure we usually do Guardians first thing, and then had back to Incredicoaster and Midway Mania.
Pro Tip: If your kids really want to ride a specific ride I always recommend going there early on. You never know if a ride is going to break down or have issues so your "ride or die" should come in early.
And, I have a whole double feature day planner (Disneyland AND California Adventure) that gives you an idea of how popular rides are:
Early Admission
If you are staying at one of the Disneyland resort hotels (so, the California Grand, Disneyland hotel or Pardise Pier hotel) you can get in an extra 30 minutes to the park. The attractions that are open at this point in time aren't always clear. You can do it at either park. It works the same as I noted above, except as you walk to the "rope drop" there is a section for you to keep going into the park after they scan your hotel room key.
While this is a nice perk, the Disneyland hotels are PRICEY (even the more "value") ones — I have a post with the BEST Affordable Disneyland hotels that will save you some cash (and frankly, many are just as close).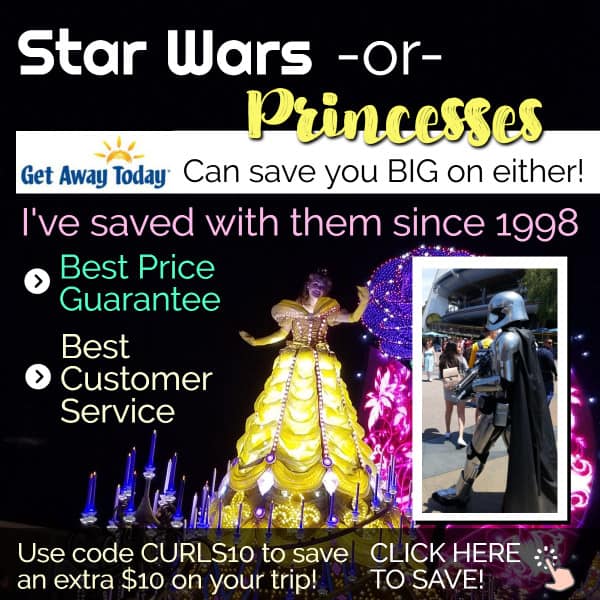 Ok, I actually shared a lot of tips already in that one, but lets move on to Genie+
Genie Plus Line Skipping
(This used to be called MAXPass and they used FASTPASS terminology, but when they re-opened after Covid they changed the names, and now charge for all the options)
Genie+ is available for $25/day/person. So, if you have a party of 4, that is $100 extra/day. The price can go up — more on that in a few…. (I have a whole post on what Disneyland costs for a party of 4 that might be helpful too).
Pro Tip: There is the Disneyland Genie which will "recommend" rides to you during the day (but they're horrible, do NOT follow this) or you can purchase Genie+ which is the way you skip lines. Don't get confused — because it's easy to do!
Genie+ can be purchased with your tickets (it is always $25/day when you do it that way) or you can purchase it on the day of your visit. If they believe the park to be crowded that day, the price will be more than $25/day at that point. I have seen it go as high as $35.
BTW I can get you the BEST price on Disneyland tickets when you use my exclusive link right here. 🙂 And no, you can't really buy Disneyland tickets at the gate anymore, because of the reservation system.
This is how it works (I have a full article on Genie Plus that I'd check-out if you're not familiar with it)
Purchase Genie+ (you can do it in the Disneyland app or buy it with your tickets)
You can then pick a lightning lane for your ride of choice, again in the app.
When that return time happens, scan into the ride with your lightning lane pass (right after you scan in you can pick your next lightning lane).
Rinse and repeat. You just keep doing this all day long.
I like to mix in some mobile orders between Lightening Lanes. 🙂
A few stipulations:
Only those who have purchased lightning lane can use it (meaning your whole party needs to purchase it, unless they're under 2).
You can only use it once/day/ride (so, only once on Space Mountain — the rest of the time you have to wait in the regular line).
At those points you wait in the lightning LANE. Which, honestly, can still back-up. Most often you're on the ride within 5 minutes, but sometimes a lightning Lane wait can be as much as 30 minutes depending on the back-up of lightning Lane users.
It gets complicated if the ride has gone down (or other rides have gone because sometimes you can use those ride's pass on a different ride…. again, check out that genie plus post for more on that).
So, while you're not always SKIPPING the line, you're significantly lowering it. AND you'll wait until your lightning lane timeslot has come — so in SOME ways you're "waiting" for the ride, but just not actually in line. Some people might call this a virtual queue but Disneyland uses these terms separately, so stay tuned for that section.
Frankly, that is much "line skipping" you can get in this article… although I do have one secret way that I'll mention at the very end….
Should you buy Genie+ with your tickets?
A few thoughts on this one.
If you already KNOW you're going to get it you might as well, it saves the hassle.
If one of your days you're coming late or leaving early I would add it daily instead, because Genie+ is much less valuable after about 1 pm or so (slots fill up and you won't be able to get as many rides in on it).
Personally, I've regretted having it on my ticket before, so I'd probably prefer to decide daily, especially when I'm there on my own or with Disneyland planning friends. However, if I know I'm going to be there X number of days with my family, I would probably just do it.
If you're interested in saving money grab my Disneyland Cost Calculator that can help you save on your next trip (don't miss my post on your Disneyland budget either).
Virtual Queues
At the time of this writing there are not virtual queues at Disneyland. They use this system when a ride has just opened. Often the "queue" opens early in the morning and you have to be in the app right then and reserve it.
And then you get into the line, which is usually SUPER long. I've waited over 90 minutes in a virtual queue…. which seems less than virtual, but sometimes it's available.
In the past it's been used for Rise of the Resistance, Web Slingers and Mickey and Minnie's Runaway Railway.
Single Rider Lines
Some rides have single rider lines that allow you to fill seats that would otherwise go unused. Ask a cast member if you don't see the ride. Currently there are single riders at:
in California Adventure:
Goofy's Sky School
Incredicoaster
Radiator Springs Racers
Grizzly River Run
Web Slingers
In Disneyland:
Millenium Falcon: Smuggler's Run
Matterhorn Bobsleds
Space mountain
**Remember, this is to ride the ride ALONE. You can go as a group but there can be no expectations to ride by each other.
Monsters Inc also has a "buddy pass" that is up to 3 people I think. You'd fill a row that would otherwise go unused in those ride cars.
Rider Swap
If you have members of your party that can't ride a ride you can use rider swap. It's usually done with kids like this:
One parent rides with riding kids — they ask for a rider swap card from a cast member (sometimes the cast member needs to see the child not riding). They wait in the regular line with everyone else.
Then the other parent gets to ride with 2 other people (3 people total) with the rider swap card.
This can sometimes be combined with Genie+ but you'll need to ask the cast member what they do at that ride.
Again, this is just for people with kids who can't/won't ride the ride. But, you would wait in the line once, and then skip it for the 2nd parent.
VIP Tours
This is the more "line skipping" way that you might normally think of it.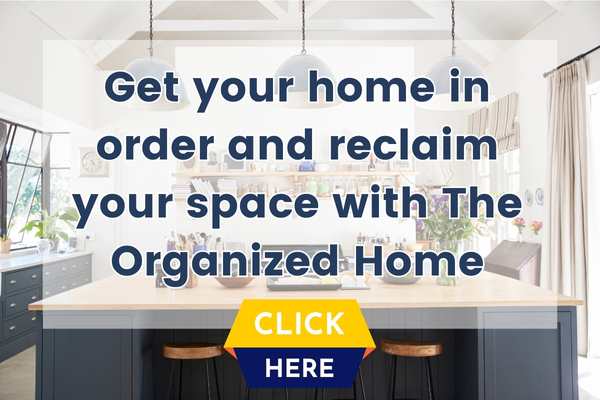 Private VIP tours are currently available for $500 to $700/ hour (it depends on how busy the park will be with how much it will cost — so busier times are more expensive). You have to do a minimum of 7 hours, up to 10 hours. You can have up to 10 people in the tours. So, yes — that's $3500-$7000. You can learn more about it from Disney here. And yes, that price is on top of tickets for those 10 people.
Note: This isn't an option for our family, so I don't blame you if you just skip this part — but it is an option for some, so I'll outline it.
With this you get:
An expert VIP Tour Guide: These are cast members that have worked at the park for a long time and have a lot of knowledge about the park (they're the ones in plaid around the park — those are the ones that do tours)
"Hassel-free planning" — you tell them what you want to ride and they figure out the best plan for you to do that day
"Expedited access" — meaning you go into rides using the lightning Lane (and yes, you may have a bit of a line to wait in), if there is no lightning lane you usually use the exit.
Reserved Viewing — You can have spots saved for you to watch entertainment, shows, parades or fireworks
Reservations — You can also get them to reserve dining for you too!
This is clearly a splurge and you'll hear a lot of "stars" using this one. Keep in mind you are also expected to tip the guide on top of that price.
Actual Line Skipping:
I have heard there is an upper tier of this VIP tour that is not advertised in which you use a different entrance and don't wait in ANY lines and I think that one starts at close to the cost of a car for the day. 🙂 Like a deluxe VIP tour — and I think they may shut down rides when you enter aka Kardashians. I believe you're also assigned a few tour guides who smooth out your entire day (aka, tell rides you're coming). You may also use back entrances…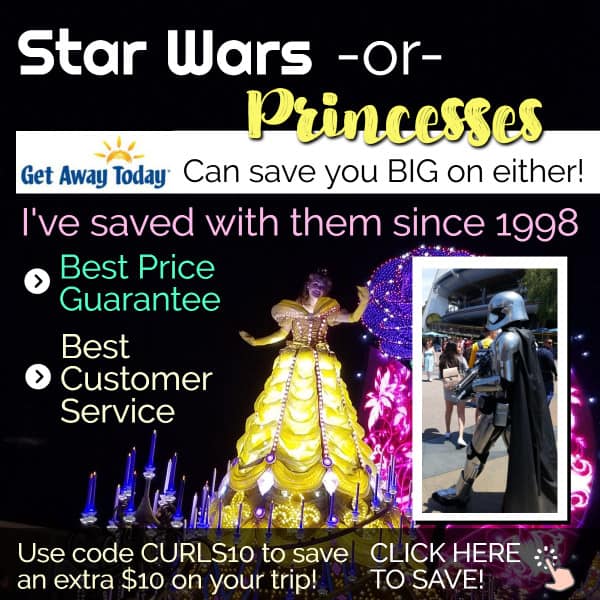 So, those are my best tips for skipping the lines at Disneyland. They're not all for everyone, but for us I usually go early and get Genie+. I also like to go back to my hotel mid-day, rest up and enjoy the evening hours at the park that are often not quite as crowded as well.
If you're looking for more info o waiting less — be sure to check-out my other posts that might help you out.
I hope you have a great Disneyland vacation. Remember shorter lines don't always mean a better day. You can still have plenty of fun when you stand in line. A snack, or playing a game like Heads Up passes the time well for us. They like to keep the lines moving pretty fast, so that's a big win.
But, the biggest win is letting Get Away Today do all the heavy lifting for your park plans! They have a best price guarantee and I LOVE the reps — go ahead and give them a call if you have ANY questions (and be sure to tell them you heard about them from Pulling Curls)