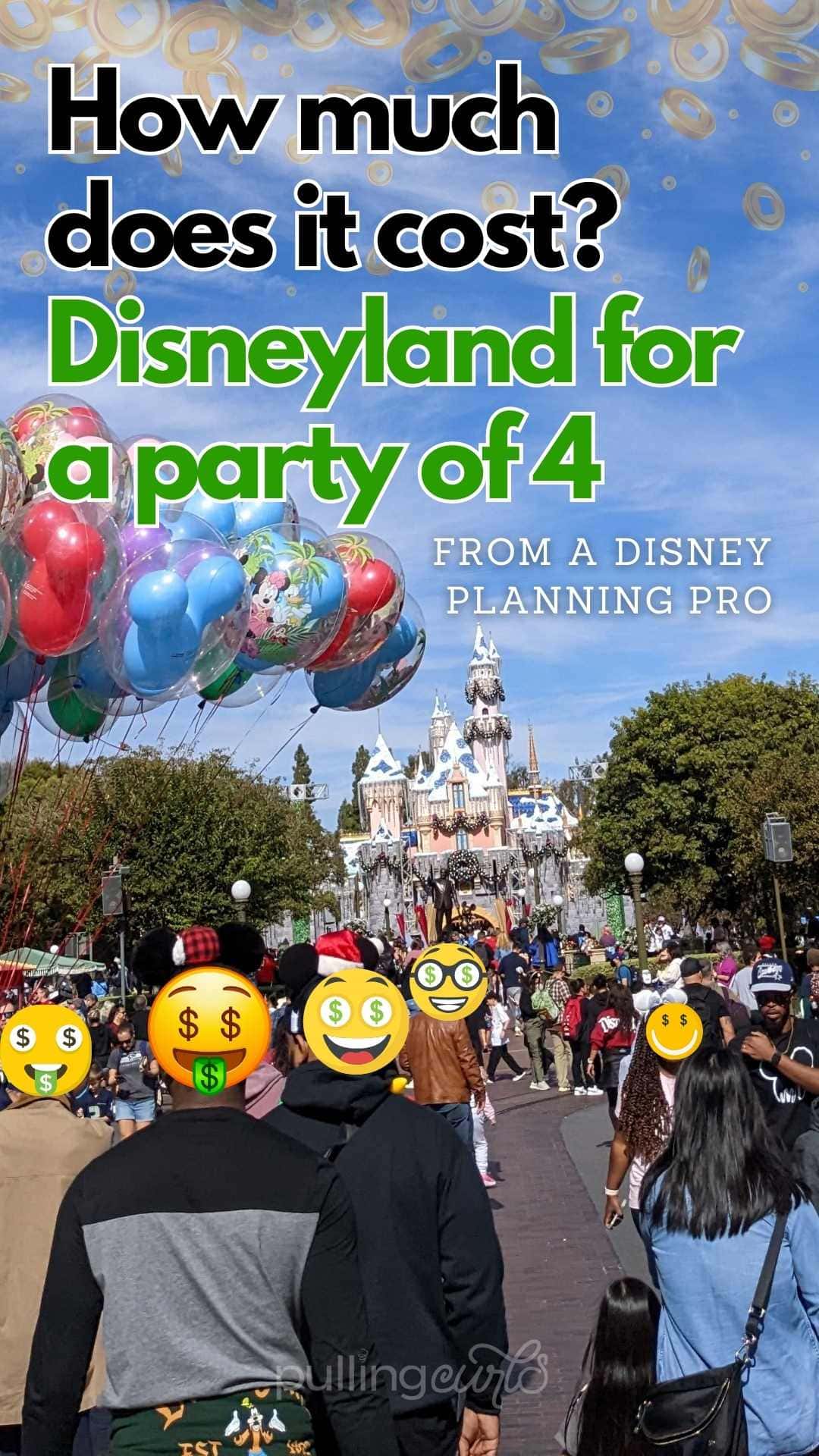 Deciding if a Disneyland trip is in your budget is rough — not to mention how to decide how long to stay, where to stay and how many days you'll need at the park. As a Disney expert I'm going to share the best tips for staying on budget, some great ways to get a free night's stay plus how much it will actually cost to take your family of 4 on a Disneyland vacation!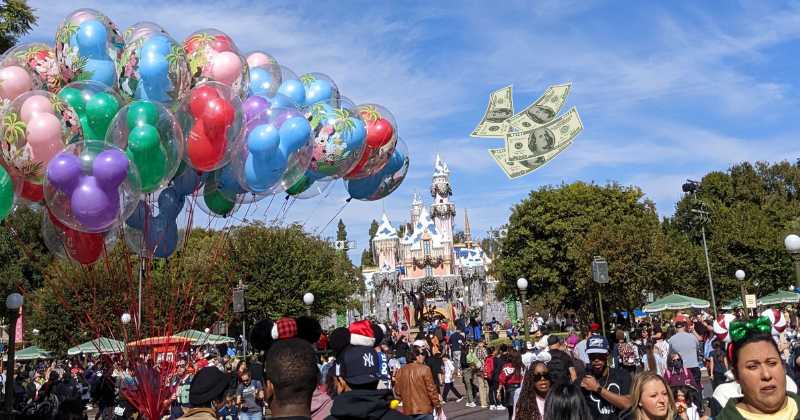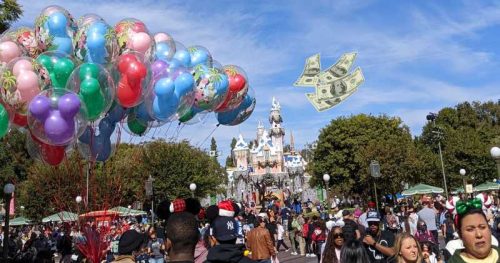 Hi, I'm Hilary — a Disneyland planning pro. I'm here to help you get the best bang for your buck on your Disneyland vacation, so let's get started! This is just one in my Disneyland budget series.
How much does Disneyland cost for a family of 4?
The very basic cost is about $1,000 per day for 4 people in the Disneyland resort. This does not include travel charges, and is based on a 3-day+ stay. If you stay less than 3 days you're looking closer to about $1500/day as ticket prices get more/day the shorter you stay.
Maybe you're happy with that number, or eyeballs are bulging out of your head. Don't worry — I have some ways to save, and I break that down even more.
As with any family budget, I'm going to split this one into categories. It's important to note that for every family, your cost for these categories will vary. Do you live close, are you renting a car — all of that is going to change your price on this one. The categories will be: (click on any one area to skip ahead to that)
I'll also have a section that talks about lowering your trip costs if $1,000/day is more than you can afford.
And, this should cover your basic costs for your vacation. Be sure to grab my Disneyland Cost Calculator to help you combine all these areas:
How Much Should I Budget for Disneyland Hotel Costs
This is an area that will really vary on what's important to you. There are hotels like the Clarion that can be in the $125 range, and you can obviously go up to the California Grand that can be well over the $1,000 range/night.
Be sure to check out hotel prices with Get Away Today and use code CURLS10 to save $10 on a hotel/ticket package.
The average I see for a mid-range hotel is around $250-$300 per night. Of course, this varies depending on the time of year, but honestly not as much as I thought it might. I have a whole post on the best time of year to go to Disneyland that detailed pricing. The lack of price difference is especially true when you book further out. As it gets closer and hotels are filling they often raise their rates — which is a big plug for booking early (especially if you plan to go at a busy time — Christmas, Thanksgiving, Spring break, peak summer months, fall break).
So, let's peg that at $300/night. Sound good?
Of course, this is for a family of 4 where all are willing to sleep in the same room. Many do have a pull-out chair that one person can sleep in if they're not up for sleeping with a sibling (we have that issue) — so it will vary. Tropicana is one of my favorites that has this (and is super close!).
And yes, I always book my hotel with Get Away Today simply because they have the best prices on the best hotels. I've used them since 1998 to plan my own trips (as I worked as a nurse) and even with their peace of mind plan (that allows you unlimited changes, even on tickets) it's still cheaper than most hotels. A total win.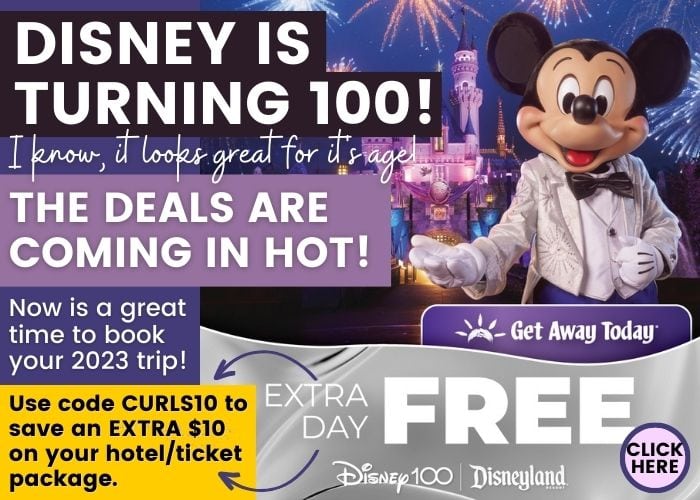 You can also start trip layway for just $200 down. $100 of that goes to the layaway costs, and $100 goes towards your trip — you just have to pay it off a few weeks before your travel! A great way to save for a trip as you go, and save you from the stress of paying it all at once!
I have a whole post on the best affordable Disneyland Hotels available that will give you a LOT of options to consider (a lot of pro's/con's with those hotels).
Disneyland Ticket Prices
You may believe that Disneyland is around $100/day — but it's more complicated than that. And no, you can't buy tickets at the Disneyland gate (because you'll need reservations), at least on most days.
A one-day ticket is the most expensive/day in the ticket options. The average 1-day ticket price (for no hopping and no Genie+ service) is around $140'ish. This really varies on the time you're going to go.
Pro tip: It does NOT matter when you go for a multi-day ticket, the price is the same for you (even if it's just a 2-day ticket).
A two day ticket is currently $278 with Get Away Today (using my link), a 3-day is $340, a 4-day is $373 and a 5-day is $391. So, as you can see the jump from 2-days to 5 days is just $120 — with 3 extra days added. Please note these are the pricings on the day I wrote this article in 2023. So, your price may vary. And you also have to use this link to get the pricing (it doesn't work to just go to Get Away Today on your own without that link).
Now, beyond the base ticket price, Disneyland offers two upgrades to tickets:
Genie+ Service: This allows you to use lightning lanes and book your lines in advance in the app for rides (only once per day per ride). This is $25/day no matter how many days you add it to. This price can also go up as a day is predicted to be busier, but is most often $25. This can be purchased with your ticket or you can purchase it in the parks. It is always $25/day if purchased with your ticket. Some very busy dates have sold out of Genie+ but most often it's available. I have a whole post on using Genie+ & lightning lanes that you HAVE to read if you're going to use this. I also have a whole post on how to skip the lines at Disneyland.
Park Hopping: The Disneyland resort has two parks — Disneyland and Disney California Adventure Park. In order to access both parks in one day, you need a park hopper ticket. The big difference with this one is that it is $65 no matter how many days are on your ticket. So, if you hop for just one day it's $65 more, or if you hop for 5 days it is $65 more per person.
Of course, if you add this to the base one-day ticket price that turns that into about $225 to hop and having Genie+ — for just one day. On some days you'll be closer to $300 per ticket for just one day at Disneyland (because the price of a one-day ticket fluctuates a lot).
The most popular ticket package is a 3-day park hopper. And I do recommend this for most families. For us, we'd do a day in Disneyland, a day in California Adventure (sometimes coming back to Disneyland towards the end of that day because if you have small kids California Adventure doesn't have a ton of small kid rides) and then doing our favorites on the final day, and that most often requires hopping.
I am torn on Genie+ for families. I will admit that I always use it — but I know how to use the system and I absolutely HATE to wait in lines. If you're willing to learn the system to get your money's worth I do think it's worth it. BUT I do know a lot of people who just show-up to the parks and plan to use it and only end-up using Genie+ on a few rides. In that case, that's not worth it.
The GOOD news is that you can add lightning lane to maybe just a few days, rather than all of them.
So for a family of 4 with 3-day park hoppers, that would be just about $400/ticket. Kids are a bit less, but I like to round-up than be surprised at the cost. A fun fact is that you can add a 4th day for just about $30 bucks, and that allows you to go to the park on your arrival or departure day. As a kid, I was always dying to get to the parks on our arrival day, and you could make that dream come true for a pretty low price! 🙂 That could be a fun surprise!
So, for a party of 4 you're looking at about $1600 for 3-day park hopper tickets ($400/person). With about $100/day for every day you add Genie+ to your tickets.
Pro Tip: Kids prices are about $20 less, but you have to remember a kid is only ages 3-9 — anyone over 10 needs an adult ticket. That surprises a lot of people, because a 10 year old sure doesn't feel like an adult.
FYI, Disneyland typically raises their prices in the 4th quarter of the year if they are going to. Last year the price increase going into 2023 was a lot so I'd expect to see less of a rise this year, but who knows.
Oh, and while you're here — grab my Disneyland day planner:
Disney Vacation Travel Costs
This is one you're going to need to figure out on your own — but let me remind you of a few things:
Air Fare Most people fly to the Disneyland area. There are 3 great airports to choose from (there's more outside this area, but these are the 3 most popular:
Santa Ana (the closest) — SNA
Long Beach (a bit further, but small enough I LOVE it) — LGB
LAX (huge, and the furthest of the 3, definitely the hardest to navigate)
FYI I always fly in on Southwest. They have a TON of flights into the LA area and are almost always the cheapest. I wish I'd gotten their credit card sooner, so if you're using them be sure to get it ASAP — it's a great way to save on flights (I'm taking my next flight there for FREE).
Gas Money If you're not taking a plane to Disneyland, you're driving. This AAA gas cost calculator always comes in handy to guess how much that will be.
Uber's/Shuttles/Rental Cars Once you get to the airport, how will you get to your hotel? Personally, I love to use an Uber/Lyft. The prices from the airports are about $25-$50. The main issue being car seats if you didn't bring those with you. FYI, if there are 4 of you with a good amount of luggage, I'd opt for an UberXL as they will have more trunk space for your needs. In general, my pricing from most of the airports is about $30-$50 depending on the time of day. I've had friends pay up to $75 at rush hour for LAX.
You can also rent a car at any of these airports. That will clearly change depending on your needs of the vehicle (but stay tuned at how this may have hidden costs).
There are also airport shuttles you can use like Carmel shuttles. I just find these are more expensive than an Uber. Just be more planned and you won't be yanked around on pricing.
Hotel Parking fees This is the one that catches people off-guard. Clearly, if you drive to Disneyland, you're going to have to park your car. Most hotels have a parking fee (although Get Away Today often reduces or eliminates the fee when you book with them). So, if you rent a car, you're paying for the rental, and then also to park your car at the hotel. Personally, I only find this useful if I really am going to use this car while I'm there (aka, driving up to Universal Studios to see Harry Potter & Mario). If you're only using a rental to get you to your hotel, then I would give that a second thought.
Hotel parking fees vary between $20-$30/night (but can be eliminated if you use Get Away Today — a nice perk if you're driving in from out of town).
Getting to the parks How will you get to the parks? There are a few options:
Walk – many hotels are within walking distance. Be aware that many say they're in walking distance, but I outline which ones actually are in that post. Of course, "walking distance" varies from family to family. Often I am willing to walk further in the morning and then I use an Uber to get home at night when I'm more tired. But that's me. Some of the hotels are just as close as an Uber!
Drive – You can drive your car in and park at the Disneyland parking structures. It is currently $30/day. They also have preferred parking (aka, less walking) for $50/day
Use the ART Shuttle — this is a bus shuttle in the Disneyland area. It is great for families with small kids with carseats. It is about $6/day/person (kids are $2.50/day). I have had some poor experiences with this one though, and in general I don't use it. I prefer to use an Uber/Lyft, but it can be really convenient and is the best option for people who need car seats.
Uber/Lyft — the drop off area is on Harbor Blvd, it can get quite crowded (I wish Disney would attempt to fix this) but I will often book my car as we're leaving and we don't wait too long for the pickup. For most hotels it's around or under $10/way. This is actually cheaper if you have a party of 4 vs using ART (unless you need car seats).
Parking at the parks As I mentioned, parking at the parks starts at $30/day.
Pro Tip: If you're looking to spend the least I recommend The Anaheim Hotel or Castle Inn and Suites. They are both walkable and are the best price on Harbor Blvd. It will save you on transportation. I would consider both a 3-star hotel, if that works for you.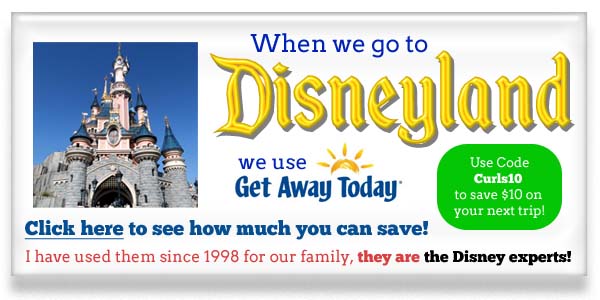 Disneyland Food Costs
Food cost can really vary. You can eat at a sit-down restaurant for every meal, or you'll stay at a hotel that has breakfast and then eat snacks in the park you brought from home. This is how our family normally did it and we'd eat for about $100/day total.
A more full-budget plan is about $100/person/day for full eaters. If you have some half eaters I'd 100% recommend splitting plates since the portions are good-sized.
I do think that a parent and two children (who don't eat a ton) could do it for $200/day — so I will peg it at that.
You could also consider eating outside the park at restaurants near Disneyland theme park. You'll expect to pay less at these locations (but not as much less as you'll hope).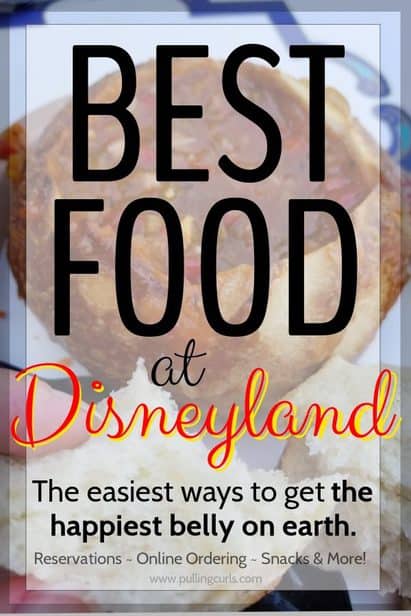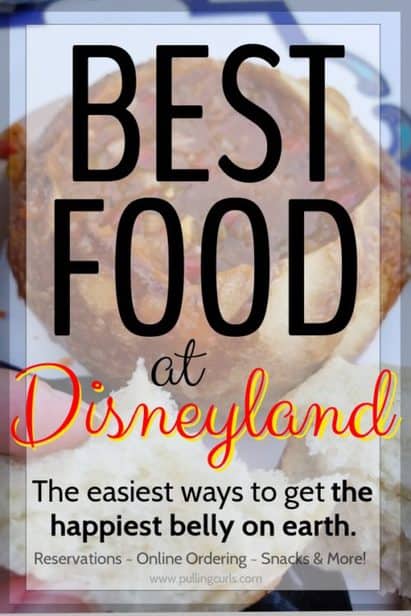 Disneyland Souvenir Costs
This can probably vary the most. Some people get everyone a lightsabre (they're like $200), and a pair of ears and a sweatshirt and you'd be close to like $400/person. Or, we bought each kid a pin/trip and spent about $100/trip for all of us.
Early on, when things were really tight I just didn't let my kids know it was an option. We'd skip gift shops, and I'd get my kids some mickey t-shirts before the trip at Walmart and call it good.
Every family is different, and you can budget this one however you want. I'm going to peg this at $0 as it is really not necessary and is an expense you can easily determine on your own.
So, if we boil this all down:
Hotel Cost: $300/day
Ticket cost $400/day (based on a 3+day ticket, if you're staying less look closer to $800/day) or $500/day if you want Genie+
Travel Costs to the park: $20/day (clearly REALLY depends)
Food costs: $200/day
Souvenir cost: Your choice, but not necessary:
Total price for family of 4 for Disneyland: $920/day — so, basically $1,000/day if you add some Genie+
This doesn't include travel TO Disneyland, but that varies so much you'll need to add that on your own.
Pro Tip: Remember this is all Get Away Today pricing. I promise you if you booked things elsewhere you'd be looking at a LOT more. Even just on tickets. I have a special link that gives you this sweet pricing!
Ways to lower your Disneyland Vacation Price:
If your eyes are popping out of your head at $1,000/day (totally get that) let me give you some ways to lower your cost to visit Disneyland:
Stay at a cheaper hotel. Some are less than $200/day — so that will take it closer to $820/day. Hotels near Disneyland are more expensive, so you can look further out from the central park area.
Remove Hopper/Genie+: This can save you some, but it will limit your flexibility in the parks (I'd rather bring more snacks from home than sacrifice this, but that's personal preference).
Stay longer – I realize this makes zero sense, but your price/day decreases with every day you stay and often Get Away Today has get your 4th or 5th night free at many hotels. So, if you were already staying for 3 nights, you can lower your price/day when you stay longer. In essence, this lowers your price/day for hotel and tickets, but it may actually cost more, so figure that one out on your own. Go to this page and scroll down and you can see the hotels that offer free nights. Some of these are nicer hotels and I'm always surprised by how low you can get a 4 or 5 night stay with them (when you include those free nights).
Stay with Family: If you have family or friends in the LA area that are willing to host you that can save some cash. Just be aware that traffic in the area is not good and even if you're like 30 miles out, that is a good hour+ of driving most likely.
Bring Snacks: I really think you can get that food budget (without sacrificing much happiness) closer to $100/day if you bring in your own snacks to supplement park food.
Bare Bones Tickets: You can lower your costs by not including park hopping or Genie+. You'll just have to decide if that's worth it.
Pro Tip: If you have small kids, most of their favorite rides are not on Genie+ — so it will not be worth it to get Genie+ until your kids are tall enough to ride more rides that are included in the Genie+ system. If parents want to ride rides on their own you can always use Rider Swap where one parent rides (the other stays with the kids) and then the other parent can ride without waiting in line. Ask about it at your favorite rides.
So, that's that. I agree, it's a lot to swallow — but when you book with Get Away Today you're guaranteed the lowest prices and that's a good feeling. No one likes to over-pay. 🙂
Disneyland vs Disney World Budget for a family of four:
I have a whole post on the Disney World budget, but I was honestly surprised they aren't that much different, even though I compare it staying on Disney property.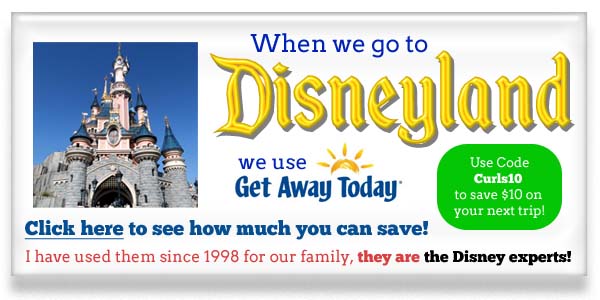 I hope this helped you know what you can expect to pay for a party of four on your trip to Disneyland (the happiest place on earth). This budget would work for two adults and two kids (or even 4 adults, as the pricing isn't all that different). Remember that kids 2 and under are free at the Disneyland resort, so if you have 2 adults, 2 kids and a baby you'd be paying this same price. 🙂 Good news for your vacation costs! I also have a post on the best rides for babies at Disneyland you might find helpful too!
Either way, two thoughts:
Check out Get Away Today, sometimes their pricing surprises me and it made my Disneyland dreams come true in 1998 even on a thread of a budget for our family of two
Don't go until you can have enough money to go. You'll hate yourself if you really didn't have the money to go and if you'd waited a year and saved some more you could have had a better time and less guilt.
Hope you find all this information helpful. Be sure to tell me in the comments if you have another favorite way to save at Disneyland!
And, grab my Disneyland packing list, because forgetting stuff is almost as bad as over-spending!