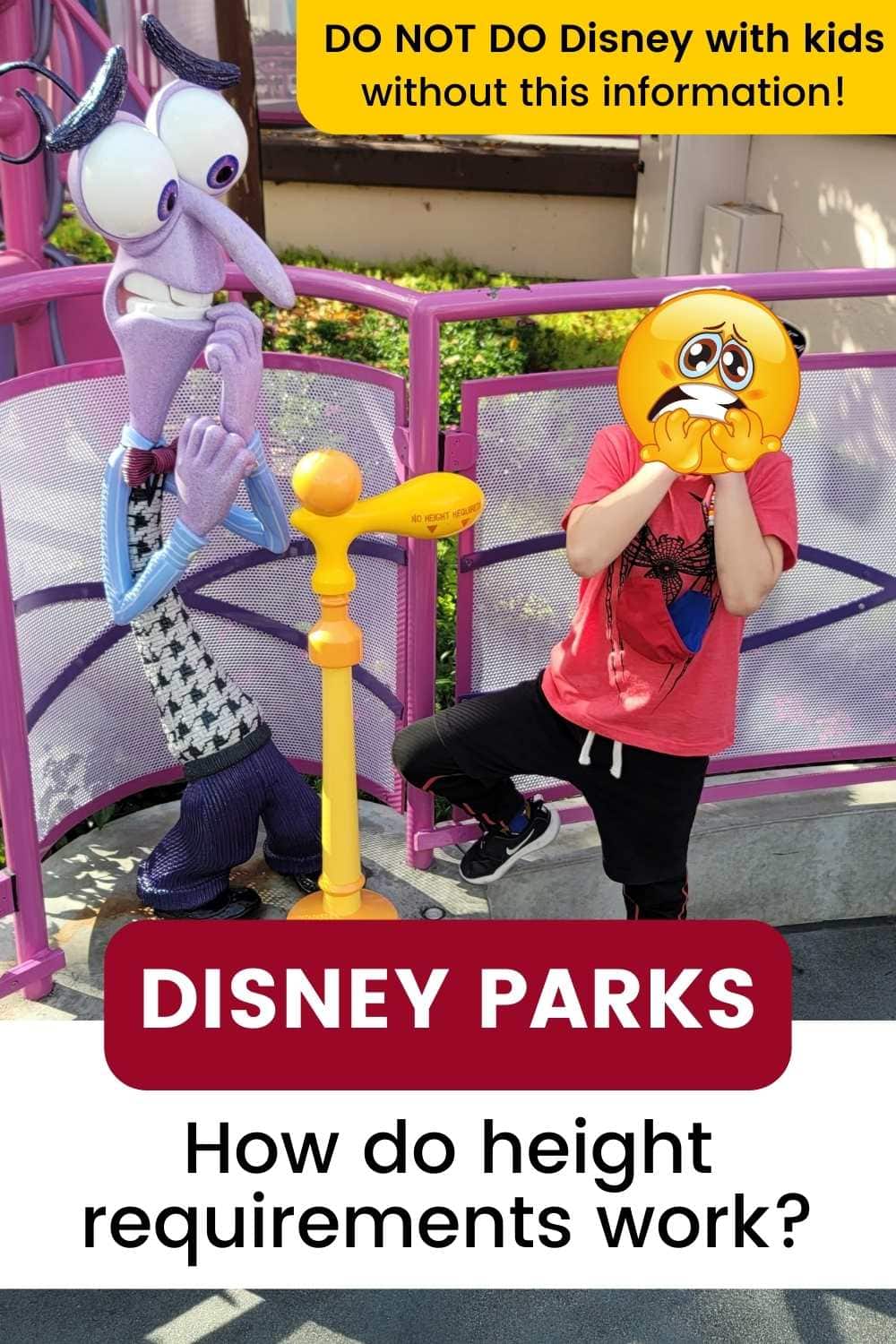 Are you planning a trip to the Disney parks — either a Disney World Vacation or a trip to the Disneyland Resort? There are a million things to plan for. That may be a slight exaggeration, but there are many elements that go into planning any vacation. You have probably thought about where you are going, how you are going to get there and where you will stay. When visiting a Disney park there are other things to plan too: what parks are we going to, where are we going to eat, what rides and attractions are we going to experience? If you have kids maybe you've wondered if the rides have height requirements and how do I know what rides my family will be able to experience together.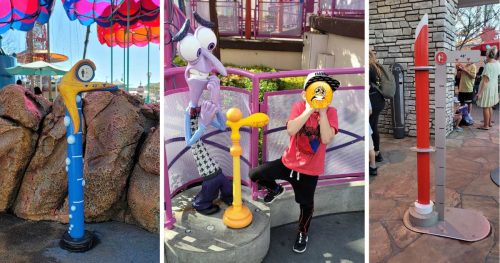 This article has been written by one of my Disney BFF's, Mylee from The Unseen Magic. She makes the most adorable height charts, that stops the tears in the parks, and helps kids look forward to the rides they can ride (or will ride in the future). I 100% recommend checking them out! So, take it away Mylee!
The short answer is YES, there are rides at Disney World and Disneyland that have height requirements. There is a little more to it than that though so let's dive into this part of the vacation planning process.
Hi, I am Mylee from @theunseen_magic! I have an Instagram account where I share hidden details that often get overlooked in the parks. I have spent the last couple years learning about height requirements at the parks and have made a height chart that lists the rides at each height requirement. For example when your child reaches 32" at Disneyland they will be able to take a drive on Autopia with another guest that is at least 54" tall, take a twirl on Mater's Junkyard Jamboree and a spin on Luigi's Rollickin' Roadsters.
You can use the chart to track your kid's growth and anticipate excitement and avoid disappointment when visiting the parks because you will already know what rides they can and cannot experience. Knowledge is power and when you know ahead of time what rides they can and can't do you can prep them so you will hopefully avoid a meltdown when you inadvertently wait in a line that they aren't actually tall enough to ride just yet.
And, to avoid disappointment in your WALLET, grab the Disney Trip Calculator:
What are the height requirements at Disneyland?
As of 5/16/2023, these are the attractions at each park with a height requirement, at times height requirements change and the most recent requirements are on their websites (but can change at any time). The nice part is that these are all in one place! (if you find a height requirement that's wrong, please do tell us in the comments)
This chart shares both rides for Disneyland and California Great Adventure
DISNEYLAND Height Requirements:
32" Autopia (DL) (with a 54" or taller guest)Mater's Junkyard Jamboree (DCA)Luigi's Rollickin' Roadsters (DCA)
35" Chip 'N' Dale's GADGETCoaster (DL)
38" Millennium Falcon: Smuggler's Run (DL)
40" Big Thunder Mountain Railroad (DL)Space Mountain (DL)Splash Mountain (closing 5/30) (DL)Star Tours (DL)Star Wars: Rise of the Resistance (DL)Jumpin' Jellyfish (DCA)Guardians of the Galaxy- Mission: Breakout! (DCA)Radiator Springs Racers (DCA)Silly Symphony Swings (Tandem Swing) (DCA)Soarin' (DCA)
42" Matterhorn (DL)Goofy's Sky School (DCA)Grizzly River Run (DCA)Redwood Creek Challenge Trail (Zipline and Rockwall) (DCA)
46" Indiana Jones Adventure (DL)
48" Incredicoaster (DCA)Silly Symphony Swings (Swingle Swing) (DCA)
54" Autopia (Ride alone) (DL)
DL = DisneylandDCA = Disney California Adventure
What are the height requirements at Disney World?
Remember that the Disney World theme park has 4 parks, this will share the height requirements at Magic Jingdom, Epcot, Disney's Animal Kingdom and Hollywood Studios
DISNEY WORLD Height Requirements:
32" Tomorrowland Speedway (MK) (with a 54" or taller guest)Alien Swirling Saucers (HS)
35" The Barnstormer (MK)
38" Seven Dwarfs Mine Train (MK)Millennium Falcon: Smugglers Run (HS)Slinky Dog Dash (HS)Kali River Rapids (AK)
40" Big Thunder Mountain (MK)Soarin' (EP)Test Track (EP)Mission: SPACE Green (EP)Star Tours (HS)Star Wars: Rise of the Resistance (HS)Twilight Zone Tower of Terror (HS)DINOSAUR (AK)
42" Guardians of the Galaxy: Cosmic Rewind (EP)
44" Space Mountain (MK)Mission: SPACE Orange (EP)Avatar Flight of Passage (AK)Expedition Everest (AK)
48" Rock 'n' Rollercoaster (HS)
MK = Magic Kingdom EP = Epcot HS = Hollywood Studios AK= Animal Kingdom
Please note: Disney World previously had Typhoon Lagoon Water Park and Blizzard Beach as water parks, but they have not been open since 2020, and I am not sure of their plans to reopen them, so you will not see their attractions listed in this list of rides at the theme parks and water parks.
REMEMBER: Disneyland and Disneyworld each have their own unique rides and their own height requirements.
If you are more familiar with one park or the other don't assume that height requirements are the same for the same or similar rides. For instance:
Space Mountain at Disneyland is 40" but in Disney World it is 44".
DINOSAUR in Disney World is very similar to Indiana Jones Adventure in Disneyland but DINOSAUR has a 40" height requirement where Indiana Jones has a 46" height requirement.
Another set of similar rides is Grizzly River Run at 42" and Kali River Rapids at 38".
I saw a family that typically frequents Disneyland and they visited Disney World. Her son was so disappointed that he couldn't ride Space Mountain in Disney World because he could ride it at Disneyland! They had no idea there were different height requirements at the different parks.
Are Disney World height requirements enforced?
Yes, they are. They are set with safety in mind. There are reasons a body needs to be a certain height to experience a ride safely. The restraints will not fit properly and will not be able to keep the riders safe if they don't meet the height requirements. Trying to cheat the system is never a good idea. Everyone wants to keep the kids safe.
If there is a ride your child must do and they aren't quite tall enough it would be best to postpone your trip until they reach the required height.
The height requirements at Walt Disney resorts are pretty strictly enforced, so don't plan on going to Disney to cheat it, there are many tears shed that way. If your child is close to one ride be very clear they may or may not be able to ride it.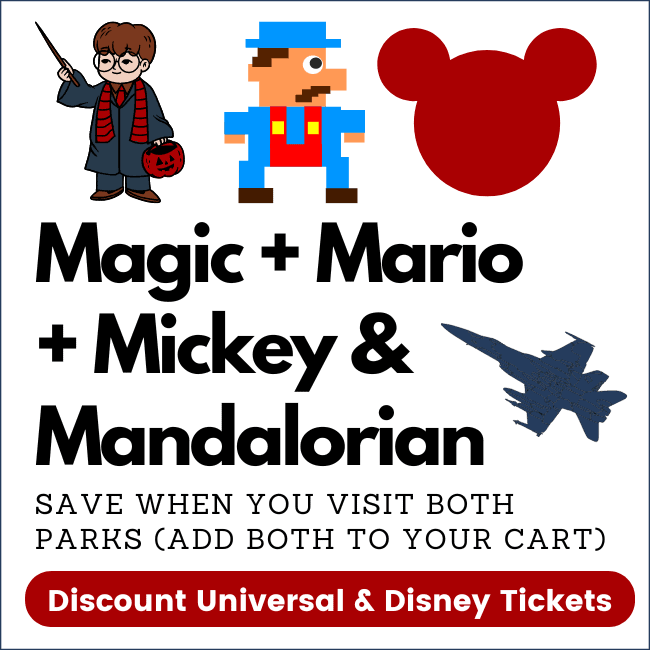 What Happens If A Member of Your Party is Too Short to Ride?
Each park, Disneyland and Disneyworld, has a program called Rider Switch. The rules and regulations are slightly different at each park but both serve the same purpose.
The basic synopsis is that your entire party approaches the Cast Member at the ride queue entrance and asks if they offer Rider Switch. They will explain how it works at that particular attraction. Usually, one adult will stay with the rider(s) who don't meet the height requirement. When the first party exits the attraction the supervising adult will take one other member of your party with them and be able to skip the line for the attraction by using rider swap (also called the rider switch pass).
Now, these rules can change and policies can be amended. Here are the links to both parks' Rider Switch pages. If you plan to use this service I recommend reading the policies before you visit to make yourself familiar with current rules: Disney World Rider Switch Info ~ Disneyland Rider Switch Info
If you have a child that is entering a queue for an attraction with a height requirement, the Cast Members will measure them before entering the queue. At some attractions, they will measure your kids multiple times, the first time before you enter the queue and a later, towards the end, before you enter a ride vehicle. I have witnessed a family "pass" the first measurement and then be turned away at the second measurement, which is sorely disappointing. Disney does this to make sure nobody enters a ride that won't be restrained safely if they don't actually meet the height requirements. I understand that it will be disappointing if you think your child is tall enough.
Please be respectful of the Cast Members. They are just doing their job to keep people safe. The bottom line is, if your child is barely tall enough for a certain ride, be prepared that you might be turned away for safety reasons.
As you can tell from our charts, being about 40 inches opens a lot of option for your kids (but not all of them).
Why Do Rides Have Height Requirements?
Rides and attractions have height requirements to keep people safe. Rides have particular restraints and seating that are made to fit a certain body height. If a child is shorter than the required height they won't be restrained properly and that is a safety risk.
Can you take babies on rides at Disney?
There are many attractions you can take babies on at the Disney parks. There are probably more that you can take them on than the ones you can't. There are many attractions that do not have any height requirements. Some of them will be shows, short movies/videos, but there are many that are considered rides that you will be able to bring your baby or toddler on.
There are some rides that you can hold your baby on your lap and some will allow you to wear your baby in a carrier. Ask the Cast member at the attraction if you can keep your little one in your front carrier.
And, ask your provider before going to a park if there's any special needs your child has that you should be aware of and if you should refrain from any types of rides.
Are There Disneyland Rides Without Height Restrictions?
Here are the attractions at each park that do not have height requirements:
DISNEYLAND no height restrictions attractions:
Alice in Wonderland
Astro Orbiter
Buzz Lightyear Astroblasters
Casey Jr. Circus Train
Davy Crockett's Explorer Canoes
Disney Gallery
Disneyland Monorail
Disneyland Railroad
Dumbo
Finding Nemo Submarines
Frontierland Shootin' Exposition
Great Moments with Mr. Lincoln
Haunted Mansion
It's a small world
Jungle Cruise
King Arthur Carrousel
Mad Tea Party
Main Street Cinema
Main Street Vehicles
Many adventures of Winnie the Pooh
Mark Twain Riverboat
Mickey & Minnie's Runaway Railway
Mr. Toad's Wild Ride
Peter Pan's Flight
Pinocchio's Daring Journey
Pirate's Lair on Tom Sawyer Island
Roger Rabbit's Cartoon Spin
Sailing Ship Columbia
Sleeping Beauty Castle Walkthrough
Snow White's Enchanted Wish
Storybook Land Canal Boats
Walt Disney's Enchanted Tiki Room
DISNEY CALIFORNIA ADVENTURE no height restriction attractions:
Animation Academy
The Bakery Tour
Golden Zephyr
Inside Out Emotional Whirlwind
Jessie's Critter Carousel
The Little Mermaid – Ariel's Undersea Adventure
Monsters inc. Mike & Sully to the Rescue!
Pixar Pal-a-Round
Red Car Trolley
Redwood Creek Challenge Trail
Sorcerer's Workshop
The Beast's Library
Toy Story Midway Mania
Turtle Talk with Crush
WEB Slingers: A Spider-Man Adventure
Mickey's Philharmagic
Attractions at Walt Disney World that Have No Minimum Height Requirements?
| | | | |
| --- | --- | --- | --- |
| MAGIC KINGDOM | EPCOT | HOLLYWOOD STUDIOS | ANIMAL KINGDOM |
| Astro Orbiter | Advanced Training Lab | Mickey & Minnie's Runaway Railway | Affection Section |
| Buzz Lightyear's Space Ranger Spin | The American Adventure | Muppet*Vision 3D | The Boneyard |
| Casey Jr. Splash 'N" Soak Station | Disney & Pixar Short Film Festival | Toy Story Mania! | Conservation station |
| Country Bear Jamboree | Frozen Ever After | | Discovery Island Trails |
| Dumbo | Gran Fiesta Tour Starring The Three Caballeros | | Gorilla Falls Exploration Trail |
| Enchanted Tales with Belle | Impressions de France | | It's Tough to be a Bug! |
| Frontierland Shootin' Arcade | Journey Into Imagination with Figment | | Kilimanjaro Safaris |
| The Hall of Presidents | Living with the Land | | Maharajah Jungle Trek |
| Haunted Mansion | O Canada! | | Na'vi River Journey |
| "It's a small world" | Reflections of China | | Tree of Life |
| Jungle Cruise | Remy's Ratatouille Adventure | | TriceraTop Spin |
| Liberty Square Riverboat | The Seas with Nemo and Friends | | Wildlife Express Train |
| Mad Tea Party | Spaceship Earth | | |
| The Magic Carpets of Aladdin | Turtle Talk with Crush | | |
| The Many Adventures of Winnie the Pooh | | | |
| Mickey's PhilharMagic | | | |
| Monsters, Inc. Laugh Floor | | | |
| Peter Pan's Flight | | | |
| A Pirate's Adventure – Treasures of the Seven Seas | | | |
| Pirates of the Caribbean | | | |
| Prince Charming Regal Carrousel | | | |
| Swiss Family Treehouse | | | |
| Tomorrowland Transit Authority PeopleMover | | | |
| Tom Sawyer Island | | | |
| Under the Sea – Journey of the Little Mermaid | | | |
| Walt Disney's Carousel of Progress | | | |
| Walt Disney's Enchanted Tiki Room | | | |
| Walt Disney World Railroad | | | |
Thoughts from Hilary: Disneyland is really not JUST about the "big rides" — it is very easy to get caught-up in that, but in reality kids are often JUST as happy at Tom Sawyer's island or the Redwood Creek Challenge trail. I see so many parents trying to cheat the system, when I know their child would have been just as happy (if not happier, with less stress) on the other options. The reality is the parents want something different. Something to keep in mind.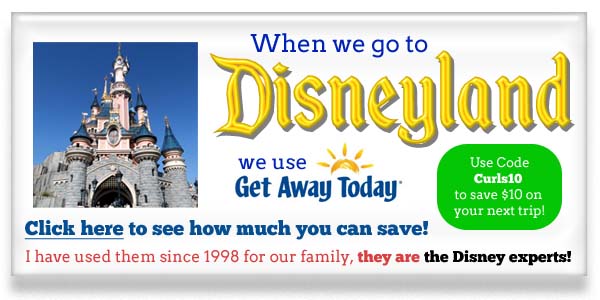 What if my child isn't tall enough to ride?
If your child isn't tall enough to ride, you can use rider switch option (sometimes called child swap or rider swap) or you can just skip the ride all together and experience something else in the parks. If you use my height charts before your vacation you will be able to plan what rides and attractions your family can do all together. You will also be able to research the rider switch options that Disneyland and Disneyworld offer at their theme parks.
Pro tip: If only one member of your party really wants to ride, don't forget about the single rider lines. Many of the height-restricted rides offer a single rider line that is most often faster than the "regular" line and can allow them to enjoy the ride without "wasting" much time.
How Do The Height Requirements Work?
Before you leave on your vacation, measure your child (with their shoes on). Even better, measure them at home using one of my height charts. Then you will know beforehand what rides they can and cannot do. When you approach the entrance of a ride queue you will see a height ruler.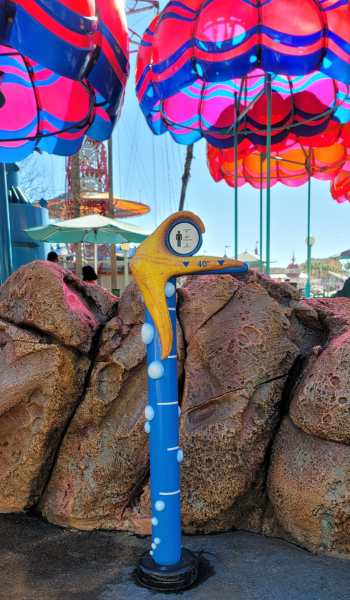 A cast member will pull you aside to measure your child if they suspect they might not be tall enough. I have a blog post sharing some tips to ensure you get an accurate measurement in the parks: 4 Tips to Get Accurate Measurements in the Parks
If a cast member measure your child and they are tall enough they will allow you to proceed through the queue. You may be pulled aside again, depending on the ride, to double check measurements. If your child is extremely close to the height requirement it is possible that the next Cast Member may get a different measurement, depending on how your child is standing.
Be aware that all of our spines compress a little throughout the day, so your child may actually be just a hair shorter later in the day. Always respect a Cast Member's decision. They are just doing their job to keep everyone safe. I can understand the disappointment and frustration of being turned away from a ride, but getting angry at someone who is ultimately trying to keep everyone safe isn't the answer.
Your Child Is Tall Enough – But Are They Ready to Ride?
This is a very different question than "does my child meet the height requirement?" You, as the parent or guardian, know your child. Would dark areas, loud noises, flashing lights, sudden movements or drops scare your child.
Some of the rides without any height requirements (ie. Mr. Toad's Wild Ride, Pinocchio's Daring Journey) are very dark, have loud noises and flashing lights. If your child is sensitive to these things you may not want to have them experience these attractions until they are ready. 40" is a big height milestone in the Disney parks. Kids can ride many rides at this point at a fairly young age.
My Nephew, on our last trip, had just hit 40" at 4 years old. Even though he was tall enough to ride Big Thunder Mountain Railroad, his Mom knew that the dark tunnel with the dynamite explosions would scare him. The rollercoaster itself isn't actually that scary but the whole experience was going to be too much for him. Luckily, we live in a day and age, where we have access to information. You can search ride videos on YouTube and watch the rides you are thinking about taking your kids on. Especially if you have never visited the parks yourself, you might want to check out what the rides will be like before your vacation. You definitely don't want to scare your kid on their first ride and have them afraid of every ride after that!
Pulling Curls has a whole parent's guide to Disneyland that lists what may scare kids on particular Disneyland rides:
Remember that being able to ride, and ready to ride are two different things.
Handling a Kid on the Edge of a Height Requirement
If you have a kid that is on the edge of a height requirement, the best way to handle this situation is to measure at home. Know before you go what they can and cannot ride. If everyone is prepared and knows what to expect it will make things easier. There might still be disappointment when you enter Car's Land and they see Radiator Springs Racers and they can't ride it but hopefully if you are all prepared you can manage expectations.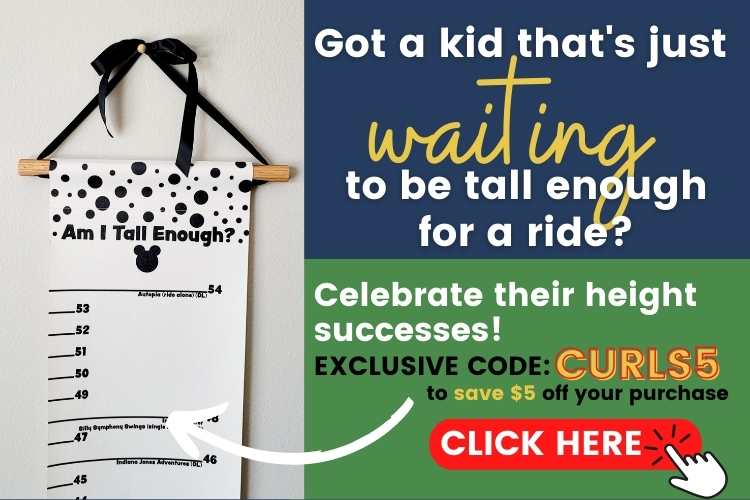 Talk about how exciting it will be next time you visit when they are tall enough. Explore other areas and try to distract and redirect their attention. If you measure at home and they are just on the edge, you should be prepared for the possibility that the Cast Member will measure them and they might not be tall enough. When you have a growing child, you just need to be flexible, knowing that they may not get to ride all the rides.
The great thing about the Disney parks is that there are so many other things to experience. The list of attractions without height requirements is quite long. There is a lot to do in the parks without riding all the rides. I visited the parks in March with my daughter who is expecting a baby this summer. We were pleasantly surprised at all she could still do (check out Hilary's post on pregnant at Disneyland) If you go in with a good attitude and utilize all the other experiences in the parks you can still have a great time even if your child can't ride some of the rides.
Thanks Mylee for sharing all of that with us! I hope you enjoyed this journey into the Disneyland and Walt Disney World Attractions Height requirements. I hope it makes your Disney vacation more enjoyable and I want to assure you that guests of any height can enjoy the parks. There might be some of the no-height restrictions your child wants to ride many times at Disney and that can be a fun memory too. Remember that if they are not allowed to ride, it is for their safety and to help you have the best vacation.
And, if you're looking for a hotel room for your family check out Get Away Today — use code CURLS10 to save an extra $10 on your hotel/ticket package at Disneyland or Disney World!