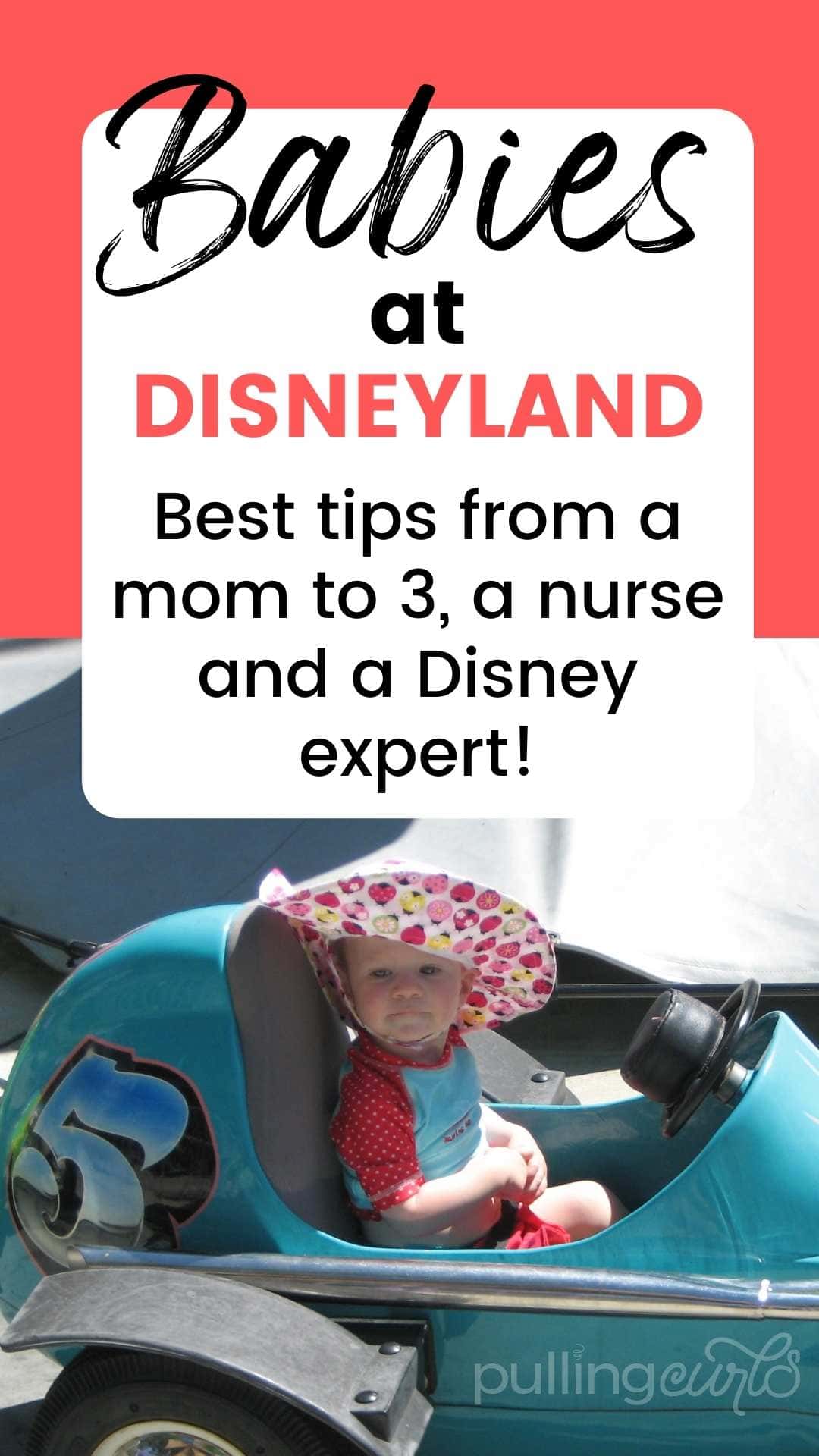 If you're pregnant, the last thing on your mind is probably going to Disneyland. But what about once your baby is born? If you wait until they're a bit older, you can enjoy some of the rides together! Here are five of the BEST Disneyland rides for infants.
But first off — why should you listen to me?
Hello! I'm Hilary — many people know me as The Pregnancy Nurse 👩‍⚕️. I have been a nurse since 1997 and I have 20 years of OB nursing experience, plus about 3 years working pediatrics. I am also what they call a Disneyland Expert. You can read all about my Disneyland tips — so between my medical training and Disneyland tips — I'm your go to gal for this information.
I will say that my list is going to differ a bit from other people's lists. I'm not just going to talk about height requirements — just because DISNEY thinks you can ride a ride, doesn't mean it's really appropriate for your baby. I'm going to give you my TOP FIVE rides for infants at Disneyland — these are good ones to start with, decide which baby is liking or not liking and then possibly branch out from there.
Of course, remember a lot LESS will get done with baby than it used to without baby. And that's OK. You're also adding all the joy of seeing your little person love Disneyland — and that is an attraction NOT to be missed.
Psst: If you're looking for tips on OTHER ages, see my post on the best age to go to Disneyland.
Things to Keep in Mind with Infants at Disneyland
Age Requirements: Many Disneyland rides have a minimum height requirement of 32", which is too short for most infants (and frankly, it wouldn't be appropriate for them at ALL).
I will say that Disneyland (even more than CA Adventuer) is one of the most baby-friendly parks out there. There are a TON of rides with NO height requirements! Which again — is Disney's rules, and you'll want to make sure your baby (and you) feel safe on them as well.
Stroller Parking: All of the stroller parking at Disneyland is located outside of the ride entrances.
You will constantly see stroller parking near the rides and it is super convenient to park it. It is also a TREASURE to be able to hold your stuff while you ride (make SURE to bring a stroller with a good amount of storage — especially underneath) I have only heard VERY rare instances of anything being taken from strollers as park asisstants are often by the strollers making sure the pathways are clear.
Pro Tip: Your stroller may get moved by park staff, so I always had a very bright bandanna tied to mine to make sure I could find it when it was time to move on.
Diaper-changing stations: There are plenty of places to change your baby at Disneyland, including in all of the restrooms and some restaurants. I have heard they have them in both the men's and the women's restrooms. They're very nice.
Don't forget the INFANT CARE CENTER!!!!
This is a great place to breastfeed (or bottle-feed with less distractions), pump, make a bottle or change a diaper.
It is also NICE and cool during the summer — which you might need if you've been wearing baby in a front pack.
In Disneyland the infant care center is at the end of main street (to the right of Plaza Inn past the corn dog cart) next to first aid.
In California Adventure the infant care center is next to the Ghirardelli shop on the wharf.
Best Hotels for Babies at Disneyland
I've toured a LOT of hotels, and some are better for an extra playpen than others.
Here are a few I'd recommend:
I also recommend calling Get Away Today to see what rooms they'd recommend for YOUR specific needs. I always had a baby who couldn't sleep if they saw me — so having a half wall or something to put the playpen behind really helped. They have the best prices on rooms, and I absolutely adore their customer service (and have used them since 1998, personally).
Please do tell them you found them through Pulling Curls — and you'll save $10 off your trip on the phone too (or use code CURLS10 if you book online).
Be Aware Of Your Baby's Abilities & Tolerances
Questions to ask yourself before you take them on rides:
How do they respond to loud noises — some of the rides are REALLY loud (looking at you Buzz Lightyear). Might be a good reason to buy these cute ear protection headphones (I like how these fold up and are less likely to get broken).
How wiggly are they — is it easy to keep them on your lap? If not, some of them might be hard
How is their head support? Can they sit easily upright unsupported – or are they still a ball of goo, or kind of topysy turvy. Some head support is important in most rides — some may stop due to ride issues (And sometimes boats bonk you from behind in the water rides).
I actually have a whole post on what rides will scare your kids.
Most babies don't really get scared on rides they're allowed on, but they might get over-stimulated or certain aspects (like noise) might be well out of their comfort zone. So, definitely check that post out — and grab my free printable:
Bonus Tip: Now CHARACTERS may really scare them. They're often more up close. I would suggest enjoying characters from a bit further away — or just testing one before you stand in a long line and expect your baby to love it.
Wearing Baby at Disneyland
When I brought an infant with other children I LOVED using my front pack. Baby felt safe and loved looking at all there was to see! Just make sure you're doing it right. Since you'll have them in there for LONG periods you want to make sure it doesn't hurt you or baby.
1. Find a comfortable position for you and your baby. You may need to experiment a bit to find what works best. Some carries allow baby to face out or face in (or some allow for hip wearing) — so you may want to alternate positions to help you and baby. I LOVED my Ergo — it was SO comfortable for both of us!
2. Put the straps on over your shoulders and tighten them so the pack is snug against your body (I would often loosen the back once we got on a ride so that I could get some airflow).
3. Make sure the safety straps are fastened snugly around your baby. It can be easy to forget something while you're distracting by crowds and other children — so just make sure baby is secure!
I have never had an issue wearing a front pack on a ride. I've seen LOTS of people doing this. Every now and then I've heard them say that baby must sit facing forward on your lap — so in that case I'd wear them regularly while we were in line, and then pop them out right before getting on the ride.
OR if you had one that allows them to face forward, that shouldn't be an issue.
Many rides have a cast member out front of the ride that you can ask that type of question to before riding.
How to "Do" Disneyland With a Baby?
So, baby likely won't be able to come on some of your favorite rides. Sadly, cast members can't babysit for you — you have a few options:
Bring grandma &/or grandpa — they LOVE seeing babies enjoy the parks, maybe even more than you. That way you can all get a few of your favorite rides in and also enjoy the baby (and baby's cutes can get read a bit more)
Use Ride Swap — rides with a height requirement allow rider swap where one parent can go with someone, and then you can use the rider swap and the other parent can go with someone through a special entrance and not have to wait in line (as much) the 2nd time.
Use Genie Plus so you're in lines less — remember baby doesn't need a genie plus pass (nor will they need a ticket). I do have a post on if you can buy Disneyland tickets at the gate (that shows the cheapest way to buy tickets).
Plan to just explore and enjoy — plan for a day that baby just gets to enjoy the new sights and sounds. Maybe you don't need to go on the rides you used to. There's SO much to do at Disneyland, just search for what works for ALL of you!
5 BEST Rides for Infants at the Disneyland Resort:
1. Small World
It may feel a bit tricky getting into the boats, but your baby is likely to LOVE all the sights, lights and colors on this ride.
You'll love the air conditioning and how long the ride is.
Just be mindful of other boats bumping into you if there is a stoppage, and have a nice hold of baby if you're stopped.
2. Winnie the Pooh
Another great one that babies will enjoy seeing.
Keep in mind that the vehicles sort of rotate in a circular motion, so baby is best on your lap vs sitting on their own for that part.
Honestly, for kids under 1 I would almost always lap sit them if possible. Just safer that way — you never know when a ride might stop or jerk a little bit.
3. Haunted Mansion
These "doom buggies" are a great way for baby to feel safe. It is quite dark and there are some "glowing" parts — I would doubt that a baby will have issues (more likely for older kids and their imaginations to have bigger issues with).
4. The Train
Bless the train. It's a favorite of mine. They have some cars that facing the side, and some that sit like regular train seats.
Fun fact: You can get on the train and stay on it as long as you want. Strollers do need to collapse down if you're bringing them on the train. A good one for mom and baby to maybe get a nap on (I've 100% napped on this ride — it's refreshing).
5. Ariel
This ride is in California Adventure and honestly, one of the ONLY "rides" I would be comfortable taking a baby on in that park. It's just not all that infant-friendly. This ride, however, is amazing and I think your infant will enjoy it. And you'll love to sing along with the songs of your youth and enjoy the AC!
Honorable Mentions:
Pirates of the Caribbean — my only issues is that there is often a LOT of "bumping" of boats at the end as boats back up. Otherwise a good one.
Animation Academy — this isn't a ride, but is one of my FAVORITE places to hang out in the summer when it's hot. It's so nice and cool and the songs they play make me feel happy. Sad fact, strollers aren't allowed in here, so baby can't sleep in the stroller — but there's a good amount for older kids to do while you sit with them. You could probably even spread out a blanket if it's not too crowded and baby could enjoy a bit of floor time. Maybe MAY also enjoy Disney Jr next door (or it may be too much for them).
King Arthur's Carousel — There are a few benches baby would probably enjoy. Sadly, it's not air conditioned, but it does have some of the best carousel music out there. 🙂
Dumbo — This ride just tends to have a bit longer wait, it's not air conditioned and I feel like it can be awkward to do with a baby. However, if your baby loves the wind in their face — this is the ride for them. They'll love it.
Don't miss my post on Disneyland height requirements charts. It lists all the rides in both Disneyland and Disney World that have no height requirements.
The benefits of taking your infant to Disneyland?
Honestly, taking a child much before age 2 is all about you, less about them. But you may absolutely love seeing them love the characters and rides that you love.
Remember, babies are free up to age 3 (meaning 2 and under) — so that's definitely the BIGGEST PERK.
Taking a child right at 23 months can be a big financial win.
How to prepare for your visit to the amusement park?
If you're going to Disneyland with an infant, there are a few things you should keep in mind to make the trip as smooth as possible.
1. Bring along a stroller – This will be your baby's home away from home while at the park. Make sure it's comfortable and has enough storage for all of your baby's gear.
2. Pack plenty of diapers and wipes – You'll go through a lot of these while at the park! It's always better to have too many than not enough.
3. Bring along some snacks and drinks for your baby – They'll get hungry (and thirsty!) just like you will.
4. Dress your baby in comfortable clothing – It's going to be hot, so make sure they're wearing light, breathable clothes. Layers are awesome. I'd recommend an extra outfit or two that stows in the stroller — you never know.
5. Don't forget the sunscreen! – Babies' skin is delicate, so it's important to protect them from the sun. I did a podcast on the safest sunscreen for kids — you can listen right here:
6. Get Reservations! While baby doesn't need reservations, you might not know that the park requires reservations to enter as of this writing. You can still buy through a great ticket partner (to save some cash) but then make sure you reserve your dates.
What to do if your baby gets scared or upset on a ride?
Once you're on a ride you mostly have to make the best of it. Of course, if it's just a theater attraction, you can leave (and you'll probably want to leave so as not to bother the other guests).
Things to have with you to help baby on a ride:
Snacks or a bottle (or breastfeeding abilities)
Pacifiers (a great time to use one that hooks onto their clothing — I like how easy that one is to wash)
A fun toy to distract them
Ear covers if it's too loud
Make sure these things are with you ON the ride (not in the stroller you left behind)
In general families and people get it if a child is upset. However, if baby is ornery before the ride it might be good for one of you to sit out with them.
By them being upset, they're telling you they'd like a break from whatever you're doing. Make sure you're listening to them.
How to get Baby to Nap at Disneyland?
I was worried about this, but honestly walking around with baby reclined in the stroller normally zonked them out in just a few minutes. I actually found that louder times like parades, etc they'd fall asleep really fast (sort of like white noise). Then you can find a spot to sit down and enjoy some people watching.
Make sure to bring your stroller fan so they don't get too hot (bonus tips for one you can recharge during the day and bring in lines to keep you all cool.
Many babies will also fall asleep in those front packs.
Ok, so I think that's all the tips I have for you. I'd love to answer any other questions you have down in the comments. I can always get my gang of Disney friends to help me answer too! Hope you have a great trip, and make sure to grab your hotel & room with Get Away Today. Use coupon code CURLS10 to save an extra $10 on a hote/ticket package.
Don't miss my list of Best Affordable Disneyland hotels — a list of 30+ of my favorite hotels (plus my own current top 10 hotel list).