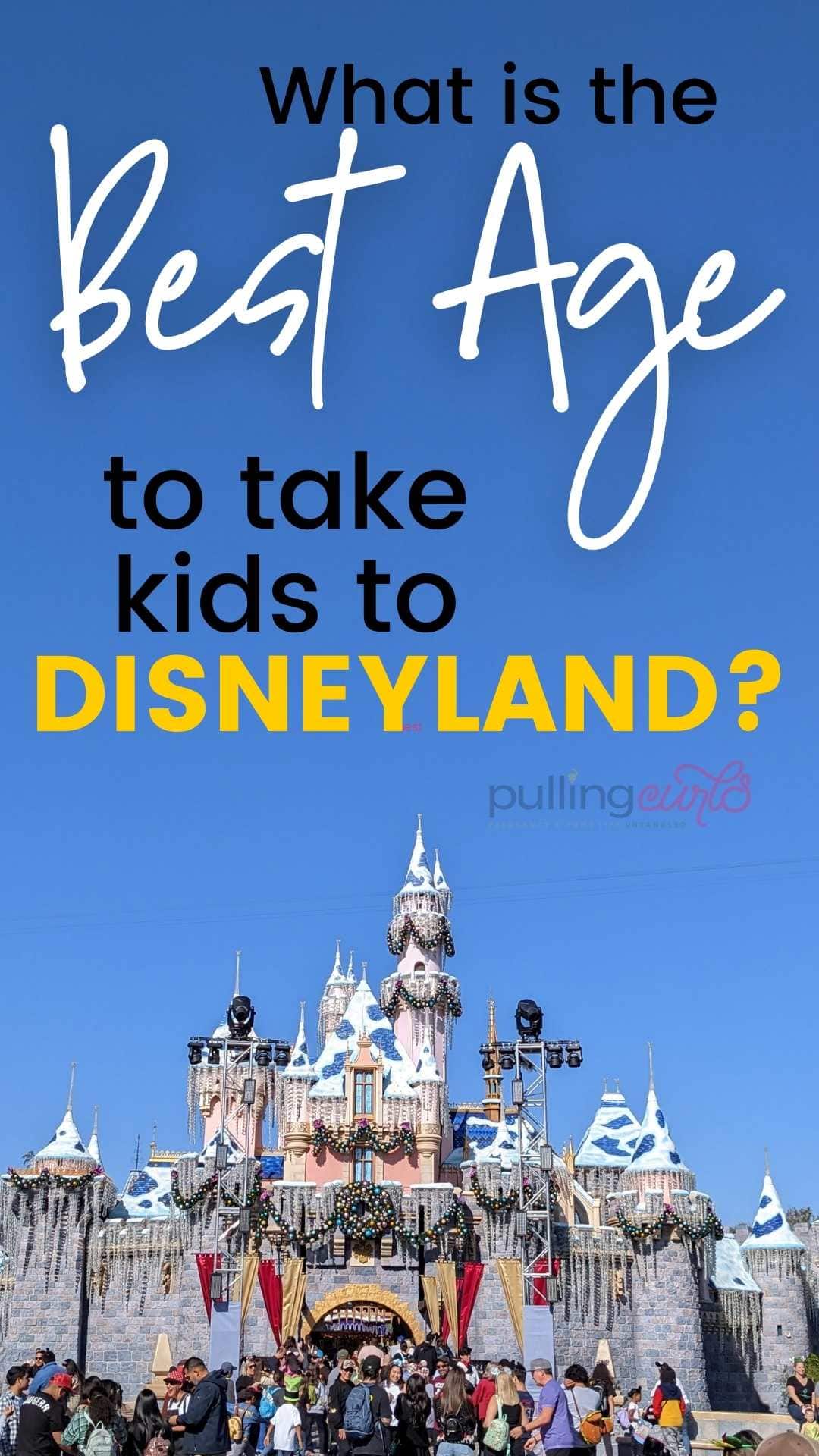 Are your children begging you to take them to Disneyland? Are you wondering what is the best age for kids to enjoy a Disney vacation? Taking young children on a trip to Disneyland can be an amazing experience, but it's important that parents are aware of the potential pitfalls such as overwhelming crowds and heightened costs. In this blog post, we'll discuss why certain ages may be better than others when it comes time to plan your trip To The Happiest Place On Earth!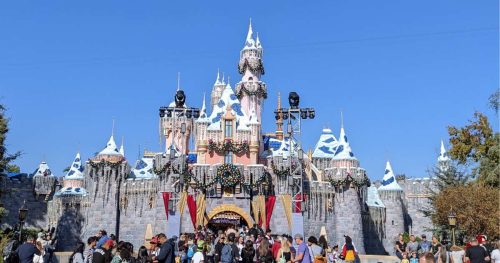 Hi, I'm Hilary — some people call me a Disney pro, but I've had just as many breakdowns at Disneyland as the normal family. I think I may be better at PLANNING a Disneyland trip than I am actually being at the parks. BUT today I want to share some of my knowledge with you on the BEST age to take kids to Disneyland?
FYI I think this advice rings true for Disney World as well, just be aware that Disney World is spread further apart and will involve more walking.
Questions To Ask Yourself About Taking Kids to Disneyland
#1: How often do you plan to go?
Is this a once-in a lifetime trip? Or just the first trip of many? That really changes things.
I will admit that my kids are surprised that other kids have only been to Disneyland once or twice, even when they live close by. So, you can tell we've been more than a few times. 🙂
#2: What's important to you?
Do you want to just see Disneyland through their eyes, do you want to give them a trip they'll remember forever? Do you have other kids that are at that "ripe" age and you need to drag alone some other ones that aren't — all of those are fine, just acknowledge what your hope for the trip. 🙂 that may change what age you think is best for YOU.
Because, frankly, Disneyland isn't cheap (even if it can be done on a budget) — so you want to be sure that you're getting what YOU need out of this trip. And if you're not, maybe wait a few years. 🙂
Oh, and grab my Disneyland trip calculator before we get started:
I'll also share a few of my favorite hotels for each of these ages (since that's an area I'm batter at than parenting in the parks) 😁
Taking Babies to Disneyland
With careful planning and preparation, it is possible to take even the littlest of kids to Disneyland. If your toddler or baby is under 3 years old, they will get in for free (meaning once they reach the age of 3 you have to pay for them). This can be a great way to save on admission costs, but keep in mind that babies may become overwhelmed by loud noises and large crowds. Be sure to take regular breaks throughout the day and make sure your little one has plenty of snacks and comforts.
This is actually one of the MAIN things that I love about Disneyland is how baby-friendly the park is. Not just that they have famous baby care centers but a GOOD number of rides you can go on with a baby (even like a BRAND NEW baby — although I'm not sure I'd recommend it). I have a whole post on the best rides for infants. Tiny babies can even go on the Pirates of the Caribbean!
This baby advice is NOT the same for other parks. My parks like Universal or LegoLand are NOT nearly as baby-friendly.
Remember that Disneyland is a very stroller-friendly park. So, that won't be an issue (we always packed ours with all the things we needed, and it was handy to have it at our fingertips).
If you're taking just a baby to Disneyland, don't do it for them. They won't remember it and there are going to be some growing pains to being out in the elements and off their schedule. If you can't WAIT to have your little one meet the characters and have photos by the castle, than this is the trip for you. 🙂
Taking Toddlers to Disneyland
Toddlers (1- almost 3 year olds) are a great age to experience Disneyland! At this point, they'll be old enough to go on many of the rides and enjoy the shows. They're also likely more aware of their surroundings and can better appreciate Mickey Mouse, princesses, and other characters.
These kids are still free and frankly, will be more fun than an infant in the parks. However, it's still going to have some "pains" with being out in the parks all day. Stuff may scare them, or be too intense. They likely won't be tall enough for the "big" rides — so you'll still be enjoying the parks through their eyes.
I've taken babies and toddlers a few times when we were taking older kids. It worked out well to take them BEFORE 18 months because they napped better. Just a personal opinion (we'd stick a blanket over them and I'd go to a louder area of the park and they'd zonk right out.
I have a whole post on how to enjoy Disneyland when you're taking lots of different ages.
You may want to just do Disneyland with tiny ones (babies or toddlers). California adventure has much less for kids who are smaller, it's something to keep in mind (and will also make it less overwhelming to only have one park to navigate.
Best Hotels for Infants & Toddlers near Disneyland:
The Suncoast Hotel has a LOT of room for cribs/playpens in their rooms. Makes it nice so you're not all jammed in there. It's not far — walkable if you're doing strollers
If you're interested in some pool time the Howard Johnson's has a great play area for younger kids to enjoy
If you want to head back for naps, you can't beat the Best Western Plus Park Place Inn – -right across the street (I think it's better than the CA Adventure).
And you may notice my links take you to Get Away Today – they're my FAVORITE travel agency for Disney travel (I've used them since 1998). I'm consistently wow'd by their rates and they really do offer amazing deals for families. Plus, I think they are the SIMPLEST way to plan a Disney vacation (they vet the rooms, and get you the guaranteed best pricing). OH, and grab your tickets with my link, I have exclusive savings! If you're booking a hotel/ticket package use code CURLS10 to save an extra $10 on your trip!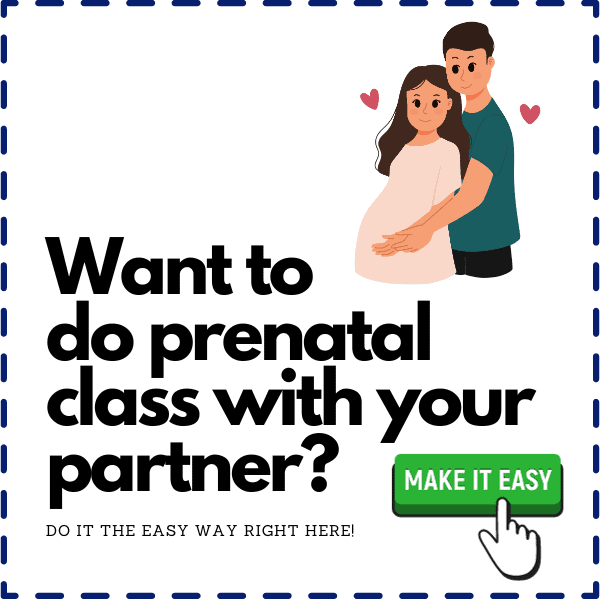 Taking Preschoolers Age Group to Disneyland
Preschoolers (ages 3-5) starts to be one of my FAVORITE ages to take to Disneyland. They'll be old enough to enjoy many of the rides and shows but not too old that they won't appreciate them.
Don't hesitate to head over to California Adventure at this point. For some special little boys I knew once upon a time cars. land. was. EVERYTHING! So exciting!
At this age they think EVERYTHING is so magical, and they haven't solidified the "line" between pretend and real so sometimes they get so caught up in how everything is so real and amazing (and this can also be scary too — so be careful).
And it just makes me teary-eyed thinking about taking my kids who are now out on their own to the park when they were this age. It was just so fun.
It was also a struggle as they may not want to wait in lines, or frustrated by rides being closed. So, just plan on that too. I also had a 3 year old wet his pants 4 times at Disneyland. I wasn't a fan of that day. 🙂
Pro Tip: Bring extra undies and maybe pull-ups at this age. They just get out of their "norm" at the parks. They're so excited they don't want to use the restroom. And yeah. Let my experience save you. 🙂
This is also an important age to think about what scares THEM! My babies weren't scared of dark rides, but my preschoolers were. I have a whole post on the scary rides at Disneyland. You can also grab the printable here:
Taking Kids Ages 5-8 to Disneyland:
I think of this as the "lower grades" in elementary school — so, under third grade.
This is really my sweet spot. They haven't quite lost all their "magic" and they are taller (and hopefully less whiny). They also don't need naps and can just enjoy a longer day at the parks.
They also are going to remember the trip to Disneyland (my kids don't remember much about their life til' about age 6). And frankly, nothing irks me more when I'm saying "don't you remember going" and they literally don't. BUT, I remember how much it costs — so if that's important to you, wait til' they're closer to 6 or 7.
Plus, they have actual interactions with the characters and the parks staff. It's just fun.
If you have a little one who loves a specific princess (think ages 2-7 or so), feel free to bring along a dress-up dress with you. I recommend one you can easily take on/off and shove in the stroller. All the cast members will say "Well, hello Snow White, how are you today?" and it will just make your cheeks break from smiling so hard. 🙂
If you're going to bring a princess dress, I recommend one that won't look like trash coming out of a backpack: Something like this or this is awesome!
Taking kids ages 8-12 to Disneyland:
If you have kids in the 8-12 year range, they're likely more independent and can explore some of Disneyland on their own. I try to put these kids "in charge" more of picking out snacks, and deciding what ride to go on next. Make SURE that you understand completely what THEIR goals for this trip are.
They'll have more thoughts and feelings about how this trip should go — so be mindful of that. 🙂 Still a great age — GREAT if you love thrill rides. But some of that little kid "magic" will be gone. It's just replaced with screaming like crazy on Space Mountain with you. A win either way in my book.
Kids over 7 can generally ride a ride alone per Disneyland guidelines (before that, they need someone over 14 to ride with them).
Best Hotels for School Aged Kids Going to Disneyland:
My kids LOVED Castle Inn and Suites at that age — because it's a castle, obviously. The hotel isn't too expensive, it's walkable and the theming is fun!
The Cambria Hotel has some larger suites if you're bringing multiple children. It also has a nice water park (perfect for bigger kids).
If you want to splurge The Fairfield also has a water park and is also walkable. It's defintely a splurge tho. You may want to check out the Disneyland Hotels to see if they're a better option.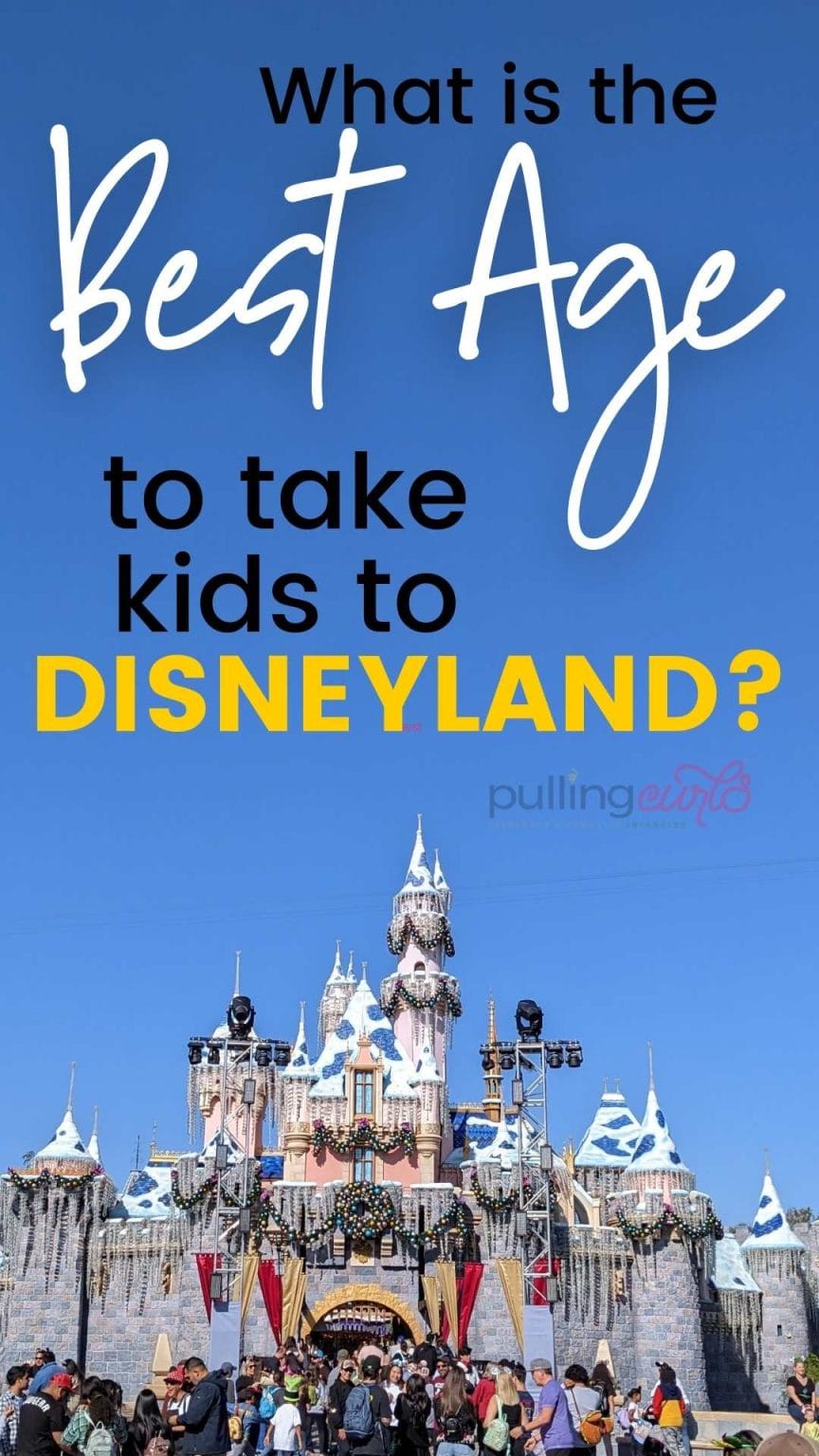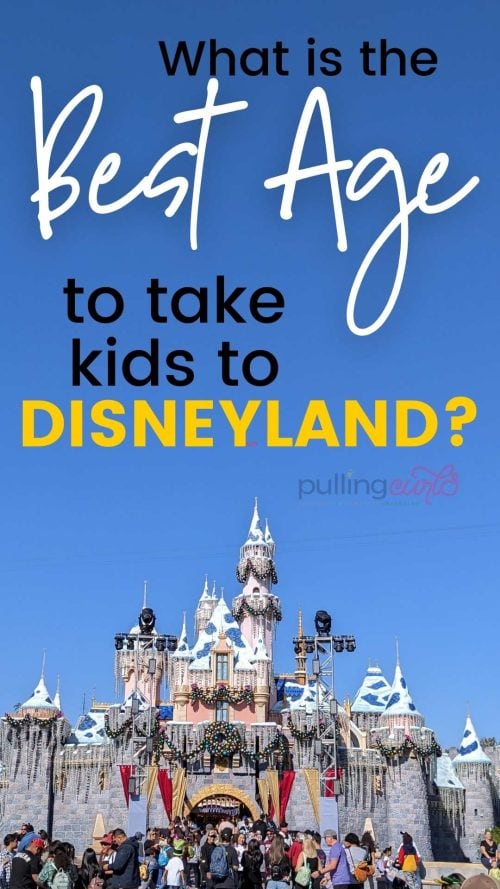 Taking Early Teenagers to Disneyland
These kids (ages 13-15) are pretty similar to 8-12, but if you have one or two this age sometimes it can be nice to give them a bit of park time on their own. That newfound freedom will feel pretty amazing in their heads. Just make sure they have a cell phone (there is a chance there will be an issue you need to help them with), a budget (if you're giving them some money) and make SURE you're very clear on the meeting time and the consequences if they're not there in time (or don't communicate).
This is a GREAT age if you also have younger kids. Kids under 7 have to be accompanied by someone over 14 — and yes, your teenager will let that "adult" status go to their heads. Also, if your spouse can't go — this will be a good age as they can help with the younger kids more!
And once again, I'm a little teary thinking about how much fun my 13 year old had with my 5 year old at Disneyland. Heart warming for sure for the parents. They remember all the thing they loved at that age, and you love them having those memories.
Grab my Disneyland day planner right here (a good one to make strategies in advance):
Taking Older Teenagers to Disneyland
Finally, if you have older teens, Disneyland can still be a great experience. However, I'd outline some of the rules you'll have:
Will you let them in the park alone?
Can they stay later than you?
Can they go on rides alone?
Will they need to ride some of those "kiddie' rides with younger siblings?
What kind of food options will you be giving them (food is important at this age)
I think setting expectations at this age can really stop any potential issues before you go.
Remember, every family gets to set their own rules and what they feel most comfortable with.
I have had a FANTASTIC time with older teens. Some of that comes from thinking you may not get to experience this again with them, so the memories mean more.
Best Hotels for Taking Teens to Disneyland
Best Western Park Place is RIGHT across the street — which makes it nice if anyone wants a break. It also has a free breakfast, awesome for hungry teens.
The reality is you are NOT going to be in your hotel much of the time with kids this age. I'd check out my post on S Harbor Hotel rooms, or my post on the cheapest hotels if that's a better fit for you. Any of those should be fine.
Taking Adult Children to Disneyland
I actually took my 21 year old to Disneyland last Christmas and we had an amazing time. We were in a tense parenting spot where I was more worried about him than I should be, and we didn't have a whole lot in common.
But, the thrill of Disneyland took a lot of that away. We rode rides and reminisced like crazy. It was one of my favorite trips of all time — just me and my son. 🙂 I don't know that we would have had as good of a time at any other destination, just because Disneyland gave us so much to DO!
Also, be aware you're going to run around the parks like crazy with older kids and adult kids. They'll be dragging YOU! Maybe you can get a stroller for YOU this trip. 🙂
This isn't quite as hard to figure out where to stay. I love staying at the JW Marriot with adults. It's quiet and walkable (although not as walkable as soom). Most of your thoughts will probably be about proximity and budget at this point — so check out one of these posts to figure out where to stay: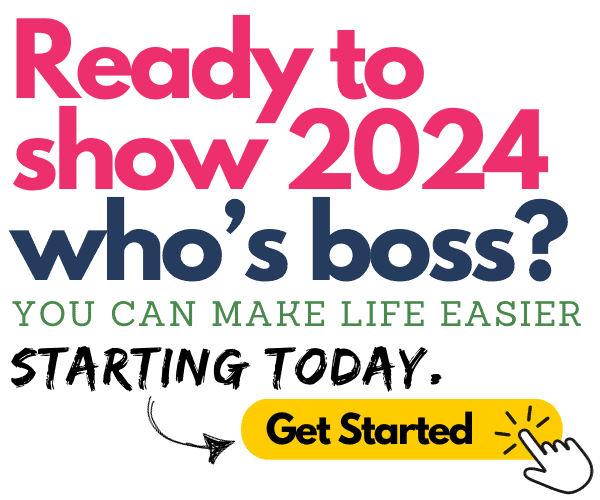 And, be sure to check out my post on Disneyland hotel tips for some good things to consder!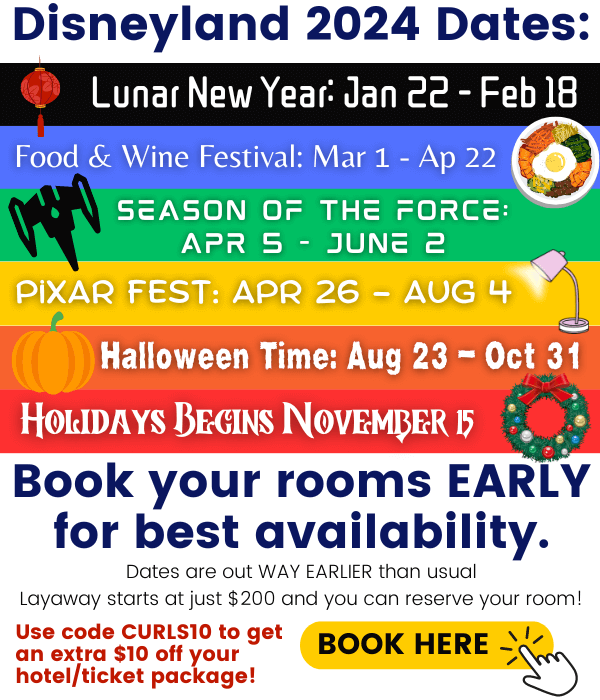 What do I Think Is The Best Age for Disneyland?
If you only have ONE trip — I'd wait til' they are tall enough to ride the rides. In general this is 46″ (for us that's been around 7 or so).
For ME this balances the "magic" of Disneyland with the fact they will remember going there and can converse with friends about going there (Disneyland trips can be a big topic of conversation at school).
However, If your child is still reticent to ride things, you may even want to wait past that time — til' around 12. You may also want to try out some local theme or amusement parks to see if they even like rides….
But, if I had to pick my personal favorite ages to watch my kids at Disneyland, it would be four. For a few reasons:
They, in general, have potty training down so you don't have the potty incident day I had. 🙂
They don't NEED a nap as bad
They are still in a prime stroller age (and that's nice when you're going to/from the parks especially)
Everything is JUST so magical. They know the characters, they're excited for the rides and gives you TONS of time to talk about it before the trip and hype them up.
It's just that age when it's AMAZING when things you think are just in a book or on TV and when they come to life you're just SO. EXCITED! It's amazing, and I can't wait to take grandkids who are that age. In a nice long while. 🙂
But really, there is great things to do at Disneyland not matter WHAT you (or your kid's) age!
Hope you guys found that helpful. Tell me what age YOU think is the best in the comments. I'd love to know. And what I know for SURE is that booking my hotel with Get Away Today definitely makes it more fun because I'm not burned out from calling 400 hotels to find the best spot. If you're not sure where to stay totally give them a call, their reps are SO helpful! And use code PCD10 to save an extra $10 on your trip!
Don't miss my list of Best Affordable Disneyland hotels — a list of 30+ of my favorite hotels (plus my own current top 10 hotel list).