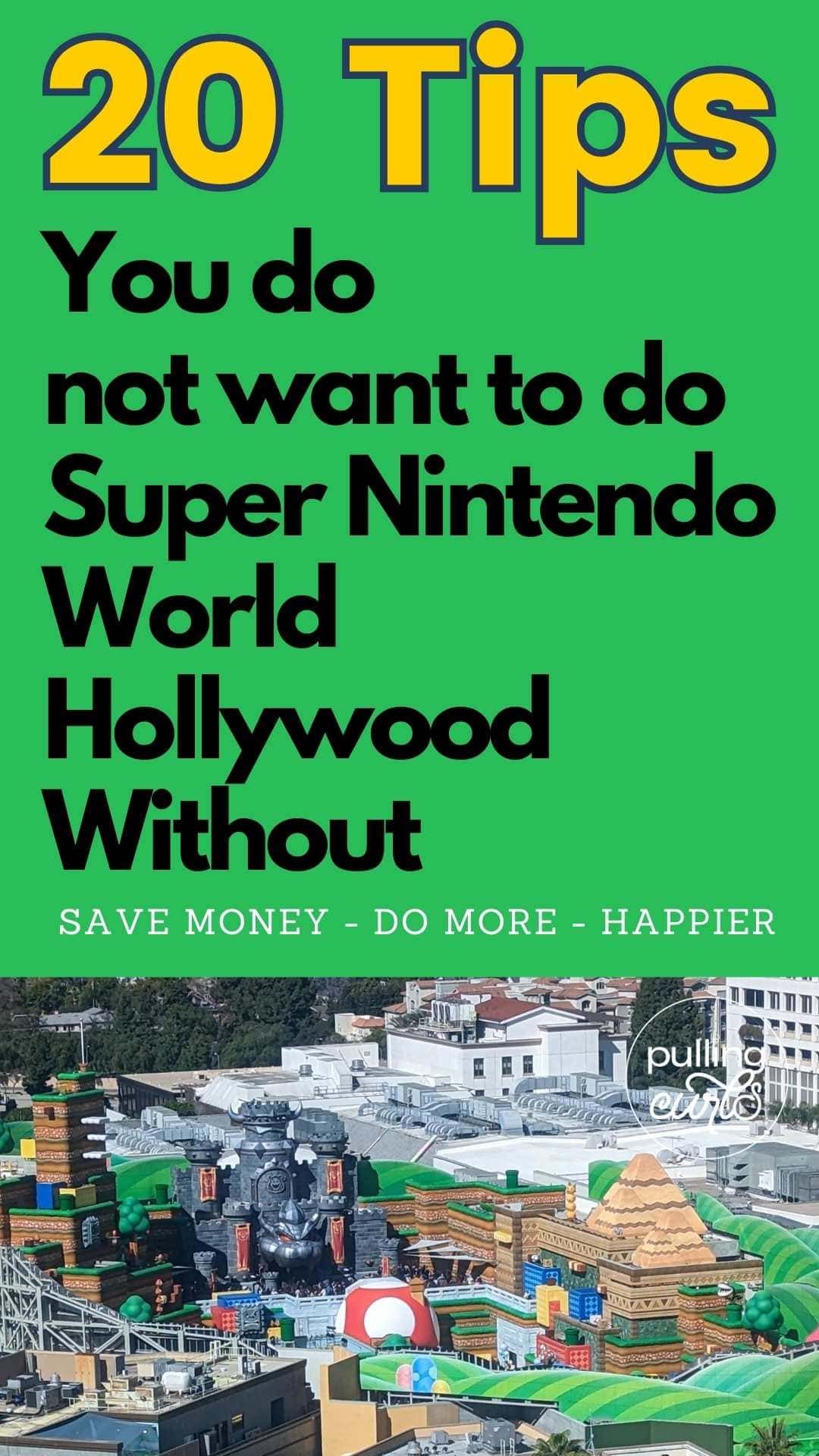 The time that gamers everywhere have been waiting for Super Nintendo World at Universal Studios Hollywood has opened! I know you're excited to head to the land, but first let me give you 20 tips that you literally should NOT go to the parks without.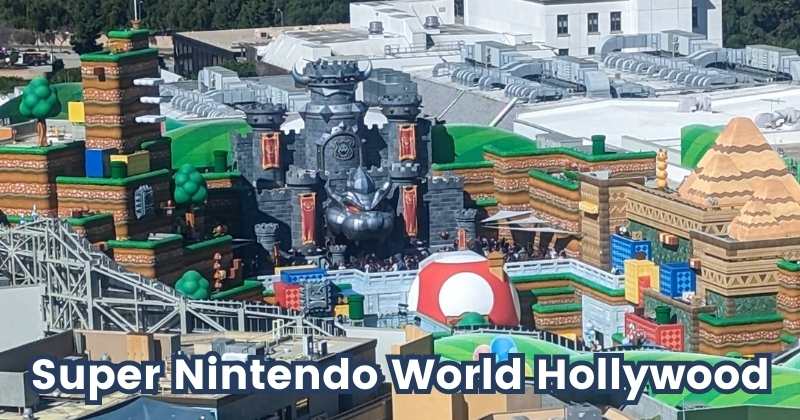 But, before we get started, full disclosure Universal did provide me some of the tickets for my party. I had previously written about Universal and I wanted update those posts and share some tips for the new land. Big thanks to them, but you will find that I still have some plusses and minuses about this new land. Ok, let's get started
Before You Go To Universal Hollywood Tips
Here are a few things to do before you stay!
Where to Stay to Visit Universal Hollywood
I have heard FAR too many people say to just stay by Disneyland and go up to Universal. Guys, this is Los Angeles, and their traffic just rivals anyone else's. Can it be done? Yes. In extreme circumstances (like, getting a night free or something that really makes sense) this does work but you will need to leave at least 2.5 hours before the park opens. AND you will likely have a very stressful drive home.
Some people have recommended taking a bus service up to LA but the cost of that may be more than getting a hotel closer to Universal.
I recommend you stay by Universal if you're going to the parks. For a few reasons:
There are a few close by, some that even have shuttles, that will make for a MUCH more pleasant morning before going to the parks. No reason to start the day with road rage or agitation.
Makes it easy to get home. Traffic after a long day at Universal isn't fun so I'd avoid it if possible.
There's actually a lot of great activities to do around Universal that are a great price (many are free) and a total piece of a Americana

Griffith Observatory (the museum is free, they only charge for the planetarium showsVisiting Hollywood Boulevard, and Graman's Chinese theaterMoholland Blvd offers some great viewsSeeing the Hollywood sign

Watch a taping of a favorite show (we've done Jimmy Kimmel before)
There are a few that I recommend.
The one we have stayed at most often is The Magic Castle Hotel. I have no relationship with them, but they have rooms that easily sleep our family of 5 (and some rooms that sleep up to 6), they offer FREE SNACKS and white glove popsicle service at the pool. There was a time in which my kids thought this was actual heaven.
The downside to this hotel is that the rooms, while clean, aren't particularly well-kept. The floors all have issues, there's issues with paint, and everything is very basic. But if you have a large party and you think unlimited snacks (think Oreos, Rice Krispie Treats and Sour Patch Kids, plus they have soda machine and an ice cream machine) are a draw—this place makes for a very fun stay.
They say it's about an 8 minute drive from the hotel to Universal, and depending on traffic – ours was usually around 10 minutes from when we got in our car to the theme park.
If a nice room is a requisite for you, that isn't the hotel for you. I do have a couple others that do offer that:
The Garland is also a great option. They offer a free shuttle to the parks, which is a BIG perk. I think it also has a great retro vibe that I really like as well.
Holiday Inn Express North Hollywood – Burbank Area is close by and offers a free breakfast.
Hotels in this area are more expensive, in general, but you will appreciate being close by.
How to Get to Universal Hollywood
Parking at the park is currently $30 for a full day. We actually took an Uber to the parks and it was less than the parking fee (and no stress for us – as that drive to get over to their exit was a difficult one).
You can also use that free shuttle from The Garland (a HUGE perk).
You can also take the redline to their metro station and then take their free shuttle up from that station. This was actually my plan if we experienced surge pricing back to our Hotel with the uber. BUT our Uber was only $12, so it was actually cheaper than public transportation.
If you're planning on coming in from somewhere else in the LA area, the good news is that Universal is right off the freeway, and their parking structures are really well placed. They are all built off their Citiwalk where you can easily walk into the park (aka, no crazy trams or shuttles you have to take from parking).
How to Reserve Toadstool Cafe Reservations
At this writing, you will want to get a Toadstool reservation early in the morning of your trip.
The advice in the parks is to scan their QR code when you get there. However, this QR code timeframe has been different the past few days.
Sometimes it opens at midnight the day before, and sometimes it opens at 6 am – so I have the link and then I just refreshed it a few times as I got-up and got ready. At about 6:35 it opened up on the day we were going.
I actually checked a few times in the morning heading up to our stay and while that was helpful, because they keep changing it, which makes it hard to make a plan sometimes. Either way, just try to get a reservation as early as you can for Toadstool Café if you want to eat there. Most often they are all gone for the day by 9 or 9:30.
I actually like their food. We mostly ordered the burger and chicken sandwich. The garlic knots aren't as good as our favorite pizzeria, but they were well-liked and if you're a frosting fan the Peach cupcake can be a fun one to split when your meal is over.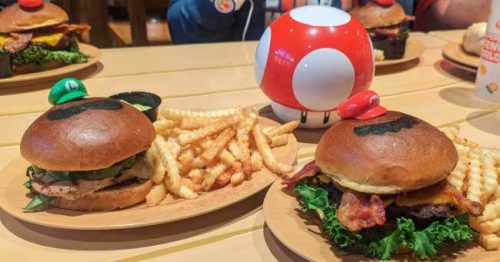 Get Discount Universal Studios Hollywood Tickets
And of course, never buy your tickets at the gate. Universal Hollywood doesn't have reservations (unlike Disneyland at this time) but it does have date-specific pricing, so once you know your dates, you should go ahead and get them. If you get a package from Get Away Today the tickets are actually refundable if you get their valuable Peace of Mind Plan. So, I love that. 😊
Universal Tickets with Get Away Today are cheaper, and work the same as if you purchase them directly with Universal, so save yourself some cash. A few things to note:
Make sure you pick your date of visit
They do offer multi-day tickets at a great price! Great if you'd rather spread out your stay rather than do it all at once.
You can also add the Express pass which allows you to skip the lines. While this is an increased cost (a pretty big one) it can save you from adding an extra day to your stay, which decreases hotel, food etc costs….
I have heard that if you can't make the dates you've picked (say, a kid gets sick) you can call the # for Universal, and they try to be accommodating to help you move your vacation to a date that they will feel better for.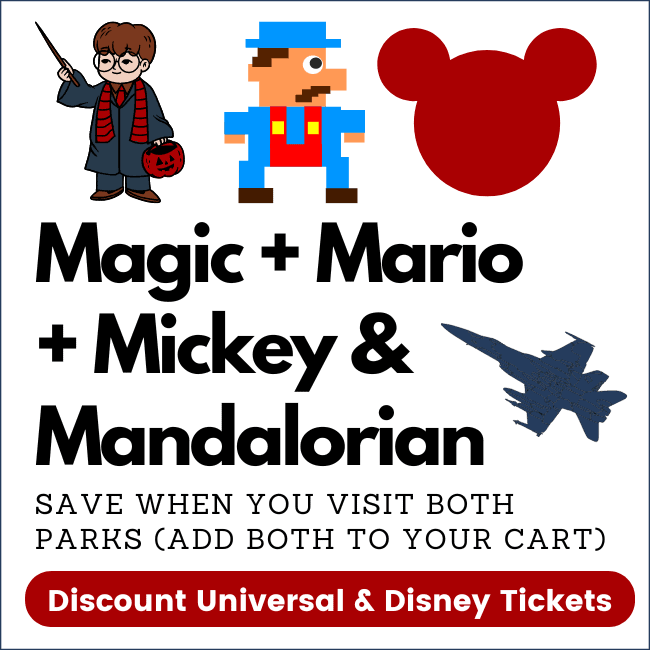 Get Early Access to Nintendo World
At the time I am writing this, they are selling a limited # of early access passes to Super Nintendo World. That allows you into that land (and only that land) an hour before the park opens to the general public. They have to be bought directly on the Universal Site.
You'll want to get yours about a month in advance if possible, they sell out fast. Once you know what dates you're going I would encourage you get on the website and purchase these.
I'm not saying that Super Nintendo World can't be done without them, but I am saying that it is really nice to have less people there. For us, we were able to ride the ride twice before the rest of the guests were allowed in, and it was really nice. If you're going with people who are used to mastering Mario Kart at home, they will likely want to ride this ride more than once – and this is the best time to do that.
However, if you don't get early access you can still enjoy it, you'll just be in lines longer.
Download the Universal Studios Hollywood App
Prior to this visit I always felt like the app was pretty useless. Wait times aren't always accurate and there isn't mobile ordering like there is at Disneyland.
They actually don't even keep your tickets in your phone (so you'll want your paper tickets handy if you're using their express pass).
BUT the app is super important in Nintendo World. In there you can find out more about the land, what there is to do and how to enjoy it.
Also, if you buy a power-up band you can see it in there, and monitor your key, stamps and coins. We'll talk more about those coming up….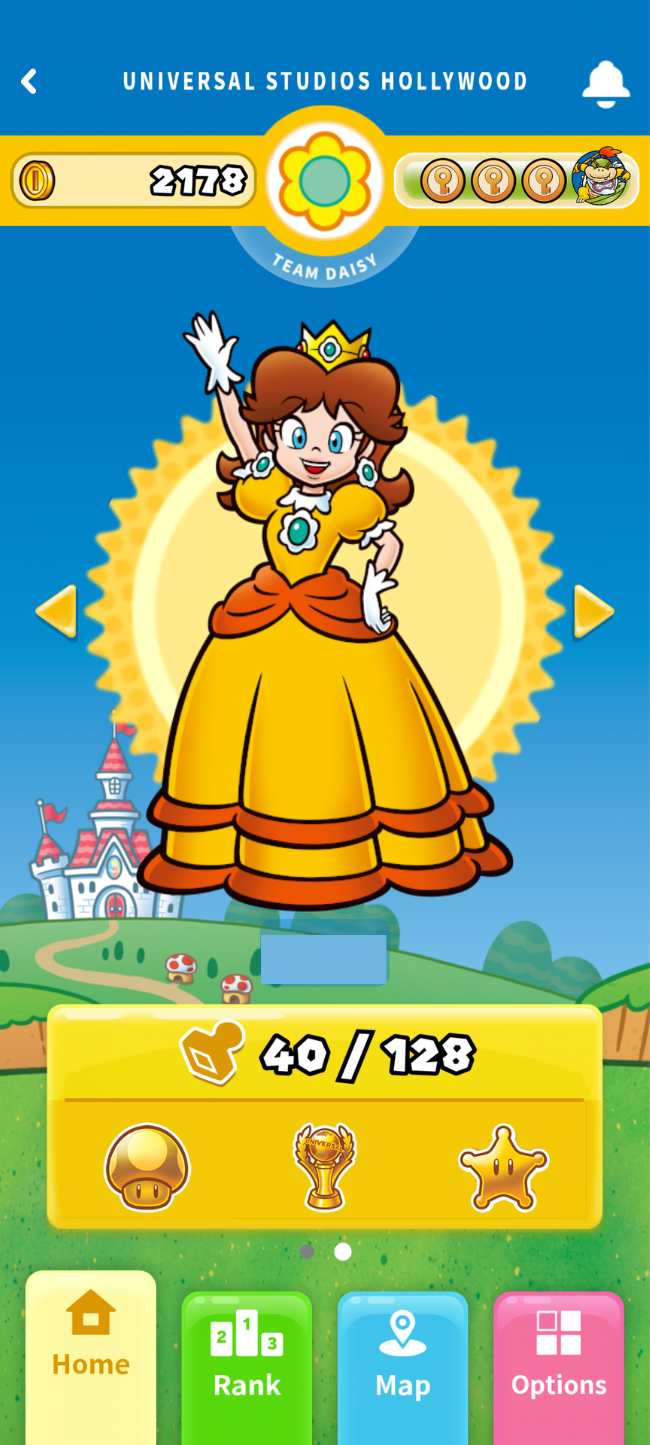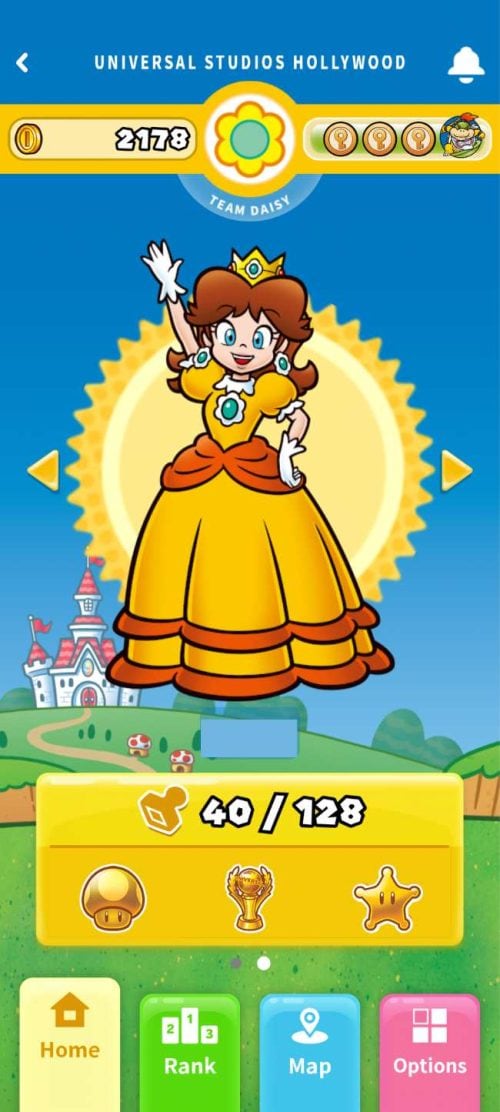 Super Nintendo World Hollywood General Tips:
Ok, let's talk about the land, and some strategy to how to do it without getting overwhelmed with all the people, etc.
Super Nintendo World is Not Big, And it's CROWDED Right Now
It is not a big "land". It's got a lot packed in there, but it isn't actually that large of land, especially the square footage that you can enjoy roaming on your own – that isn't filled with lines, restaurants or rides).
And, since the land just opened it is crowded. Not like shoulder-to-shoulder crowded (they do monitor it and they shut down entrances to the land until it clears-up a bit – but there are a LOT of people there.
I just don't think I was prepared for how busy and crowded it would be because of how all the things branch off from a main center point.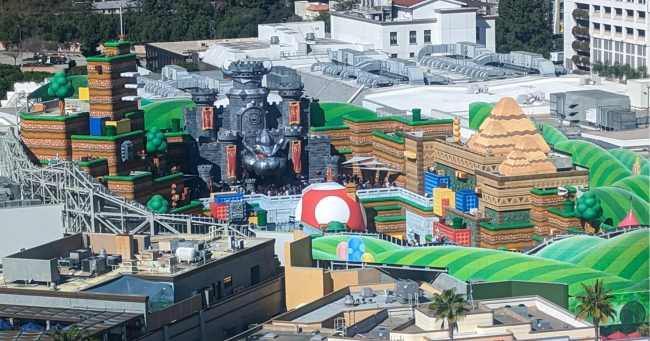 Super Nintendo World is in the Lower Lot
It can feel really easy to think that you'll just head down to the lower lot for a bit, but that escalator ride is always long, and it really separates that part of the park from the rest of it. We try to group all of our lower lot activities together when possible. And while you could ride down again later in the evening to ride again once crowds have died down, you are not going to want to make that trip several times/day.
FYI there are 4 LONG escalators (longer than you average mall ones) that take you from the upper lot to the lower lot, while there are 4 of them (2 up and 2 down) sometimes one breaks and there can sometimes be a bit of a backup.
Super Nintendo World is LOUD
Now, I'm not saying it's loud because of the people – I am saying you hear that Mario success song over (my kids call it the flag-raising song), and over, and over no matter where you are.
If you have a child (or you, yourself) are bothered by loud or repetative noises, I'd strongly recommend having some earplugs or headphones for them. As you wait in the line to do the mini games (more on them coming up) you hear the Mario Music over and over and over…. I just think some people might get really bothered by that. Initially it was fun to hear people winning the game, but it could get old fast.
I have some people saying that there are no quiet zones for kids who are over-stimulated, and I would agree with that. Honestly, if your kid is that person I probably would delay a stay for a bit until the newness has worn off a bit and it's not as crowded.
Power-up Bands at Super Nintendo World
Similar to how Harry Potter has wands that interact with that land, Nintendo World has Power Up Bands that allow you interact with Nintendo World.
These are NOT REQUIRED. You can ride the ride, eat at the Café, see the characters and enjoy the ambiance in the land very well without them.
However, if you want to play the mini Games (more coming up on those) you do need a band. You can't even initiate the game without a band.
You can 100% borrow a band from a friend or purchase one at the parks if you'd like. They start at $40/band. We had 5 of us, and we had 2 bands. We just switched off and it was not a big deal at all we also have two harry potter wands).
In asking my kids what their best tips were, they all felt these bands were overpriced for what you get with it. Bands can easily bought in the land, so maybe see if your kids really need them before purchasing them. That being said, if you don't buy bands you have the ride, a place to eat and visiting characters if you want to — the mini games aren't something you can experience.
Binoculars at Super Nintendo World
On the upper level (accessed to the right of the Bowser Jr Challenge) there are binoculars that you can look out on the land. Not only do you see what is already plain to the eye, but they also overlay it with animations of mario blocks, flying creatures and more. It's a fun view of the land.
Visits with Mario Characters
Mario, Luigi and Peach come out to see their visitors a few times/day.
They don't stay long, and frankly – I think they should have one or more of them out at all times because they are SO popular.
We tried to get in line ot see Mario before he even came out and they had cut off the line before he had even come out.
I have heard that these interactions are kept pretty short, and some people felt "rushed" to see them. They don't sign autographs, and while they can blink and trigger a few sayings they don't talk with you during it. It's mostly a photo op and then done.
Light-Up 8 Bit Characters
Around the area you'll see power-up band spots where you can tap your band and then a character magically appears. You can see how from the Pow cube mini game looking towards the wall – look for the M with a circle around it brick in the wall.
Super Nintendo World Virtual Queue
At some point the park may get so full that they shut the park and institute a virtual queue. Be mindful that this is JUST to get INTO the park (this would be for everyone's safety in the area). It doesn't save you a spot in line for the ride. This can happen on some afternoons, especially on weekends.
This hasn't been happening as much lately. People say that if you get there early enough you should easily get access to the land, and if you come later, just sign-up for the virtual queue and then head into it when you are called. Also, they lift the queue in the evenings as more people leave.
How much time do you need at Nintendo World?
This really varies by your party. I have kids who LOVE Nintendo, but they eventually got bugged by the crowds and the noise and wanted to go. We were there from about 8 am til' noon'ish (we had an 11 AM Toadstool café reservation). I'd guess 3 hours is plenty of time to do the things you want to do, unless you want to ride the ride more than once. We did everything but 1 one of the mini games, rode the ride twice and ate at the Toadstool Cafe but did not wait for characters.
Nintendo World Time Strategy Tips:
I've had a few people ask what's best to do when you get into the world. If you have early access, and the mini games are important to you I would recommend doing games for 15-20 minutes (probably the Pirana and the Gumba one) and then getting in the line for the ride. That would hopefully give you time to do the ride twice before the rest of people are allowed in, but also doing games with very few people in line.
If you don't have early access and the ride line is short enough for you, I'd get in line for the ride. The line will not be getting shorter until the later afternoon.
That being said, I'd do what excites your kids most. If there's something they really want to do, do it!
Mario Kart : Bowser's Challenge Ride Tips:
There is just one ride at Nintendo World (and as far as I can tell, or when I talked with Unviersal earlier this year — that's how it is going to stay). So, here are my best tips for their Mario Kart Ride:
How it Works
Note: Some spoilers ahead.
For me, this ride combines a traditional dark ride, but overlays it with projections on a visor in front of your face.
If you've played Mario Kart Live Home Circuit before it looks sort of similar to that.
You are given a headband prior to getting into the vehicle, and a visor clips on to that headband that has a clear portion that goes in front of your eyes.
You also have a "shooter" that you can shoot things in the ride.
You go through several of the regular "tracks" on this ride and each room has a theme. It's well-done.
It does not go at a high speed, and there is no real "motion" to the ride. Honestly, think of your traditional dark rides and you'll know what to expect.
How to Tighten Your Headband
For me, I'd always extended the headband straight out (like a straight line) but I saw on one of the ride explanation videos to extend the back park down a bit so that it fits lower down towards your neck. If you do this, it's less likely to slide around. The visor is pretty heavy once you clip it on, and this helps it not move so much.
This photo shows it a bit bigger, just pull that back part where you tighten a bit lower, not in line with the front part: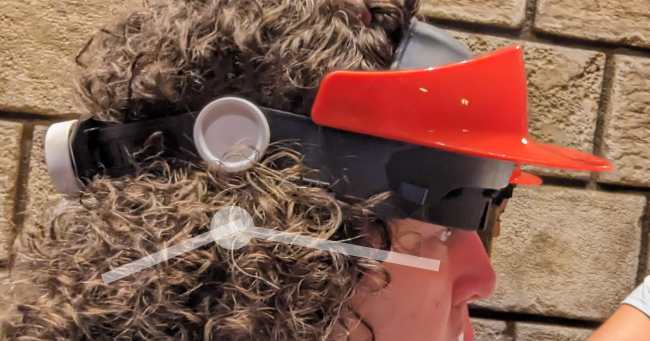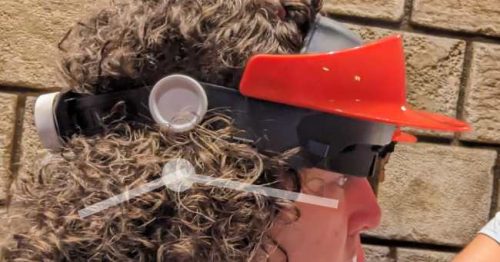 General Ride Tips
My first ride of the day I couldn't remember how to aim my shooter, but it goes with your vision. So, if you want to shoot higher, look up. If you want to shoot to the side, look there.
The ride stops pretty frequently. While this is annoying, when it stops you are given unlimited shells to shoot at that point, so it was a fun time to aim at whatever.
The ride often isn't open first thing in the morning (even though you've paid for early access) so it's just something to be aware of.
Mini Games at Super Nintendo World
There are some games that you can play at Super Nintendo World. They're like the mini games you play on your Nintendo console, but come to life!
Location of the 4 Mini Games + Key Winner Game
There are 4 mini games, plus a game you can play if you get enough "keys" which is what you get if you "win" a mini game.
Here's is a picture of the Nintendo Map and where the games are (Bowser Jr Challenge can't be played until you earn keys – more on that soon):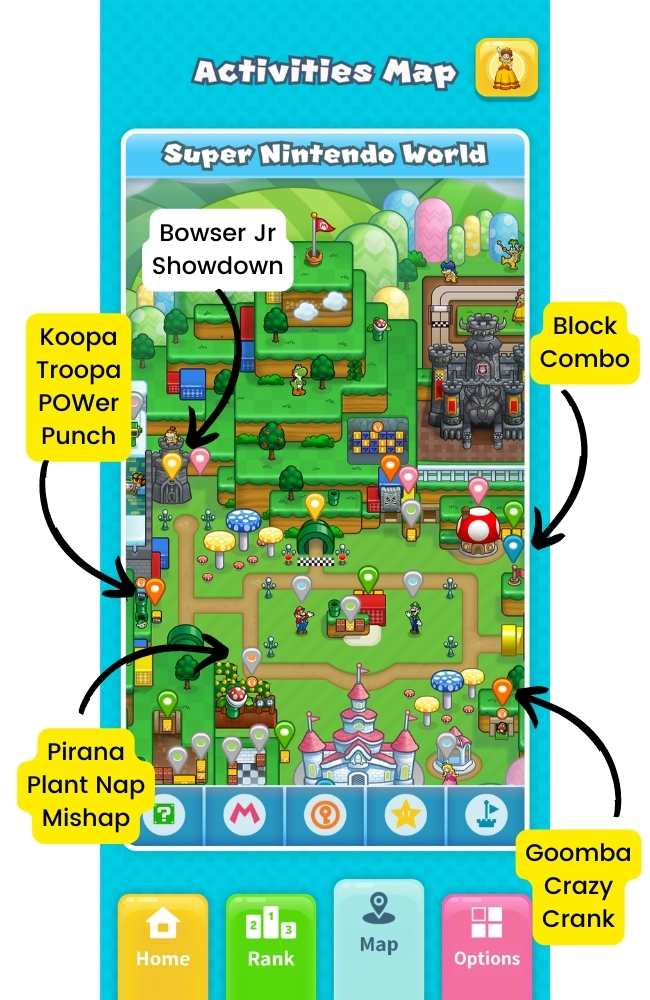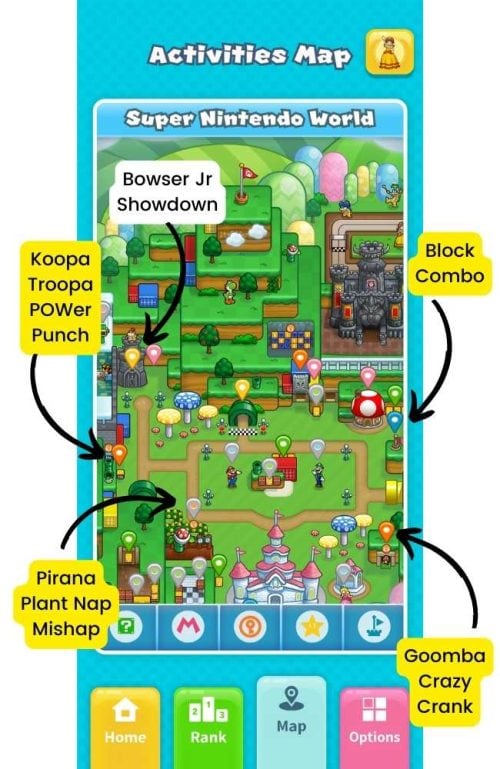 Mini Games Differ in Popularity & Difficulty
The thing to remember is that you only have to get 3 keys, and you can honestly get that with just ONE mini game (the keys don't have to be from different games).
Pirana Plant Nap Mishap game seems to have the longest line because it takes the longest to do (and is the first one as you enter the land). The line also goes into the "mountain" and so you can't see the whole thing
The Gumba Crazy Crank Game game is hard for little kids because the crank is pretty large and it's too much for a small kid to do (depending on their height and strength).
The Koopa Troopa POWer Punch Game was my favorite. It reminded me so much of the mini games I'm used to and it was fun to try. We probably waited 10 minutes for this one mid-day. It doesn't take long for most people so the line moves quickly.
The Block Combo game is played entirely on a screen. It is sort of hidden, and several people can do it at once.
If you're looking for easy/fast I'd stick to Koopa Troopa and Block Combo. Koopa Troopa is easy, and Block Combo is sort of hidden so not as many people go there.
Once you "win" a game it activates difficult mode for the next time you play it. WHich means if you're sharing a band, have your child do it first and the parent do it second. If you play a third time it will go back to regular mode.
Power-Up Bands with Mini Games
As I said before, you do need to have a Power Up Band to play these games, but not everyone in your party has to have a power up band. We'd just take ours and pass them to the next person and they'd play the game. In doing so, we were able to earn keys quickly and efficiently (and cheer each other on).
Get 3 keys, play Bowser Jr.
Once you get your 3 keys (you can check in the app on the top right) you can head over Bowser Jr's Challenge
The Bowser Junior Challenge is super fun, it has good instructions and kids/adults of any age should be able to do it (it does require ducking, some jumping and arm movements). And yes, they do check your 3 keys before you're able to enter — they turned away a lot of people.
Once we had our 3 keys on both of our power-up bands we went to Bowser Jr's challenge, and they let all of us in to play the final game. I have heard they only allow one person to accompany the mini band wearer, but we went about 10:30 am and it wasn't very crowded, so I don't think they were trying to limit #'s. When we went there was only us and one other party in the room (the room normally holds 12 I think).
Ok, those are my best tips, but I am seeing a lot of tips that may not be as helpful out there…..
BAD Tips for Super Nintendo Land Hollywood
I am seeing a lot of REALLY bad tips regarding Super Nintendo Land. The thing is things were pretty different when it opened and most websites only went when it opened…. So today I want to share some that I've seen:
Go on weekday, it won't be busy
Now, I am guessing that weekends are less busy than weekdays. But we went on a day that about 99% of the world is still in school (we got out super early this year) and it was SO busy. The ride still hit 180 minute wait time.
Right now, for summer 2023, the ride and the land are new and things are GOING to be busy. The end. If you're not wanting that, maybe consider waiting til' the fall if that's an option.
Head to Mario Kart First Thing
If you arrive at the park before it opens and you're able to head to Super Nintendo World right away, I do think it can be smart to head there ASAP. BUT if you don't arrive to the park well-before opening, it may be better to experience the rest of Universal and go to Super Nintendo Land later in the day. For instance, around 5 pm we saw that Mario Kart only had about an hour wait, but Secret Life of Pets had a longer wait, as did Simpsons (?).
If you can't get there right at opening, I'd recommend to experience the rest of the park and go to SNW later in the day if possible.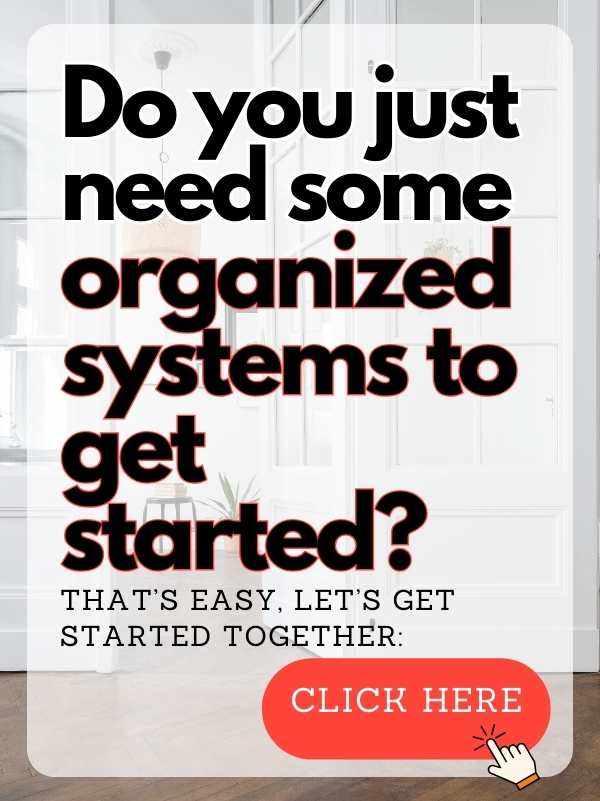 Watch Wait Times
So many people say to use the app to check wait times, but I have to say that wait times seem REALLY off. It said 45 minutes for Mario Kart when we rode it, but it only took us about 20 minutes until we got to the ride. I get that they want us to feel "winning" if the wait time is actually less than what we faced, but it almost feels like you can't trust the app at all. I'd take it as a guide, but certainly not the truth.
That being said the Mario Kart ride does break-down quite a bit, so perhaps those wait times are on when it's having issues.
Stay in Anaheim
I said it at the beginning, but I still see a LOT of peoples saying to just stay in Anaheim if you're planning to go to Universal, but I'd recommend putting Universal before or after your Disneyland days, and enjoy the park separately with a different stay. You can see those hotels I recommend again here.
Reading Articles From Launch — so much has changed!
The other annoying thing is that SO many articles are from the launch of the land.
They may mention how important the virtual queue is, and getting slips of paper for Toadstool café that are so important — but actually aren't even as much of a thing now.
Because the land is new, things are changing and many bloggers never go to update articles (or sometimes a change is very new and they just haven't had the chance to go in and fix them).
So, a lot of the tips given early on won't work now. I have maybe had the best luck checking reddit or Facebook for groups where people plan trips to see what's going on RIGHT now in the parks and how to adjust your day with their recommendations. 😊
And that's that. We loved Super Nintendo World and the Mario Kart ride. I hope you love it as much. I think it's exciting to have something in the parks that is great for smaller kids, so I think that will draw a lot of new families to Super Nintendo World. I would urge you to not miss the other fun parts of the park including the studio tour (always a classic) and Harry Pottery Wizarding World is still amazing for my teens. So well done.
We actually also went to Water World and I really enjoyed that too (even though my kids pushed back on going there pretty hard). So, make a day of it and have a great time!