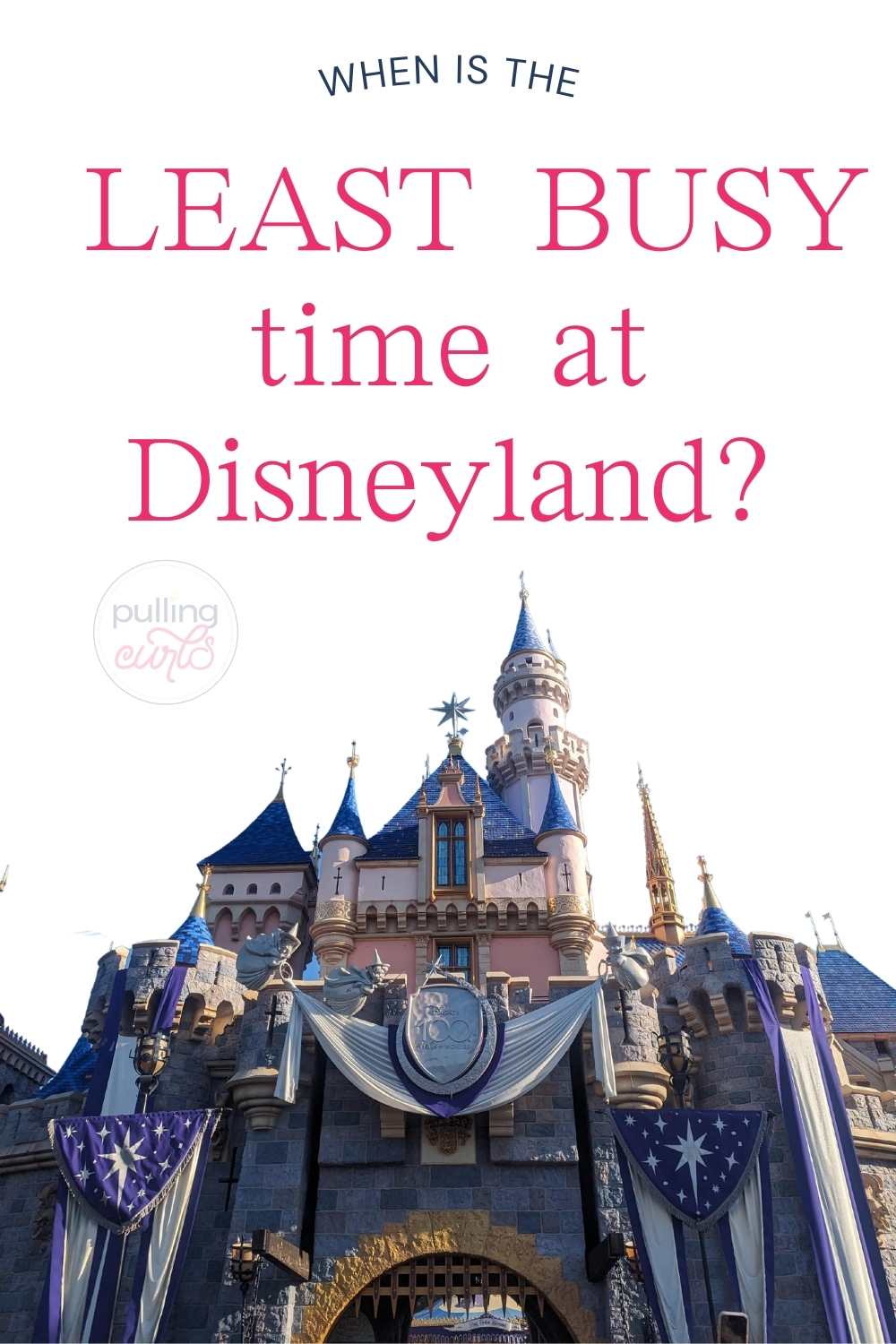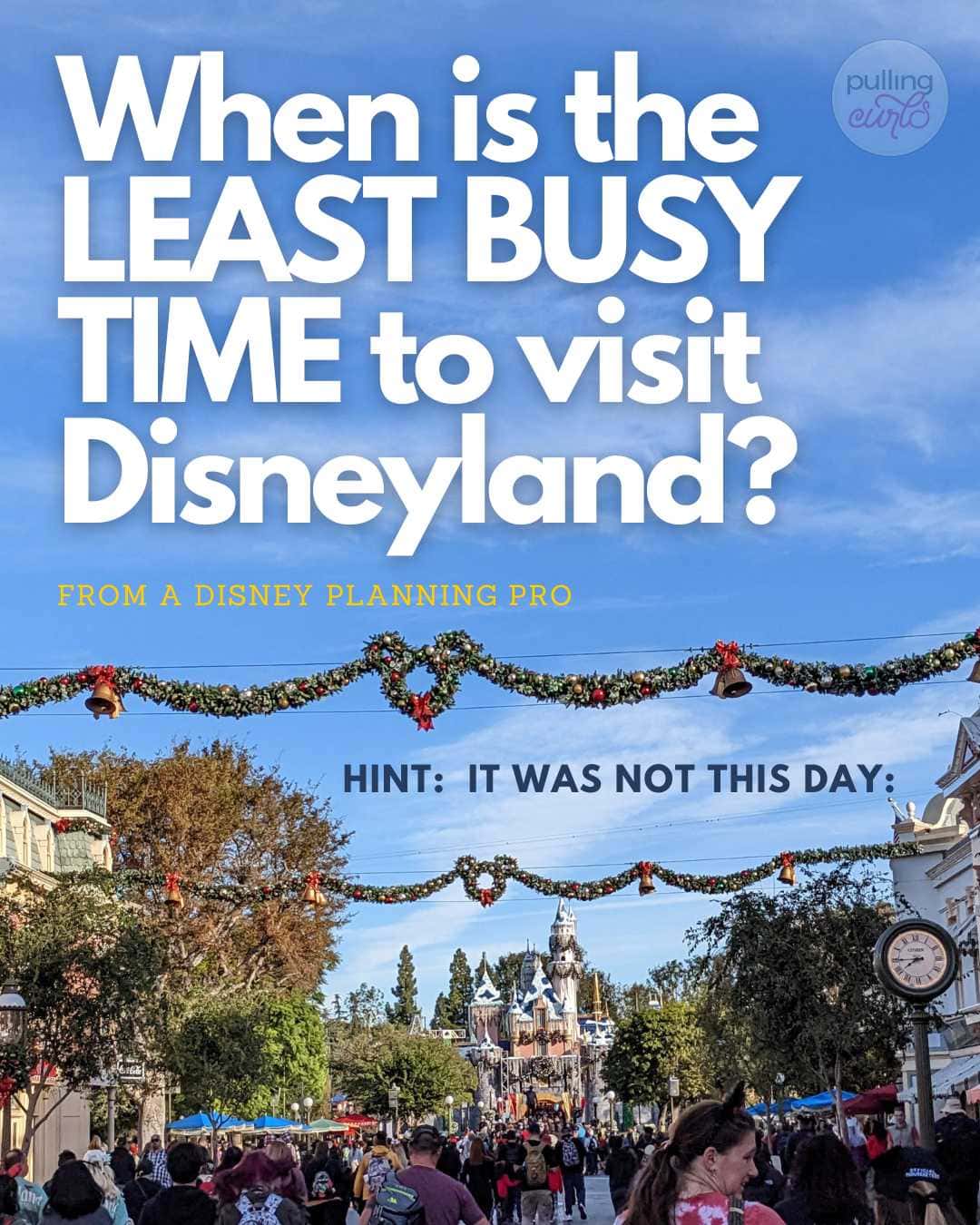 Are you looking to visit Disneyland but don't want to be there with hordes of people? I hear you and I'm JUST the same way. Honestly, so far – -Disneyland is pretty busy "every" day — but there are times that it is BUSIER and if you look at the Disneyland one-day ticket pricing you can see when that is. But, let me explain how to interpret it!
How do I know about how crowded Disneyland will be? Hi, I'm Hilary — I'm a Disneyland trip planning pro. I love to help you get your trip, including hotel, all set up to give you a GREAT trip! So, let's jump in.
When is Disneyland the Least Busy?
The three times to consider:
Late August through September (but not around Labor Day)
Early January & February (but not around MLK or President's day)
Early May, well before Memorial Day weekend
BUT if you really want to see something that outlines the best times to go, I have a secret for you.
And that's the Disneyland ticket price page.
Disneyland has "tiers" of 1-day ticket pricing. They price it higher on days they think it will be busier. So, you don't need a crowd calendar, you can just go directly to the mouse to see when HE thinks it will be busy.
Instructions on how to find least-busy days:
Go to this page. Select a 1-day ticket (just do one-park/day and no Genie+ to make it simple — remember, you're not BUYING a ticket, you're just checking the pricing.
Then you'll see a page like the one below.
Let's say this is August and September (it's not) — you'll see the 1 and 2 are just $104, so those tend to be less-busy days (although with the cheaper ticket prices there's a chance you'll get some people lured in with the low cost). You'll also see the 19-25 is a VERY expensive week so you'll want to avoid that.
Then, in the next screen you'll see that the 6,7 or 12-14 are cheaper days. So, it's likely to be less-busy. Boom! You're set! That might be a great time to go to Disneyland resort!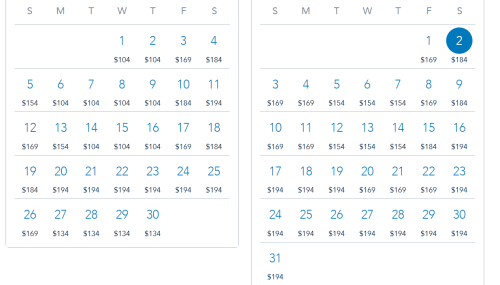 Disneyland publishes this 180 days in advance. But, if you want to look further out, you can always check-out the magic key blackout dates.
I usually check the Imagine key and just see what dates it's available. Dates with a slash over them are blackout dates and they're likely to be busier in the parks (dates with a NO sign under them just means it's sold out for that date, doesn't always mean it will be busy).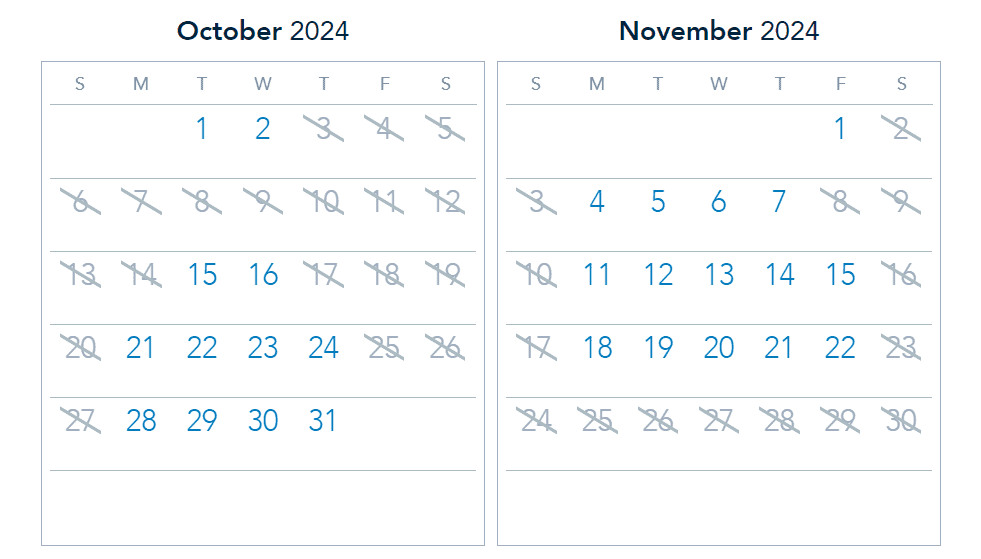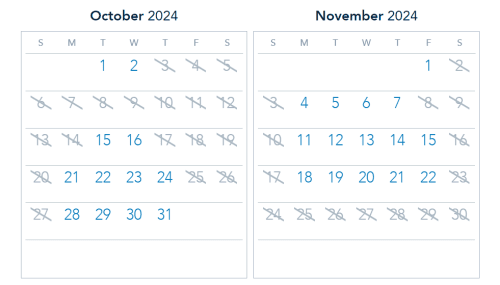 Pro Tip: A lot of sites have a Disneyland crowd calendar. Honestly, I'm not 100% sure how they set it up, but it often isn't as reliable as the Disneyland pricing calendar. I find. 🙂 They know the crowd levels at Disneyland Park and Disney California Adventure Park and they price accordingly.
This also works at Disney World (or Universal Studios) — frankly, any park that has "tier'd" pricing.
A word of advice: Disneyland seems to say the best time is Mid-September through Mid-November but I 100% disagree with this. I've seen Disneyland CRAZY busy during school's fall break times. So, I am not sure I'd take Disney's word on when it will be less crowded. Plus, they really do-up the park for Halloween time to draw in people (and it works).
Another thing you can do to check is to look at the park hours. If the park is open later, it's likely to be busy (just be aware sometimes the park closes early due to an after-hours event like Oogie Boogie Bash, so those days aren't less busy (and you'll be kicked out early). These just aren't published very far in advance, so it's not as great if you're planning ahead.
Of course, if you ARE planning ahead grab my Disneyland trip calculator:
Why Going at Less-Busy Times Isn't As Fun
I know, I know — I hate being there with hordes of people too, but at these less-busy times (especially the ones I mentioned at the beginning of this article) they tend to take out rides for refurbishment. That means there are less rides for the people in the park — so wait times sometimes may not be as great as you imagined (and a favorite ride might not be available).
Also, there tends to be less characters out at those times, and less entertainment.
Just depends on what you want — I just want you to know that ahead of time.
For us, we have to run around school/work calendars so if we can make a day work we'll go! The best time to visit Disneyland truly is when it fits your schedule without a ton of fuss.
And, to book it with Get Away Today (they're who I've booked with since 1998.
You can still book your Christmas trip 🎄❄️🎁 to Disneyland It starts November 10th! Click here to get the best availability for the best hotels (and the best price on tickets!)
Hotels I love:
– Cambria Hotel (GREAT one for larger parties, and I love their price)
– Courtyard Theme Park Entrance (this one has a WATER PARK and is SO CLOSE)
– Residence Inn at Anaheim Resort (still close and really nice)
– The Element (walkable and the BEST breakfast in the area!)
– Tropicana Inn (so close, adequate — all about how close it is)
I don't Want To Pay Those Crazy 1-Day Prices!
I know, I know! It's almost $200 for a one-day ticket on some of the days! If you buy a multi-day ticket with Get Away Today you can avoid those prices. You may even get two days for just a bit more than that 1-day price! And if you extend up to 5 days it ends-up being less each day!
Hope this article helped you pick the best time for your visit based on you needs, wants and how busy the parks are likely to be!
Don't forget to grab your hotel too! I have a whole post on the cheapest time to visit, and I must admit that at some hotels pricing varies a LOT by when you're going — so be sure to check that out. And be sure to look at Get Away Today to get their amazing pricing for your trip!