Disneyland is a premier destination for Halloween — if you know what you're getting into. Here are 5 things to know about Disneyland at Halloween include ride changes, decor and special events like their Halloween party (currently Oogie Boogie Bash)!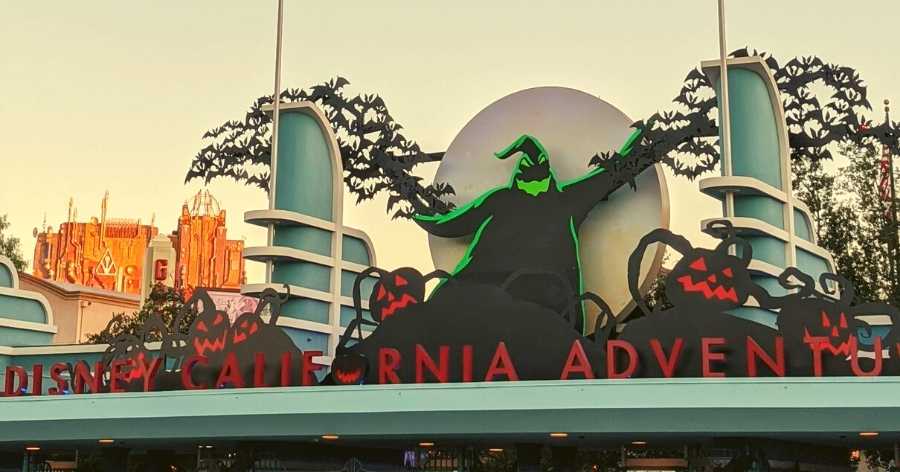 Disneyland at Halloween is AMAZING! Be sure to get your tickets at a GREAT price so that the price doesn't spook you. I love using Get Away Today and they have just booked my next Halloween trip to Disneyland!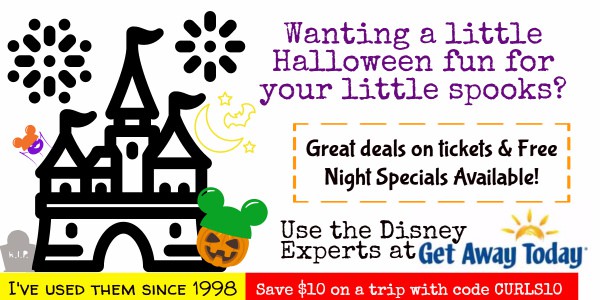 This post is part of my Disneyland Tips page — check that out for ALL The best tips, and don't miss my Christmas at Disneyland post.
Disneyland's Fall Decorations
If you love fall decor, Disney has that COVERED. We've actually never gone in the fall or any other "season" before. I love all the imagination they show.
There are pumpkins and fun additions everywhere you look. It is seriously SO cute and magical!
I heard they're doing more effects over at California Adventure in CarsLand — looks VERY fun!
Disneyland Halloween Special Events
They do have special events. There are more villains, and sometimes free face painting. So, keep your eyes open for special Halloween-Only events! I'll talk about their After Hours Party further down in this article.
Disneyland Halloween Ride Changes
When they say overlay — that means the whole ride changes. And often that is VERY fun. I had prepped my 5-year-old, who isn't prone to love scary things all about the Haunted Mansion. We have the Disneyland parks soundtrack and we'd listened to the Haunted Mansion soundtrack.
Turns out the Nightmare Before Christmas overlay changes the music, and basically the entire thing.
It is VERY different than Haunted Mansion.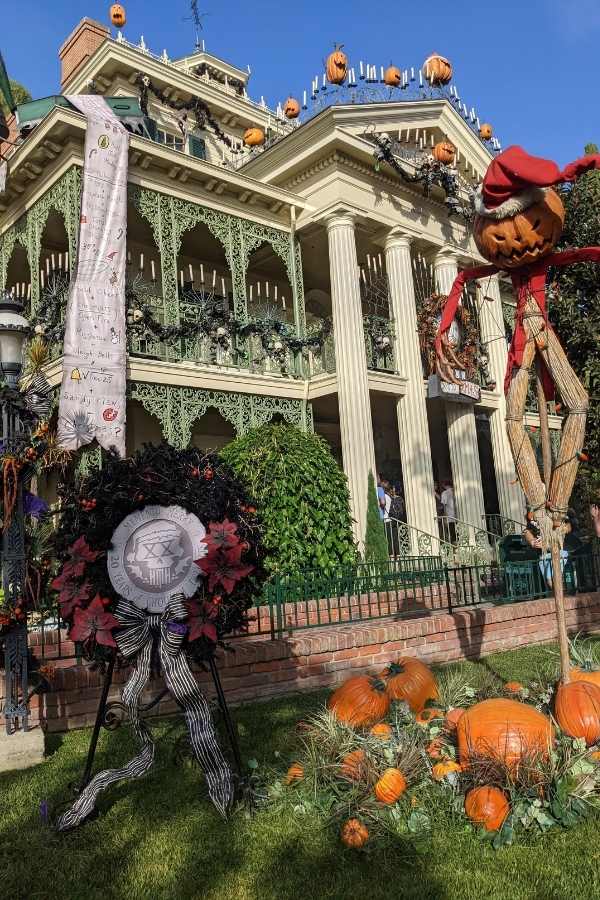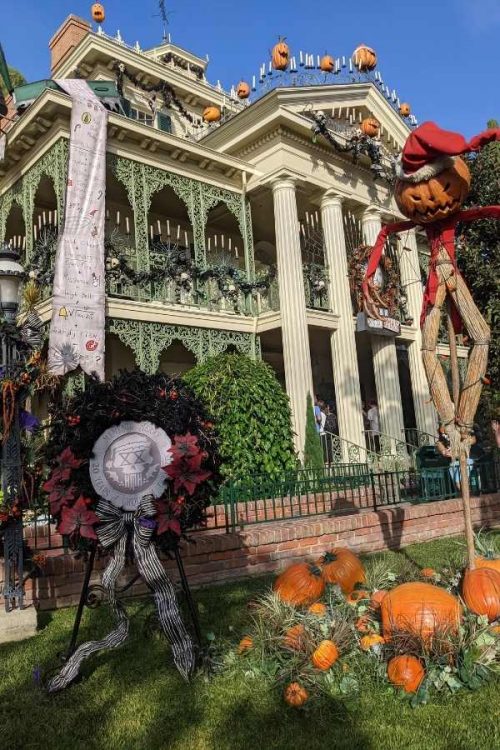 They are incorporating overlays more into California Great Adventure as well. Radiator Springs will become Radiator Screams, for example. Sure, it's just "over" what is normally there — but it's totally different. FYI. VERY cool, but totally different (which also makes it more popular).
Disneyland Space Mountain Halloween Overlay — Ghost Galaxy
Note: This hasn't been used in a while, but I wanted to keep this info in here in case it comes back — click here to skip this part).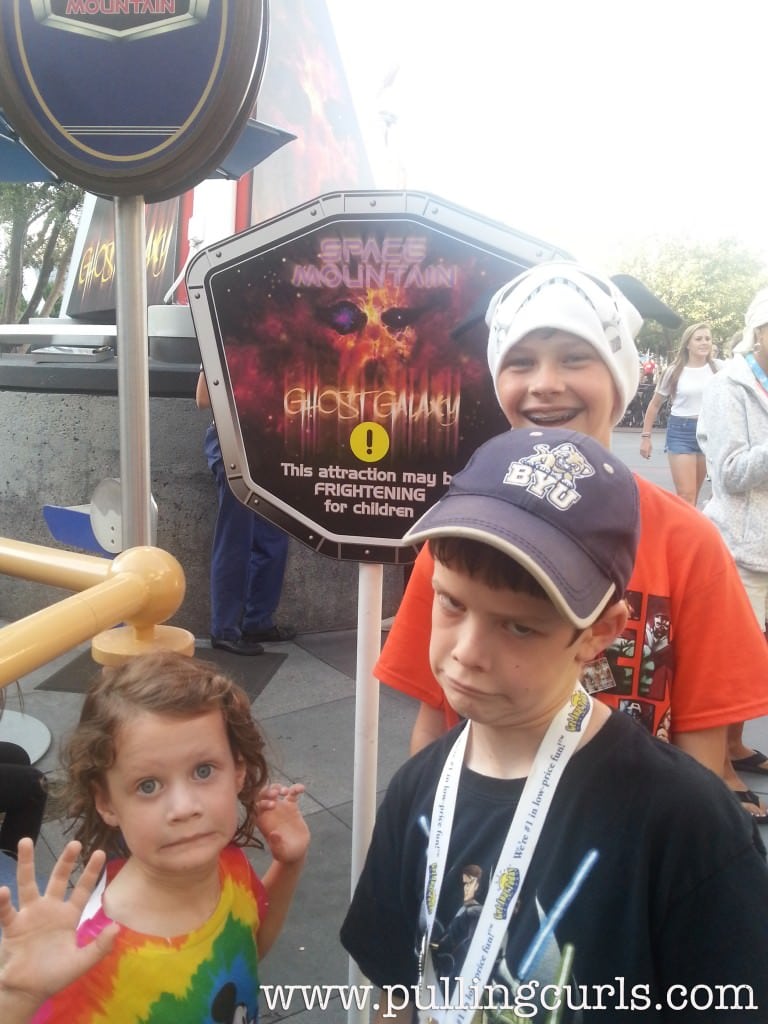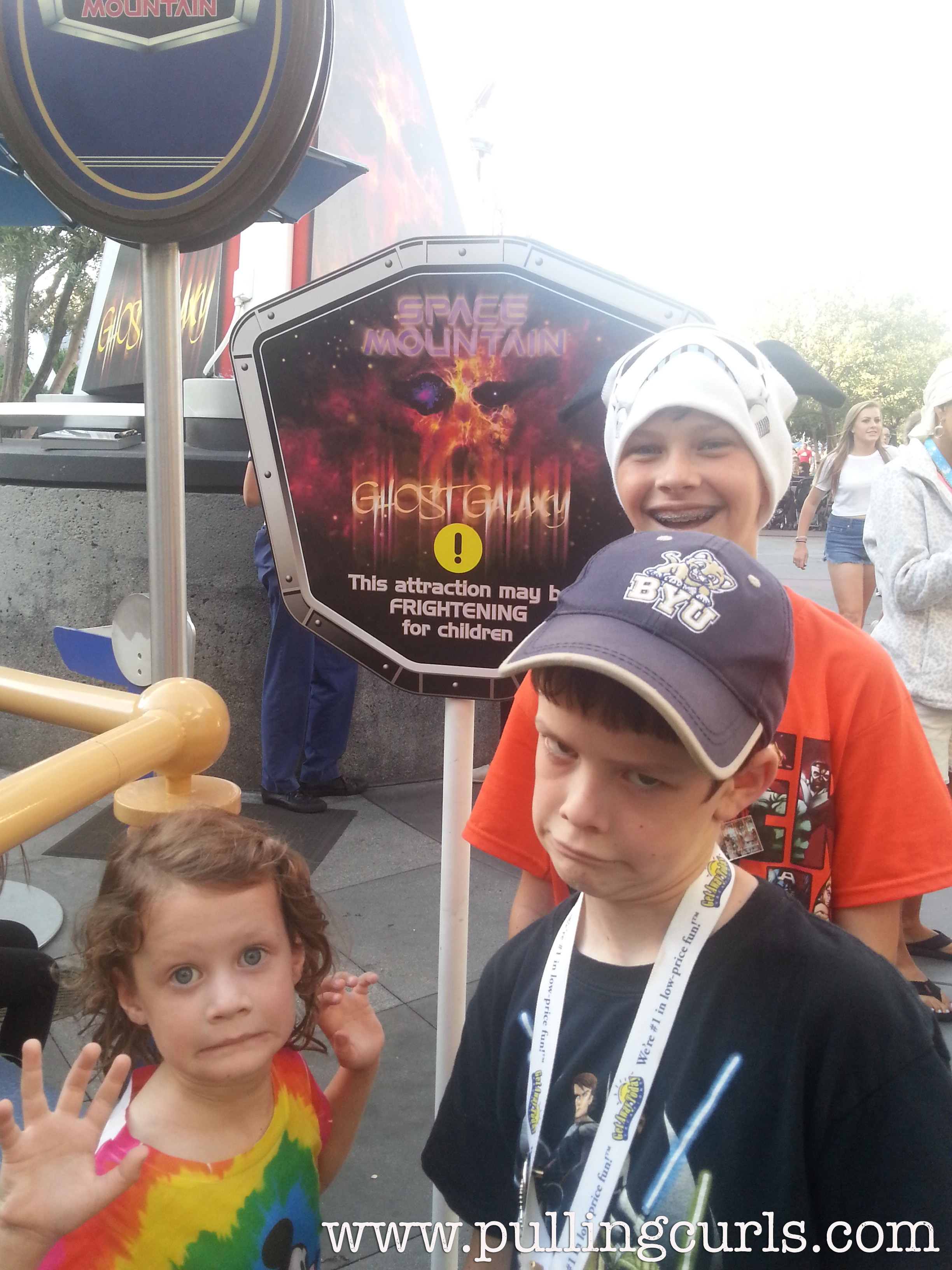 Sometimes the overlay isn't great — Ghost Galaxy overlay of Space Mountain was NOT appreciated by our family. I get they're trying to make a more grown-up attraction, but my 5-year-old was horrified and kept her hands over her eyes the whole time. That Ghostly figure you see there was pictured time and time again on the ride. It swipes at you, makes horrible sounds. This overlay hasn't been there for a while.
No one liked it, but I liked it even less because I ignored the signs that it might be frightening. It is (it's hard to know since they also say Snow White is frightening). I wish I hadn't taken her.
She wouldn't go on the ride again and was super scared to do it, even at age 8 when it wasn't Ghost Galaxy.
FYI, the music is totally different, and the projections and light effects are also altered. I went once without Paige and I liked it more than I did the first time, but I still missed the old Space Mountain.
I have a whole post about the scary rides at Disneyland, but just be aware that some of the rides change over the holidays. You can also get my printable list of the rides and what "scare triggers" they have.
Halloween Food Options
I am hesitant to give anything specific here, as the offerings change every year, but MOST restaurants add a few items that are just for Halloween. Many of them are regular items with a few extra additions. Be on the lookout, but don't overly invest in these items. If you have standard favorites, maybe just mix in a few new treats (I don't often find these Halloween things to be AMAZING). 🙂
BTW looking about how to do food at Disneyland?
Disneyland Halloween Party
Every Fall Disneyland has several nights that have a Halloween party as of late it's been called the Oogie Boogie Bash.
Oogie Boogie Bash
The Oogie Boogie Bash is an extra ticketed event. This means that California Adventure closes early that night (6 pm on the night I went) and the new ticketed people are able to come and enjoy the park on their own.
However, this has a "mix in" time frame. This means at 3 pm the other party-goers are able to go to California Adventure, but there are ALSO the regular crowds from the day at this time. Honestly, it's the busiest I've seen the park.
BTW, Looking to avoid crowds — check out my post on the best times of the year to visit Disneyland.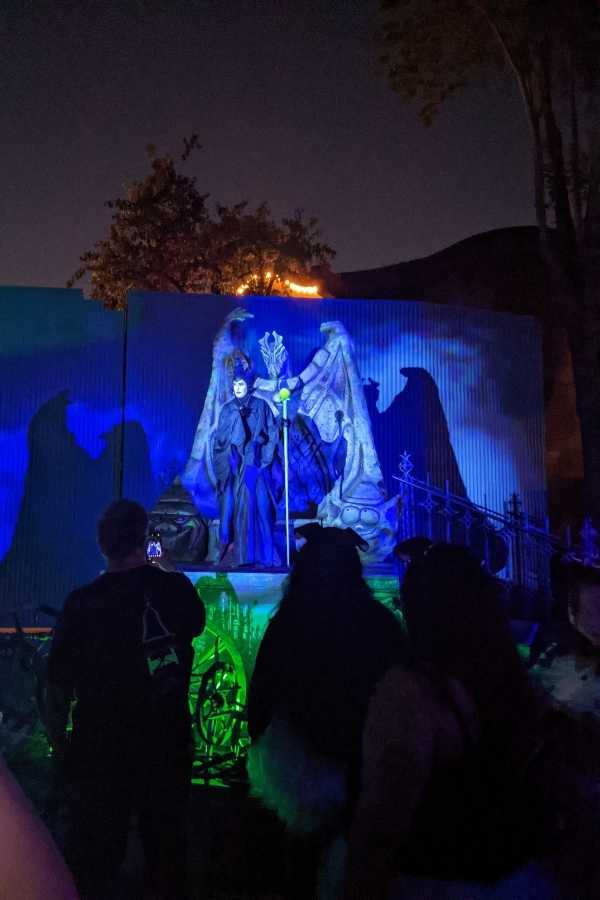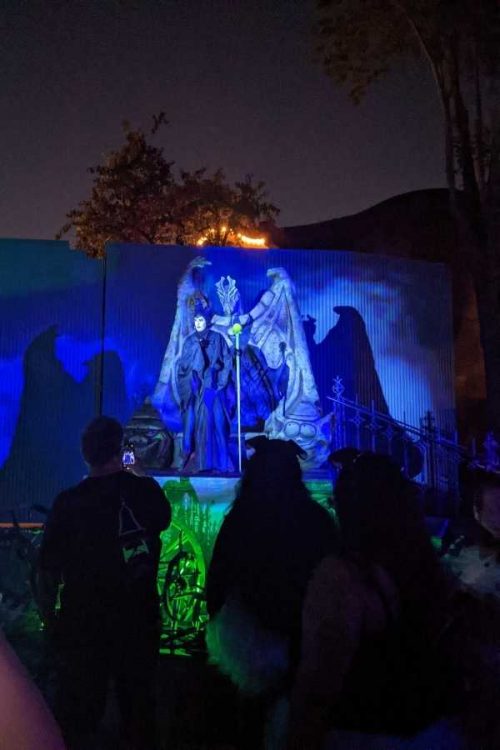 You do NOT need a "regular" ticket to attend this event. I would recommend if you're bringing small kids to it (which it's fine for) I would NOT attend a regular the day of the party. If you're out of towners I'd enjoy some pool and relaxing times, and then head over at 3pm.
I THOUGHT that crowds would be pretty light for this event. I was wrong. I think that crowds are very similar to during the day, but there is more to do.
You can pick between:
All the regular rides are open
Treat trails (some of which have Villans in them too)
Villan's Grove
Photo ops with other Villans
There were a LOT of photographers around, which was nice (you get a free photo pass with your ticket).
So, it does give quite a variety to do. However, I waited at least 40 minutes to go on the Oogie Boogie treat trail. And while it was well done. It was Oogie Boogie… he didn't interact (it's all pre-recorded)…
The treat trails have several trick or treating spots on them — and you do get a lot of candy (it's sponsored by Mars). You also usually got a "healthy" snack on each trail like apples, or grapes.
Things I Didn't Love About the Oogie Boogie Bash
Villans Grove — This is ALL projections. I swear they said you'd SEE the Queen of Hearts, and the Villan from Brave (whoever that is?)…. but it's JUST projections. A nice light display, that's IT. We waited 40 minutes to see some lights. Sigh. OH, and it doesn't open at all until it's DARK (that was about 7:30 pm)
As I mentioned above, some of the lines to see the villans and the treat trails are insane. Just IN. SANE.
AND sometimes the villan isn't even there. Like, the Evil Queen was gone for a LONG time. My friends went, and she wasn't there. Then we went about 40 minutes later, and she STILL wasn't there. I get stuff happens, but it wasn't cool at all.
Things I Did Love About the Oogie Boogie Bash
I loved the villians when we saw them. Agatha was amazing, as was Maleficent. We did photos with Captain Hook and he was just the BEST. Super fun.
There are quicker wait times for some rides. Because we wanted to see the other things we didn't concentrate on that.
I heard that the parade was super cool — but I didn't make it that long.
PERSONALLY, if I were to do it again. I would have gone home and rested til' about 6 pm, then headed over for 5 hours of fun with the Villans. I would've done rides early and then the treat trails later (I hear the lines for treat trails are much better later). I may have done the early parade and then the treat trails after that.
Final Advice about Oogie Boogie Bash
If you're trying to decide between Oogie Boogie and a day at the parks, I ALWAYS pick a day at the parks. There is still a LOT to do at the parks and the halloween decorations are great.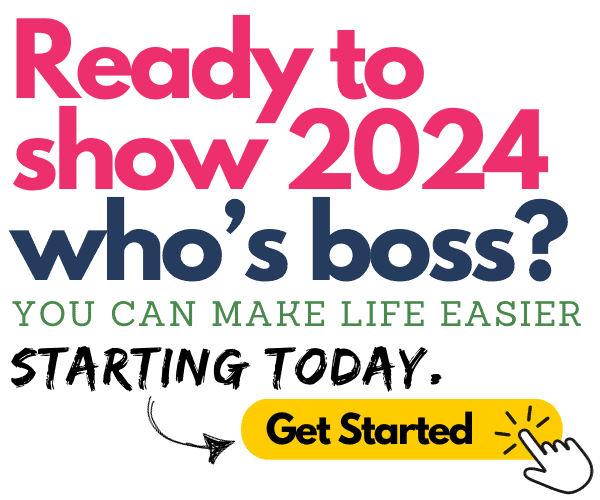 However, if you're looking to interact more with the villans, or have a "different" Disney experience I think Oogie Boogie would be fun. Just be aware of what's there and what to expect.
I do NOT think that any of it was too scary for kids. There is a lot of fog in the Villans Grove, but it's just music and projections… that's it.
Wearing Halloween Costumes at Disneyland
At the after hours Halloween party, a lot of people dress up (there are less rules for adults dressing up at those parties).
Disney has some specific rules about costumes, so be sure to check if your costume might be questionable. There were a lot of really imaginative ones that I LOVED — but one bad apple spoils the whole bunch, sometimes.
Btw, looking for tips on packing — I have a whole post on what to pack for Disneyland.
---
If you're looking for Disneyland tips — be sure to check out this page!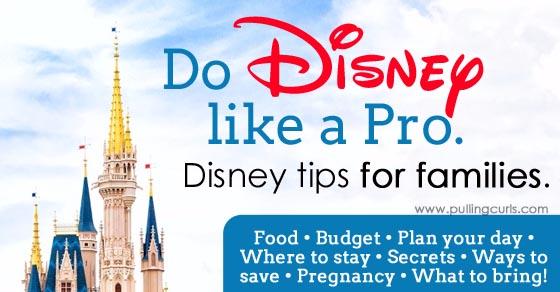 ---
We had a great time, I'm so glad we went at Halloween. There's so much to see. It's almost ENTIRELY family friendly which I love (very different from Halloween Horror Nights at Universal or Knotts Scary Farms) . There isn't a bunch of bloody demons. It's still Disney. We love Halloween in our family, and Disney does our kind of Halloween!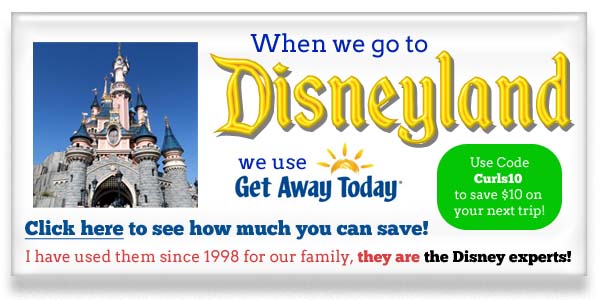 If you're considering a Disneyland trip — try out Getaway today (affiliate link)! You can save $10 by using the coupon code CURLS10.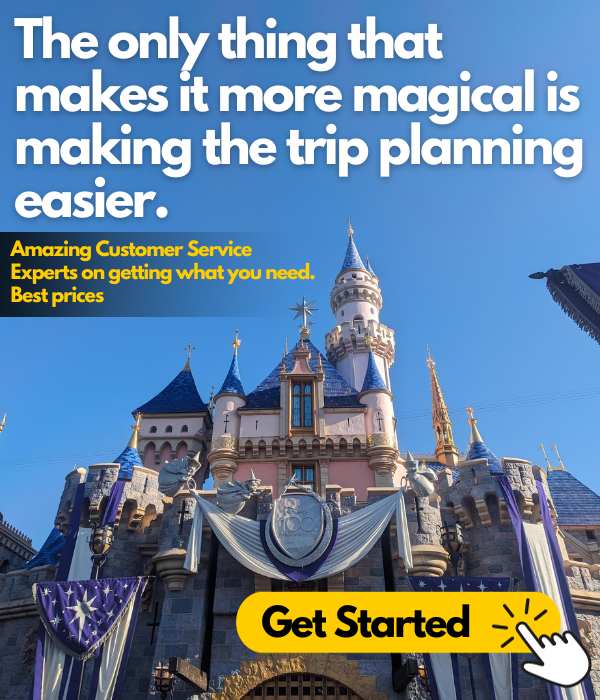 AND, if you want to spend your time wisely, do NOT miss my Disneyland Day Planner sent right to your inbox: