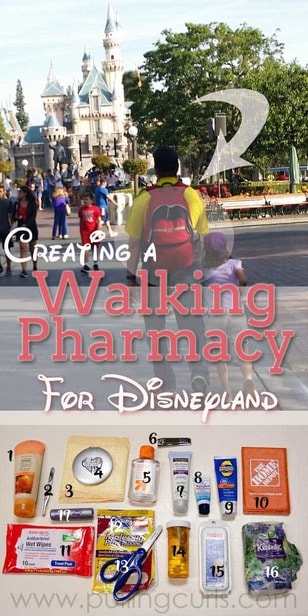 Today, we're going to talk about what to bring to Disneyland. Things like — can you bring water into Disneyland? What are my MUST HAVE's for Disneyland, and do not miss my photos that share what snacks to bring to Disneyland? Plus, once you get it all in your bag — can you bring your Disneyland backpack on rides?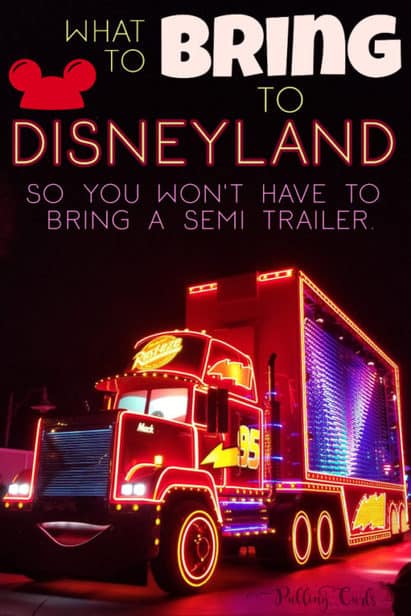 There is just something about walking down Mainstreet. The music, the smells. It just makes my heart so warm and fuzzy. The part that really feels happy is knowing that we have the things we'll want for a good day! I fondly remember the trip where my son (age 3) wet his pants 3 times in one day and ended up wearing my sweatshirt as his pants for the final parade. Haha, you can't plan for everything, but we still had a great time. Having the right stuff makes it even better. 🙂
Bring a Walking Pharmacy to Disneyland
I have a walking pharmacy that comes with us on most trips and events that we go to. A lot of it remains intact as we head into Disneyland, but I do make a few additions. I'll also share a few things I throw in the backpack for extra fun. 🙂

I am not sure where I found the term walking pharmacy, but I like it. It' just the idea of having all the little things you need right there. Super handy!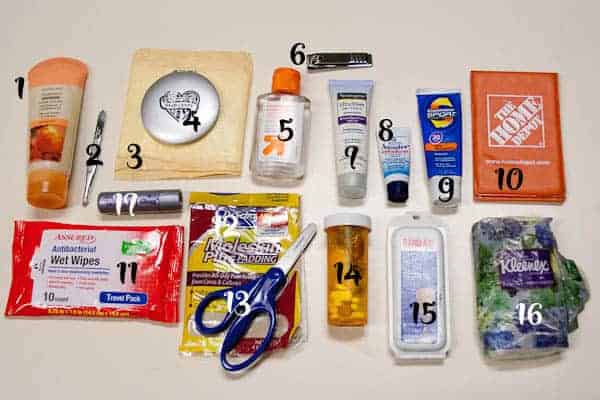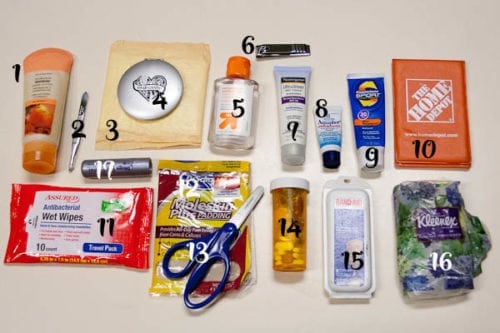 By the way — looking for what to pack in your Disneyland suitcase << that post has all of THAT info!
What to bring to Disneyland:
Lotion. I tend to get really chapped hands being at Disneyland. This one is also antibacterial so that's a bonus (but not necessary). Because it's just a few days grab a small bottle, like this one.
Tweezers. Never know when you'll need tweezers, I try to always have a pair on hand. Be sure to keep anything that keeps them closed so you're less likely stab yourself with them when you're searching through your bag. I have a slanted pair like these.
Maxi Pad ('nuff said).
Compact. You never know when your contact is going to go wild. Plus, it can be used to signal Mickey if you get stuck on the Matterhorn. 😉
Sanitizer. I wish I could fit a gallon size in my bag (although I always just bring the smallest ones they have). I also keep a hanging one on the backpack for convenience.
Nail clippers. Super handy for so many things, beyond nails. I think I have like 12 pairs in various bags.
Sunscreen — this one is great for my face. I'm picky about my face sunscreen.
Aquaphor is great for chaffing, rashes, chapped lips — has a lot of uses. I also really like Bag Balm which you could either use the travel size or even put it in a contacts container for use during the day.
Sunscreen. I usually keep a stick of sunscreen in here too just because it's easier for application. This one is sweat-proof which can be important on a hot day (but can sting eyes if you sweat it into your eyes).
Notebook. Great for the autograph your kid said they're too cool to get. I also keep a pen in this bag. Love these notebooks, they're sturdy.
Wipes — these are antibacterial. Since we no longer have a kid in diapers I need these around. I think I wish I had brought singles as these dry out pretty quickly in Arizona in my purse.
Moleskin — I never find out that my kids have horrible shoes until we're 4 hours into a day of fun, so I always stick this in just in case we have a shoe rubbing wrong. THis just helps protect areas around blisters and any area that is being rubbed by your shoes wrong (I also always wish I'd brought some Chaffing cream — that helps reduce friction – just in case).
Scissors. I swear these were the most used things in the bag. So handy. Just an old pair of school samzn.to/2eGLlGBcissors — or a travel pair will save space.
Medications. I bring a few things: Tylenol (both adult strength and a few Jr strength as well), Sudafed, allergy medication, Pepto-bismal and a cough drop
Bandaids — a no brainer
Tissues — also a no-brainer. You could use wipes for similar things, but I like having kleenex as well.
Lip Balm — be sure to bring one that has SPF and is GOOD. This one's a favorite of mine. This isn't to look good, it's to not get cracked lips. 🙂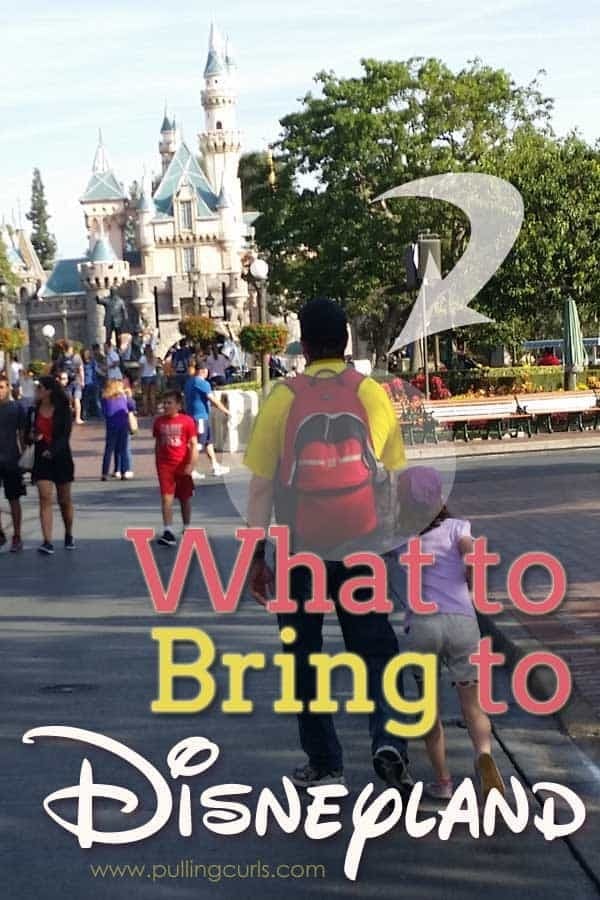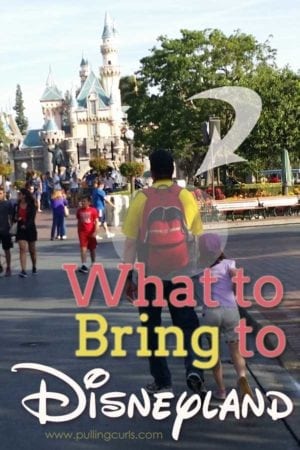 All of these things fit into a small cosmetics bag (this one's nice since it's washable).
The bag is pretty tightly packed so it's easy to toss in our backpack. That just keeps all these little things together and easy to find when we need them.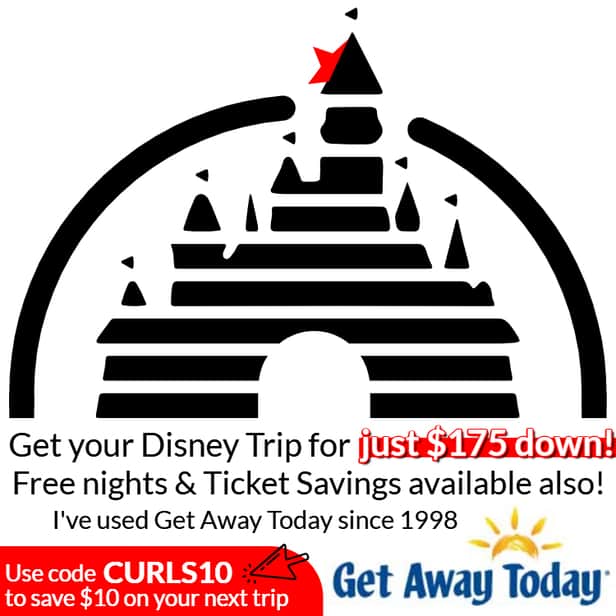 ---
What am I Allowed to Bring into Disneyland?
Disneyland seems to be the most lenient of all of the parks as to what you can bring in.
Clearly, no weapons, no FULL MEALS (you can bring a soft-sided cooler), and no selfie sticks — but most things are allowed.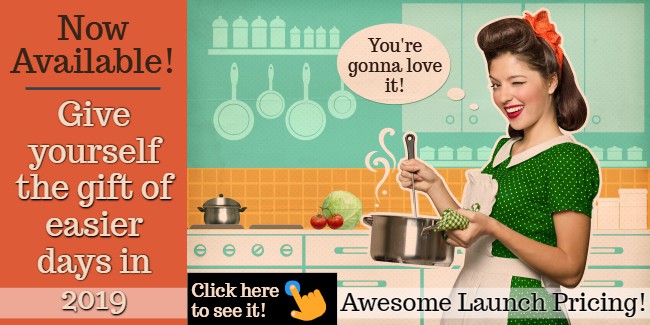 Other things in our Disney bag:
External charger. A total must. Disneyland has a lot of great apps you can use to check wait time (and get your Maxpass) but you need power in your phone to get that. I was sent this one and I LOVE that you can plug it into a regular wall outlet to charge it (no more forgetting the cord that charges it vs the cord that charges). AND it comes with USB-C and a micro USB, or you can get a micro USB and an apple charger so you can charge all the devices (makes you very popular).
It is a bit large (but provides several full chargers), so if it's just you, you could use a smaller one since you're going to be packing it all day!
Snacks. I always over-pack snacks but I love eating when we are in line instead of finding food. Saves money and time (although, there is still a lot of things I love to eat at Disneyland, I found a lot of joy in one sit down meal each day).
What snacks to bring to Disneyland?
Here is my snack preparation this year. I try to balance out sweet/salty/carb/protein as well as I can.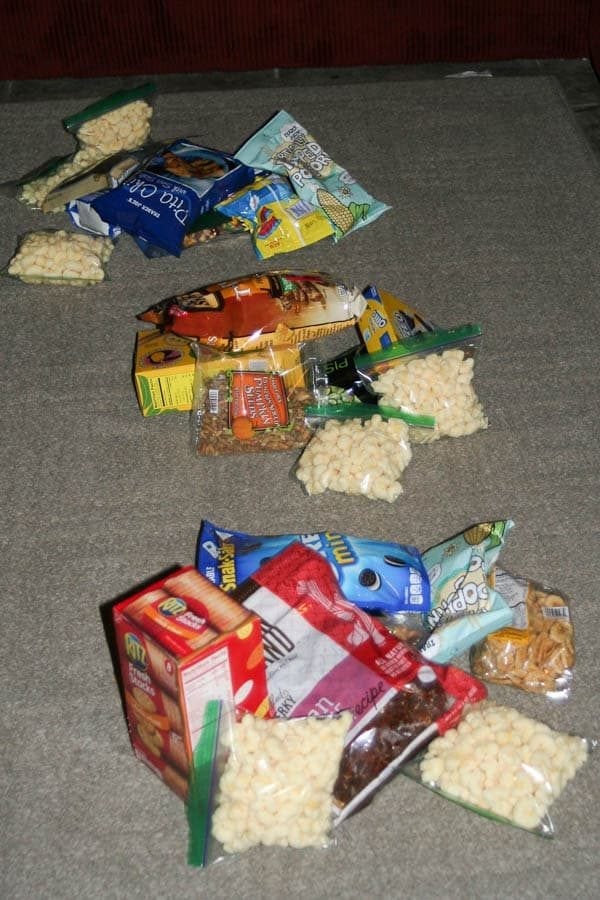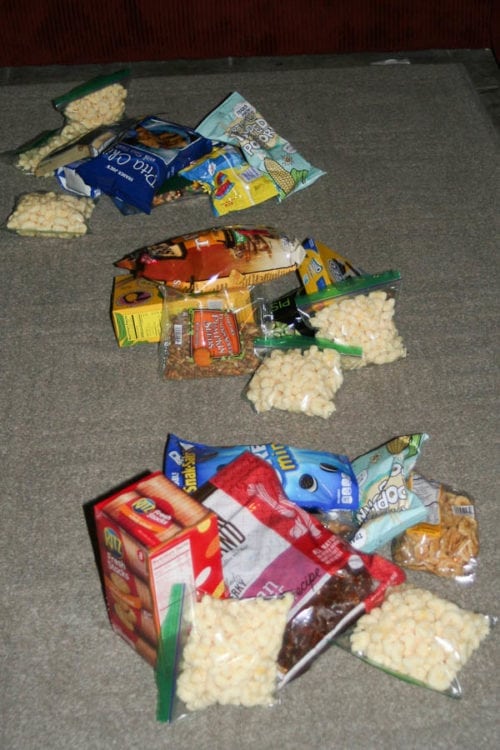 Wallet — I bring a travel wallet that isn't as large as my regular one, but you obviously need it. #disneyaintfree
Lanyards — we use lanyards to hold our tickets and fast passes. With the new system that won't be as necessary (but we also love collecting pins at Disneyland.
Water — we keep just a couple of disposable bottles of water with us since the restaurants will give you a glass of water if you ask (with ice!). Water in Disneyland is close to $5/bottle. 🙂
Garbage Bags — We used them this year for ponchos at the water rides. I used mine as a skirt (because I mainly hate a wet crotch all day). Worked out well, cheap and compact. 🙂 Used my scissors in line to cut out holes. 🙂
Extra Bag — just in case something needs to be bought we're not hauling around a Disney bag all day, it can go in here. This one on Amazon gets crazy good reviews and packs down really small!
Foldable Sheet — this seriously saves our BACON as we wait for parades. Magical. Simply magical (I explain why in the video and in this post on 5 things you won't think to Disneyland).
Of course, one year we also brought a dress for our little princess.
That's what comes in our backpack.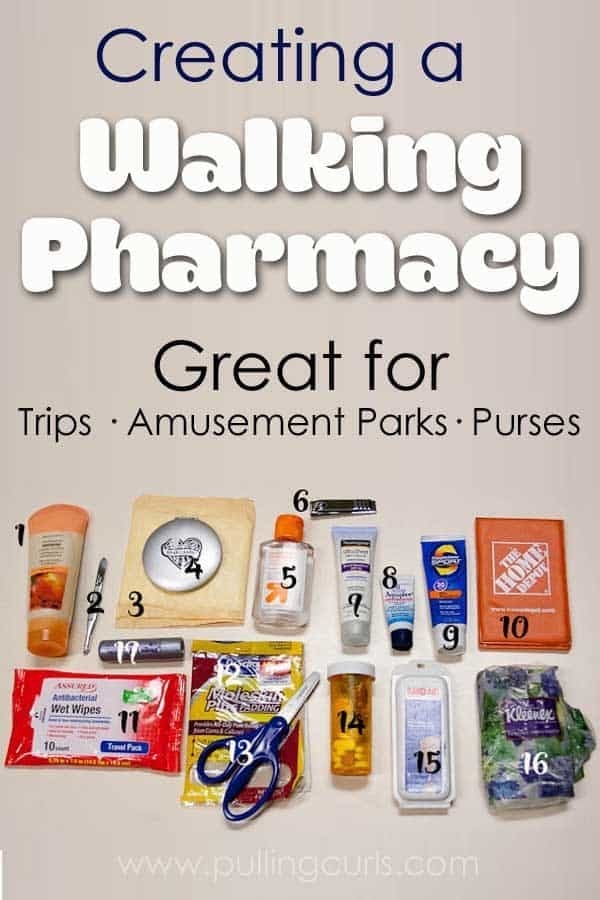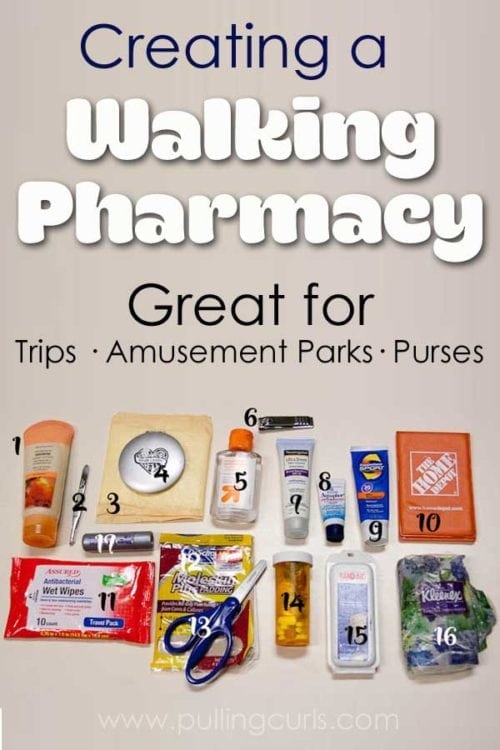 I always pick one that has a water bottle pocket, and a few other pockets so we can separate out our stuff as we see fit (but not so many pockets we'll never find anything). No need for heavy laptop pockets, you're mainly looking for durable and lightweight.
Our last trip was actually our first without a stroller. It's easy to pack snacks into the stroller, but it is still important to have a backpack with you, especially with the walking pharmacy items.
Obviously, if you had smaller kids you'd need diaper items, or extra underpants/pants (apparently 2 pair weren't enough 9 years ago). And if you're pregnant, be sure to check out my Disneyland while Pregnant for more tips!
If you're looking for Disneyland tips — be sure to check out this page!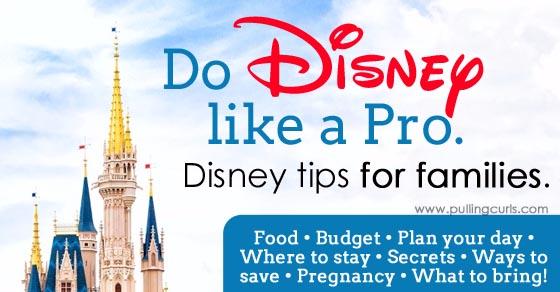 What to Pack for Disneyland
Don't miss my separate post all about what to pack for Disneyland. I'm slowly learning to pack light — but it's a process. 🙂
---
One thing I always do is book through Get Away Today. Sure, you can make all the phone calls, effort and possibly not get what you REALLY need, when just one call to them will book the trip of your dreams at the best price. Save $10 on your trip with code CURLS10.

If you liked this post, be sure to grab my Disneyland Packing list — and check out my other Disney posts below that!