There are easy ways to save money at Disneyland. These tips and ways to save money will make your Disneyland trip all the sweeter (even if Costco churros are just as good as the ones at Disneyland).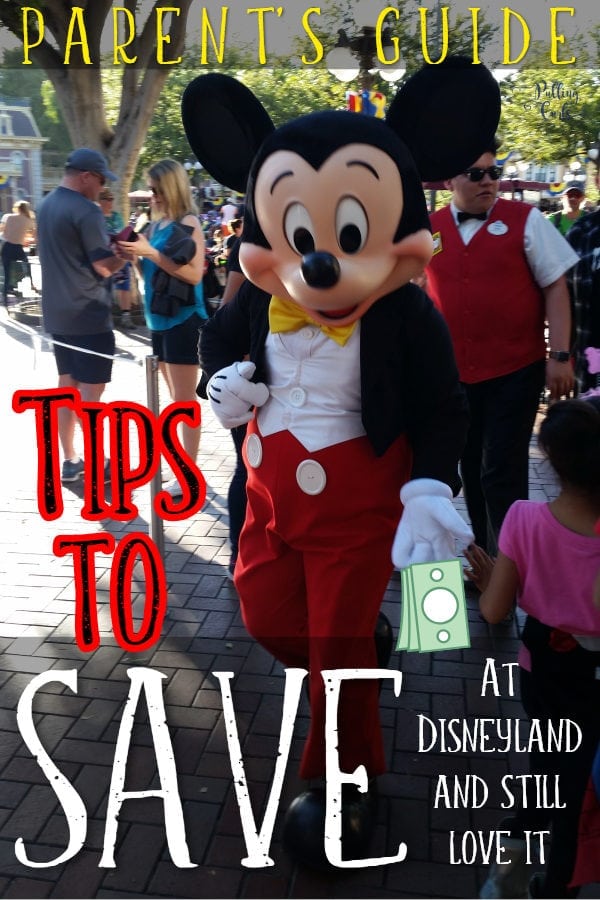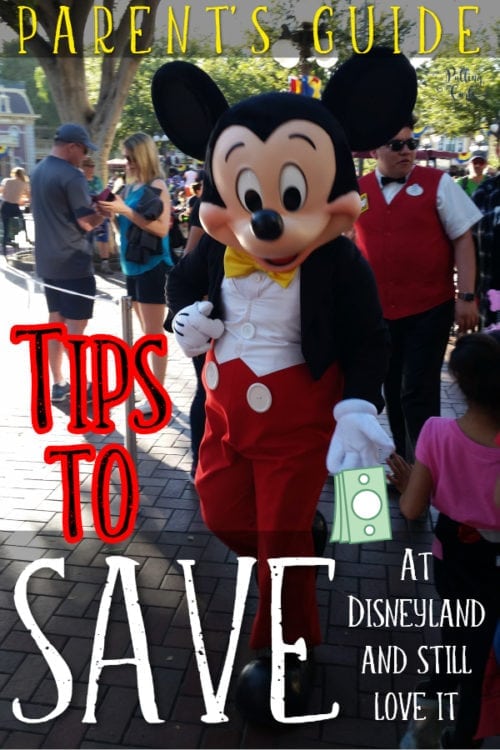 Disneyland can be strange….
Here's a girl walking around in a 200 dollar bippity-boppity-boo look, while my 5 year old walks around in a 2 dollar clearance Walmart Minnie T-shirt, eating string cheese we bought from home. EVERYONE spends their money in different ways. This post is going to show you ways to save at Disneyland, but also share some ways we chose to splurge, and if we found it to be worth it.
Interested in Disneyland? Bes sure to check out all
my Disneyland tips here
!
Don't miss my Disneyland trip calculator that will help you assess costs honestly as you plan for your trip (also, some hidden gems in there to help you save money too):

Five tips for saving money at Disneyland
Save money with your princess at Disneyland
I got Princess P a "play" princess costume at Goodwill. It didn't have layers of tulle and taffeta that would get gross in our bags — I could pull it out at her whim and shove it back in when she was done being royal. SUPER handy. It's surprising how many girls do the whole nine yards at Disney, but that doesn't really work for her or me, but I never had to deal with her asking me for a princess dress, because we already had one.
It was 4 bucks at Goodwill. Go me! BTW, it is SO cute to have a little one walk around in a princess costume. Everyone was calling her snow white. SO funny when she met the actual snow. "MY TWIN!!!!" Really fun. I had no idea. That Goodwill purchase saved our Disneyland budget.
Related Post: Being a Princess at Disneyland
Save money on food at Disneyland
I brought snacks. I can't say it enough. Brainstom ideas for carbs, fat, and protein so your kids are getting a bit of everything. Eat breakfast at the hotel (bring your own, or use the one provided), snack in the park and then eat one sit down meal. Totally works. Also, the snacks make waiting more tolerable.
Snacks we use include:
String cheese
Beef Jerky
Crackers (I try to bring some that are healtheir, and some that aren't)
Applesauce pouches
Apples
Gogurts (try to freeze them if you can, if the park is hot)
Dried fruit
Slim Jims (the only time we eat them)
Pirate Booty
Nuts
Don't fool yourself into thinking those snacks can't make a meal. We did one entire day just on snacks!
If you have a stroller, fit a small cooler into the bottom or hang it on a handle — it's awesome to keep proteins cold during hot summer days!
Save money on Disneyland Tickets
Look for your best deal on tickets. I would encourage you to check your work or credit union but I normally use Get Away Today (see the bottom for a coupon for Getaway today!) for our tickets and hotel. As of late, my work has stopped selling the tickets, so I have found Get Away Today to be the BEST price anymore (WAY cheaper than the gates, and you can buy last- minute e-tickets with them).
If you use coupon code CURLS10 you can save $10 off your purchase with them (you have to book at least 2 nights hotel and 2 tickets).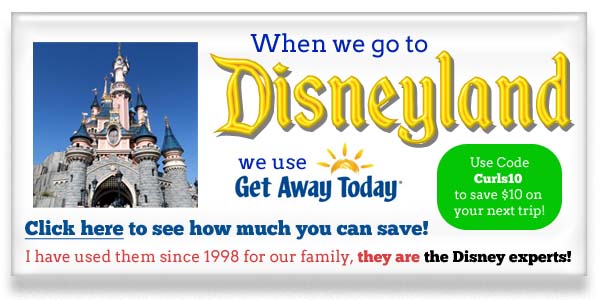 How to save money on a Disneyland hotel
See if you want to get a package or if buying your tickets/hotel separately will make it cheaper for you.
A FEW times I have found it to be cheaper to get them separately, but most often I wasted a LOT of time before I ended up using Get Away Today — they have a Best-Price Guarantee
If you do go through them, be sure to use my promo code Curls10 to save $10 on your Southern California vacation package.
Also, if this is your first time to Disney — Get Away Today simply eats, sleeps and breathes Disney. They know everything about each close hotel. Want to know if you get a full or a mini fridge, if there is a door or just a half wall separating you and your kids — those are the questions you need to know! Ask them the questions you have — be satisfied with the way you spent your money.
I have a whole post all about how we pick our Disneyland family package.
We also stayed off of Disneyland property. This is actually often closer to the front gates of Disneyland (go figure). It's almost always cheaper though!
Saving money on Disneyland Souveniers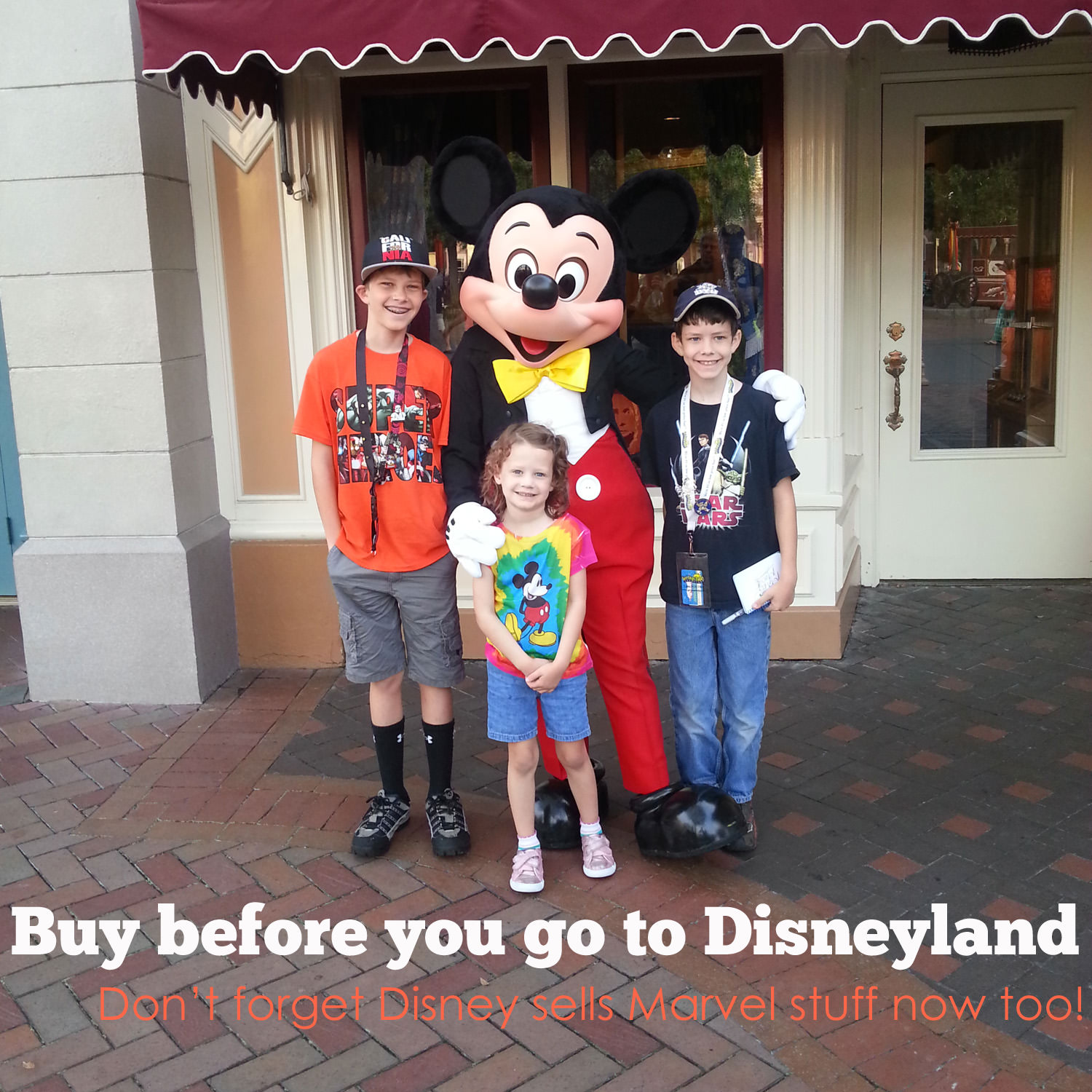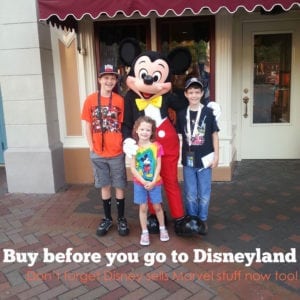 Buy before you go. Shut the door on them wanting a Disney t-shirt there (at a cost of 20-50 dollars), by giving them one as a gift before you go. I happened to find a bunch on clearance at Walmart before we left. They were a hit. We also bought our autograph book
from Amazon before we went. It's a decent quality, the sharpie didn't bleed much and it was small enough to stow in our bags fairly easily.
Related Post: Family-Friendly Hollywood Fun
I have a whole post that will help you packing for Disneyland.
Looking for most Disney tips — here's what we do to make sure we get the most out of our day — sent straight to your inbox!
Now, 5 ways I spent Money at Disneyland…
1. We got a 4 day pass, and we wanted the park hopper. It was worth the extra 100 bucks to be able to go between parks. We did hop one day… I like having a lot of days there, even if I have to see a podiatrist afterward.
2. We ate at the Blue Bayou. It's so tasty and it's nice to have one nice meal in the park. Again, not for everyone — but my husband and I really like going there. We also took in Ariel's Grotto princess lunch. I know — who AM I? I'm a sucker for princesses! Looking to save on food – check out this post on the best places to eat at Disneyland.
3. We got a hotel within walking distance. They certainly aren't always the cheapest. We stayed at the Quality Inn and Suites. It's still fairly cheap but it slept us all and we were able to walk (but the walk was longer than I wanted). In retrospect, since we only ended up staying 3 nights I wish I had gotten one a bit closer. You win some, you lose some.
4. We always get the kids pins for their lanyards. It's a nice reminder of the trips we've spent at Disney. It's all about memories for me.
5. My husband was shocked, but I poney'd up for the shooting gallery in Frontierland. I remember doing it as a kid and it has some fun effects. Totally worth the 2 bucks I gave up. 🙂
Any way, there's how I spent and saved at Disneyland. Everyone has different priorities — although I must admit I have a hard time not rolling my eyes at the girls with the dress, and crazy hair from Bippity-Boppity that I know cost a fortune. If their family budgeted for it, then it must be important to them. I'm just a 4 dollar Goodwill girl, who ate at the Blue Bayou. 🙂

Be sure to check out all our Disney posts as well as my "How Should I Budget for Disneyland" post. If you're on Pinterest you might find my Travel Ideas board interesting: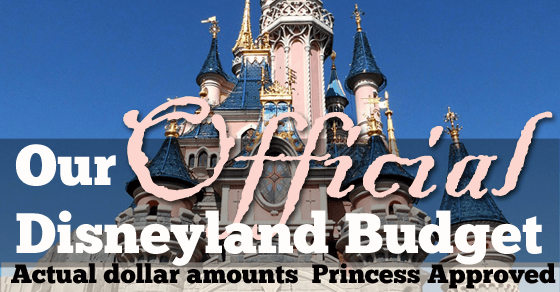 Originally written in 2014, this post has been updated.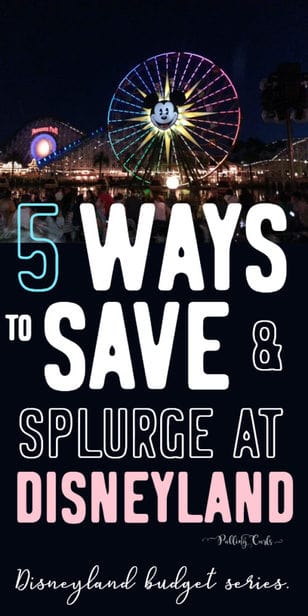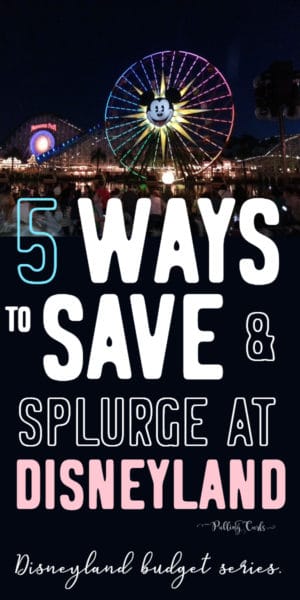 Printable Day Planners!
Get my printable game plans for both Disneyland AND California Adventure for your best days!