I asked for a Fall Dia & Co box, this review shares not only that fall Dia & Co review, but also what's new at Dia. You can now show at Dia in three separate ways.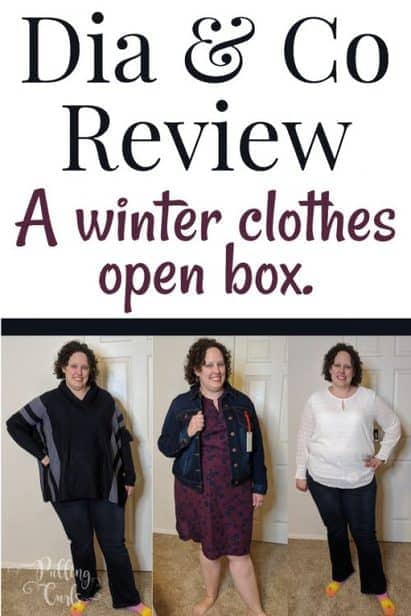 This is just an off-shoot of my original Dia & Co Review.
How to Buy From Dia & Co
From when I started working with Dia they have changed their store structure a bit.
You can do the original subscription box where a stylist picks out five items just for you (which is how I've done all of my boxes).
You can pick some of the items in the subscription box, and then have your stylist pick the rest.
You can shop at Dia & Co just like a regular store.
You'll see that I have links to the items available in the store for each item if you'd prefer to purchase just that.
ALSO, I have a free styling link that you can use to get a whole box without a styling fee.
How do prices work with Dia & Co
Dia & Co sends you the items. If you keep the whole box, you save 25%. I outline the average costs of most items in my Dia & Co Pricing post.
You can also buy at their store at the prices listed (although I have noticed they do have sales).
Frankly, I love the box. now that my stylist knows me it is saving me a bunch of time — and I REALLY liked 4/5 of the five pieces she sent this month (let's see if you can gues which wasn't a great "fit".
Full disclosure — Dia & Co does send me the box, there is no obligation with the box. I hope you will agree that my review is honest and all opinions are my own!
Ok, onto the…
Fall Dia & Co Unboxing
(While this box is in December for me, for most people our weather in AZ is "fall" for them — so, I used that as my descriptive word)
Sorry about the blurry video, but I figured it was better than nothing:
As a reminder, if I keep the whole box, I save 25% off the price listed).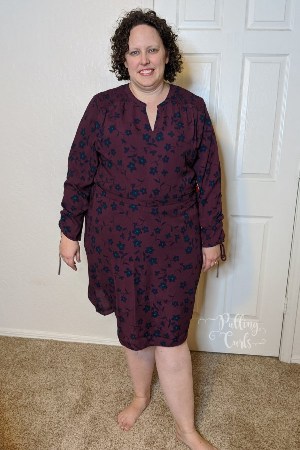 MOLLY&ISADORA Keene Ruched-Sleeve Dress $62
I like this dress. I worry about it wrinkling, although it's 100% polyester, so that's not super likely. It's a bit tight in my mid-section, and I NEVER know what to do with ruched sleeves (and I always end up dragging the tails of the ruching through whatever I'm eating).
I like it though, it's different from the other things I have!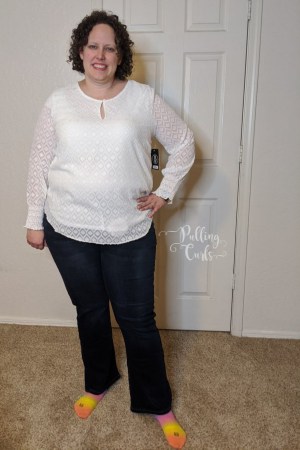 Curve Appeal Carlton Two Button Bootcut Jean $79
I had asked for some bootcut jeans (please ignore my neon socks). I have bootcuts that have REALLY wide legs, which I'm not a huge fan of. These were more "straight" legs and really great. In the video I say the brand mistakenly.
RYAN WYTHE Sammy Textured Blouse $65
Oh my goodness, I LOVE this shirt. It is really hard to tell online, but that top is like an "old fashioned texture" and I LOVE the cuffing at the wrists. It is elastic and not too tight, just right.
The lining has some issues, but it was hard with tags (on both the shirt and the pants) — and I think it will wear really well.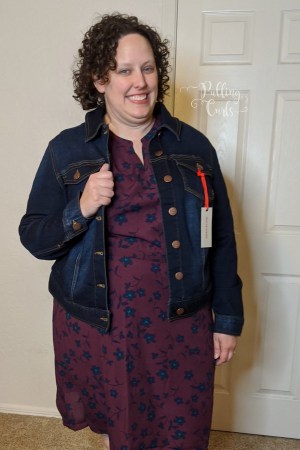 MOLLY&ISADORA Linnea Denim Jacket $69
They don't have this exact jacket in stock, but they have a few other brands you might like.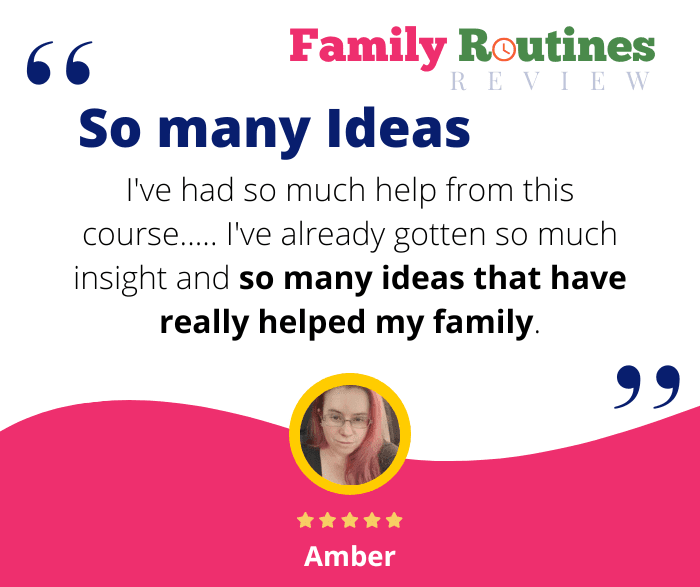 I love, love, love it. I want to marry it, it's great. 🙂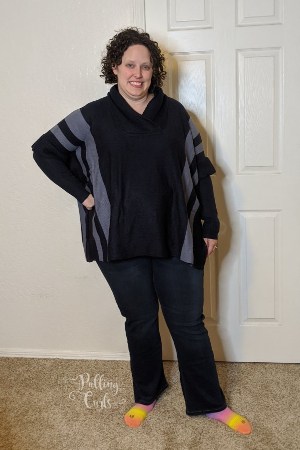 MERI SKYE Willow Striped Hooded Poncho $49
Yeah, not a fan. The arms are really tight, and there is a weird window where you can look in and see my chest/bra really easy.
I don't like flowy things, so when I pulled this out I was very much (?)
Not a fan, but it is VERY warm. So, there's that.
If you are a poncho lover, I bet you'll love this. It's just not me. 🙂
Total Box Price $324 ($243 if I buy the whole box)
That price is a bit more than my other Dia and Co boxes (which you can see in my Dia & Co prices post). And be sure to check out all of my other Dia & Co Box Reviews.
[thrive_leads id='30908′]