How much is Dia and Co a month? What are the Dia & Co prices of the items, how much is a full box and how are returns? How does all of that compare to Stitch Fix Pricing? Dia boxes are about $200 for the 5 items, but I will do a full cost breakdown in this post.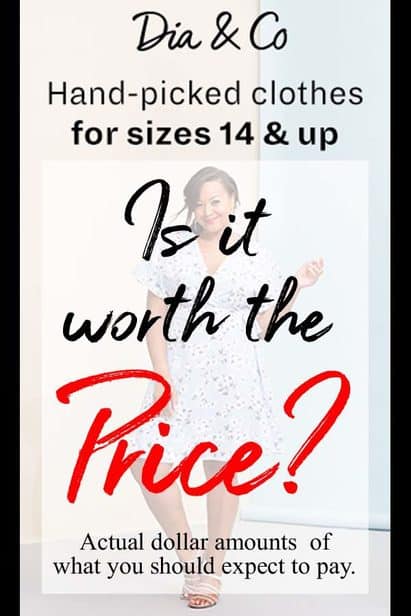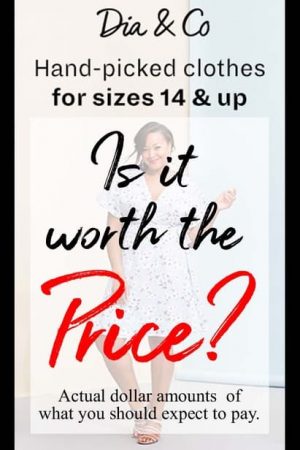 Full Disclosure: Dia and Co has offered me free boxes, all posts are of my own opinion and ideas though, I have also gotten some credits with Stitch Fix as well.
FYI, I also have a Dia & Co Review that shares all the boxes I've gotten and what I thought!
Dia and Co Prices
**RIGHT NOW I have a free Dia styling fee link! That means you'll try Dia RISK FREE!!!! If you hate everything ship them all back at no cost to you! Use this link to get your first box free!
The total cost of Dia and Co includes:
The styling fee
Garment prices
Full box price (should you choose to buy the entire box — you save 25%)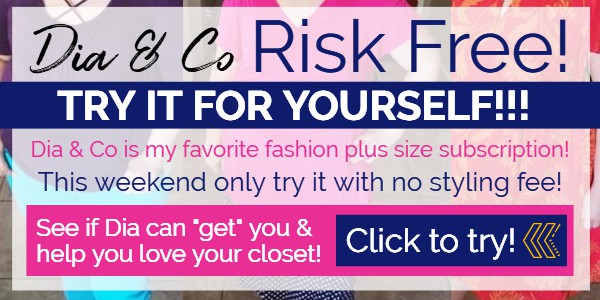 What is Dia & Co?
Dia & co is a plus size clothing subscription service. They offer clothing for women size 14 and up shipped right to your door from a personal stylist.
How much is Dia and Co a month?
While there is no requirement to do Dia & Co every month, it is a $20 styling fee every time you order a box (you can have boxes automatically shipped to your home monthly, bi-monthly, OR you can choose when you want them).
That styling fee can be applied to any of the items in the box, but should you choose to keep nothing, you would be still charged the $20 fee.
FYI, this is how most subscription boxes work — and you can read all about that in my review of other plus size subscription boxes.
Honestly, I can't imagine not having ANYTHING in my box I didn't like. If you keep anything, the styling fee is essentially free.
Dia.com prices
To share this I'm pulling out my sweet math skills.
Thank you high school calculus. 🙂
I am taking the average of the many boxes I have received. You can see the boxes in this post: Dia and Co Reviews.
For your frame of reference, the item I have the most of is shirts. I also didn't get shoes or accessories from Dia.
I have recently gotten a Dia Active box. Those prices aren't reflected in this cost below as I think they would vary from regular clothes.
You can also see my actual spreadsheet here (please don't ask to edit it for have permission to use it — etc — it's just a spreadsheet for you to view).
Prices of Dia and Co Shirts
Prices varied from 45-65 with the average being just under $53.
Also, keep in mind that if you keep a full box, they give you 25% off everything in the box — that brings the price of shirts to just under $40.
Prices of Dia and Co Pants
Prices varied from $69-$75 with an average of $70
Full box price would put that just under $53
Prices of Dia and Co Skirts
Prices varied from $42-$65, with an average of $53.
Full box price would be just over $40
Prices of Dia and Co Dresses
Prices varied from $59-$69, with an average price of $66
Full box price would be $50
(and guys, I ALWAYS get compliments on my dia dresses!!! They're one of my favorite parts!)
>> Start with Dia & Co Today! <<
Dia Box Prices
My Dia boxes averaged $245-$294 for the full box of 5 items. The average of the boxes was $266 — but remember, if you did keep a WHOLE box, you would for sure pay the box price — which averaged out to just under $200 for 5 items.
You can see all my Dia and Co boxes in this playlist:
How much is Dia and Co?
So, if you average the full box price — that puts the average price of garments at $53.
Now, keep in mind that I have requested no shoes, jewelry or scarves. I JUST want clothes.

As a side note: I am to a point in my life where I would MUCH rather have quality vs quantity. If I have some blouses and pants that I LOVE I would rather have 10 of those items, vs 20 of things I don't love.
And that type of love often requires a bit more cash than something you'd find a Ross or Forever 21. Just keep that in mind as you try it out.
And, if quality over quantity is one of your goals too — try it today!
Stitch Fix Cost
Since I had all those prices pulled-up, I figured I'd average out what I got at Stitch Fix. Keep in mind — my first Stitch Fix box was so bad, I didn't even record the prices (and everything went back).
Average Stitch Fix Prices:
Shirts $51
Jackets/Cardigans $38
Pants $94
Shoes $74.50
Dresses $60
Full Box Average $313 ($234 with the discount)
Comparing Stitch Fix vs Dia and Co Pricing:
Shirts: Same
Pants: Stitch Fix More
Dresses: Same
Full Box: A bit more
I do think Stitch Fix gets GREAT pants brands, so their prices tend to be a bit higher. However, I just couldn't spend $100 on white pants that I'd probably stain within 3 minutes of wearing. Haha.
In the end, I keep returning to Dia and Co because their stylists seem to listen to me. But, see for yourself in my posts: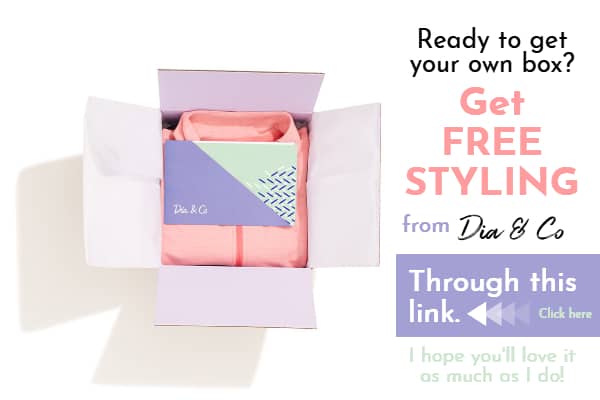 Dia and Co Returns
With all this pricing talk, I'm sure you want to know how easily returns are — SUPER easy! Your card is never charged for them, as long as you get them back to them within the period they give you (I believe it's 5 days, which is a bit longer than Stitch Fix).
There is a pre-paid envelope in the box, you just ship what you don't want back.
BUT, be thoughtful of returns. Often, if it's just one item, it might be cheaper to keep it and save the 25% on the full box. I have heard there are groups you can sell the items in.
Is Dia & Co Worth it?
In my opinion, yes. I wouldn't do it monthly. I try to do subscription boxes 2 or 3 times/year (as we only have 2 real seasons here in AZ). They seem to REALLY listen to you (if you do a thorough job of filling it out). Plus, sometimes they offer a free trial, and then you'd be out nothing to try it, and perhaps you'd find a new item that you just love.

Do you REALLY love these boxes, or are they paying you to say this?
Nope, not a paid post. As I said at the top — they do send me boxes, and I often wear their items at blog conferences and places I attend. BUT, think about it — I have tons of clothes, and I CHOOSE to wear their's.

Because I like them. And no, I'm not paid to wear them.
Is Dia & Co your favorite fashion subscription?
For me, I just felt like Dia & Co. listened to me more than Stitch Fix. Between my love of bright colors, and my modesty concerns — I get that I have a lot of things to consider.

But Stitch Fix just seemed to ignore it.
What's your favorite thing about Dia & Co?
I LOVE the dresses. if you're looking for great dresses, look no further. Get the subscription and see if you love them too!
What do you like least about Dia & Co.
I have not loved the crepe tops they've sent me (crepe being the fabric), and sometimes they've sent me stuff that I really liked in the beginning, but then didn't love after a day of wearing it.

As I am not large-chested tops sometimes tops fit weird on me…. that's how it goes.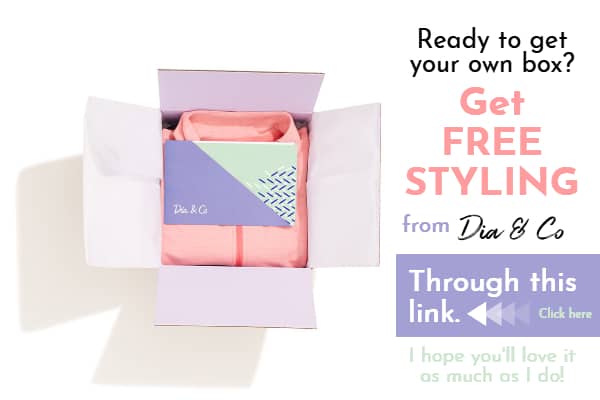 If you'd like to see my next box — be sure to sign up below, and check out my other fashion & beauty posts below that: