Last year I went on a girl's trip to Disneyland. Going to Disneyland with just friends was actually SO fun. Much more than I had expected. Today I want to share my best tips on planning a Disneyland girls trip!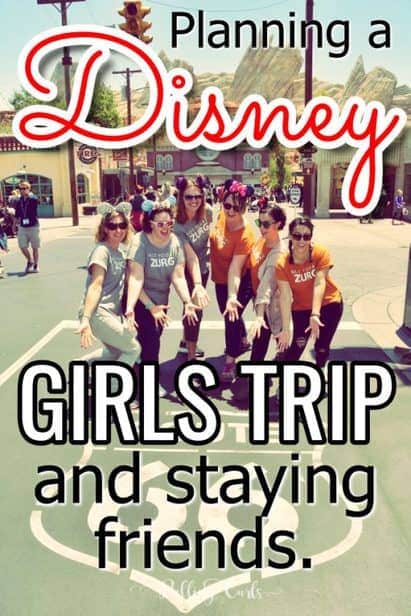 Why go to Disneyland with Just Adults?
I know, it sounds crazy, right? Why would you want to go to Disneyland with just adults? It's a place for kids, right?
WRONG!
I mean, I love going to Disneyland with my kids, but a girls trip is SO much more relaxed, and enjoyable.
I mean, a girls trip is great anywhere, but it is REALLY nice to go to a spot that has attractions, food, etc. It's all RIGHT THERE.
Don't feel the pressure of having to ride every ride, just have every good time together, and people watch to your heart content (it's way funner to watch other parents go crazy when you don't have your own kids).
We actually had a mom on our trip that hadn't taken her young kids to Disneyland and wanted to get an idea of the "lay of the land" before she went with them, a great idea!
How to Plan a Disneyland Girls Trip
Who to pick to go to Disneyland on a Girls Trip With?
Things to consider when getting a group together for a girls trip:
Personalities, you want people enjoying their time together. You know what I mean. 😉
Budgets — have a basic idea if this trip will stretch their budget too much (or they will constantly be skimping or cutting corners)
Availability — you need people that CAN go (and if a husband can't help at all with their little kids, that can be problematic).
Honestly, it was super important for us to get a good group together. I actually got the idea with another friend and we just invited women we liked who we thought it might work for. It ended-up working out really well.
How to gauge interest in a Disneyland girls trip?
It can be hard to get a commitment. I believe I did an email with the dates we were thinking (I'd set a firm date before you invite other people), what I guessed the cost would be (which you can find on my Disneyland trip calculator and a trip to the Get Away Today website).
We had people asking us to change dates, but we said those were the dates we were going and said we'd love to have them, but understood if they couldn't go.
I think we started planning this about 3-4 months in advance. That gave families plenty of time to decide if it was in their budget, time, etc.
How to pay for a Disneyland Girls Trip?
There a couple of options. You can do trip layaway with Get Away Today — that way people can just call in with their payments when they can (if you each pay your portion right away you don't have to do layaway).
You can also put the trip on one person's card and have the other's pay that person (Venmo or Paypal offer easy options, just make sure you pick friends and family in PayPal so you aren't charged an extra fee).
In the parks we split things (also, we had to put hotel parking on my card) and one person said she would be the treasurer and split it all up. She calculated it on the ride home and then told everyone who to pay what to.
I have good friends. 🙂
BTW, I even made us matching shirts. << they were awesome. 🙂
How to pick where to stay at Disneyland?
I am slowly trying every hotel on Harbor Blvd, and I must admit that I LOVE to stay close to the park. We stayed at the Camelot Inn. They had a lovely suite that we got. That kept the price low (otherwise we would have needed two rooms). it had a king bed, and 2 queens (it also has a ROCK HARD weird pull-out sofa — no one ended up sleeping on that). Only one bathroom, which is a bit of a bummer, but it worked out.
Things I would look for:
Safe location (Get Away Today picks the safe ones, so that's always a good place to start)
I found that breakfast was less important as we mostly just ate our way through the parks… and we had no whiny children
Having a suite does lessen the cost
Honestly, I'd call Get Away Today 1-855-GET-AWAY (be sure to use code CURLS10 to save $10 on your trip), tell them what you're doing and what they recommend. They always have such good ideas (most agents have toured the hotels, so it's awesome).
How to get tickets for Disneyland
Do not, I repeat DO. NOT. buy your tickets at the gate (it's one of my mistakes). They are a LOT more expensive (plus, you waste a lot of time at the ticket booth).
I love using Get Away Today (I seriously have used Get Away Today since 1998), don't forget they have a price match guarantee! And yes, you can buy tickets without buying a room.
When we went it was actually just a few dollars more to do a 3-day vs a 2-day (often is that way, I'm not sure why). So, we got 3 days. We only have 3 days of childcare so we left early in the AM, and left in the afternoon of the 3rd day, which was plenty of time for us.

How to get to Anaheim
Because we live in the Phoenix area we drove. One of the friends was gracious enough to drive (and we paid her gas and then some). The drive was actually SO much fun. We really enjoyed talking and giggling.
I felt like I was in college again!
I was even stuck in the back with a good friend and had such a good time!
However, you can also fly. Most people fly into LAX or John Wayne (John Wayne is often a few bucks more, but since you're not flying your whole family it might be worth it).
You can then use an Uber to get to your hotel. Most people find that most cost-effective!
How to get to Disneyland?
If you aren't staying close enough to walk, you can get an uber or use the ART shuttle. It goes between most hotels and Disneyland for a pretty low price. Busses come frequently.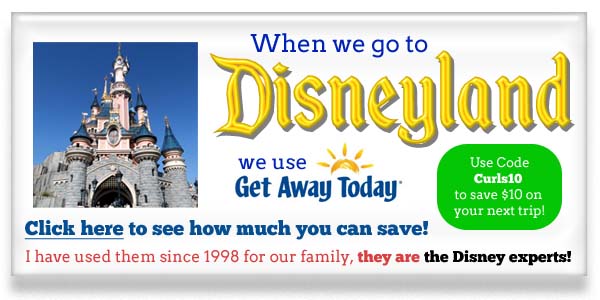 Honestly, we had SUCH a good time. It is SO different than going with your kids. You take it easier, you laugh and talk. You commiserate about life as a mom. I came home with my gas tank so very full.
I hope you get to plan one soon. If you've taken one — I'd love to hear about it in the comments!
Be sure to sign up for my Disneyland Day Planner!