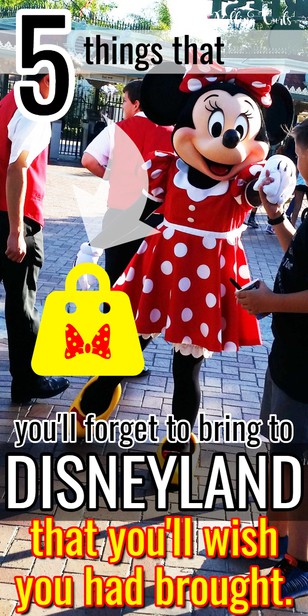 Today I'm going to share 5 things I think are important to bring to a park – be it Disneyland, Knotts Berry Farms, Universal or any local one. They're think I haven't seen many other places, but I have SAVED us by bringing this stuff, that's kind of random and not talked about very much.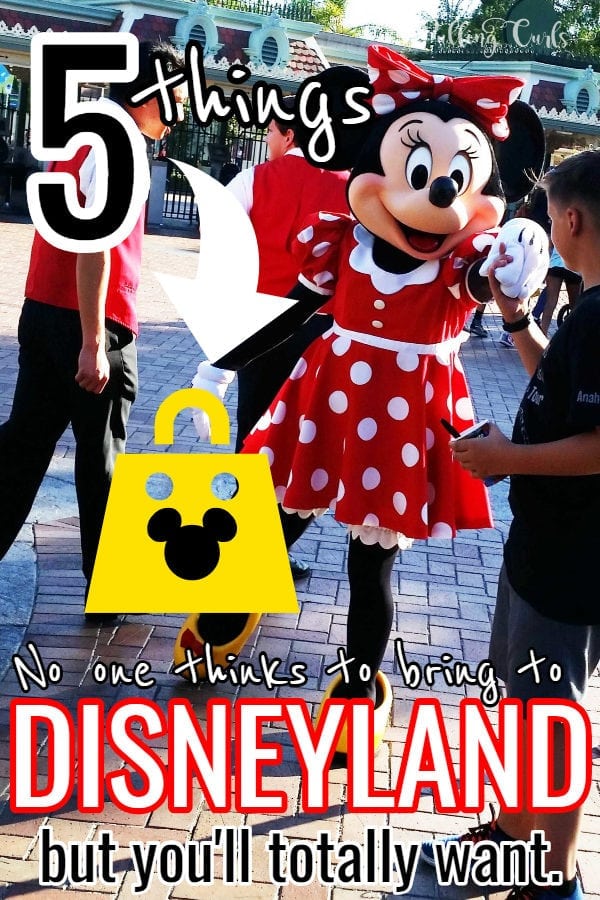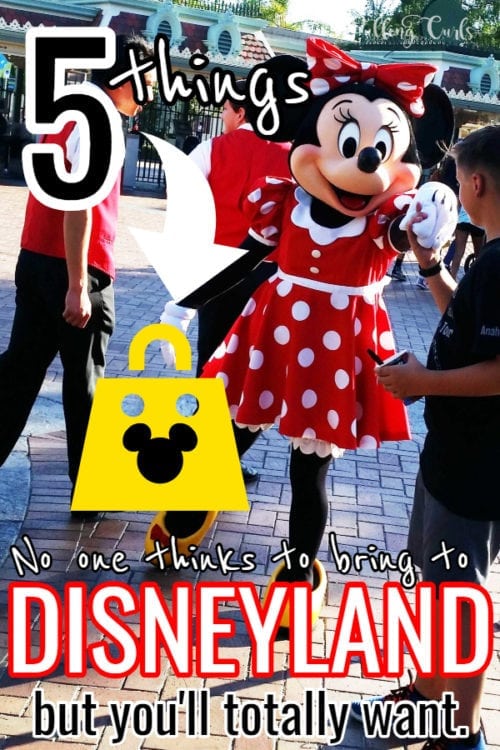 Of course, there are LOTS of things to bring to Disneyland (that post talks about all the stuff we, and most families, bring to Disneyland) — but I'm talking about things that people don't often talk about that can be a HUGE bonus.
But first, don't forget my #1 tip for Disneyland and that's to SAVE on your upcoming trip with Get Away Today! They have a best price guarantee, which has saved my countless hours of calling around, and ending up with a room we still didn't love. They are the Disney experts!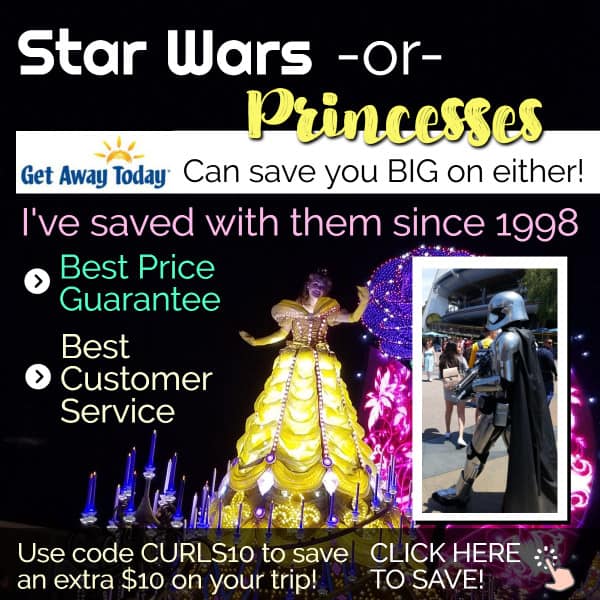 Pulling Curls Readers can save an extra $10 on their trip (hotel & tickets) with code CURLS10.
Don't miss my whole post all about ALL the things to pack for Disneyland.
It's too loud at Disneyland
#1: Earplugs
Got a kid who feels like the park is a bit loud? Buy a few pairs of cheap earplugs and have them in your bag. It really makes rides a LOT less scary when they're not as loud. A cheap thing to have that could save you (clearly, I'd use a larger pair for tiny babies as earplugs could be a choking hazard for small kids).
Kids wet their pants at Disneyland
#2 Pull-Ups
Now, clearly this isn't for everyone — but if you have potty trained in the last year I'd recommend stashing a pull-up, or 5 in your bag.
Disneyland just gets your kids off their norm. They're drinking beverages at irregular times, and they are so distracted. Honestly, I'd put the kids in pull-ups unless you hadn't had an accident in over a year.
I once took a kid who was solidly potty trained, he was close to 4 years old — and he wet his pants 4 times in one day. By the end, he had to wear my sweatshirt out as pants. Yup. I'm that mom. Bring a pull-up or a dozen.
I get chafed at Disneyland
#3 Bag Balm
Disneyland is a time that you'll most likely walk more than you've walked in a while. You'll be wearing backpacks, etc.
Bag Balm is AWESOME for any type of skin irritation. I love Bag Balm in general, but for travel, I fill a contact lens container with it to take with us (make sure to use the twist-close kind, not the flip-top).
I don't want to get wet at Disneyland
#4 Ponchos
There is a wet ride or two at most amusement parks. I HAAAATE walking around the rest of the day with wet pants. So, by bringing some cheap ponchos, we save ourselves from that.
They can also save you if it starts to rain.
Ponchos in the park are pricey, but if you get a big pack from Amazon you can get better quality at a great price.
You can also just use large trash bags…. those will work in a pinch too. 🙂
I like to keep my valuables on my person at Disneyland
#5 A small purse or a fanny pack.
It's nice to have a small pack that you can keep on your person at all times.
At Disneyland, we often kept snacks, supplies in the stroller.
At Universal, they have lockers that you can put your backpack in while you ride the larger rides.
In both of those scenarios, it's still great to have a pack that you can keep on your person with your cash and cell phones in (along with basic supplies).
No reason to feel like you can't do a fanny pack. They're super handy, even if they scream TOURIST. Personally, I have a small bag that I absolutely love. I keep it on for all the rides, and it works well to just tuck it to my side, even on roller coasters — even thought I'm overweight.
I don't want to feel crowded at Disneyland
BONUS #6 A Sheet
This one is especially helpful at Disneyland. If you don't "stake" your ground at the fireworks or a parade, you'll be surprised at how quickly your "ground" will be taken up by other people. Somehow that sheet just marks your territory.
The nice thing are these really large, thin sheets that pack into a tiny bag and are easy to unfurl and mark your territory. Also, you end up sitting on a clean spot. Which can be nice when you're sitting on the ground.
---
So, that's it — my 6 things to bring to an amusement park that you might not think of.
Don't forget my REAL #1 — to book with Get Away Today. I've used them since 1998!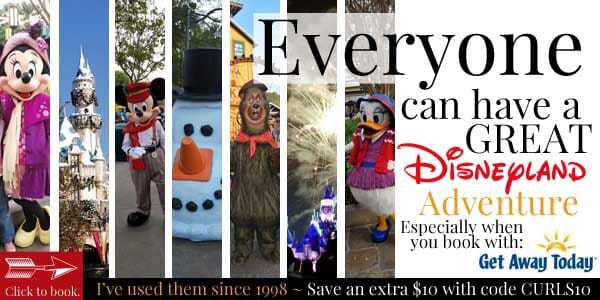 Be sure to grab my Disneyland Trip Calculator (easily works for other trips too) and by bringing the right stuff you'll save yourself some pain and add to your pleasure all for very little cost. 🙂 And check out my other travel posts below that.
Don't miss my list of Best Affordable Disneyland hotels — a list of 30+ of my favorite hotels (plus my own current top 10 hotel list).