We all know I love me a budget. I work really hard to keep our family on track all year long. And frankly, we don't vacation often. BUT, we have made a vacations a REALLY big priority for our family, and we will be vacationing this year. That leads me to the question, how to budget on vacation?

I didn't want to feel constrained on vacation, which is truly a pipe dream… but frankly, I still hold to this, somewhat. I do think that vacations are time to let it loose a bit. We'll be eating out, and buying souvenirs, as well as buying food at whatever place we can. Honestly, I don't want to go on vacation if I can't afford to splurge a bit. That's why family fun is another account that I squirrel money into all year long.
Much like my weekly budget post, I do well with budgets on a tighter time frame, then a wider one. I actually make a daily budget while we are on vacation. The reasons for this are a few:
First, we often stay with family at some points of our vacation. When staying with family, I should be spending less then if I am staying at a hotel.
There may be other places we stay where we plan to spend more, or if we are camping one night — that night can be less. Days at disney, I don't actually have to spend as much because I have a plan that makes it so we don't eat out as often. It makes me look at the vacation as a whole when setting the budget.
BTW, if you want a great hotel on a budget — I ALWAYS check TripAdvisor — their honest reviews really help me make the right choice when choosing a place to stay!
FYI — Pulling Curls is one of the family travel blogs to help you get the most out of your journey!
So, let's pretend our vacation looks like this:
1 day driving, stay at grandma's house
1 day driving, stay at other grandma's house
1 more night at grandma's house
Drive back to first grandma's house
Stay for 10 days
drive, stay in hotel
drive home.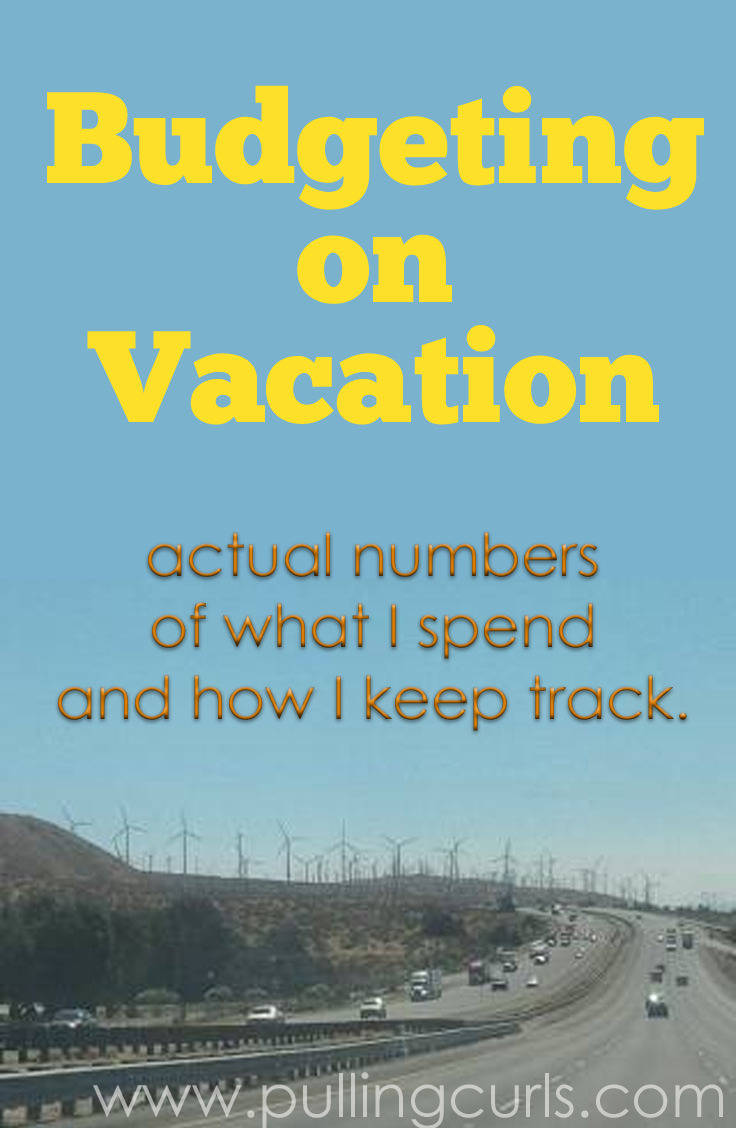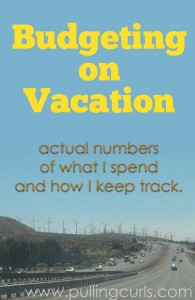 This, as of late, is a fairly typical vacation for us. AND, I do budget for gas in the large equation of things, I don't budget for it in this budget (this budget is only for day to day expenses, which is what I tend to have the largest problem with). I do like to use the AAA fuel cost calculator, to get an idea of how much gas will be. I have a really hard time budgeting for gas, so it is what it is.
This is how our budget will be for the trip above (amounts are daily amounts, so if I'm staying 10 days, times that number by 10):
1 day driving, stay at grandma's house $50
1 day driving, stay at other grandma's house $50
1 more night at grandma's house $30
Drive back to first grandma's house $30 (this is actually a Sunday, so we are unlikely to spend anything, besides gas, but Sundays are my buffers for other days I spend more)
Stay for 10 days $30/day for a total of $300
drive, stay in hotel $100 (I didn't include the hotel cost here, and that would be additional)
drive home. $100
Add all that up and I get the grand total of 660. I do use some of our monthly budget money to fund this trip though, as well. We get 80 dollars/week and this trip will span 3 Fridays, which is 240 dollars. And hopefully — out of our family fun account, I will only have to spend 420 (plus hotel and gas — gas will probably be around 400 and hotel is just under 100 ~ bringing my total for the trip to about $1200, less than 900 will have to come out of family fun, because some will come from our weekly budget). This is all good news, because I mentally budgeted 1k for this trip in our Family Fun account.
Does that make sense?
I should say that I use Kayak to book our hotel room, quite frequently. Sometimes I just use that as a gauge and I call around a bit. It usually works out pretty well.
We have used a cool envelope system once before on vacation. I plan to use it again this summer. It's easy to just spend, spend, spend on vacation, thinking it's all play money. That app helps me remember. I think it syncs between phones (but then two people would have to enter costs…. ). You could just as easily use a notebook and mint.com.
We do try to eat from grocery stores, or from a well-packed snack bin, as frequently as we can. That certainly helps cut costs, and allows me to splurge when I want to.
How do you do budget on vacation? I still haven't gone yet — and I can use all the tips I can get!