Doing Disneyland on a budget is a lot easier than other theme parks. Disney has some very generous outside food policies, and a large variety of hotel rooms nearby that can really help you to save some cash. Visiting Disneyland is never going to be "cheap" but your Disneyland trip can come in on budget as long as you're ready to do some preparations in advance.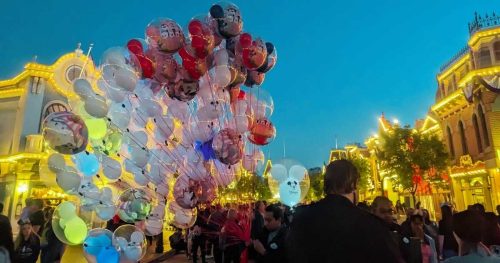 But first — why should you trust me to help you save on your Disney Resort Vacation? Hi, I'm Hilary — the curly head around Pulling Curls. I'd say that I'm a Disneyland planning expert. I may not be the best at knowing what/when to do things the park (although I do know my way around the Genie+ system), but I love planning a Disneyland vacation, and have done a lot of them on a shoe string budget, so let's get started!
And, if you're interested in saving money at Disneyland, check out my post on how much money Disneyland costs, doing Disneyland for cheap, how much Disneyland costs for a family of 4, and also my Disneyland Cost Calculator that helps you know how much you'll need to visit Disneyland on a budget and stick to it, you can also grab it right here:
**Please remember that every family likes to use different money-saving tips, and while we did some things to save money, would would splurge in other areas, so make sure that you do what works for you family as you experience Disneyland.
Pick Your Hotel
This is the one that can save you the most money. Unlike Disney World, the majority of Disneyland visitors do not stay at the Disneyland resort hotels (aka the Disneyland Hotel, Grand Californian or the Paradise Pier hotel). There just aren't enough hotel rooms (there are just the three hotels in the Disneyland resort). The other good news is that these hotel rooms come in at many price points, and many are right next to Disneyland or are close to Disneyland.
These hotels are called Disneyland Good Neighbor hotels, and many will sell tickets and have some park information as well.
I have a ton of hotel reviews on this site, but you may want to check out my post on the cheapest Disneyland hotels.
For me, here are my favorite cheaper hotel rooms are (this is a GREAT way to save):
For me I have always used Get Away Today to book my hotel rooms. Normally, I don't love going through third party sellers, but Get Away Today is different. Because they have such a good relationship with so many of the good neighbor hotels (and sell at huge volumes) they offer great reduced rates that you can't find anywhere else (they have a best price guarantee, so you know you're going the best price on your vacation package). They also vet their hotels so that you have a great hotel stay no matter which one you pick. If you're planning a trip to Disneyland, they should be one of your first stops (after reading this article).
Some people worry that picking cheaper hotels near Disneyland will lead to a poor experience, but many of these will save you money and possibly even be CLOSER than the Disneyland hotels. They come in a variety of prices.
Pro Tip: When you book far in advance you're more likely to get the hotel you want and save a lot of money vs booking closer to your stay. However, sometimes you can save with a last minute trip too (if there are some rooms left to sell)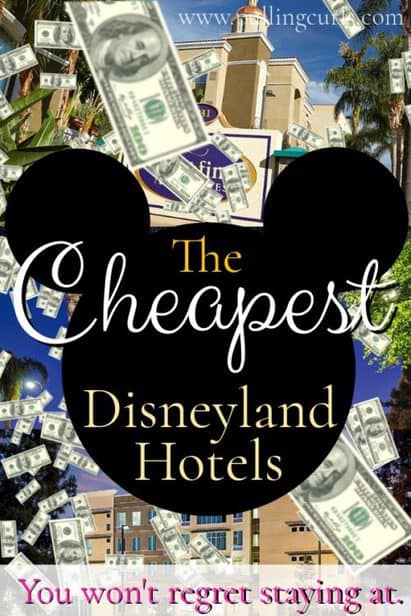 Bring Your Own Food
This one can also be a REALLY big savings. Disneyland allows you to bring almost all foods into the parks (they just don't allow full outside meals, or coolers (or BBQ's, and yes I've heard some people have tried).
You can eat free breakfast at your hotel, or bring some Gogurts and cereal in your bag. You can also bring enough of your own snacks to last your whole day.
In the times that we tried to be the very cheapest we never ate at the park. I had an insulated bag that had fruit, string cheese, Gogurts and more in. Plus another bag with dry snacks like cereal, crackers etc. So, we just snacked out way through our days. Our kids never wanted to actually sit down and eat anyway, so it worked out. There are grocery stores in the area, so you can pick stuff up when you get there (or bring it with you).
I loved bringing a stroller with a good amount of storage space to hold our snacks back in the day, this helped a lot, now that we don't bring a stroller this is not as easy.
Plus, we stayed a hotel that had an evening reception, so we'd make it back by that time and eat a small meal before putting the kids to bed (and having some adult snacks in our room after that). It was REALLY cheap.
But, you can also combine snacks with full meals from the parks, just do what works for you.
Some families allow each kid to get a snack of their choice while in the parks too (makes them pick something they really want at one of the carts inside Disneyland).
A BIG tip is to bring your own reusable water bottle. Water bottles are pricey in the park, so fill your bottles with ice at the hotel and refill at the water stations around the park. Plus, restaurants that serve sodas in cups will offer you a cup of ice water at no charge.
**IF you want to bring a meal in a cooler to the park, you can put it in a locker and there is a picnic area outside the park. They will not let you bring a hard sided cooler into the park itself.
You can still book your Christmas trip 🎄❄️🎁 to Disneyland It starts November 10th! Click here to get the best availability for the best hotels (and the best price on tickets!)
Hotels I love:
– Cambria Hotel (GREAT one for larger parties, and I love their price)
– Courtyard Theme Park Entrance (this one has a WATER PARK and is SO CLOSE)
– Residence Inn at Anaheim Resort (still close and really nice)
– The Element (walkable and the BEST breakfast in the area!)
– Tropicana Inn (so close, adequate — all about how close it is)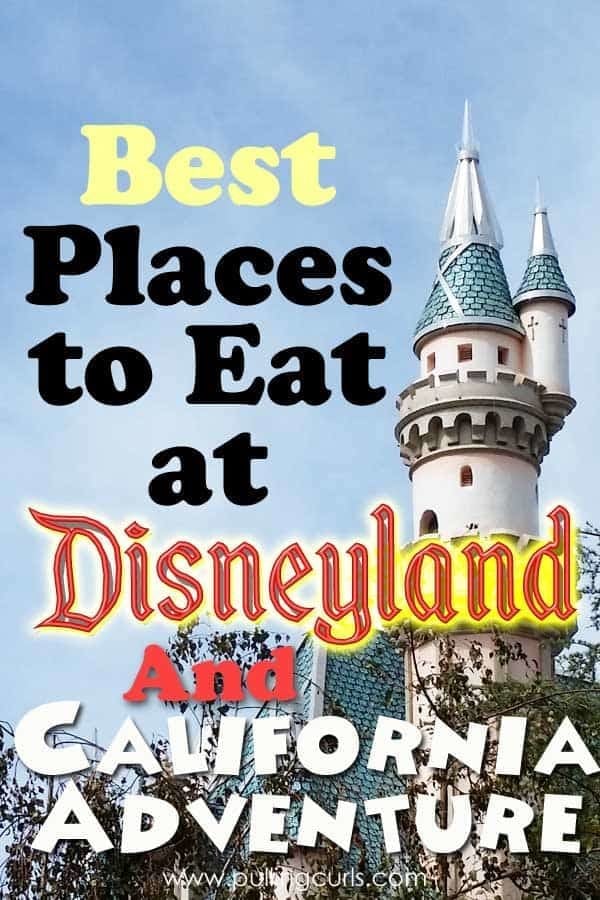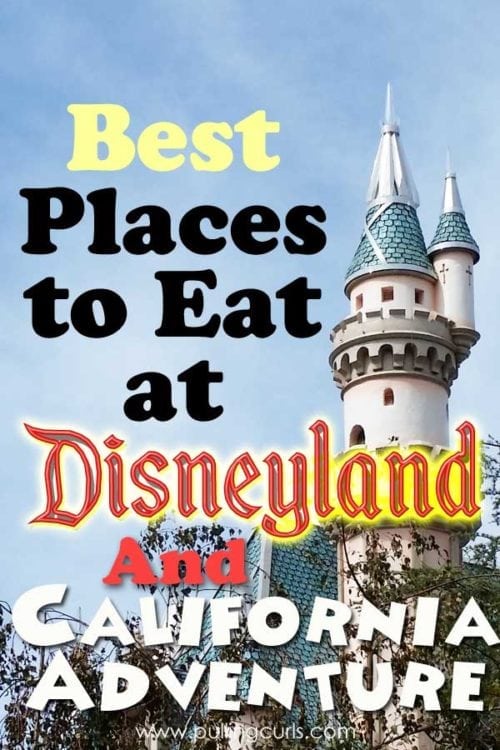 Use Uber
This seems more expensive, but using Uber has a few savings for you on your trip to Disneyland:
Most hotels have a parking fee that is normally in the $15-$30 range (often using Get Away Today gives you either free parking or decreases the fee a bit).
If you get a rental car at the airport that price is on top of this parking fee.
If you park at the parks the fee is around $30/day — so, you could be paying close to $60/day for parking between your hotel and parking at the Disneyland resort…
If you drive to Anaheim, you can just leave your car at the your hotel — and use an Uber instead, it may be cheaper than paying for Disneyland parking.
It is about $6-$10 to uber to the parks from most of the hotels in Anaheim (one way). Which likely makes it cheaper for a lot of families than either the bus system (stay tuned for more on that) or the parking price. When you're planning your trip you can always type in both addresses to get an idea of how much it is from your hotel to the Disneyland area.
So, if you decide not to bring a car, there are some other options (it would be important to price out what works for you and your family). I'm going to one of the ways to go to Disneyland next!
IN CASE OF SURGE PRICING: Uber to the parks, and then using a 1-way ART pass to get home. You can purchase those tickets on your phone using the app.
**You can also stay within walking distance of Disneyland. I have a whole post on the closest hotels to Disneyland. This is certainly the easy way to get to the parks (and you may find a nearby hotel that easily fits your budget).
Some hotels also offer a free shuttle that would help reduce costs for your tight budget, and are a great way to get to Disneyland.
Use the ART System
The ART System stands for Anaheim Resort Transit — busses that service hotels and Disneyland (as well as some of the other attractions around there). It's normally $6/person/day (although kids ride for free). If you buy multiple-day tickets you can decrease the daily rate too.
While I have had some bumpy spots in using them (it has the normal pain points of any public transit) it is a great option, especially if you have kids who can't ride in an uber due to carseats, etc.
The other good thing is how close they drop you off to the park. It's even closer than the parking garage trams drop you off at.
Use other airports
While we're talking transportation, let's talk about Airports.
Most people use one of three airports to fly to Disneyland:
Orange County (SNA) — also known as John Wayne, this one is the closest in miles.
Long Beach (LGB) — While this one is a tiny bit further away, I think it is easier to navigate and you're from your Uber to TSA check in within a couple of minutes
Los Angeles International Airport (LAX) — the largest international airport. The price for an Uber from LAX can be pricey (although tickets can also be cheaper). I'd guess that it's normally about $20-$50 more from LAX (and has higher surge pricing than the other airports), and it usually takes about an hour to get to the Disneyland area.
So, check airfare at all three of those. Burbank and Ontario aren't crazy far, but they are further away, and the Uber cost may eat-up any savings you had booking to those spots.
Personally, I prefer to use SNA or Long Beach, and most often Southwest Airlines has the cheapest flights (and using their credit card often gets me some free flights — it's REALLY easy to use!).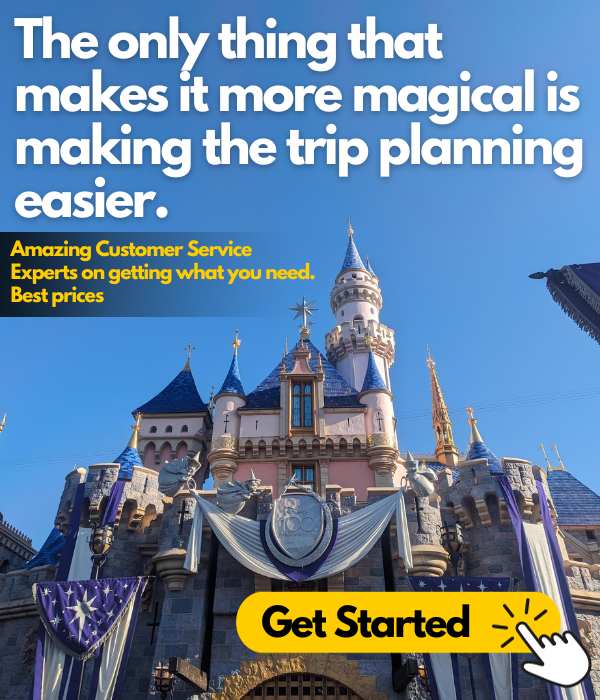 Purchase Discount Disneyland Tickets
I would've used to say to purchase discount Disneyland park tickets in advance. But now, with the reservation system you can't wait to buy tickets at the gate (you need to buy them in advance either from Disney or from a 3rd-party seller). I recommend getting your tickets from Get Away Today. Their ticket prices are a good amount cheaper than purchasing them directly from Disney. It isn't quite as convenient as purchasing them through Disney, because you have to put the ticket #'s through Disney's system to get a reservation, but it is well worth it for the savings.
I actually have a special link that makes my tickets even cheaper than the general pricing of Get Away Today, grab your discount tickets here. They guarantee you get the best deal (and they have the best customer service, so even if you find a cheaper price on tickets or a hotel room they will price match and you get their great customer service too).
Remember young children under the age of 2 do not need to pay to get in the parks, so many people like to bring kids before they turn 2 to save money. I have a post on the best rides for infants.
**One-day tickets are not cheaper with Get Away Today, so if you plan to get just a single-day ticket, I'd buy it from Disneyland (however, Get Away Today tickets can be refundable vs Disneyland's are not — but you can shift your dates if necessary).
One-day tickets are sold on "tiers" by Disneyland based on how busy it is supposed to be. Multi-day tickets are not priced in tiers by the dates of your travel.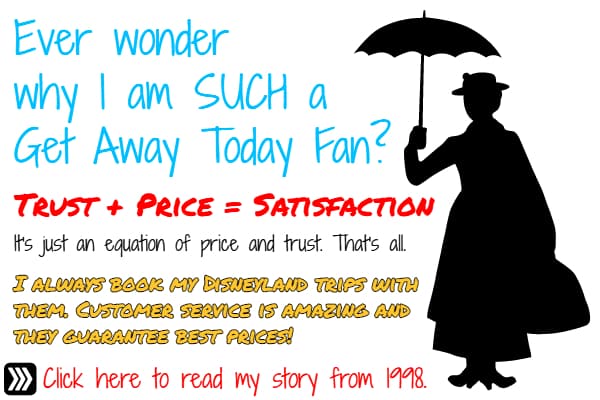 Use Genie+ (or don't)
Ok, I personally think that Genie+ is a money-saver because for $25 I can purchase one day less of a ticket and still do the things I want to do. However, if you just want to enjoy the park and the atmosphere (and you have a long ticket) Genie+ may not be worth it.
Last spring break our family did a one-day trip using Genie+ and got ALL the rides done that we wanted to do (some of them multiple times). We did go park open to park closed, but we had a wonderful day — and while the pricing for a one-day ticket IS expensive, it does still save you a lot from a two-day ticket (plus less hotel nights, less eating out, etc).
However, if you're purchasing a 4-day ticket, a 5-day ticket is often the same price (making the 5th day "free") or just a few dollars more.
**If you don't want to use Genie, try to get to the parks first thing in the morning, it will allow you to get lots more done before the crowds get there.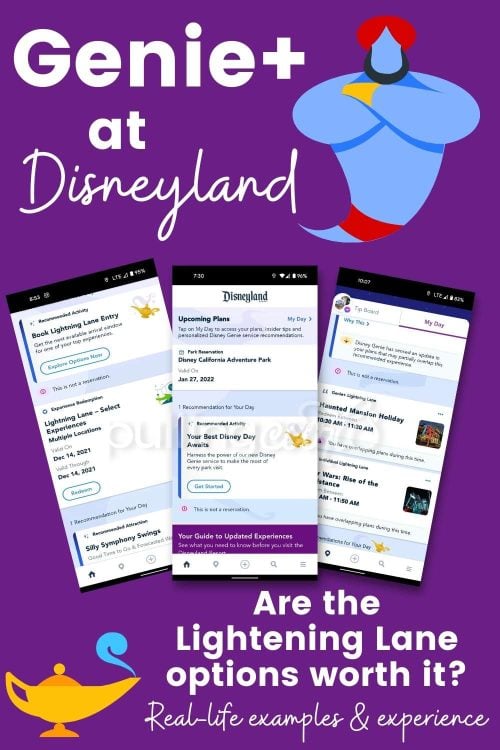 Don't Hop
Park hopping is when you go from one park (say, Disneyland) to the other park (say, California Adventure) in a day. To do that, you need a Park Hopper ticket, which adds $60'ish to your park ticket (no matter how many days it is).
So, let's say you buy a 1-day 1-park per day ticket for $130, adding hopping takes it to $190'ish, which is definitely a big price increase. The price increase seems less when you add it to a 5-day ticket (as the cost is spread over 5-days). So, if you think you may not even hop, or will only hop minimally, it may not be worth it to buy the Park Hopper option. Personally, if we're there more than one day we don't hop — just because it adds walking time we'd rather use elsewhere.
Limit Souvenirs
This is a big one for families. For us, we just guided kids right out of the gift shops. The annoying thing is that a LOT of rides end in the gift shop (looking at you Star Tours). Meaning we HAD to walk past ALL that Star Wars merchandise just to get to the rest of our day.
We just had a feel free to look at it for a few minutes mentality. Sometimes kids used allowance money to purchase, but we made it clear that as parents we didn't purchase anything.
We did, however, get each kid a pin for each trip. Pins tend to be under $15 so it worked-out that they had a memento, but it didn't break the bank.
I have a GREAT tip on how to keep kids from shopping coming up, so stay tuned!
Split Meals
You can often split meals at Disneyland, and still each can be very satisfied because most portions are very generous. My favorite places to split entrees is at Plaza Inn. They have giant portions, and it is easy to ask for an extra biscuit because it is cafeteria style. One fried chicken platter would feed an adult and 2 kids in our family. I have a whole post on our favorite places to eat in Disneyland.
You can still book your Christmas trip 🎄❄️🎁 to Disneyland It starts November 10th! Click here to get the best availability for the best hotels (and the best price on tickets!)
Hotels I love:
– Cambria Hotel (GREAT one for larger parties, and I love their price)
– Courtyard Theme Park Entrance (this one has a WATER PARK and is SO CLOSE)
– Residence Inn at Anaheim Resort (still close and really nice)
– The Element (walkable and the BEST breakfast in the area!)
– Tropicana Inn (so close, adequate — all about how close it is)
So, feel free to ask your server or the person you're ordering from how big the dish is and perhaps split.
Another option is to go into Downtown Disney to eat. I've had big portions there (and the prices are a bit less than in the parks).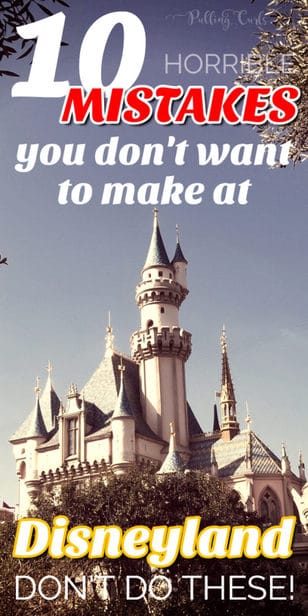 Pre-purchase Souvenirs
This is one of my favorite hacks. I love to get my kids cheaper items at Walmart or Amazon that have their favorite characters at lower prices, and give it to them before the trip. If you already HAVE a Star Wars shirt, it's easy to walk by the merch as you proudly show your Baby Yoda shirt off that you got to wear to the parks. It makes kids extra excited for their day at the park, and it saves some cash.
Focus on What's Free
There are a LOT of extra activities you can pay for at Disneyland (looking at Bippity Boppity, or building a Light Sabre), but there is a LOT that is free in Disneyland. Focus on all of the free activities you can do and enjoy those, and hopefully you won't miss those paid experiences as much. I am here to say you can still have a GREAT time with the items included in your ticket, and skipping things that are an additional cost and take some of your time in the parks.
Ok, those are my favorite ways to save that are SIMPLE and easy to do. There are often other ways to save like purchasing a Disney Gift cards at a discount (maybe saving $5) that you can use in the park, or using credit cards points to book your vacation but those tend to be less simple, so I like to focus on the easy ways to save on your Disneyland Vacation Package.
The BEST way is to combine deals like that WITH these tips to save the VERY most!
I know a lot of people think that certain times of year can save you a lot, so I did write a post on the best time to go to Disneyland to save money, but there wasn't a huge difference in the time of year other than PEAK times (aka, Christmas and peak summer weeks).
I hope you love your next Disneyland vacation to the Happiest Place on Earth. Be sure to check-out Get Away Today. They can show you pricing and you can decide what ways to save money you want to choose as you visit the parks and have a magical Disneyland vacation — and check out my other Disneyland tip posts below this one!
You can still book your Christmas trip 🎄❄️🎁 to Disneyland It starts November 10th! Click here to get the best availability for the best hotels (and the best price on tickets!)
Hotels I love:
– Cambria Hotel (GREAT one for larger parties, and I love their price)
– Courtyard Theme Park Entrance (this one has a WATER PARK and is SO CLOSE)
– Residence Inn at Anaheim Resort (still close and really nice)
– The Element (walkable and the BEST breakfast in the area!)
– Tropicana Inn (so close, adequate — all about how close it is)
Don't miss my list of Best Affordable Disneyland hotels — a list of 30+ of my favorite hotels (plus my own current top 10 hotel list).