We went camping last weekend.
It was my first time, ever.
Sure, we'd camped at Drew's parents land, but they live just up the road so it's not really camping. It's sleeping in a tent.
We'd planned to go with friends, but that didn't end up working out.
And I am really glad that it didn't, because this family rarely sees each other. Me and the kids are home an awful lot, but Conner is gone more and more and life just gets crazy busy. This was the time to slow. down.
When we camped at Drew's parents place I realized that maybe this was the ticket for our family.
Because money for a hotel could go to ASU instead. Yay, ASU — have a hotel on us! 🙂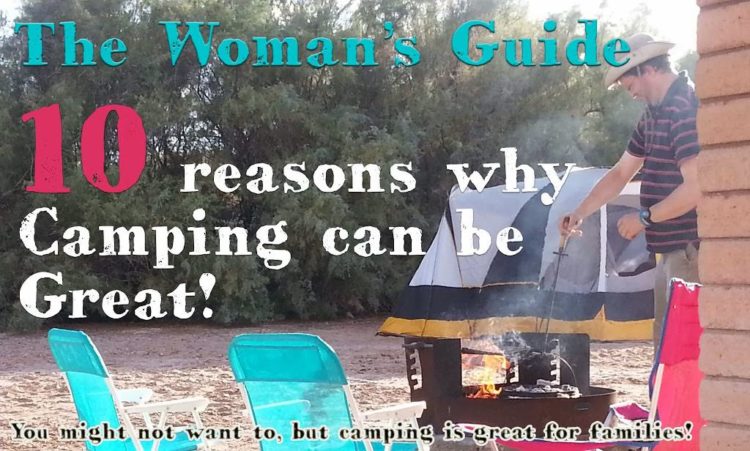 So, here's my top 10 great things about camping. I hope to share my advice in the coming weeks if anyone else is ready to take the big first step.
** I should share that I did camp at girls camp, but that's not quite the same. We have also meant to camp together, but with me trying to get pregnant for a long time, and then I refuse to camp with a non-walker (judge me, that's fine) it seemed like life just got swallowed by something else. I never thought camping was bad or not for us, it was just taken over by other things. Great other things, just other things.
Some of the links in this post are affiliate links. Read my full disclosure here.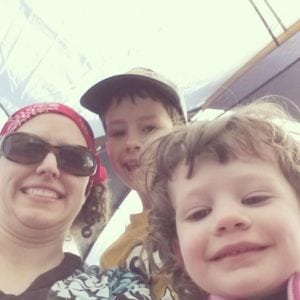 1. There is no wi-fi — we did get cell service, spotty. Which was nice. I liked knowing I could call if necessary but I put my phone into airplane mode and mostly left it there (although I did instagram a few photos, my bad) but for the most part we were electronics-free (and yes, we did confiscate a DS on our way up there).
2. That left us with a lot of together time we don't normally get. And that is our own fault. Which meant the 5 of us needed to get along and work together without hiding behind some device. And that, in fact, gets its own number.
3. I let my kids eat crap. I packed crap to bring, and we ate crap while we were there, and they loved it. And a good part of me doens't care that they ate a ding dong (it wasn't a ding dong, obviously, but a knock-off ding dong, but I sure do miss Zingers) before they ran off to hop on rocks. No one is parked in front of a TV (later we did park in front of the fire, but that's different). Sure, I made them eat a few carrots before they got the crap, but it was a foodie free for all.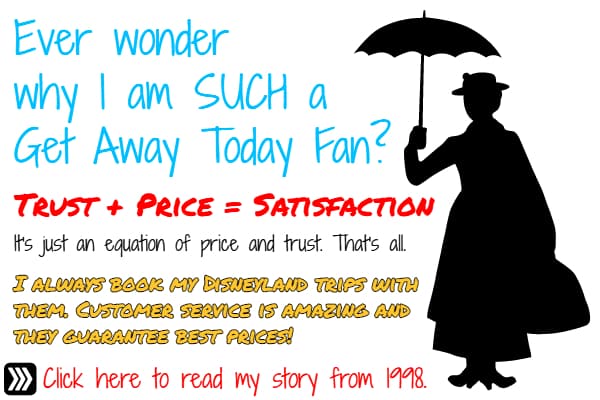 4. We had to work. You have to work to put up the tent. I really need to step back and let Drew and Conner do more of the work together. I am sad to say my kids hid in the van for a lot of the set-up work, but they did some, and some is better then none.
5. You get the play with flashlights. This is very fun, especially when you are 3. It's the little things, especially for little people. Although, we all enjoyed our headlamps.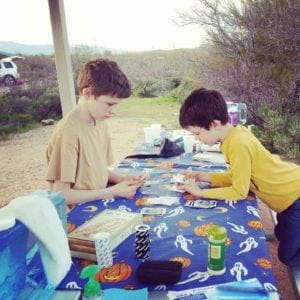 6. OH man did we get good use out of the cards we brought. We played Speed, Mormon Bridge, War. I'm hopeful the kids will play these more at home, but a lot can be learned as you teach your kids card games. And a lot can be siphoned from their brain while you're doing it and they're not noticing you're prying information out of thier greedy little hands.
7. All the holding hands. I seriously could NOT get enough of Paige holding the brothers hands as the trundled off to the potty or the playground. Love her, love them.
8. The fire. It's just mesmerizing. It brought us together every night to sit around and talk and that doesn't happen as often as I'd like. Hypnotic advances in mind sharing. I'm gonna write an article about it. There may or may not have been a game of truth or dare.
9. Sleeping in the same room provides shared experiences. We all knew the owl hoot'd all night. We all knew dad snored, Paige ended up in his sleeping bag one night. Shared experiences are happy things.
10. We were together. Wherever we went we were together. There was no, I'm going out to the lobby to check the paper, or I'm going to the gym, or let's all lay on the beds and watch TV. There was us working and staring at the fire. 🙂
While I haven't ruled out hotel rooms in the future for our family I am glad we got this little adventure. Now that I've done it, it has taken some of the fear out of it. Kids were careful around the fire, we were able to buy the few things we forgot (even if the prices almost killed me). Life went on and was dandy. We really enjoyed each other.
SO, have you camped? Do you like it? Would you do it again? Something inside me says that camping now is more important then it used to be. I think this may parlay into a tradition. Tally ho!