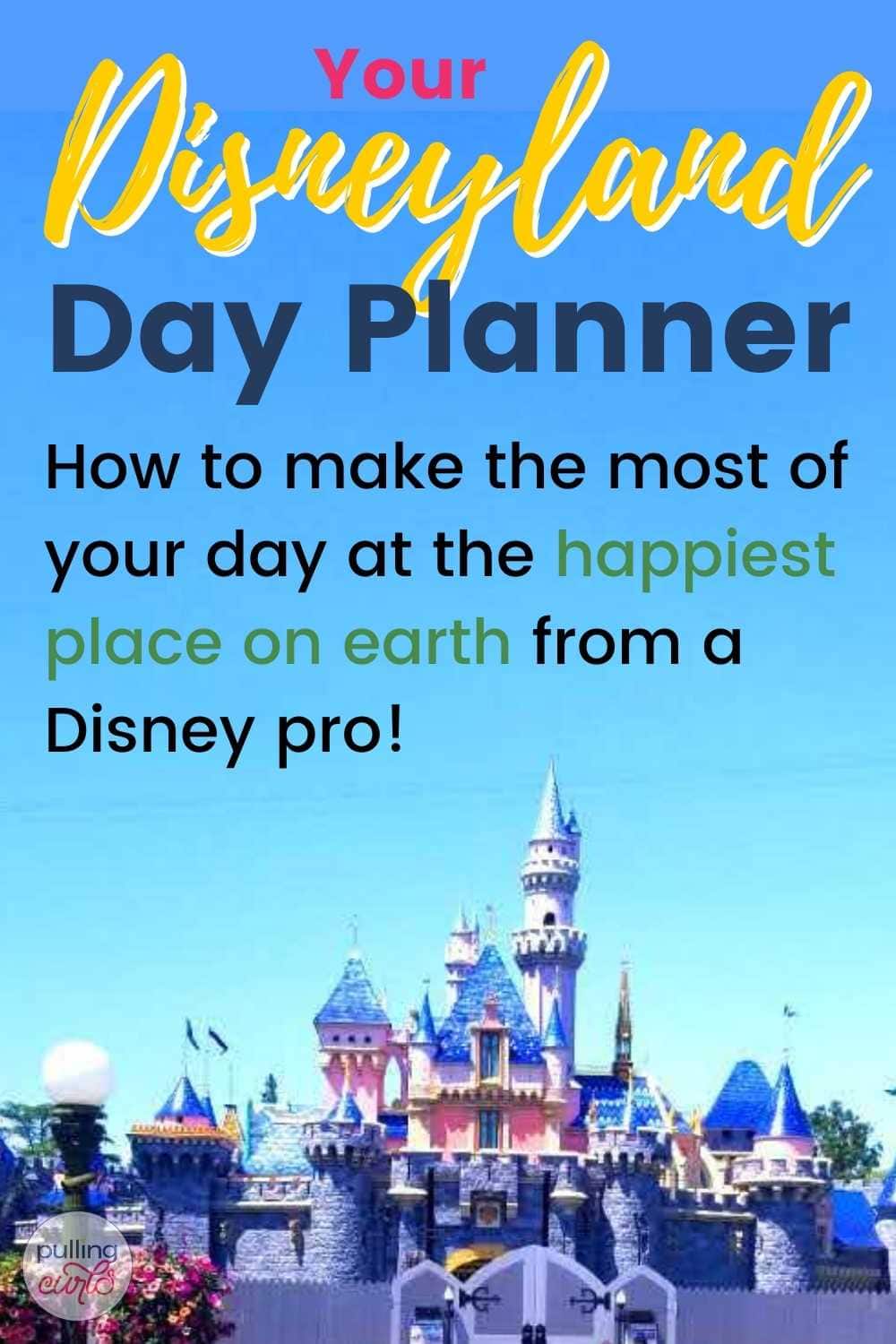 Walking into Disneyland for the first time can be daunting. Where should you start? What should you do with your day? Let's talk Disneyland planning and what you should do with your day while you're there.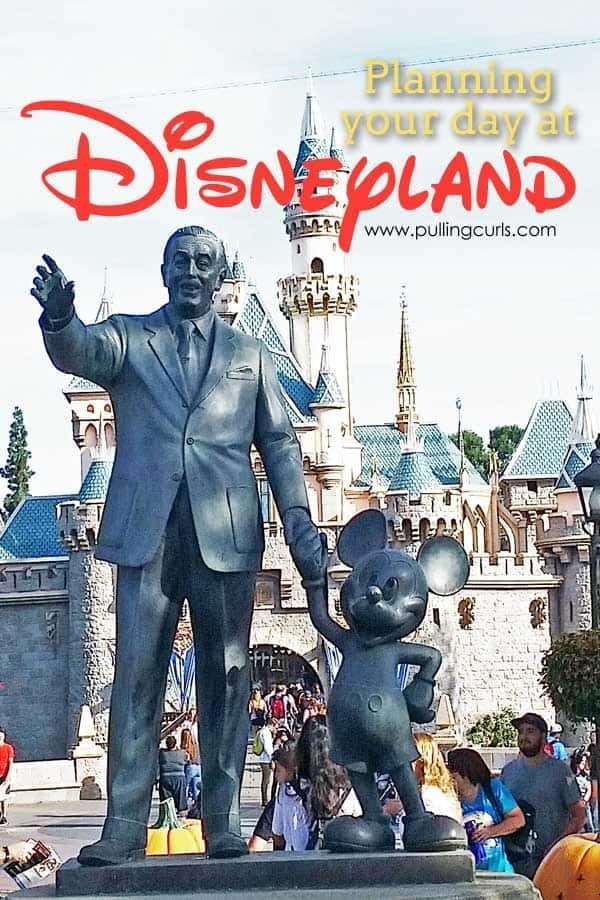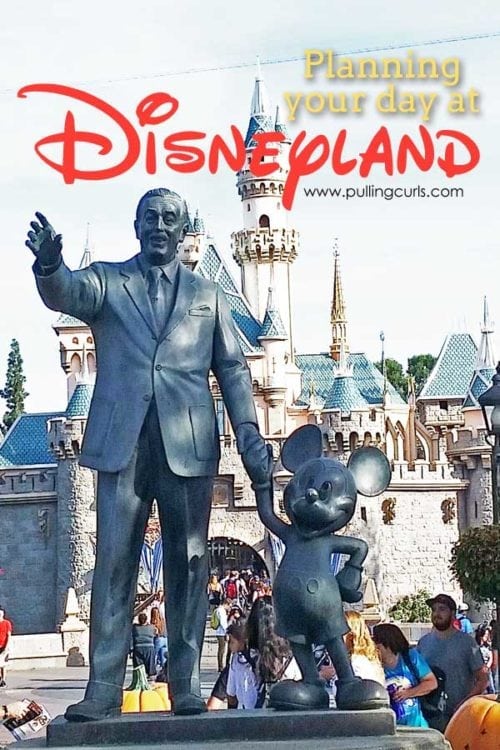 I need a great hotel to call home base while we're at the parks. All my good Disney days starts with a package from Get Away Today. I've used them since 1998. I love their best price guarantee! Mention Pulling Curls on the phone or use code CURLS10 to get $10 off your trip (that includes at least 2 nights hotel & tickets). Enjoy!

Note: There are a couple of programs that can give a minute by minute guide to Disneyland. There are Ridemax and Touring Plans (that I know of). We used Ridemax a few years ago. It was nice with little kids to just say "it says to go to Peter Pan next" — but it does take a lot of the freedom and magic out of your day. However, I think they're much more usable at the larger Disneyworld. These aren't affiliate links. I haven't used Ridemax in years, but I wanted to let you know about them, in case that type of planning excites you. 🙂
This post is going to approach it a bit more with what to do first, next, go to … etc.
This post will focus mainly on Disneyland, I also have a California Adventure post specific to that park!
**If you're looking for up to the minute Disney info, check out Disneyland Daily — that girl knows her Disney, she has kids and she really knows what to do to smush in the most joy. I really like her site! **
I'm on vacation
Ok, here's the deal with Disneyland. You're going to wake up earlier than you do for school, you're going to rush through breakfast and try to get to the park EARLY if you want to get a lot done. This isn't a time for lolly-gagging at your hotel room. You're not on vacation, you're at Disneyland for gosh sakes.
You can, however, have a very leisurely visit to Disneyland. Enjoy the ambiance and a few rides if you want to sleep in and enjoy your trip a bit more. You just, likely, won't be riding every ride.
Genie+
Quickly I want to talk Genie+ (you may recall the previous program "Fast Passes"). I have a post all about Genie+ here and another with all my Genie+ tips and tricks here. The sad part is that Genie+ is an additional fee in the parks. But if any of the following scenarios are true for you, I highly recommend it:
You have a limited amount of time in the park
Riding a lot of rides is a priority for you/your family.
Note: Lightening Lanes have two ways to access them.
You can pay $20 (pricing subject to change) for Lightening Lane access to 19 rides (12 in Disneyland, 7 in California Adventure). You can use the Lightening Lane once/day on each of these attractions.
Some rides are billed "ala carte" — in Disneyland, this is Rise of the Resistance. This price is totally separate from the other Genie+ — you can get both, or you can just get Rise of the Resistance. Totally up to you.
Long Wait Rides
There are a few "big ticket" items at Disneyland that I'd recommend doing in the morning (btw a lot of these rides can be intense, if you have kids — be sure to check out my scary at Disneyland post to cross-check it).
Rise of the Resistance This is the newest and most popular ride at Disneyland. It's hard to say when the best time to ride this is. Because it is so far from the rest of the rides, if you run there at rope drop, you won't be riding the other rides early in the day. Early afternoon often has the lines for this at under an hour.
Indiana Jones. This is likely the second largest line during the day. FYI, this ride isn't suitable for the littles, so sometimes it's smart to grab a Lightening Lane for some of your party to enjoy this one while the rest of you tour Tarzan's treehouse or the Jungle Cruise. I took my 7 year old (who is averagely tender, I believe) on this one, and she did NOT enjoy it. I think she had one arm around mine and her hands covering her eyes the entire ride. It's loud, it's got fire and it can get intense. Just a heads up.
Splash Mountain. The main problem with this one is that you WILL get wet. Hence, I don't head there first thing in the day. I really try to time getting the fast passes around 10 and then hoping it's around noon that we can ride this ride. Alternately, bring ponchos or plastic bags to wear so you're not cold and wet the rest of the day (Disney also sells these, if you forget). Think log flume, just way cooler.
Space Mountain. My favorite ride in the park. It is a roller coaster, but there are no large drops. It's got a great soundtrack. Love this ride.
Haunted Mansion

This is a much longer wait over the holidays when they do it as The Nightmare Before Christmas. When it doesn't have that overlay it is probably a mid-wait ride.

Big Thunder. Love, love, love this ride. Also a roller coaster that's western-themed. We often will get Lightening Lane for this one, then ride Pirates and Haunted Mansion and then head back once our time has come.
Matterhorn. This loads fairly slowly and is seriously the bumpiest thing I've ridden. Still very fun and definitely worth it. I think I still have bruises on my hips from when we rode it. FYI, the abominable snowman/Yeti is trying to attack you on this one. The effects are loud and you see his glaring red eyes a few times. Be thoughtful if that's going to be too much for the smaller parties. My 7-year-old was pretty freaked out initially, but once she knew it she loved riding it after that!
Dumbo. If you have the smaller sect this ride's wait time can get LONG. Thank goodness last time no one in our party wanted to ride this one. It is really fun with small kids, though. So I'd plan to do this one early (a great one for one parent to run grab snacks and then take photos while the other one waits with the kids).
Peter Pan — this used to be the go to ride in the morning. If you're getting the Genie+, it may still be one of your first rides since it doesn't have Lightening Lane, but some people don't prioritize this ride (including my teenagers).
Millenium Falcon Smuggler's Run — This isn't nearly as popular as Rise of the Resistance, but it IS popular. Think Star Tours with buttons. 🙂
Mid-Tier Rides
These rides can get longer waits and are awesome. I'd try to fit these in as you're close to rides near them:
Jungle Cruise: Super fun. Just a cruise through the jungle. The guides are funny and we always enjoy this ride.
Star Tours:

This is a 3D ride with some motion. This line can get a bit long, but they do offer fast passes.

Roger Rabbit (and all of Toon Town): Once you're in Toon Town, you might as well do all of it. **Spoiler Alert** Mickey's house has a few Mickey's, and it is often your shortest line to get your photo with the mouse himself. The lines on main street can often stretch long. You can also see Minnie at her house.
Pirates of the Caribbean. Love this ride. It's a water ride, with a couple of small water falls (aka, drops), but you rarely get wet, maybe just a few drops of water. This ride loads quickly and a ton of people ride at once, so that's nice.
Mr. Toad: Probably the 2nd most popular of the FantasyLand dark rides. Be aware that you do get "hit by a train" and "travel through Hell" so small minds might get a little afraid.
Small World: Call me crazy but I love this ride. The line isn't usually too long, so fit in when you can. They have added it to Genie+ so you can ride it twice 🙂
Autopia: The line for this ride is often in the blaring sun, so I like to do it early or later in the day, even with a Lightening Lane.
Astro Orbitor: Similar to Dumbo — but higher. Often the lines are shorter, though. We went on this and had a nice time. 🙂 I actually REALLY like this ride at night because you can see the whole park lit up. Made my heart happy. I love the romance of an amusement park at night.
Alice in Wonderland: This is a slow loader, but fun. It's the third busiest of the dark Fantasyland rides.
Buzz Lightyear — This is a shooting ride with everyone's favorite space hero. Has Lightening Lane entrance, but lines are not usually too long.
Nemo Submarine Voyage: Not a huge favorite. But, great for little kids. The submarines travel through the story of the original Nemo movie, sort of.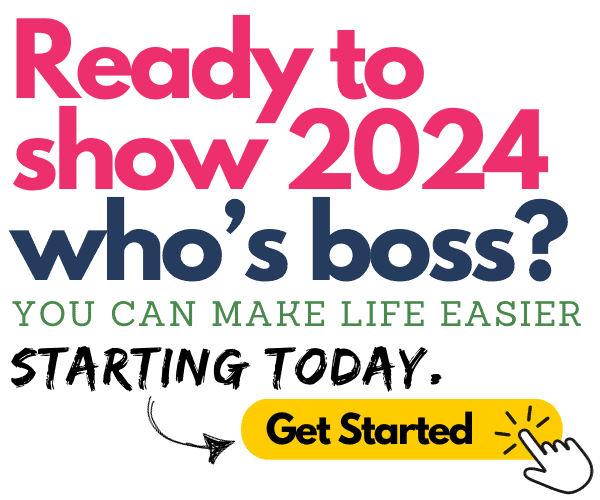 Fit it in Rides
Fit these rides in if you want to do them. They're all fun, but not a target to swiftly complete.
Casey Junior Train –I made my whole family go on this ride. My teens were unamused. It rides through a little fantasy land garden. In reality, if you only had older kids, and not much time — I'd skip this one.
Storybook Land Canal Boats: Goes through the same garden as Casey Junior. Fun for little kids, especially girls (as most of the houses are from princesses or fairies).
Enchanted Tiki Room: Grab a Dole Whip, sit back and relax. It's an animatronic show, it's air conditioned and if it's raining, it's a good pick to get out of the rain for a bit.
King Arthur Carousel — best carousel music ever.
Mad Tea Party — if you like spinning rides, this one's a winner, but it seems like not many people love spinning rides, so the line isn't usually too long.
Many Adventures of Winnie the Pooh — This is a ride created when Winnie got a bit of LSD one day. It's crazy, but little kids love it and it's a great way to waste some time while the rest of your party visits Splash Mountain.
Pinnochio's Daring Journey — these Fantasyland rides were meant for kids, but they can be pretty scary. The lines aren't usually too long as most kids are scared of them and most adults think they're lame. 🙂
Sleeping Beauty Castle Walkthrough — very fun, you should totally do it, but it's got no line, you just got through and read the story and look at the dioramas. Easily missed, it's just inside the castle after you cross the moat.
Snow White's Scary Adventures — this ride was recently redone, and isn't as scary as before (although it still has its moments).
Tarzan's Treehouse — again, a great one to visit while the more adventurous visit Indiana Jones. No great loss if you miss this one.
Mr. Lincoln — I dragged my kids to this for the first time ever this past visit. They were unamused. But, you can sit down for a bit, so that's nice. 🙂
Key Tips:
If you're wanting to use the Lightening Lane — be sure to check out this post about Genie+.
Enjoy the day. If this plan doesn't work for you, just take it as a guide. I mainly meant this plan to be for first-time park goers, who have no idea what to do first. I hope it gives you an idea of what to do.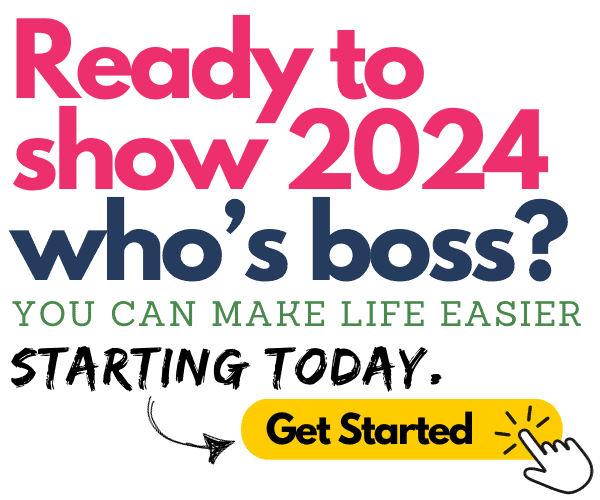 As far as a plan for your day:
Pick what ride you want to ride first. Normally, I'd say to pick from these three (but if there's another ride you REALLY want to go on, I'd go for it first). Rides can break down, and you don't want to miss your chance if someone's heart is set on a ride). All of these rides are more intense (so if you have little kids you probably don't want to hit these first — maybe do Peter Pan):
Space Mountain
Rise of the Resistance
Indiana Jones
And then just start going on popular rides near there. Honestly, I recommend Lightening Lane if you're hoping to ride a LOT of rides in one day. My kids love to ride Space Mountain several times in a day, so I can imagine us rope dropping Space Mountain and saving our Lightening Lane for it til' later in the day.
Remember, what's your goal — is it to have fun, or ride a lot of rides?
Before planning your day I highly recommend my post The Parable of the Umbrella Stroller. It fixed my whole visit last time!
Ok, now is your chance to get the day planner. You can save it on your phone to remind you what rides there are and what to do first (it does vary a bit from this post to make it a bit more useable in the parks, fyi):
Don't miss all my very best Disneyland Tips!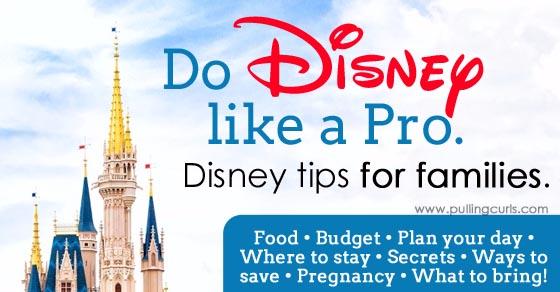 ---
Don't forget to get your hotel planning out of the way using Get Away Today — save $10 using code CURLS10. They know Disney like no other company, they have the best rates and can get you exactly what you need!


This post was originally published in 2016, and has been republished.