Problem: My kids want to play with plastic items, and I want them to leave me alone every now and then.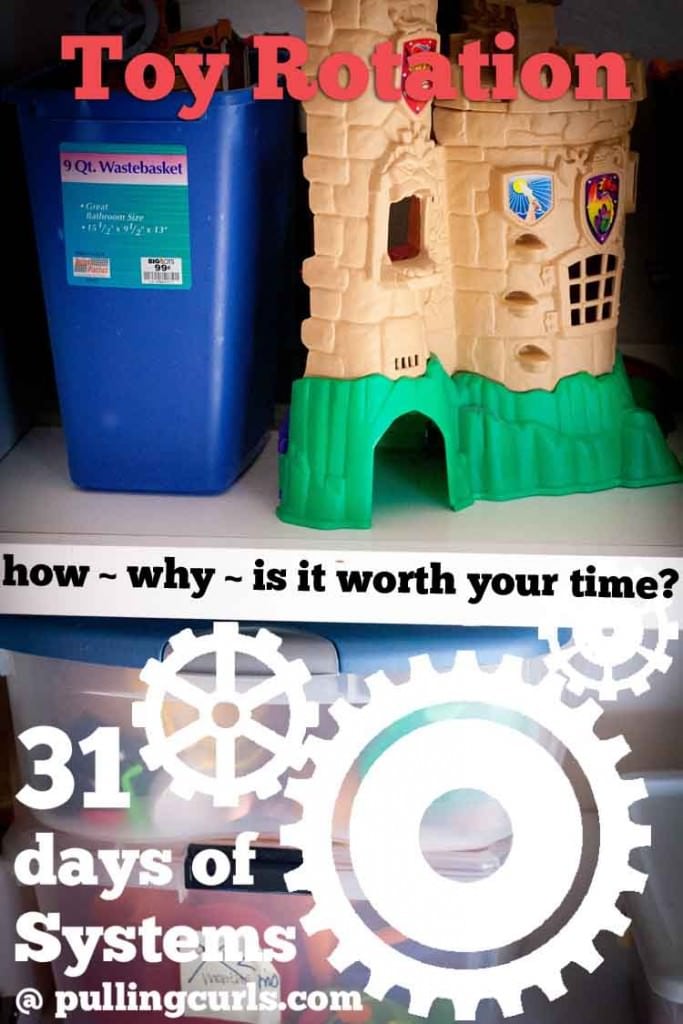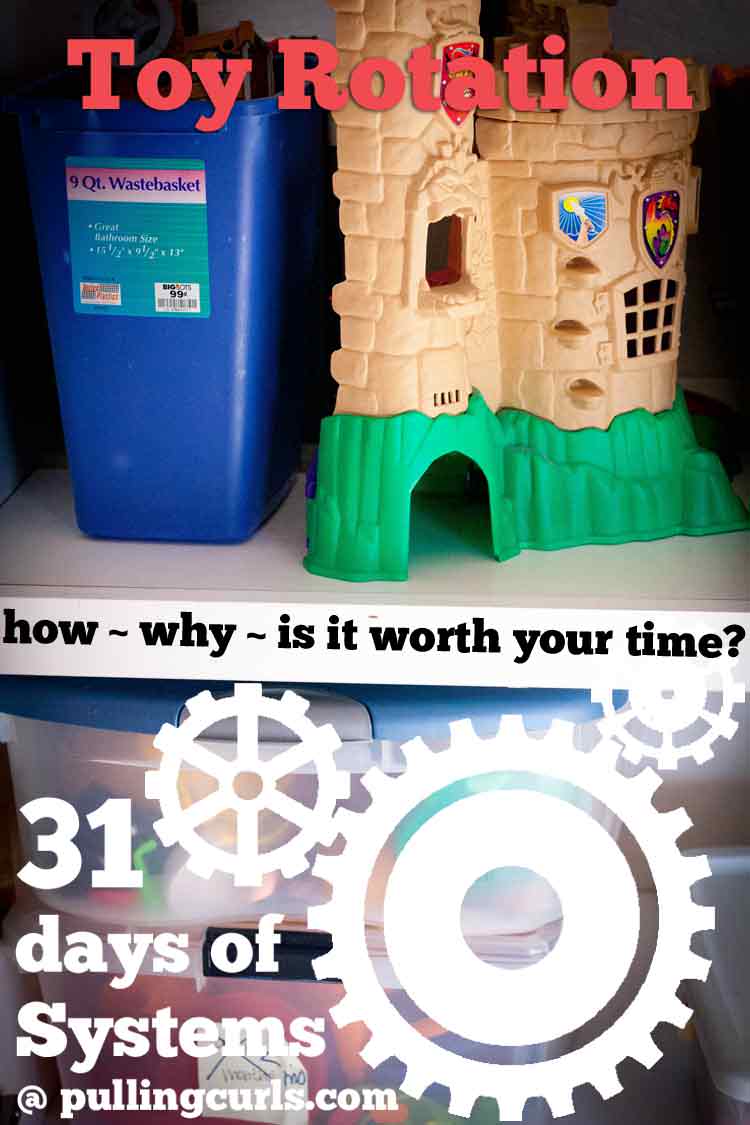 I'm not going to sugar coat this for you, ladies. I love toys. I love toys of all kinds, I love to see kids brains grow and very often GREAT toys are cheap, or easily picked up at Goodwill. (BTW, that trash can on the left isn't actually a trash can, but it holds the toys that go with that castle — when organizing toys I would HIGHLY recommend find what fits the item, rather than what is pretty.)
The other sad news, is that when we lived in California our house was a whopping 1177 square feet! I mean, pure luxury! We had a tiny corner that we kept toys in. There was NO way I could keep all the toys for 3 varied kids in such a small spot and still have room for playing.
NO.
WAY.
And I started rotating.
And it saved my life.
Do you have a small house? Do you like your kids to play with toys? Perhaps toy rotation is for you!
This isn't brain surgery here. You need to decide how many bins you can fit into the spot you have set aside for toys (ours was in the garage) and then rotate the bins. I had one large bin that I kept larger toys in and I'd take out from the right and kind of push them all to the right and put the last used toys on the left.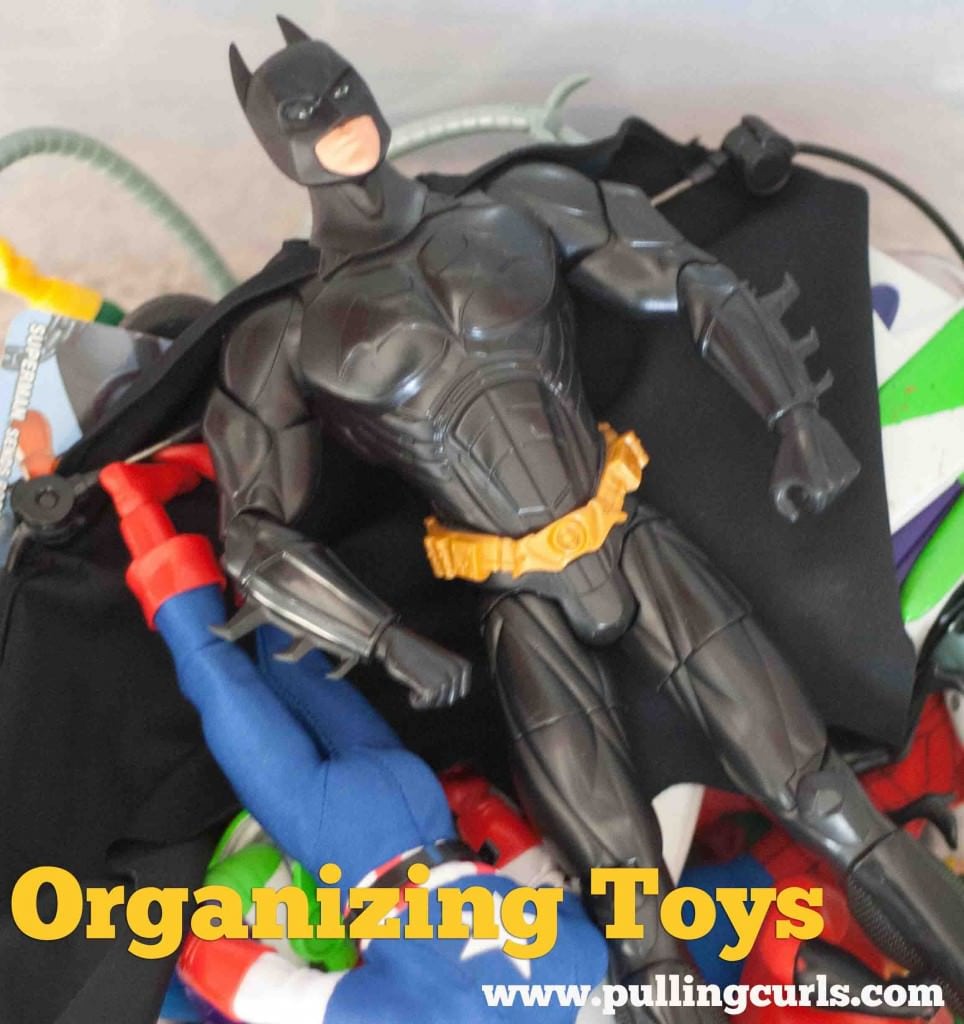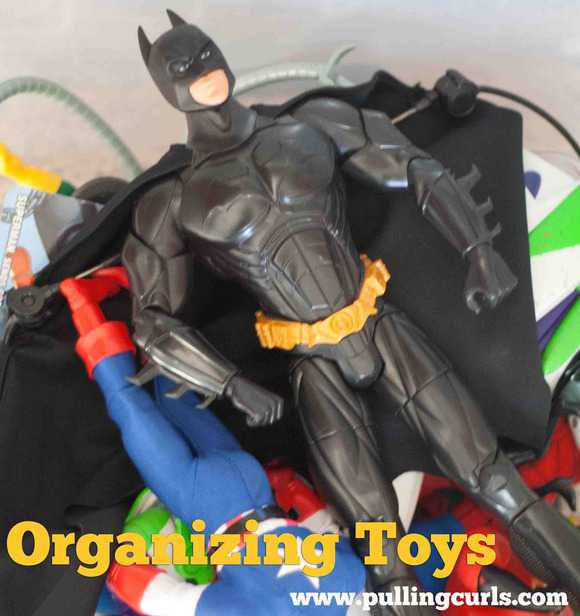 If you haven't read this blog long — you won't know that I have an OCD issue with even rotation of things. Things like shirts, or quiet bag toys… it may not be healthy, but I try to use it for our family's benefit.
Benefits of rotating toys:
1. You need a smaller space. Great toys (especially for younger kids) take up a lot of room.
2. Kids only NEED a few toys out, they get bored easily and it's nice to give them something new to amuse them every 3-4 weeks or so.
3. Less to put away. HORRAY! This is probably, actually, one of the LARGEST benefit to toy rotation. Even if my kids pulled out EVERY single toy it wasn't a huge deal to put them away.
4. Kids with limited options aren't as overwhelmed when they open the toy cabinet. They can just grab what looks good and get right down to business.
The business of play.
So, I'd encourage you to consider toy rotation. I did it right up until we moved in to our palatial toy room. I now just switch out a few bins and games (we have a TON of games) every now and then, but it's less scheduled (are you shocked — me without a schedule?).
Have any of you done toy rotation before? Did you find it effective? If you found this post helpful, you might like my MomHacker Pinterst board.