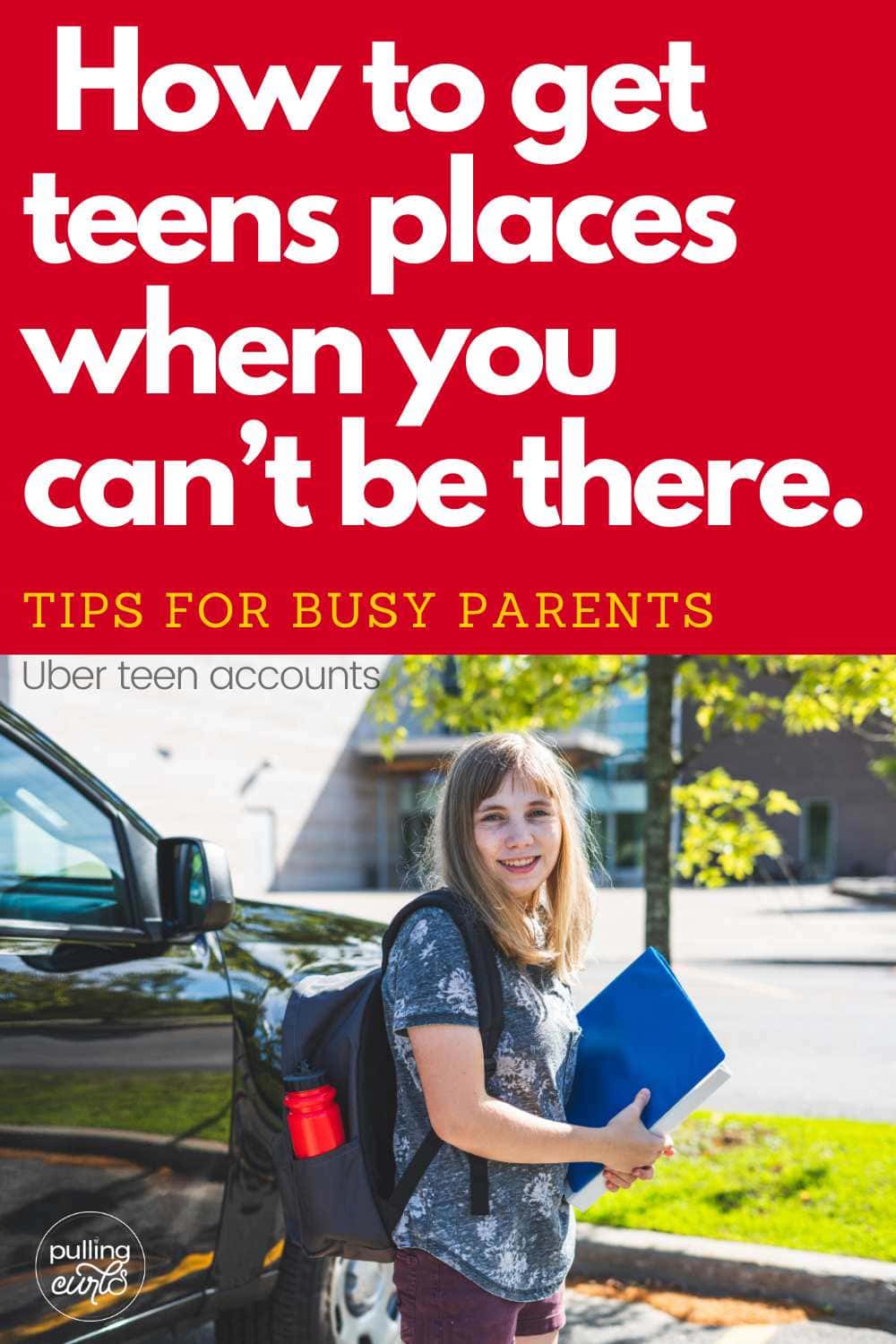 I have been there. We've been in an emergency at work when a nurse is willing to stay over but realizes she needs to get her teenager to an activity as well. What do you do? Sometimes you can call a friend, a neighbor, a grandparent or just leave work – but there has to be a better option. That's where Uber teen accounts come in. Finally, technology is helping busy parents and giving them peace of mind.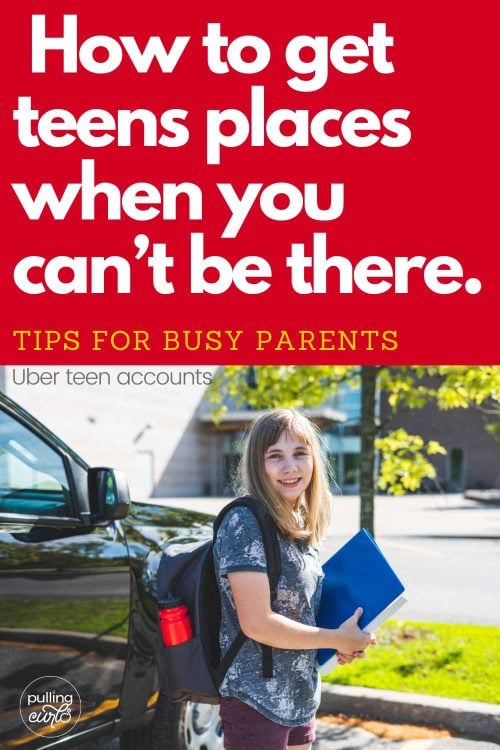 Note: This post is sponsored by Uber teen accounts. All thoughts and opinions expressed are my own. Big thanks to them for helping busy parents rest a little easier knowing their child will not be stranded. I am grateful for services like theirs for our busy families.
Panic sets-in when you can't pick-up your teen
You know the feeling. You're busy doing something and realize your teenager needs to be somewhere, and they need you to transport them.
Many parents have limited options, and it's amazing that we now have something that can save us – Uber teen accounts! Be it sports, school, drama – they can request a ride to get them where they need to go.
For me, I have a real fear that my daughter is caught in a position where she's uncomfortable and wants to leave, but can't get a hold of me to come get her. Maybe it's the mall, or with friends, or even an after school situation that she just doesn't like. This allows her to have a way to remove herself from those instances with an option we as a family trust, which provides a lot of relief for busy moms of teens.
Options for parents:
We know parents have a village that is helping them out especially when it comes to giving their teens rides… they can be:
A Neighbor (requires so much planning and coordination)
Have the kid wait (is staying wherever they are actually better?)
Another parent
Take Public Transportation (if available)
Grandparents
Getting a ride with a teenage friend who has a license (parent nerves!)

But, while many of us have some of those options available, they don't always work. Maybe you don't know anyone on their team yet, or you're in a city without parents or family help – those parents have emergencies happen too! I'm so glad this is an option.
Creating an Uber teen account
Easily invite your teen to your family profile (you have lots of control)
Click on the person icon labeled "Account" near the bottom of the screen. Then you'll see "Family and teens" come up. Once you click on that, you'll be prompted to add your teen along with their phone number to invite them to join the family profile.
Then, once they install the app, they will confirm that's them and will need to accept the invitation to be added to your account.
This does mean that they will have access to your payment methods saved to the app as well (so we set some really clear boundaries)! Each teen ride is paid for using the parent's default payment method.
Once they're in there they can request a ride themselves.
Good news: Get 40% (up to $15) off 3 Uber Teen rides. Valid for the first 30 days for new users in select locations. See app for terms.
Were teen accounts created with safety in mind?
This is always the big question about our kids. Is this really a trustworthy option? We've been buckling these kids into 5 point restraints for YEARS and now we just let them in the car with a stranger? Let's talk about the ways that Uber looks out for them and what enhanced safety features are involved.
Only highly-rated drivers are matched with teens
Only highly-rated drivers are given teen passengers, and Uber protects ALL parents by ensuring that drivers matched to teen accounts have undergone rigorous background checks. That means that the driver has already driven many clients and has been found to be trustworthy through their vetting process. It's that extra layer we're looking for with our kids.
Can parents track Uber trips? – Follow them on the app with real-time status updates
You can follow your child in real-time on the app. You can see them get picked up and dropped off in real-time. Makes you feel safer that they're being taken care of.
Must sit in the back seat (and be buckled)
Teen riders must sit in the back seat and be buckled. This would be a good one to review with them at the time of signing-up on the app to clear-up the fact that dad sometimes sits by the driver when you're all together, but they need to sit in the back.
I also tell my kids I always sit in the back when possible, it just gives me and the driver some space from each other.
Real time ride sensing monitors their rides for any issues
Uber has a safety feature called RideCheck™
that will monitor for any issues along the way. If their ride goes off course, stops unexpectedly, or ends early RideCheck™ sends a notification to both your teen and the driver to make sure they're okay. Often, if you need someone to get your kid you may not be able to follow along every minute of their ride – so RideCheck™ will monitor them for you too.
Uber Age Requirement to Ride
You have to be 13 or older to use Uber teen accounts. Also, your child ages 13 to 17 must have permission from a parent or legal guardian. I added her to my family profile and then she was able to download and join my account.
FYI, in order to get your own Uber account you have to be 18.
Parents can contact the driver in the app
You can also contact the driver on the app, just in case there's any miscommunication or issues that arise. Makes that handy for parents.
Unique Pin
Before a teen gets in the car for a trip, they'll be prompted to give their driver a unique one-time PIN. Drivers will not be able to start the trip until they enter the correct code into their app, providing an extra layer of protection to ensure teens get into the right car with the right driver.
However, I think it's important to teach kids proper etiquette for their rideshare right off the bat. Make sure they know to check the license plate # and then ask who they're here for, along with giving the PIN when they accept a ride.
Our Experience with Uber teen accounts
Of course, we wanted to give it a try – so we had my daughter request a ride to a local ice cream place (we wanted to do a trial trip somewhere when she was calm and not nervous).
Initially, I struggled to navigate the app, but once I refreshed, I was able to use the live trip tracking feature under "Activity." I could see when she was waiting to be picked up as well as when she was headed home – I could track her the whole way. It also gave me the option to contact 911 or call safety support at any point along the way.
Here is what my screen looked like:
This is what you tap on to see that:
The process was super smooth. They confirmed her name and then asked for the unique pin to start the ride. Once the driver confirmed all details were a match, they were off, and I could see her along the way!
A few things I wondered:
Was it more expensive than a "regular" trip: No, I looked up how much it cost for me to take a trip right then and it was the same amount.
How was her driver: Both of her drivers were close to 5 stars and obviously had done lots of trips.
She said it was easy peasy, and she would be willing to do it if she ever found herself in a situation she needed away from (but couldn't get hold of me).
Discuss Using Uber With Your Teen Before Set-Up
I would definitely recommend having a discussion with your teen while you are setting up their end of the account. Things to consider during this time are:
Who pays for the ride – the parent
Times it would be appropriate to use it
How to safely use it
How the drivers can have audio recording on their end for both of their safety so they need to be aware of that
Can they bring friends (one other person over the age of 13 is allowed on the ride).
How you can use Uber teen accounts:
There are a few ways that you can use Uber teen accounts:
After school program transportation
Don't let your kids miss out on their beloved after-school activities because you can't make pick-up at the random after-school times.
Your ride to school service
Have a late night shift or an early morning meeting – Uber teen accounts can help get children to school drop off!
How to pick up a kid from school when working?
Can't make pick-up? Uber can help! These before and after school transportation services just make a difference when parents can't do it themselves. Remember both YOU or your child can trigger the ride for them.
Teach Kids how to Use Uber Effectively
Make sure you are doing this service for your child as they embark on using rideshare services on their own. I see a lot of adults using Uber without going the extra mile to take necessary precautions… so make sure that they know to:
Match License Plates
Ask the driver who they are here for (don't give your name first)
Use the PIN as provided with Uber teen accounts.
And, make sure that you are modeling this behavior as you use Uber when you take trips with your teen. We've gotten to the point that when I pull-up after drama club my daughter says "Who are you here for?" just to be that teenager – but I'm glad she knows. 🙂This is definitely not meant to be your ONLY kid transportation, but it is there if you need it.
What do you think – would you use Uber for teenagers? I think it's a great option! Remember you can get 40% (up to $15) off 3 Uber Teen rides, valid for the first 30 days for new users in select locations. See app for terms.