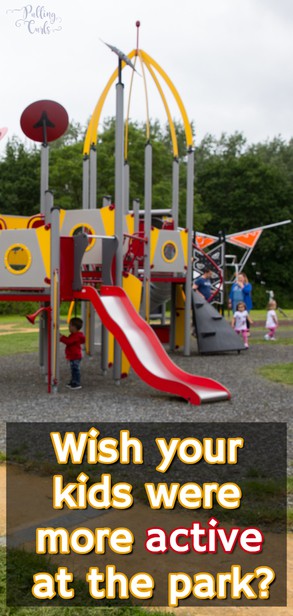 You guys know that it can be hard to find cheap, fun activities for kids throughout the year, and finding a balance between screen time and physical fun can be even harder. Biba has solved the problem by integrating technology, physical activity and family-fun time into all of its games.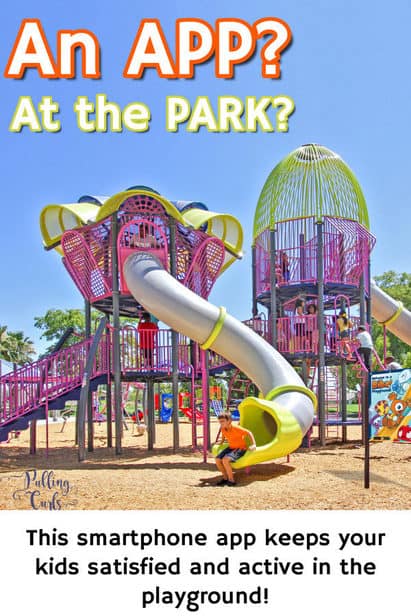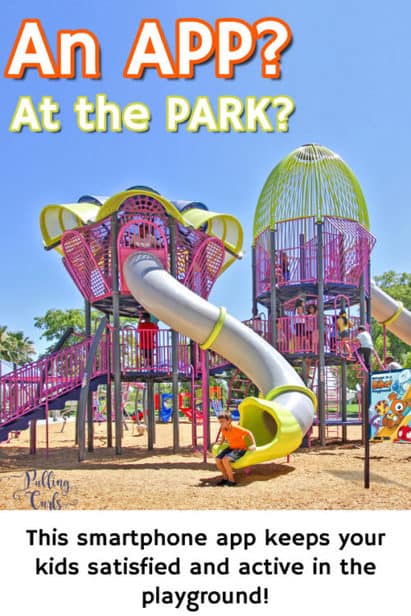 What is Biba?
Biba is turning playgrounds across the world into 'smart playgrounds' through its suite of digital, imagination-driven games for both iOS and Android devices that change the way parents play with their children. Designed for parents with children ages 3-9, Biba's games turn family time to fun, active playground adventures.
Why does Biba exist?
When you think about it, playgrounds haven't really changed since they were invented. Every playground has the same basic building blocks: swings, slide, monkey bars, etc. Biba recognizes the options for change and has revolutionized playground play through modern-day technology.
They strive to get kids active through gameplay – the combination of playing and exercising.
What I like is that their app allows you to "have some time off" at the park but also interact with your kid as well. I love how it balances that (because a lot of the time I go to the park to just have a little "me" time).
How do you play Biba's games?
Biba's games don't even require an internet connection to be played. They can be played in any neighborhood playground but have enhanced features in Biba-enabled playgrounds (see the list below).
A stand out feature of all the Biba games is that parents (no handing your phone to your kids — huzzah!) are required to hold the phone with the game open, while kids channel their imagination and complete a series of fun activities. The app gives kids instructions on a premise that the child playing is meant to follow.
Although Biba is a mobile app (available on both Apple & Android), kids don't use the app very much, as the game is meant to be played away from the phone, and more on the equipment. Children switch between the playground and the phone occasionally to perform a game, complete a mini-game or advance their progress.
To me, Biba is using that innate nature of wanting to get "awards" or see "progress" while still having a kid running and jumping, and basically getting their wiggles out.
What is a Biba-enabled playground?
There are more than 2000 Biba-enabled smart playgrounds in North America, which have the company's "augmented reality marker" installed – markers bring the games to life and unlock new content, activate mini-games, treasures, characters, and more when scanned.
What types of games does Biba have?
A list of all Biba games can be found using the playground tracker in any of their apps. Recently, Biba created three new mobile games for kids based on popular movies and shows that your children probably already recognize and love, making it appealing for kids to engage in the games:
Teletubbies Playground Pals (Ages 3-4) Based on the popular children's show, Teletubbies, children can interact, play hide and seek and more on the playground with their favorite Teletubby characters, like Laa-Laa. (I have one son who would have LOVED this one). Get it on iTunes.
Hotel Transylvania: Crazy Cruise (Ages 5-9) Based on the movie, Hotel Transylvania 3: Summer Vacation, children can relive the film in a new and innovative way by playing the game to restore magical relics to monster-inhabited islands (on the playground). Get it on iTunes.
Hotel Transylvania: Hotel Havoc (Ages 5-9) Drawing on the zaniness and ghoulish hilarity of the television show, parent and child duos take on adventures in their local playground. And with the new Augmented Reality experience you and your kids can step into and explore the lobby of the iconic Hotel Transylvania! Get it on iTunes.
Where can I find a playground in Phoenix?
Though the games can be played at ANY playground, the best way to find a Biba-enabled playground near you would be to access the playground tracker from the homescreen of any of the Biba apps. There are around 30 Biba-enabled playgrounds in the Phoenix area! Take a look at the list below to find a Biba smart playground nearest you (if you're in the Phoenix area like me):
Mariposa Park, 3150 W Morten Ave., Phoenix

La Pradera Park, 6830 N 39

th

Ave., Phoenix

Maryvale Tot Lot, 3206 N 65

th

Ave., Phoenix

Maryvale Park, 4444 N 51

st

Ave., Phoenix

Yapa Park, 2732 E Mobile Ln., Phoenix

Pierce Park, 2150 N 46

th

St., Phoenix

Moon Valley Park, 502 W Coral Gables Dr., Phoenix

Willow Park, 2815 W Taylor St., Phoenix

Nueve Park, 4445 S 9

th

St., Phoenix

Ma-Ha Tuak Park, 9832 S 7

th

Ave., Phoenix

Desert Mountain Club, 10149 Desert Hills Dr., Scottsdale

Deer Valley Park, 19602 N 19

th

Ave., Phoenix

Marivue Park, 5625 W Osborn Rd., Phoenix

Sumida Park, 1809 E Gardenia Ave., Phoenix

Las Ligas Park, 12421 W Lower Buckeye Rd., Avondale

Desert Park West, 6602 W Encanto Blvd., Phoenix

Tawa Mini Park, 4540 N 11

th

Ave., Phoenix

Lookout Mountain Park, 14441 N 18

th

St., Phoenix

Esteban Park, 3345 E Roeser Rd., Phoenix

Solano Park, 5625 N 17

th

Ave., Phoenix

Colter Park, 902 W Colter St., Phoenix

Acacia Park, 2944 W Hearn Rd., Phoenix

Cortez Park, 3434 W Dunlap Ave., Phoenix

Bishop Alexis A. Thomas Park, 1925 E Carver Dr., Phoenix

Christy Cove Park, 2352 E Christy Dr., Phoenix

Alkire Park, 1602 W Pima St., Phoenix

Country Gables Park, 3120 W Banff Ln., Phoenix

Coyote Basin Park, 2730 E Beardsley Rd., Phoenix

Green Valley Park, 2243 S 14

th

St., Phoenix

Sunridge Park, 6201 W Roosevelt St., Phoenix
KidSAFE Certification
Biba has recently been certified by the kidSAFE Seal program, which is creating the largest global directory of children-friendly websites and mobile apps that have been reviewed to meet standards of online safety and privacy.
So, what do you think? Do you wish there was a Biba playground in your neighborhood — or has this post encouraged you to seek one out in Phoenix? Be sure to grab the Biba App — as it can be used on ANY playground.
Tell me in the comments what you think about this new way to use technology with your kids!