Gifts for a toddler girl can be hard to find.  I've found some useful, unique and personalized gifts for the toddler girl in your life.  This includes gifts in many price ranges, and some come as a monthly subscription!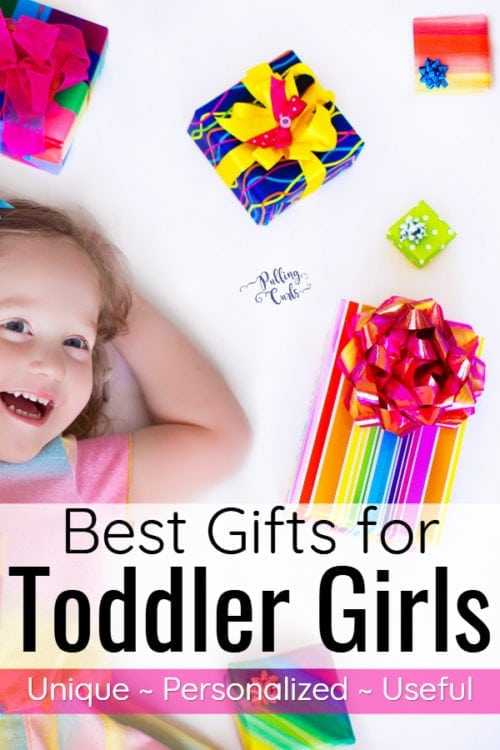 Gifts for Toddler Girls
This guy with his giant eyes is going to captivate any Toddler.  It might drive you crazy… but kids are gonna have toys with sounds, so, it might as well be one that is PERFECT for them, am I right?
You might think that toddlers are too small for stickers, but my kids loved nothing MORE than putting stickers (hopefully on paper).  They are great for church, or just times you need them to be busy.  PLUS, with Pipsticks you get a new set in the mail every month is awesome.  A little something new each month without a huge price tag.

**I realize that a "girl" gift guide might be offensive to some — but I think you'll agree that MANY of the items in this gift guide could be given to both a boy or a girl.  In fact, all clearly COULD be given.  If you're looking for more ideas check out my friend, Katie's little boy gift guide.
Experience Gifts for Toddlers
I am a huge fan of giving experiences for gifts.  AND, once your kid hits Toddlerhood they may well be ready for a visit to Disneyland.  We always book our trips with Get Away Today and I love that I get the best price and no calling around.  Big fans of them!
Use code CURLS10 to save an extra $10 when you book a trip with at least a 2 night stay.
Toddlers aren't ready for tickets to a show, in my experience — BUT signing them up for a local class can be fun for the both of you.  A lot of communities have great classes for little kids.
Useful Gifts for Toddlers
The most USEFUL gift for toddlers is one that helps YOU.  Am I right?
Here are a few gifts that are awesome for keeping them quiet — great for a quiet bag if you need one.
I love the Water Wow books.  Toddlers like the color, and water wow gives them a lot of freedom to color, without you being worried about what they are coloring on.
Got a little one who enjoys her tech, but you don't love all the sounds?  These cats ear headphones make a fun gift.  Worried the might break those, there's always these cozy headphones.
Clothes and products your kids need are always welcome gifts.  If your little one likes hair bows — you can get a bunch for a fun addition to each morning.
Lacing beads are one of my favorite gifts for toddlers of all time.  Great for quiet bags.  Great for eye/hand coordination.  Great for colors and shapes.  They're great!
In the useful category — you can't get much more useful than a bed.  The Five Little Monkeys bed still easily masquerades as a bed as it comes in a box just for them and a stuffed monkey.  We have one that we absolutely love — and you can get $25 off with code CURLS25.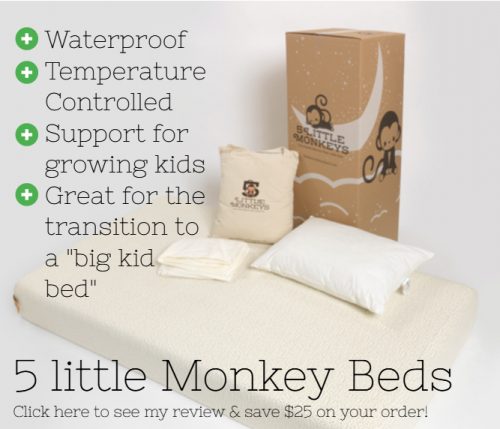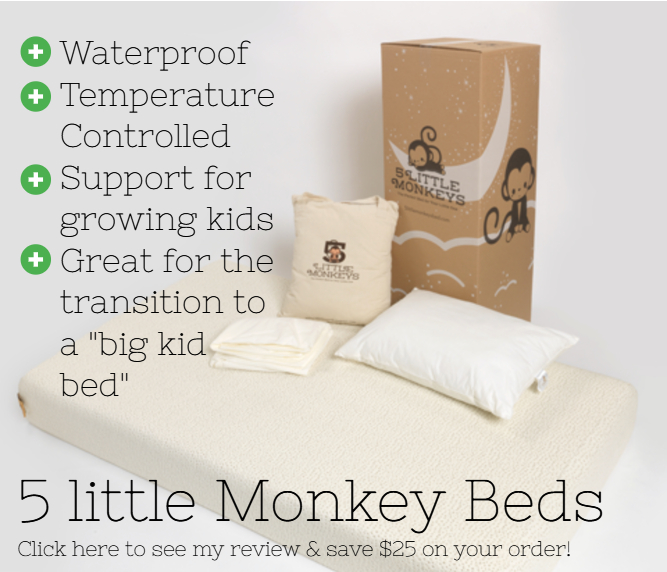 Don't forget clothes for your little diva.  Character items can still make a fun gift — don't forget to check out how many kids clothes they REALLY need.  AND, if clothes is what you're after — don't miss my review of stitch fix kids (mine's a stitch fix review for tweens, but it shows how the system works).
Personalized Gifts for Toddler Girls
I absolutely LOVE Kiwi Crate — and they have a new line that's awesome for toddlers — Cricket Crate.  Plus, it comes every month, so it's truly the gift that keeps on giving.  If your Toddler is a little older, you could also check out Koala Crate.

Unique Christmas gifts for toddlers
Got a mermaid fan in your house?  This mermaid blanket is a fun addition to quiet time.
Christmas brings cold ears and there is no cuter way to cover them up than these hats— be sure to use code CURLS333 to get the hat for free (you still pay shipping).  There's tons of other "free" stuff in this post too.
How to pick a gift for a toddler girl
When you're buying things for toddler girl there are few guidelines I go by:
 Make sure the gift is age approrpriate.  It's easy to buy a gift that will be a bit too old and possibly be a safety hazard, so be mindful of that.
 Make sure it's colorful and fun.  Lacing beads aren't any fun if they're all black.  Kids this age love color!
 Make sure your parents will appreicate it.  Parents are that kid's whole world at this point, and they'll be playing with the gift as well.  I went "out there" a bit with the penguin — but try to make the gift something they can all enjoy.
If you liked this post, you might like my practical parenting series, and check out my other gift guides below that: